The builders of an award-winning home made from hemp hope to inspire a shift towards making it a mainstream construction material.
Balanced Earth recently won the Master Builders New South Wales Energy Efficient Building award for a home in the Byron Bay hinterland, in northern New South Wales.
Architect Michael Leung said while industrial hemp was popular in textiles, there was a growing interest in using the cannabis sativa plant in buildings.
"I think we've just hit the hemp industry at the right time, and in Byron Bay there's a real consciousness and responsibility to the environment so it's just seamlessly flowed together," he said.
Builder Luke Wrencher said hemp's most positive attribute was its sustainability.
"When you grow the hemp it takes the carbon out of the atmosphere and it stores the carbon in that fibre and you process it and lock the carbon up into the building, so at that point it becomes carbon negative," he said.
"To have a building material that is carbon negative is almost revolutionary."
Making hempcrete
To use hemp in construction, the builders take the chopped hurd, that is the inner woody core, and mix it with lime and sand to create a substance they have dubbed "hempcrete".
In the award-winning Byron hinterland home, the builders constructed frames from recycled timber to hold the hempcrete walls.
"The actual packing of the hemp is very easy to do, kids, children, wives, husbands, anyone can do it," Mr Wrencher said.
"The hardest thing is you need a carpenter for your formwork, but then it can definitely be a community thing to do, pack the hemp into the formed up walls."
The set walls have a texture similar to rendered concrete.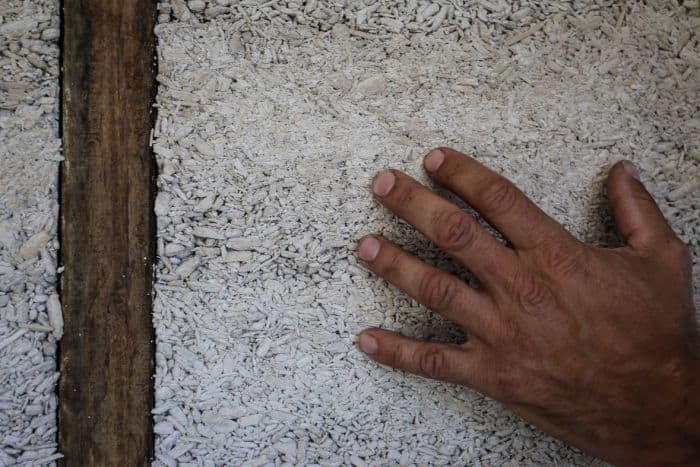 Healthy option
Mr Leung said he began looking into hemp after his wife's father died from mesothelioma, an asbestos-related illness.
"We moved to Byron and wanted to build our dream home and my wife was adamant we weren't going to use any toxic materials," he said.
"Then we met Luke, who had been working with hemp, and it went from there."
Mr Leung said hemp had proven to have outstanding thermal and acoustic properties.
"It's not just an insulator, it buffers temperature and humidity and prevents damp and mould growth," he said.
"It makes the building a healthy environment."
Making hemp mainstream
Mr Leung said the company's goal was to make hemp commonplace in the Australian construction industry.
He said the cost was comparable to conventional building products and could potentially be lowered if greater quantities of industrial hemp were grown commercially.
"Our vision is to really get hemp into mainstream construction and design," he said.
"We're leading the way in terms of design and builds in this country in hemp and we've only done eight builds and a number of feature walls.
"We'd really like all builders to be using it and there's no reason why they shouldn't."
Source: High hopes for hemp in Australian building industry
Some buildings are so ugly, the only thing that could possibly improve them is a wrecking ball. It's even worse when the structures are high-profile and expensive, making you wonder how many people who had to sign off at each stage of planning and construction actually thought to themselves, "Yes, this looks good." Here are 15 examples of astonishingly ugly architecture that only a mother (or rather, the designers responsible) could love.
The Rock, Wellington International Airport, New Zealand

Perhaps this addition to the Wellington International Airport by Warren and Mahoney was designed to resemble a robotic cockroach in order to remind us of what will rise up and take our places on earth once we've succeeded in making ourselves extinct.
Renmin Ribao Building, Beijing, China

Beijing's 'penis building' aka the headquarters of the communist People's Daily newspaper has drawn wonder and incredulity from local residents, as well as worldwide notoriety. But the building will soon be sheathed, as the architect decided to give it a makeover after all the backlash. There's probably a joke about state-sponsored journalism in there somewhere.
Frank Gehry's Australian Blunder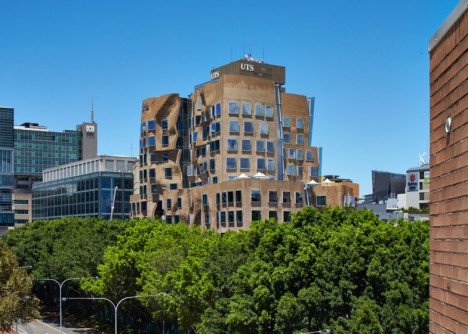 "The building so ugly, it has to wear a paper bag" is Frank Gehry's first project in Australia, inspired by a mashup of Sydney architecture and a treehouse. The curving structure was created using 320,000 custom-designed bricks.
ArcelorMittal Orbit Sculpture, London, England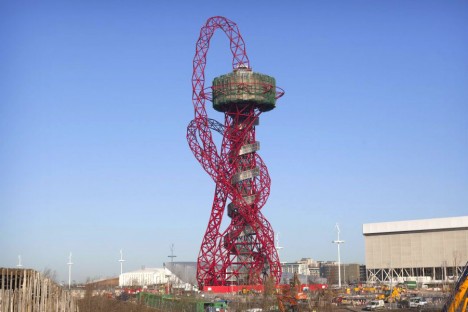 Famed artist Anish Kapoor teamed up with engineer Cecil Balmond to create a sky-high tower in London that looks like a tangle of junk you pulled out of a drawer in your garage. The ArcelorMittal Orbit is a 376-foot-tall sculptural observation point overlooking the Queen Elizabeth Olympic Park.
The Elephant Building, Bangkok, Thailand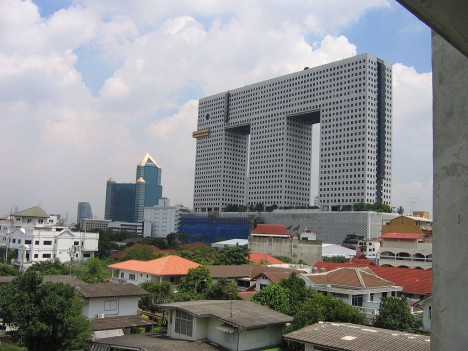 Shaped like Thailand's national animal, the Elephant Building in Bangkok is a 32-story mixed-use complex housing condos, offices and a language school.
Mirador Building, Madrid, Spain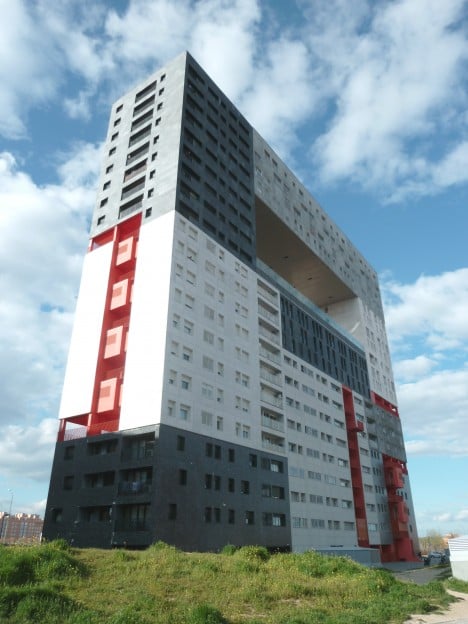 Known for its imaginative innovation, architecture firm MVRDVhas always been divisive, but the Mirador Building is a miss simply because it's got virtually no aesthetic value. The jumble of window shapes and colors and utter lack of symmetry make this building seem as if it was constructed out of leftover parts from other projects.
Fang Yuan Building, China

The coin-shaped Fang Yuan Building in Shenyang was meant to be a landmark, and that it is, but mostly because its clunkiness stands out so starkly among the rest of the buildings in the area.
National Library in Pristina, Kosovo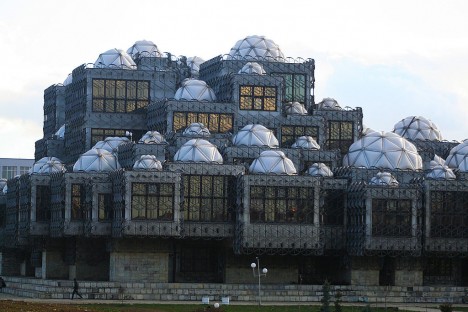 Kosovo's national library stands as proof that when you put a bunch of attractive elements together into one package, you don't always get an attractive finished project. The architect blended Byzantine and Islamic architectural forms with a modern sensibility for an overall effect that's simply weird.
Scottish Parliament Building, Edinburgh, Scotland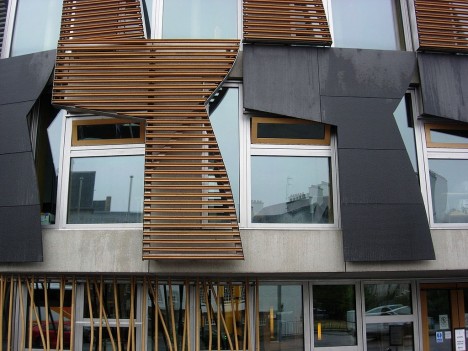 Inspired by an iconic painting by Henry Raeburn called 'The Skating Minister,' the distinctive windows on the Scottish Parliament Building in Edinburgh are unique, to say the least, but these unnecessary decorative flourishes are just the tip of the iceberg when it comes to the building's problems. Since it was built in 2004, Scottish taxpayers have spent over $16 million to maintain and repair it, as pieces keep falling off inside and out.
Sharp Center for Design, Toronto, Canada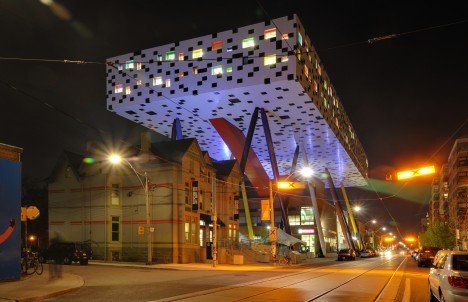 A big white pixelated box rises on colorful pillars to form a canopy among the traditional buildings at the Ontario College of Art and Design. Meant to emphasize the mix of Victorian and modern architectural elements in the area, the contrast is ultimately cartoonish, demonstrating a complete lack of subtlety and nuance.
Aoyama Technical College, Shibuya, Japan

It's hard to tell what's even going on here, and that seems to have been architectural firm Makoto's intention. Echoing the sprawling disorganization of metropolitan Tokyo, this building at Aoyama Technical College is uncomfortably disorderly. Says the architect, "It is not my aim either to transplant to Japan the classic Western patterns of building cities or to put up with the chaos of Tokyo as it is, but to grope for the way we want the new city to be."
Epi Apartments, Seattle, Washington

What is even happening here? Are those eyes? Mouths? The Epi Apartments in the Fremont district of Seattle are really something. Adding some misshapen metal to a boring building doesn't make it more beautiful, but hey, here we are talking about it, so perhaps the architects achieved their goal after all.
Pixel Building, Melbourne, Australia

The colorful facade wrapping around the Pixel Building in Melbourne is, in the words of architects studio505, "a system comprising of Living Edge perimeter planters, fixed shading louvers, double glazed window walls and solar panel shading." It's meant to be harmonious, but in the end, it's like wrapping an ugly gift in colorful paper.
Antilia, Mumbai, India

Looking like an oversized vertical shanty town, this disorganized stack of volumes in South Mumbai is actually the world's most expensive private residence. Antilia is owned by billionaire Mukesh Ambani and has a staff of 600 just to maintain it. Designed by Chicago-based architects Perkisn and Will, the 560-foot-tall structure cost an unbelievable $1 billion to build.
Ryugyong Hotel, Pyongyang, North Korea
Part of the reason the so-called 'Hotel of Doom' has been disparaged for its looks for so long is that it sat partially completed and neglected between 1987 and 2008, a villainous concrete peak rising from the capital of North Korea. By the time it was finished in 2011, it was at least fully dressed in its windows and fittings, but it's still not an attractive structure by any stretch, and it's still not even open for business.
Source: Ugly Architecture: 15 of the World's Most Hideous Buildings | Urbanist
Rock and stone make up some of the most ancient, intriguing and attractive buildings anywhere. Either rough or hewn, stone is returning to the material armoury of more architects.
Robust, substantial stone work is certainly a big relief after decades of painted render slapped on blueboard that cracks and stains.
Melbourne's b.e architecture has been making some sensational stone houses since it specified a tiled-form Toorak house in bluestone in 2005.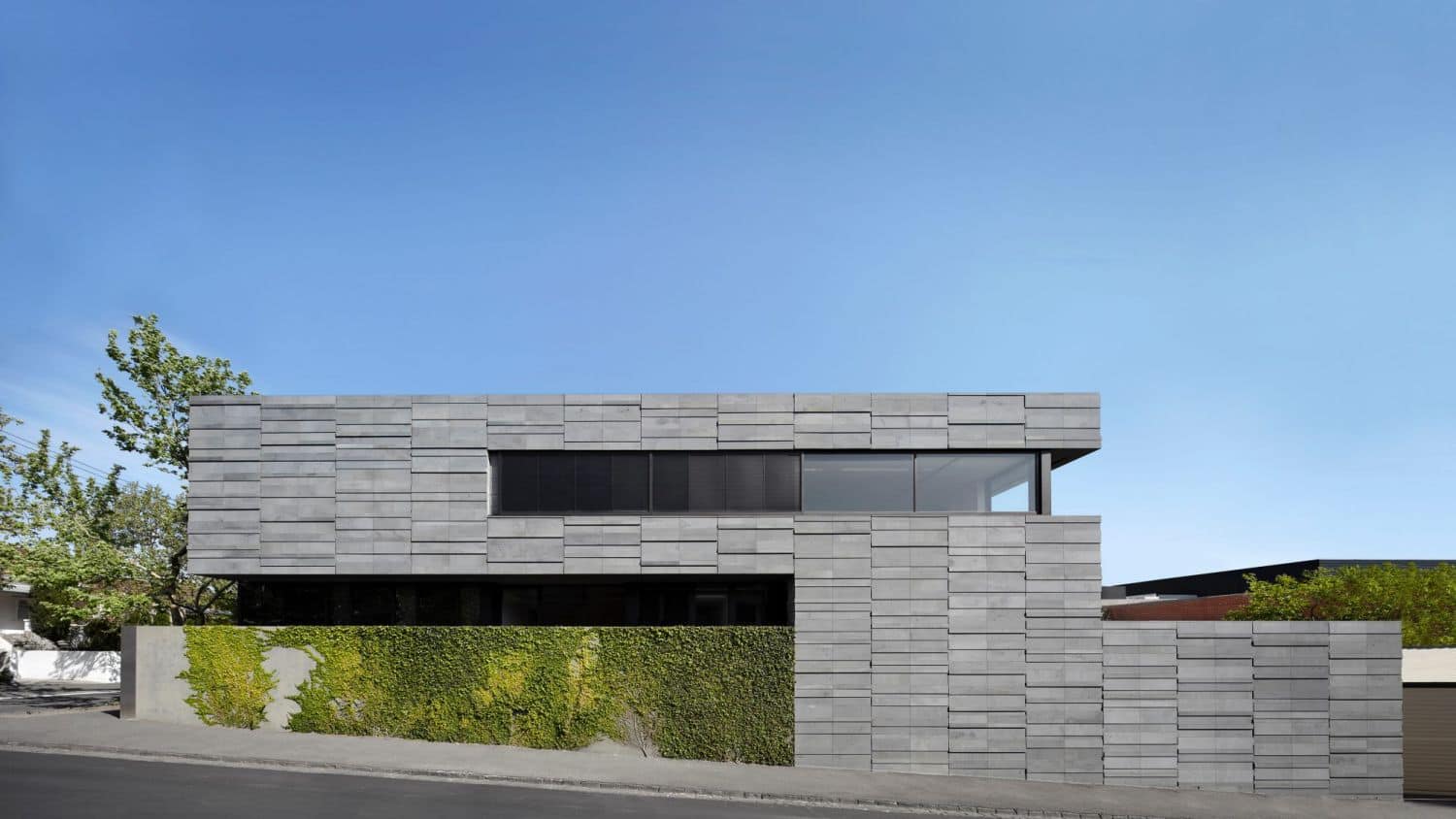 Architect Andrew Piva says local stone from a massive lava plain was used for its colour and because with a house of such potentially powerful street presence, "rendered surfaces were going to be too simplistic. It just wouldn't have looked right," Piva says. Instead, in varied, sawn bluestone, he describes the work as making "a bluestone object".
Stone work is not the cheapest of material options. "Stone masons are dearer than bricklayers," Piva says. And, although on some of the practice's later projects some of the rock work looks to have been raised up as rubble stone, there is nothing random about the way the stone is laid. "In all the buildings every course is drawn in," Piva says.
"Nothing is done randomly because we're trying to look rational. On the Toorak project, the rock work was painstakingly done."

In Malvern in 2013, the practice made a new house out of stacked South Australian limestone that resulted in a quiet formality in a simple, square form.
Piva explains: "We'd originally been looking at using brick. But then we came across this limestone that was a reasonable cost and with colouring that was perfect. We sanded back the entire face of the stone so that it was dead flush."
Teamed with dark metallic surfaces, it is a polished structure.
For Piva, the honesty of rock addresses some of the fundamentals of making architecture that lasts. "How do we build structures of permanence? How do you do strong buildings that can still be quiet, and protective and encompassing," he says.
"We looked at older houses and civic buildings as a reference and they are made of solid material – solid, strong and there for ever."
Two recent stone houses off the drawing boards are a Toorak house with facades of rough and stacked lava stone that suggest natural rock stratification and, in Armadale, a three-level building with cantilevers.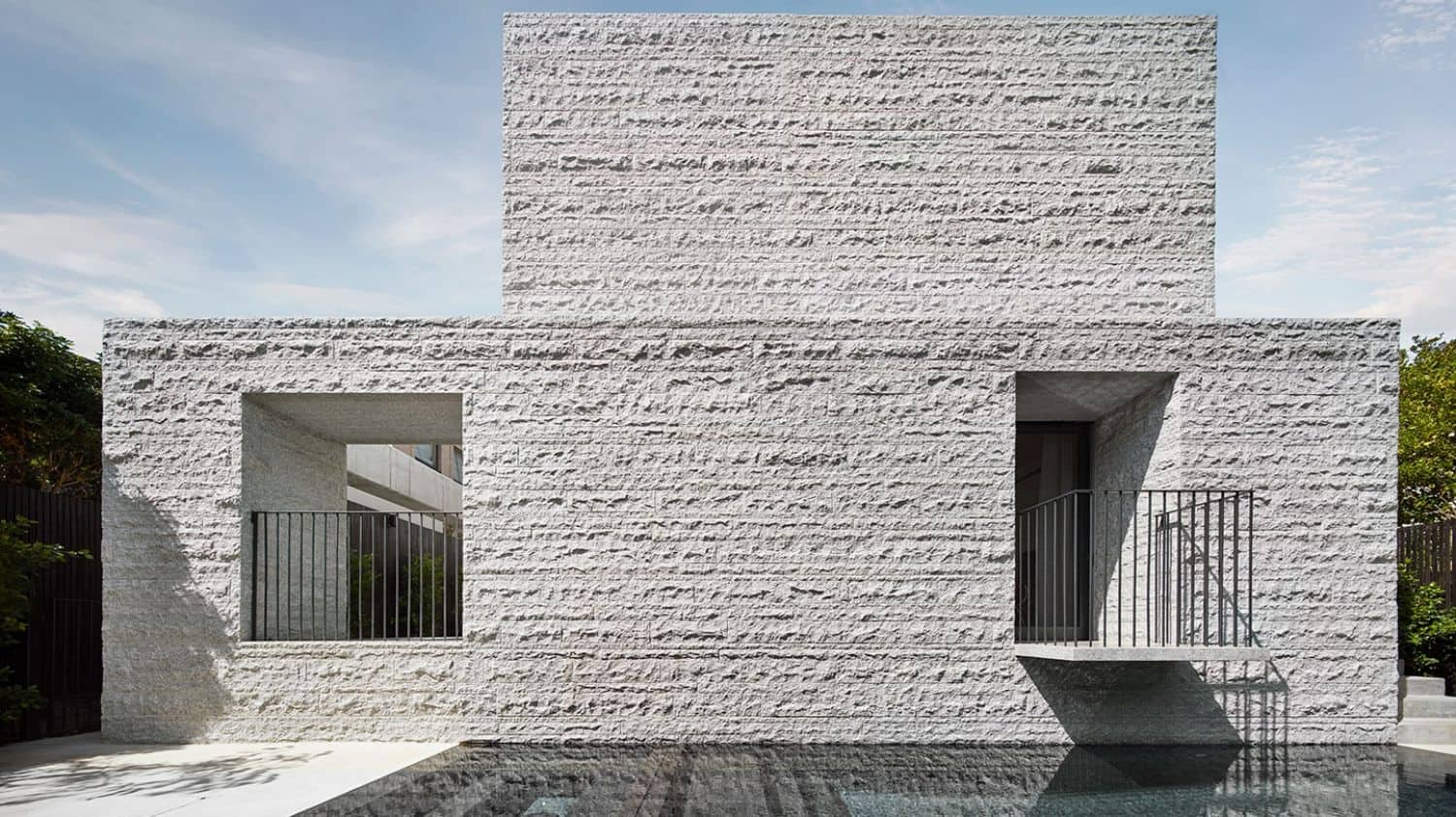 Although it is made of 260 tonnes of granite, its impact is crisp and refined because there is no flashing or capping visible on the roofline.
Piva believes the granite house shows not only how finely you can detail rock, but how to use beautiful timber work to "temper and balance" the strength of the rock.
"We don't want to make stone houses that are mausoleums."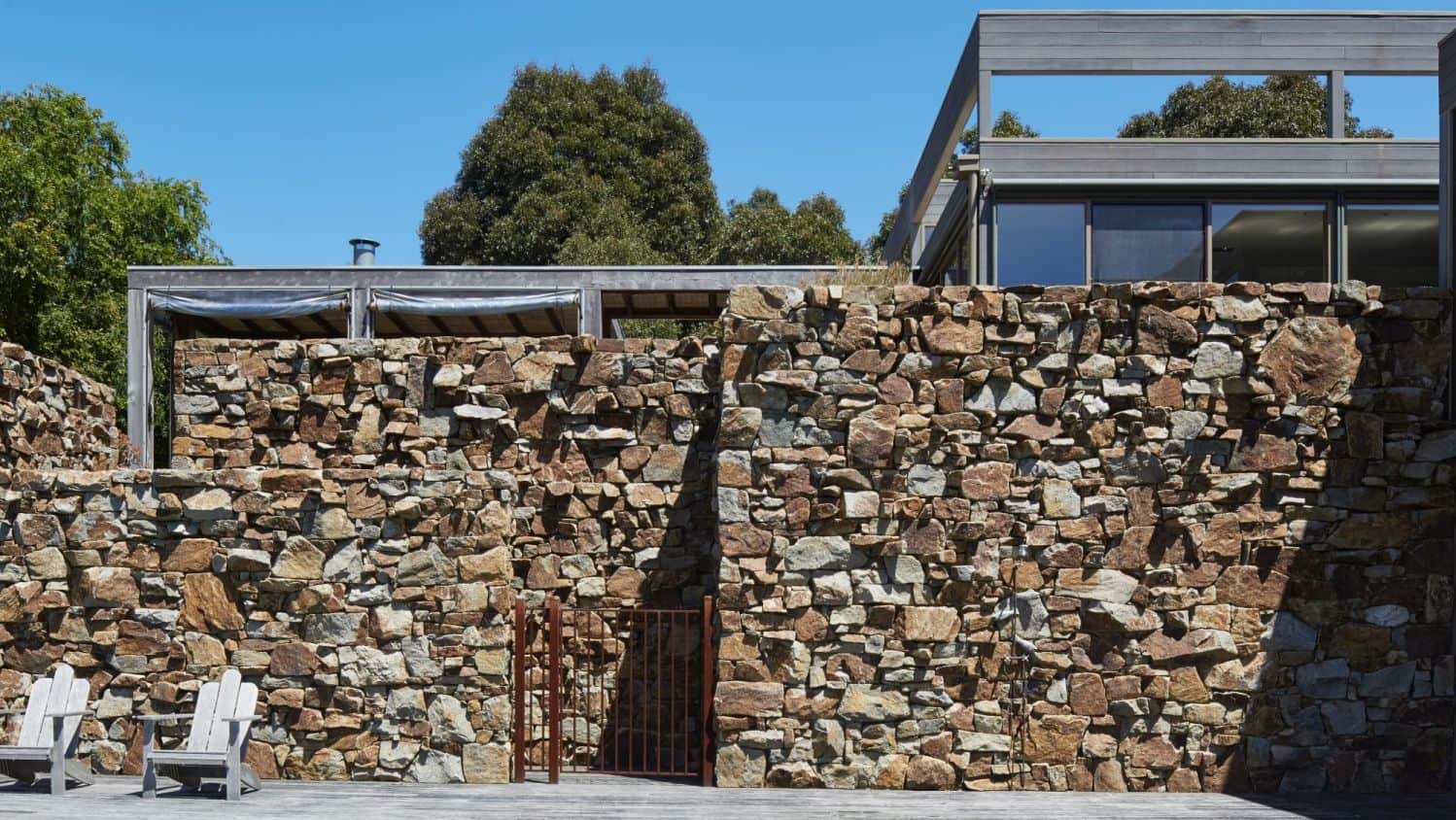 Stone houses in the city are a standout. In the country they are very much at home and the practice has some interesting uses of stone in rustic situations.
In one wooden Flinders house, where a five-metre-deep cut was needed in the land, what appears to be the huge remnant wall of an old ruin was raised "as a highly textured, oversized landscape feature".
In another Flinders property an exceptionally engaging stone fireplace is used as a feature wall.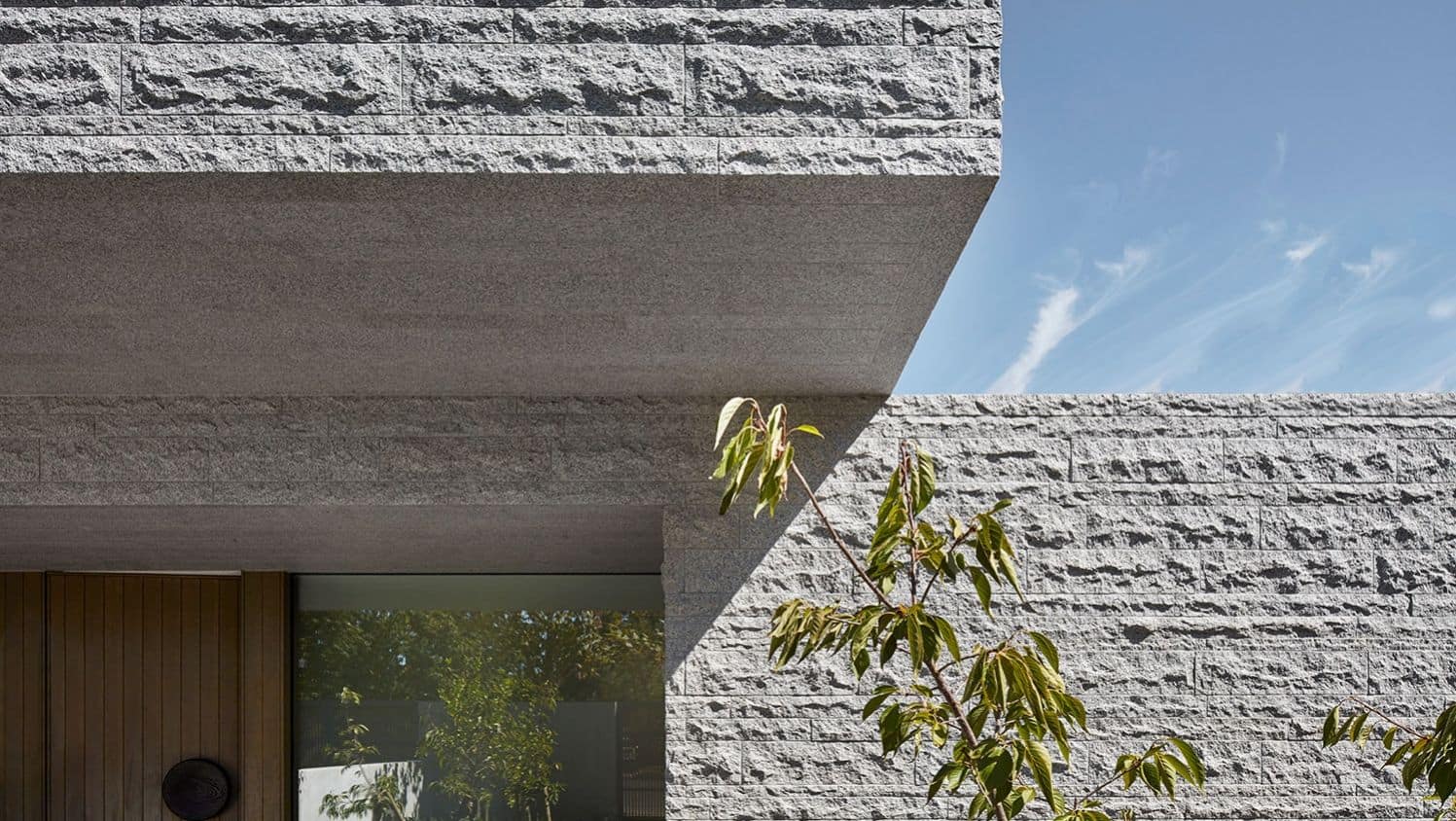 "Made of local Dromana granite, it is a big fireplace with a hefty hearth stone," Piva says. "We wanted some oversized stones in it. But it wasn't done randomly. We built sample walls and drew in every course."
The practice uses stone only when it is appropriate. "We don't just use it for the sake of it. We use it purposefully. But it's got that natural quality that we love."
Source: The overlooked material that gives architecture a lasting effect
Roxanne Wilson, Lifestyle reporter, The Advertiser June 27, 2017 8:30pm
FROM concrete jungles to giant brown boxes, there are more than a few contenders up for the title of Adelaide's ugliest building.
The questionable design of a 16-storey student accommodation under construction on Waymouth St, reported in yesterday's The Advertiser, has got readers fired up about other ugly buildings across town.
They include numerous hospitals, the ABC building and even the Adelaide Festival Centre, which featured in UK newspaper The Telegraph's list of the world's ugliest earlier this month.
But an industry professional suggests we shouldn't be too quick to judge a book by its cover.
Mario Dreosti, the president of the SA Chapter of the Australian Institute of Architects, said while aesthetics are subjective, "good design is completely able to be quantified and assessed".
"I'd always think of a building far beyond its aesthetic facade," he said.
"A building you may not personally relate to aesthetically may actually work really well and might give people great housing choices and great working environments — we should remember that as we assess and comment on architecture."
Mr Dreosti said he didn't find the The Advertiser's ugly building list surprising, "in terms of the way I anticipate some people might view those buildings".
"There's a few buildings in there that are early modern architecture and have some brutalist components that I actually think has some elegance," he said.
Brutalist architecture often has an exposed concrete exterior and is modular in style.
Mr Dreosti said recent success stories — including the striking South Australian Health and Medical Research Institute building on North Terrace and Adelaide Oval redevelopment — demonstrated building design and architectural outcomes in Adelaide was "in a very positive situation".
"We've seen some really quite significant demonstrations of good architecture, particularly on North Tce and around our oval precinct, and I think the community is starting to understand that architecture is not simply about aesthetic presentation but really importantly about the way buildings function and operate," he said.
Source: Adelaide's ugliest building — it's a hard fought contest | Adelaide Now
Tile has become a widely used surface material in residential homes for its durability, sustainability, resistance to scratches and stains, and low maintenance. Beyond that, it's available in myriad colors, textures, and patterns, mimicking everything from stone and wood looks to bright and bold colors.
More than 1,100 exhibitors showcased the latest tile products at this year's Coverings show in April. Among the thousands of new tile introductions, the team at Coverings presents a look at the top trends that emerged from the show floor:
Thin Tile
Thin tiles, also referred to as gauged tile, is easy and fast to install and can be installed on top of existing wall or floor tiles because they are lightweight. Thin tiles usually start at a thicknesses of about 2.5 mm for walls up to about 6 mm thick for floors.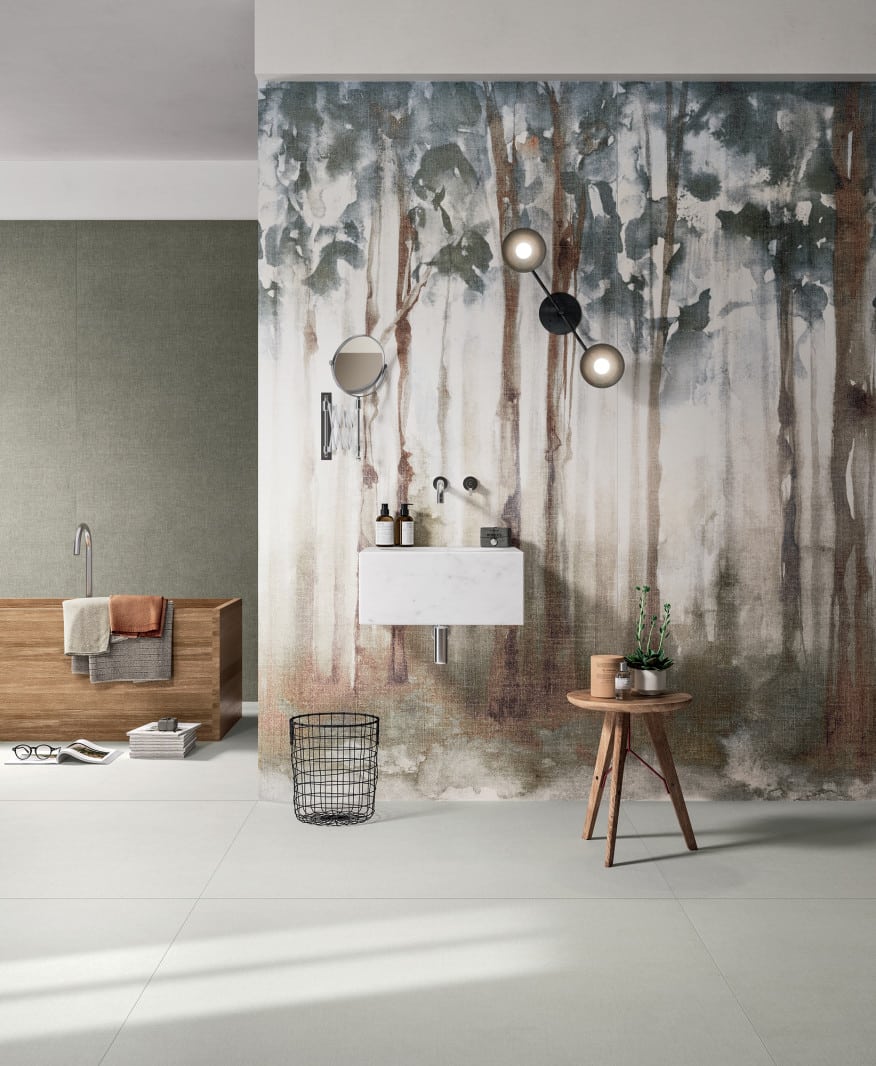 A Nature-Inspired Look
Creating design inspired by nature gives a serene look to any space. A number of manufacturers introduced tiles that mimic natural elements, such as the sky, greenery, wood, and other neutral earth tones that bring a natural feel indoors.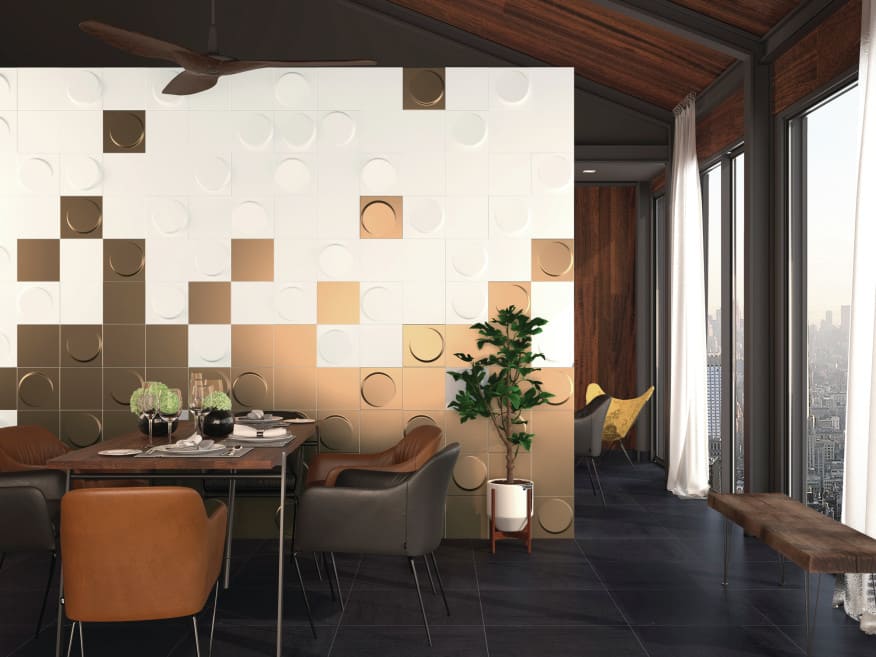 Beige and Neutral Tile
Beige doesn't have to mean boring. Neutral tones are essential to spaces with bold statements because they balance the overall design. Exhibitors at the show showcased a variety of looks that prove that neutrals can go in a variety of attractive hues along the muted color spectrum.

Grooved Tile
At first glance, you might miss the grout behind the tile and the details in the tile's texture. Grout can go beyond the functional and add a design enhancement to the design by adding different colors, iridescent qualities, metallic, or sometimes even glitter.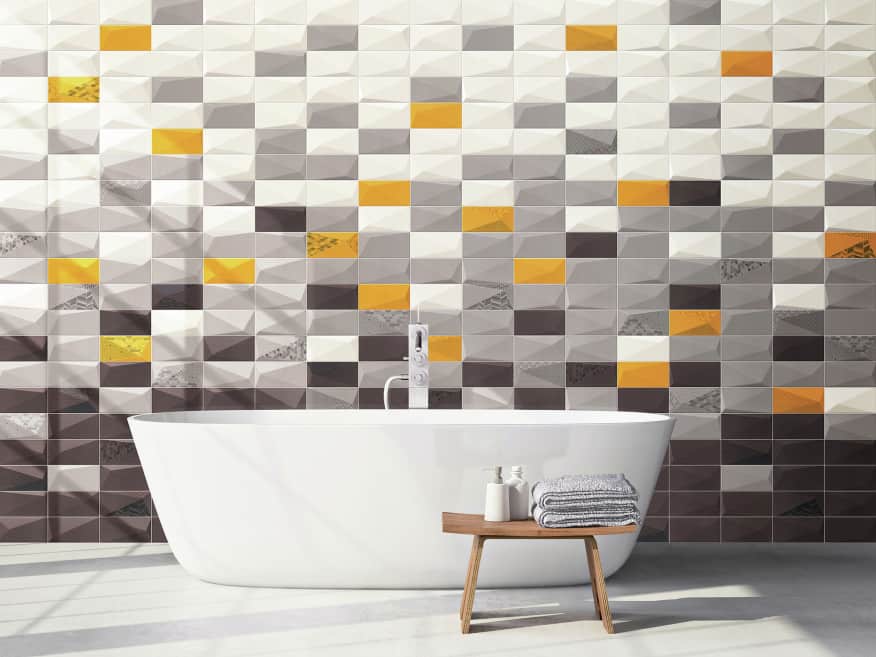 Bold Tile Statements
Today's tile manufacturers aren't afraid to make bold statements. From prints to metallic hues to bright colors, new collections have been introduced with geometric shapes and flashy patterns that bring a new dynamic element to a design.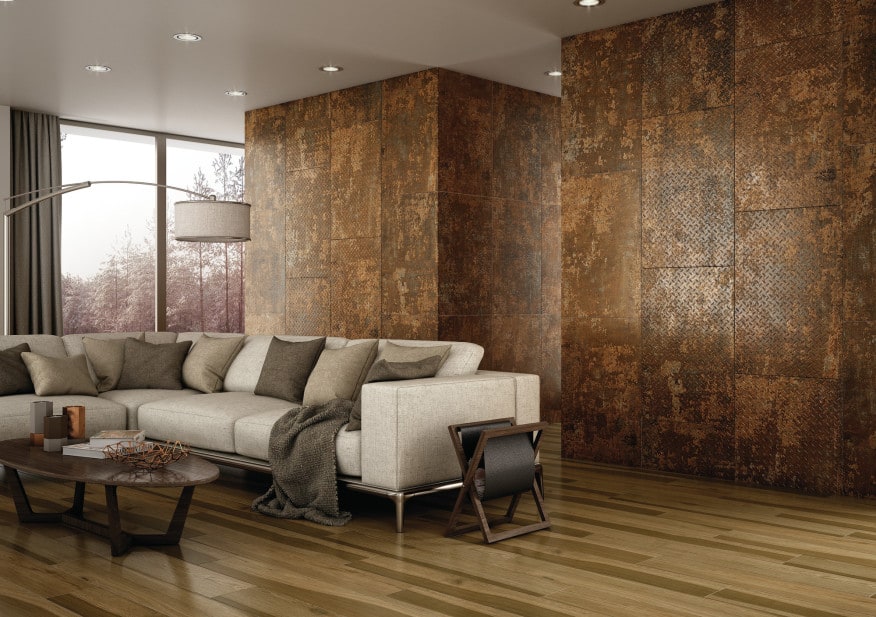 Textured Tiles
Innovative manufacturing techniques and computer printing have given manufactures the ability to give tiles new textures. Homeowners can have a tactile experience with their tile, bringing to life looks like oxidized and rusted metal, fabric, glass, and more.
Source: Top Tile Trends for 2017 | Builder Magazine | Tile, Finishes and Surfaces, Housing Trends, Products, Design, Interior Design
Construction of the first hemp house in WA has just been completed, sparking calls to build a local processing plant so local farmers can supply the building industry.
The hemp plant's woody stem is shredded, mixed with a lime render and tampered into place inside a timber frame.
Builder Gary Rogers said hemp is a high thermal insulator.
"The hemp is basically encased around your timber frame home so in a nutshell it's your cladding, it's your insulation, and it's all your gyprock and basically all your painting, all done in one, in a monolithic wall," Mr Rogers said.
The hemp walls are also termite resistant, fireproof, breathable, prevent mould, store carbon and reduce the need for heating and cooling.
And with the plant reaching maturity for hemp fibre requirements in just 14 weeks, it has been touted as an environmentally friendly answer to the building industry.
Mr Rogers used some locally grown and milled hemp to build the Margaret River home but he could not source enough product for a house.
At the moment, processed hemp needs to be imported from the east coast and Europe.
"We can import building materials to try and get it going and that's what we're doing at the moment, working with a couple of builders to import it so we can actually build interest in the industry," Colin Steddy, director of the The Hemp Corporation, said.
Hemp growers face uphill battle
But local hemp growers said they could grow hemp plants but just needed a processing plant in WA because their product was going to waste.
Gail Stubber, a South West hemp grower, said regulations prevented her from selling the seed as a food product.
"I can grow this crop but I can't do anything with it," Ms Stubber said.
"The only thing I can do with the seed is either replant it next year if it doesn't go high THC or I can have it pressed down into an oil, which is not really the way I want to go."
There were strict regulations ensuring the amount of THC in the plant was low, but Ms Stubber said that was not the biggest hurdle.
"I'd like the seed to be used for food because that immediately makes my crop more valuable," she said.
"I would like them to give us some sort of ruling on if the THC is slightly high, whether we can use the bi-products that are not involved in the high THC, so the herd, the inside part which is the housing thing.
"And I'd like the government to give us a hand, be it with a grant or something, to actually get a processing mill here in the South West.
"It's closed a lot mills, a lot of paper and pulp mills, but maybe we can turn one of those mills, whether it be at Kirup or Nannup or something into a hemp mill and produce herd for housing."
Colin Steddy said he planned to privately fund a processing plant in the South West which he said would open the door to huge farming and textile industry opportunities.
Mr Rogers said he already had several more clients lined up to build their homes from hemp.
All-timber apartments assembled like flat-packed furniture
A material used in construction for centuries is making a comeback, as developers and builders take timber to new heights. Its worth noting that building with this material has been happening for much of the last decade around the world, including Canada and parts of Europe, but until recently wasn't approved to be used for commercial sites in the Building Code of Australia.
On a site in Campbelltown, where four apartment towers are being built, almost the only noise you can hear is from another construction site nearby.
A panel thuds into place. A drill whirs. A radio sings out over workers' voices. Then, the screech of machinery from the other site.
Over the road, a conventional build is underway — mostly steel and concrete.
But this one is an all-timber project — 101 residential units in towers up to eight storeys high, made completely from pine.
"It's the perfect product for us to take our projects taller," StrongBuild managing director Adam Strong says.
They are not using conventional wood, but manufactured, engineered materials collectively known as mass timber.
Among them is cross-laminated timber (CLT) — layers of wood, glued together under high pressure with the grain of each perpendicular to the one before.
The end product is surprisingly strong and rigid, unlike raw timber, which will warp and weave over time.
"CLT, just by the very nature it's assembled, means it's quite dimensionally stable," Arup engineer Craig Gibbons said.
That stability means mass timber components can be manufactured to the precise dimensions required by a project, and delivered to sites with a high degree of confidence they will assemble as planned.
Offsite construction means less risks for builders
It all works a bit like flat-packed furniture.
The digital plans are sent to the manufacturer, where computer-controlled machines produce the timber elements to the exact dimensions required, right down where electrical wires will be chased down to light switches.
The panels are then put into shipping containers and delivered to the construction site, where builders slot them into place.
With so much of the construction process taking place in an offsite factory, builders are less exposed to onsite risks such as accidents or weather delays — which helps make projects faster, cheaper and more predictable.
"There's a big drive and push to any modular form of construction, any form of construction that can bring the advantages of offsite manufacturing," Mr Strong says.
There is another major difference between a conventional building site and one where they are working in timber — far fewer workers.
Just four workmen are assembling the top floor of one of the Macarthur Gardens towers, with a few more working on lower floors.
All these cost-saving advantages make a difference to developer BlueCHP Ltd, which specialises in affordable housing and plans to provide most of the apartments in this complex at 80 per cent of market rent.
"The more modular your design is, the quicker the guys can build it, the quicker we can house people," BlueCHP's Marcelo Staimbeisser said.
The company had not envisaged the development as an all-timber construction, but when they saw the proposal, Mr Staimbeisser said there was such a difference in construction price, and significant time savings, that they took a punt on a building material they had not worked with before.
Now, Mr Staimbeisser said he hoped more developers would use it.
"The more timber projects out there, the cheaper it's going to get in the long run," Mr Staimbeisser said.
Timber an environmentally-friendly option: advocates
CLT is not a new building material — its growing popularity in Australia is the result of recent changes to building regulations, which are in turn the result of lengthy performance testing and industry consultation.
In May last year, Australia's National Construction Code was changed so timber products could be used in buildings up to 25 metres high, without developers having to go through costly additional processes such as getting fire engineering approval each time.
Now, mid-rise buildings can be made of timber products, as long as sprinklers are installed in buildings over three storeys, and fire-resistant plasterboard covers all exposed wood.
Another driving force behind timber is the growing interest in environmentally-friendly and sustainable products.
Advocates of mass timber are quick to point to the material's green credentials, arguing it is a good insulator, which keeps down heating and cooling costs, and it is a store of carbon — unlike concrete and steel, which emit carbon during their production.
"One cubic metre of mass timber locks in about a tonne of carbon," Mr Gibbon said.
But those representing conventional materials say they are not worried by the challenge posed by timber, and tout concrete as a natural product as well.
"It's made out of certainly all natural resources — sand, stone, water and cement, which is manufactured from limestone, a very abundant product," Cement, Concrete and Aggregates Australia CEO Ken Slattery says.
He conceded the production of cement emits carbon, but said the industry has worked to lower that by almost 30 per cent over the past few decades and he believed it will come down further in the future.
As for insulation, Mr Slattery says well-designed concrete buildings can be highly energy-efficient, cutting down the amount of energy a building consumes over its entire life.
But timber and conventional materials need not be at odds.
Mr Gibbon is working on a 20-storey wooden building in Amsterdam, and thinks that is about the limit for an all-timber structure.
Beyond that, he said timber will have to work together with concrete in what he calls a "happy hybrid", where reinforced concrete and steel are used for the core, and timber for the walls and perimeter structure.
As demand increases for inner-city dwellings, he says he thinks more developers will turn to timber, for a quicker, less-disruptive option for high-rise structures.
First posted
Construction on what will become Adelaide's tallest building is set to commence in the new year.
Approved by the Development Assessment Commission last week, the 34-storey, 134-metre-high skyscraper designed by Brown Falconer Architects will be two metres taller than the city's existing tallest structure, the Westpac building by Rod Roach Architecture in association with Woods Bagot, and the proposed Realm Adelaide by Elenberg Fraser.
As part of Kyren Group's Frome Central project, the new building will sit next to a 21-storey student accommodation building between Rundle Street and North Terrace. The building will include a hotel, student accommodation, residential and serviced apartments, a café and parking spaces.
"[The project] fits perfectly with the vibrancy of the East End of Adelaide and will deliver a landmark development to the CBD," says Kyren Group director Theo Samaras.
"It is important to contribute to the CBD with high-quality projects like this one that, for up to three years, will provide many hundreds of jobs and be an enormous boost to businesses in the area."
"With all the activity in this end of town, this development will truly complement the businesses and cultural activities in the area, and give people living or working in the homes and businesses the best of everything on their doorstep."
The project follows a series of other developments and proposals in Adelaide including a high-rise school designed by Cox Architecture, a "radically mixed-use" tower by Woods Bagot and a two-towered project designed by Hassell and Fitzpatrick & Partners for the historic Adelaide GPO site.
Development of the new tower will see Adelaide comedy club, The Rhino Room and fellow venues, Urban Cow Studio and The Howling Owl demolished.
written by: Nicholas Rider originally published http://www.architectureanddesign.com.au/news/adelaide-s-tallest-building-receives-green-light
891 ABC Adelaide By Brett Williamson Originally posted
Built in 1884, The Marine Terraces at Grange Beach are the only three-storey Victorian-styled terraces ever built on Australia's coastline.
The block of eight are only one-third of what was originally planned for the site, with dreams of a 24-terrace site not eventuating.
Developers built the Grange Jetty, pub and terraces with a spur on the Port Adelaide rail line to help deliver Adelaide's rich to their beachside residences.
But a financial downturn caused the area to fail and the developers were bankrupted just four years after The Marines' completion.
Resident Dr Michael Henningsen bought one of these houses in 2006.
"The bottom levels were essentially the formal level for the family and the servants' kitchen and the scullery," he told 891 ABC Adelaide's Afternoons program.
"The first level was the principal bedrooms and the secondary bedrooms were on the top level."
With his partner, Dr Henningsen has spent eight years renovating the building.
"When we bought the place it was fairly seriously derelict," he said.
Dr Henningsen sought out heritage architect Dr Stephen Schrapel to help with the conversion of the heritage-listed home.
"They are a good example of the high Victorian period, with the large verandas and filigree ironwork," Dr Schrapel said.
"It's all very beautiful, but not well suited to the area that they were built in," he added.
As part of the original structure, the ceiling heights are 13 feet (3.96m) at ground level, 12 feet on first, and 11 feet on the top floor.
The ceiling heights set the grandeur of the buildings for the time, but posed great challenges for residents, particularly when trying to heat such vast spaces.
In the same style as counter-weighted windows, the building has several counter-weighted half-length doors which lift to enable access to the verandas.
"The double-hung system was always designed as a ventilation method, so you could partially open the bottom and top so the cool air would come through the bottom and hot air exit the top," Dr Schrapel said.
"This house has the most fantastic cross-ventilation," Dr Henningsen added.
As it was originally built for Adelaide's wealthy, the building had an intricate system of pulleys and bells to summon servants to the different rooms.
In honour of those who originally served their masters on the site, Dr Henningsen adapted a mechanism for their door bell.
The building originally had a series of five bells and pulleys, with all five bells terminating in the maid's quarters at the rear of the second floor.
"We didn't have the bells when we got here but we did have all of the mechanisms which we have kept," Dr Henningsen said.
"One of my plans is to have that restored and have it put back up in the maid's bedroom."
Although the location is stunning, Dr Henningsen said it also presented challenges maintaining the property from sea spray and weather.
"You have to be vigilant on the maintenance on the painting and stuff.
"When they were built, because of their technology at the time — like the cast iron for the filigree balustrades — within 12 months they were rusting," he said.
To protect the original feel of the frontage, Dr Henningsen said they had recasted the filigree in aluminium to avoid rust and degradation.
Ever wondered about the building opposite the new Adelaide Oval? The prestigious white Torrens Drill Hall is celebrating its 80th year this year.
To mark the occasion, 891 ABC Adelaide took a tour of the site, which was previously used for a quarry and rubbish dump.
Today the hall still houses some of South Australia's historical war treasures.
Two smaller buildings — a hall and a storage shed — were originally built on the site, before the current building opened on September 22, 1936.
"Architecturally we call it a stripped classical style, verging on a bit of art deco" architect Michael Queale told 891 ABC Adelaide's Afternoons host Sonya Feldhoff.
"This hall was built in an exercise of providing better accommodation for those new things called guns and trucks, rather than horses and carriages."
The facilities were refurbished in the period between the two world wars, in a time when the Commonwealth Government was investing heavily in such facilities as it prepared for World War II.
As part of the centenary of federation, the building and land was handed over to the South Australian Government from the Federal Government in 2001.
Mr Queale was the architect employed to oversee the building's restoration to grandeur, and ensure its future use by several government departments.
"The RSL, air force association and Vietnam Veterans came together … and we fitted the top floor out for those organisations and the ground floor for cultural and community use," he said.
Repairs were carried out to fix a leaking roof and salt damp.
A podium was added to the front of the building to aid wheelchair access and provide a platform for ceremonies.
The original bronze-clad doors can still be seen at each entrance, with modern glass doors installed behind.
Several items of memorabilia were introduced to the building once it was restored in 2001.
A bronze relief that once was on the facade of the RSL in Angus Street now hangs at the southern end of the Drill Hall.
"Our upstairs tenants have a fairly fascinating collection of memorabilia," Mr Queale said.
One piece — the still operational RAAFA links simulator — was used to train WWII pilots for night flying.
"We always called it the Snoopy plane," Mr Queale said.
"Most air force pilots in World War II were trained in this thing."