The builders of an award-winning home made from hemp hope to inspire a shift towards making it a mainstream construction material.
Balanced Earth recently won the Master Builders New South Wales Energy Efficient Building award for a home in the Byron Bay hinterland, in northern New South Wales.
Architect Michael Leung said while industrial hemp was popular in textiles, there was a growing interest in using the cannabis sativa plant in buildings.
"I think we've just hit the hemp industry at the right time, and in Byron Bay there's a real consciousness and responsibility to the environment so it's just seamlessly flowed together," he said.
Builder Luke Wrencher said hemp's most positive attribute was its sustainability.
"When you grow the hemp it takes the carbon out of the atmosphere and it stores the carbon in that fibre and you process it and lock the carbon up into the building, so at that point it becomes carbon negative," he said.
"To have a building material that is carbon negative is almost revolutionary."
Making hempcrete
To use hemp in construction, the builders take the chopped hurd, that is the inner woody core, and mix it with lime and sand to create a substance they have dubbed "hempcrete".
In the award-winning Byron hinterland home, the builders constructed frames from recycled timber to hold the hempcrete walls.
"The actual packing of the hemp is very easy to do, kids, children, wives, husbands, anyone can do it," Mr Wrencher said.
"The hardest thing is you need a carpenter for your formwork, but then it can definitely be a community thing to do, pack the hemp into the formed up walls."
The set walls have a texture similar to rendered concrete.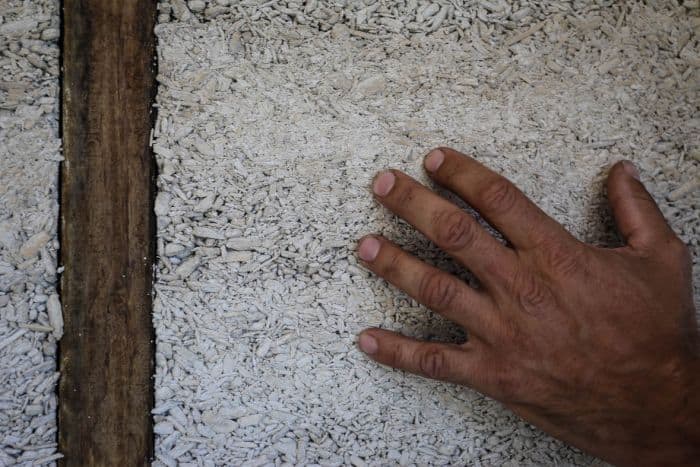 Healthy option
Mr Leung said he began looking into hemp after his wife's father died from mesothelioma, an asbestos-related illness.
"We moved to Byron and wanted to build our dream home and my wife was adamant we weren't going to use any toxic materials," he said.
"Then we met Luke, who had been working with hemp, and it went from there."
Mr Leung said hemp had proven to have outstanding thermal and acoustic properties.
"It's not just an insulator, it buffers temperature and humidity and prevents damp and mould growth," he said.
"It makes the building a healthy environment."
Making hemp mainstream
Mr Leung said the company's goal was to make hemp commonplace in the Australian construction industry.
He said the cost was comparable to conventional building products and could potentially be lowered if greater quantities of industrial hemp were grown commercially.
"Our vision is to really get hemp into mainstream construction and design," he said.
"We're leading the way in terms of design and builds in this country in hemp and we've only done eight builds and a number of feature walls.
"We'd really like all builders to be using it and there's no reason why they shouldn't."
Source: High hopes for hemp in Australian building industry
As automation technologies such as machine learning and robotics play an increasingly great role in everyday life, their potential effect on the workplace has, unsurprisingly, become a major focus of research and public concern. The discussion tends toward a Manichean guessing game: which jobs will or won't be replaced by machines?
In fact, as our research has begun to show, the story is more nuanced. While automation will eliminate very few occupations entirely in the next decade, it will affect portions of almost all jobs to a greater or lesser degree, depending on the type of work they entail. Automation, now going beyond routine manufacturing activities, has the potential, as least with regard to its technical feasibility, to transform sectors such as healthcare and finance, which involve a substantial share of knowledge work.
These conclusions rest on our detailed analysis of 2,000-plus work activities for more than 800 occupations. Using data from the US Bureau of Labor Statistics and O*Net, we've quantified both the amount of time spent on these activities across the economy of the United States and the technical feasibility of automating each of them. The full results, forthcoming in early 2017, will include several other countries,1but we released some initial findings late last year and are following up now with additional interim results.
Last year, we showed that currently demonstrated technologies could automate 45 percent of the activities people are paid to perform and that about 60 percent of all occupations could see 30 percent or more of their constituent activities automated, again with technologies available today. In this article, we examine the technical feasibility, using currently demonstrated technologies, of automating three groups of occupational activities: those that are highly susceptible, less susceptible, and least susceptible to automation. Within each category, we discuss the sectors and occupations where robots and other machines are most—and least—likely to serve as substitutes in activities humans currently perform. Toward the end of this article, we discuss how evolving technologies, such as natural-language generation, could change the outlook, as well as some implications for senior executives who lead increasingly automated enterprises.
Understanding automation potential
In discussing automation, we refer to the potential that a given activity could be automated by adopting currently demonstrated technologies, that is to say, whether or not the automation of that activity is technically feasible.2Each whole occupation is made up of multiple types of activities, each with varying degrees of technical feasibility. Exhibit 1 lists seven top-level groupings of activities we have identified. Occupations in retailing, for example, involve activities such as collecting or processing data, interacting with customers, and setting up merchandise displays (which we classify as physical movement in a predictable environment). Since all of these constituent activities have a different automation potential, we arrive at an overall estimate for the sector by examining the time workers spend on each of them during the workweek.
Technical feasibility is a necessary precondition for automation, but not a complete predictor that an activity will be automated. A second factor to consider is the cost of developing and deploying both the hardware and the software for automation. The cost of labor and related supply-and-demand dynamics represent a third factor: if workers are in abundant supply and significantly less expensive than automation, this could be a decisive argument against it. A fourth factor to consider is the benefits beyond labor substitution, including higher levels of output, better quality, and fewer errors. These are often larger than those of reducing labor costs. Regulatory and social-acceptance issues, such as the degree to which machines are acceptable in any particular setting, must also be weighed. A robot may, in theory, be able to replace some of the functions of a nurse, for example. But for now, the prospect that this might actually happen in a highly visible way could prove unpalatable for many patients, who expect human contact. The potential for automation to take hold in a sector or occupation reflects a subtle interplay between these factors and the trade-offs among them.
Even when machines do take over some human activities in an occupation, this does not necessarily spell the end of the jobs in that line of work. On the contrary, their number at times increases in occupations that have been partly automated, because overall demand for their remaining activities has continued to grow. For example, the large-scale deployment of bar-code scanners and associated point-of-sale systems in the United States in the 1980s reduced labor costs per store by an estimated 4.5 percent and the cost of the groceries consumers bought by 1.4 percent.3It also enabled a number of innovations, including increased promotions. But cashiers were still needed; in fact, their employment grew at an average rate of more than 2 percent between 1980 and 2013.
The most automatable activities
Almost one-fifth of the time spent in US workplaces involves performing physical activities or operating machinery in a predictable environment: workers carry out specific actions in well-known settings where changes are relatively easy to anticipate. Through the adaptation and adoption of currently available technologies, we estimate the technical feasibility of automating such activities at 78 percent, the highest of our seven top-level categories (Exhibit 2). Since predictable physical activities figure prominently in sectors such as manufacturing, food service and accommodations, and retailing, these are the most susceptible to automation based on technical considerations alone.
In manufacturing, for example, performing physical activities or operating machinery in a predictable environment represents one-third of the workers' overall time. The activities range from packaging products to loading materials on production equipment to welding to maintaining equipment. Because of the prevalence of such predictable physical work, some 59 percent of all manufacturing activities could be automated, given technical considerations. The overall technical feasibility, however, masks considerable variance. Within manufacturing, 90 percent of what welders, cutters, solderers, and brazers do, for example, has the technical potential for automation, but for customer-service representatives that feasibility is below 30 percent. The potential varies among companies as well. Our work with manufacturers reveals a wide range of adoption levels—from companies with inconsistent or little use of automation all the way to quite sophisticated users.
Manufacturing, for all its technical potential, is only the second most readily automatable sector in the US economy. A service sector occupies the top spot: accommodations and food service, where almost half of all labor time involves predictable physical activities and the operation of machinery—including preparing, cooking, or serving food; cleaning food-preparation areas; preparing hot and cold beverages; and collecting dirty dishes. According to our analysis, 73 percent of the activities workers perform in food service and accommodations have the potential for automation, based on technical considerations.
Some of this potential is familiar. Automats, or automated cafeterias, for example, have long been in use. Now restaurants are testing new, more sophisticated concepts, like self-service ordering or even robotic servers. Solutions such as Momentum Machines' hamburger-cooking robot, which can reportedly assemble and cook 360 burgers an hour, could automate a number of cooking and food-preparation activities. But while the technical potential for automating them might be high, the business case must take into account both the benefits and the costs of automation, as well as the labor-supply dynamics discussed earlier. For some of these activities, current wage rates are among the lowest in the United States, reflecting both the skills required and the size of the available labor supply. Since restaurant employees who cook earn an average of about $10 an hour, a business case based solely on reducing labor costs may be unconvincing.
Retailing is another sector with a high technical potential for automation. We estimate that 53 percent of its activities are automatable, though, as in manufacturing, much depends on the specific occupation within the sector. Retailers can take advantage of efficient, technology-driven stock management and logistics, for example. Packaging objects for shipping and stocking merchandise are among the most frequent physical activities in retailing, and they have a high technical potential for automation. So do maintaining records of sales, gathering customer or product information, and other data-collection activities. But retailing also requires cognitive and social skills. Advising customers which cuts of meat or what color shoes to buy requires judgment and emotional intelligence. We calculate that 47 percent of a retail salesperson's activities have the technical potential to be automated—far less than the 86 percent possible for the sector's bookkeepers, accountants, and auditing clerks.
As we noted above, however, just because an activity can be automated doesn't mean that it will be—broader economic factors are at play. The jobs of bookkeepers, accountants, and auditing clerks, for example, require skills and training, so they are scarcer than basic cooks. But the activities they perform cost less to automate, requiring mostly software and a basic computer.
Considerations such as these have led to an observed tendency for higher rates of automation for activities common in some middle-skill jobs—for example, in data collection and data processing. As automation advances in capability, jobs involving higher skills will probably be automated at increasingly high rates.
The heat map in Exhibit 3 highlights the wide variation in how automation could play out, both in individual sectors and for different types of activities within them.4
Activities and sectors in the middle range for automation
Across all occupations in the US economy, one-third of the time spent in the workplace involves collecting and processing data. Both activities have a technical potential for automation exceeding 60 percent. Long ago, many companies automated activities such as administering procurement, processing payrolls, calculating material-resource needs, generating invoices, and using bar codes to track flows of materials. But as technology progresses, computers are helping to increase the scale and quality of these activities. For example, a number of companies now offer solutions that automate entering paper and PDF invoices into computer systems or even processing loan applications. And it's not just entry-level workers or low-wage clerks who collect and process data; people whose annual incomes exceed $200,000 spend some 31 percent of their time doing those things, as well.
Financial services and insurance provide one example of this phenomenon. The world of finance relies on professional expertise: stock traders and investment bankers live off their wits. Yet about 50 percent of the overall time of the workforce in finance and insurance is devoted to collecting and processing data, where the technical potential for automation is high. Insurance sales agents gather customer or product information and underwriters verify the accuracy of records. Securities and financial sales agents prepare sales or other contracts. Bank tellers verify the accuracy of financial data.
As a result, the financial sector has the technical potential to automate activities taking up 43 percent of its workers' time. Once again, the potential is far higher for some occupations than for others. For example, we estimate that mortgage brokers spend as much as 90 percent of their time processing applications. Putting in place more sophisticated verification processes for documents and credit applications could reduce that proportion to just more than 60 percent. This would free up mortgage advisers to focus more of their time on advising clients rather than routine processing. Both the customer and the mortgage institution get greater value.
Other activities in the middle range of the technical potential for automation involve large amounts of physical activity or the operation of machinery in unpredictable environments. These types of activities make up a high proportion of the work in sectors such as farming, forestry, and construction and can be found in many other sectors as well.
Examples include operating a crane on a construction site, providing medical care as a first responder, collecting trash in public areas, setting up classroom materials and equipment, and making beds in hotel rooms. The latter two activities are unpredictable largely because the environment keeps changing. Schoolchildren leave bags, books, and coats in a seemingly random manner. Likewise, in a hotel room, different guests throw pillows in different places, may or may not leave clothing on their beds, and clutter up the floor space in different ways.
These activities, requiring greater flexibility than those in a predictable environment, are for now more difficult to automate with currently demonstrated technologies: their automation potential is 25 percent. Should technology advance to handle unpredictable environments with the same ease as predictable ones, the potential for automation would jump to 67 percent. Already, some activities in less predictable settings in farming and construction (such as evaluating the quality of crops, measuring materials, or translating blueprints into work requirements) are more susceptible to automation.
Activities with low technical potential for automation
The hardest activities to automate with currently available technologies are those that involve managing and developing people (9 percent automation potential) or that apply expertise to decision making, planning, or creative work (18 percent). These activities, often characterized as knowledge work, can be as varied as coding software, creating menus, or writing promotional materials. For now, computers do an excellent job with very well-defined activities, such as optimizing trucking routes, but humans still need to determine the proper goals, interpret results, or provide commonsense checks for solutions. The importance of human interaction is evident in two sectors that, so far, have a relatively low technical potential for automation: healthcare and education.
Overall, healthcare has a technical potential for automation of about 36 percent, but the potential is lower for health professionals whose daily activities require expertise and direct contact with patients. For example, we estimate that less than 30 percent of a registered nurse's activities could be automated, based on technical considerations alone. For dental hygienists, that proportion drops to 13 percent.
Nonetheless, some healthcare activities, including preparing food in hospitals and administering non-intravenous medications, could be automated if currently demonstrated technologies were adapted. Data collection, which also accounts for a significant amount of working time in the sector, could become more automated as well. Nursing assistants, for example, spend about two-thirds of their time collecting health information. Even some of the more complex activities that doctors perform, such as administering anesthesia during simple procedures or reading radiological scans, have the technical potential for automation.
Of all the sectors we have examined, the technical feasibility of automation is lowest in education, at least for now. To be sure, digital technology is transforming the field, as can be seen from the myriad classes and learning vehicles available online. Yet the essence of teaching is deep expertise and complex interactions with other people. Together, those two categories—the least automatable of the seven identified in the first exhibit—account for about one-half of the activities in the education sector.
Even so, 27 percent of the activities in education—primarily those that happen outside the classroom or on the sidelines—have the potential to be automated with demonstrated technologies. Janitors and cleaners, for example, clean and monitor building premises. Cooks prepare and serve school food. Administrative assistants maintain inventory records and personnel information. The automation of these data-collection and processing activities may help to reduce the growth of the administrative expenses of education and to lower its cost without affecting its quality.
Looking ahead
As technology develops, robotics and machine learning will make greater inroads into activities that today have only a low technical potential for automation. New techniques, for example, are enabling safer and more enhanced physical collaboration between robots and humans in what are now considered unpredictable environments. These developments could enable the automation of more activities in sectors such as construction. Artificial intelligence can be used to design components in engineer-heavy sectors.
One of the biggest technological breakthroughs would come if machines were to develop an understanding of natural language on par with median human performance—that is, if computers gained the ability to recognize the concepts in everyday communication between people. In retailing, such natural-language advances would increase the technical potential for automation from 53 percent of all labor time to 60 percent. In finance and insurance, the leap would be even greater, to 66 percent, from 43 percent. In healthcare, too, while we don't believe currently demonstrated technologies could accomplish all of the activities needed to diagnose and treat patients, technology will become more capable over time. Robots may not be cleaning your teeth or teaching your children quite yet, but that doesn't mean they won't in the future.
As stated at the outset, though, simply considering the technical potential for automation is not enough to assess how much of it will occur in particular activities. The actual level will reflect the interplay of the technical potential, the benefits and costs (or the business case), the supply-and-demand dynamics of labor, and various regulatory and social factors related to acceptability.
Leading more automated enterprises
Automation could transform the workplace for everyone, including senior management. The rapid evolution of technology can make harnessing its potential and avoiding its pitfalls especially complex. In some industries, such as retailing, automation is already changing the nature of competition. E-commerce players, for example, compete with traditional retailers by using both physical automation (such as robots in warehouses) and the automation of knowledge work (including algorithms that alert shoppers to items they may want to buy). In mining, autonomous haulage systems that transport ore inside mines more safely and efficiently than human operators do could also deliver a step change in productivity.
Top executives will first and foremost need to identify where automation could transform their own organizations and then put a plan in place to migrate to new business processes enabled by automation. A heat map of potential automation activities within companies can help to guide, identify, and prioritize the potential processes and activities that could be transformed. As we have noted, the key question will be where and how to unlock value, given the cost of replacing human labor with machines. The majority of the benefits may come not from reducing labor costs but from raising productivity through fewer errors, higher output, and improved quality, safety, and speed.
It is never too early to prepare for the future. To get ready for automation's advances tomorrow, executives must challenge themselves to understand the data and automation technologies on the horizon today. But more than data and technological savvy are required to capture value from automation. The greater challenges are the workforce and organizational changes that leaders will have to put in place as automation upends entire business processes, as well as the culture of organizations, which must learn to view automation as a reliable productivity lever. Senior leaders, for their part, will need to "let go" in ways that run counter to a century of organizational development.5
---
Understanding the activities that are most susceptible to automation from a technical perspective could provide a unique opportunity to rethink how workers engage with their jobs and how digital labor platforms can better connect individuals, teams, and projects.6It could also inspire top managers to think about how many of their own activities could be better and more efficiently executed by machines, freeing up executive time to focus on the core competencies that no robot or algorithm can replace—as yet.
Could a machine do your job? Find out on Tableau Public, where we analyzed more than 800 occupations to assess the extent to which they could be automated using existing technology.
Bricks traditional dominance in the residential housing market has been suffering over the last couple of decades. The pressure to put more house on less land has led builders to look at tilt up concrete panels, Hebel and Blueboard like products.
The current trend for rendering the exterior of houses has gone hand in hand with other cladding materials. But what happens when the trend ends? The use of stone and tile being mechanically fixed to the facade of commercial buildings, has already taken off in residential – could this reduce the popularity of rendered finishes?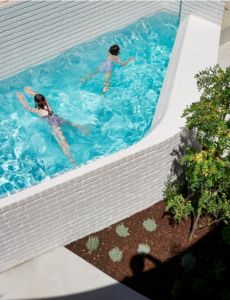 Brick trumps other building materials when it comes to outlasting the 'trend' by being a solid material that can be used with a range of different facade treatments, or left as is with a huge variety of new colours and textures available. Architecture & Design Magazine have more information about the Melbourne extension on their website, click HERE to read all about it.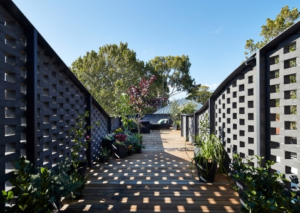 CSR Bradford are promoting their Thermoseal Wall Wrap system as a way to have work on the interior of homes completed before, or at the same time as the external brickwork or cladding is completed. There is no mention of the extra complexity facing bricklayers having to work around this system and the extra time that that takes. No mention either of the failure of the wrap in some houses being constructed during storms. We have had bricklayers tell us that some homes being built during the last series of SA storms had significant leaks that saturated the internal plasterboard, and could lead to issues of mould as a result.
The claim is made that the product can save time by providing the following chart: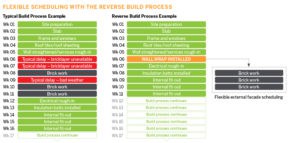 Note the only trade delay identified is for bricklayers. This magical product must also free up scheduling for all the other trades as well. Luckily bad weather doesn't affect slabs being poured or roofing in marketing land.
This product is being promoted to builders. If you are building a home through a builder, we would recommend that you check if this system is being used, and if it is, insist on inspecting the site after any bad weather. The building industry could look at increasing the numbers of bricklaying apprentices as a way to overcome trade shortages. Offering extra incentives and streamlining administration of apprenticeships could all go a long way towards overcoming labour shortages in certain trades. Note that bricklaying has been on the National Skills Shortage list for most of the decade.
Construction of the first hemp house in WA has just been completed, sparking calls to build a local processing plant so local farmers can supply the building industry.
The hemp plant's woody stem is shredded, mixed with a lime render and tampered into place inside a timber frame.
Builder Gary Rogers said hemp is a high thermal insulator.
"The hemp is basically encased around your timber frame home so in a nutshell it's your cladding, it's your insulation, and it's all your gyprock and basically all your painting, all done in one, in a monolithic wall," Mr Rogers said.
The hemp walls are also termite resistant, fireproof, breathable, prevent mould, store carbon and reduce the need for heating and cooling.
And with the plant reaching maturity for hemp fibre requirements in just 14 weeks, it has been touted as an environmentally friendly answer to the building industry.
Mr Rogers used some locally grown and milled hemp to build the Margaret River home but he could not source enough product for a house.
At the moment, processed hemp needs to be imported from the east coast and Europe.
"We can import building materials to try and get it going and that's what we're doing at the moment, working with a couple of builders to import it so we can actually build interest in the industry," Colin Steddy, director of the The Hemp Corporation, said.
Hemp growers face uphill battle
But local hemp growers said they could grow hemp plants but just needed a processing plant in WA because their product was going to waste.
Gail Stubber, a South West hemp grower, said regulations prevented her from selling the seed as a food product.
"I can grow this crop but I can't do anything with it," Ms Stubber said.
"The only thing I can do with the seed is either replant it next year if it doesn't go high THC or I can have it pressed down into an oil, which is not really the way I want to go."
There were strict regulations ensuring the amount of THC in the plant was low, but Ms Stubber said that was not the biggest hurdle.
"I'd like the seed to be used for food because that immediately makes my crop more valuable," she said.
"I would like them to give us some sort of ruling on if the THC is slightly high, whether we can use the bi-products that are not involved in the high THC, so the herd, the inside part which is the housing thing.
"And I'd like the government to give us a hand, be it with a grant or something, to actually get a processing mill here in the South West.
"It's closed a lot mills, a lot of paper and pulp mills, but maybe we can turn one of those mills, whether it be at Kirup or Nannup or something into a hemp mill and produce herd for housing."
Colin Steddy said he planned to privately fund a processing plant in the South West which he said would open the door to huge farming and textile industry opportunities.
Mr Rogers said he already had several more clients lined up to build their homes from hemp.
All-timber apartments assembled like flat-packed furniture
A material used in construction for centuries is making a comeback, as developers and builders take timber to new heights. Its worth noting that building with this material has been happening for much of the last decade around the world, including Canada and parts of Europe, but until recently wasn't approved to be used for commercial sites in the Building Code of Australia.
On a site in Campbelltown, where four apartment towers are being built, almost the only noise you can hear is from another construction site nearby.
A panel thuds into place. A drill whirs. A radio sings out over workers' voices. Then, the screech of machinery from the other site.
Over the road, a conventional build is underway — mostly steel and concrete.
But this one is an all-timber project — 101 residential units in towers up to eight storeys high, made completely from pine.
"It's the perfect product for us to take our projects taller," StrongBuild managing director Adam Strong says.
They are not using conventional wood, but manufactured, engineered materials collectively known as mass timber.
Among them is cross-laminated timber (CLT) — layers of wood, glued together under high pressure with the grain of each perpendicular to the one before.
The end product is surprisingly strong and rigid, unlike raw timber, which will warp and weave over time.
"CLT, just by the very nature it's assembled, means it's quite dimensionally stable," Arup engineer Craig Gibbons said.
That stability means mass timber components can be manufactured to the precise dimensions required by a project, and delivered to sites with a high degree of confidence they will assemble as planned.
Offsite construction means less risks for builders
It all works a bit like flat-packed furniture.
The digital plans are sent to the manufacturer, where computer-controlled machines produce the timber elements to the exact dimensions required, right down where electrical wires will be chased down to light switches.
The panels are then put into shipping containers and delivered to the construction site, where builders slot them into place.
With so much of the construction process taking place in an offsite factory, builders are less exposed to onsite risks such as accidents or weather delays — which helps make projects faster, cheaper and more predictable.
"There's a big drive and push to any modular form of construction, any form of construction that can bring the advantages of offsite manufacturing," Mr Strong says.
There is another major difference between a conventional building site and one where they are working in timber — far fewer workers.
Just four workmen are assembling the top floor of one of the Macarthur Gardens towers, with a few more working on lower floors.
All these cost-saving advantages make a difference to developer BlueCHP Ltd, which specialises in affordable housing and plans to provide most of the apartments in this complex at 80 per cent of market rent.
"The more modular your design is, the quicker the guys can build it, the quicker we can house people," BlueCHP's Marcelo Staimbeisser said.
The company had not envisaged the development as an all-timber construction, but when they saw the proposal, Mr Staimbeisser said there was such a difference in construction price, and significant time savings, that they took a punt on a building material they had not worked with before.
Now, Mr Staimbeisser said he hoped more developers would use it.
"The more timber projects out there, the cheaper it's going to get in the long run," Mr Staimbeisser said.
Timber an environmentally-friendly option: advocates
CLT is not a new building material — its growing popularity in Australia is the result of recent changes to building regulations, which are in turn the result of lengthy performance testing and industry consultation.
In May last year, Australia's National Construction Code was changed so timber products could be used in buildings up to 25 metres high, without developers having to go through costly additional processes such as getting fire engineering approval each time.
Now, mid-rise buildings can be made of timber products, as long as sprinklers are installed in buildings over three storeys, and fire-resistant plasterboard covers all exposed wood.
Another driving force behind timber is the growing interest in environmentally-friendly and sustainable products.
Advocates of mass timber are quick to point to the material's green credentials, arguing it is a good insulator, which keeps down heating and cooling costs, and it is a store of carbon — unlike concrete and steel, which emit carbon during their production.
"One cubic metre of mass timber locks in about a tonne of carbon," Mr Gibbon said.
But those representing conventional materials say they are not worried by the challenge posed by timber, and tout concrete as a natural product as well.
"It's made out of certainly all natural resources — sand, stone, water and cement, which is manufactured from limestone, a very abundant product," Cement, Concrete and Aggregates Australia CEO Ken Slattery says.
He conceded the production of cement emits carbon, but said the industry has worked to lower that by almost 30 per cent over the past few decades and he believed it will come down further in the future.
As for insulation, Mr Slattery says well-designed concrete buildings can be highly energy-efficient, cutting down the amount of energy a building consumes over its entire life.
But timber and conventional materials need not be at odds.
Mr Gibbon is working on a 20-storey wooden building in Amsterdam, and thinks that is about the limit for an all-timber structure.
Beyond that, he said timber will have to work together with concrete in what he calls a "happy hybrid", where reinforced concrete and steel are used for the core, and timber for the walls and perimeter structure.
As demand increases for inner-city dwellings, he says he thinks more developers will turn to timber, for a quicker, less-disruptive option for high-rise structures.
First posted
South Australian businesses can now register for two types of Job Accelerator Grants to assist with employing additional full-time, part-time and casual employees, with grants between $10 000 and $4,000 for every new job created.
The grant aims to create jobs now and build a strong workforce for the future. Find out if your business is eligible today to start shaping the jobs of tomorrow.
UP TO $4,000 for SMALL BUSINESSES….
Are you looking to employee new staff ?  You could be eligible for a state government grant.
UP TO $10,000 for LARGE BUSINESSES….
Your text caption goes here. You can change the position of the caption and set styles in the block's settings tab.
We frequently have tilers contact us with questions about waterproofing, especially when it comes to balconies. The current training packages that apprentices complete don't offer enough information on balconies, but focus on internal wet areas instead. FCTA has incorporated waterproofing of balconies into apprentice training regardless of it being unfunded, because its critical for tilers to have an understanding of the different processes.
Mapei is one of the suppliers of waterproofing products in Australia. They have put together a comprehensive technical notebook about terraces and balconies. 
Ardex is another supplier of Tiling and Waterproofing products. They have a really great section on their website that provides technical bulletins about a range of issues, including how to work with James Hardie's Scyon product, bonding ceramic tiles to waterproofing products and an introduction to screeding & waterproofing membranes. Click here to access their technical bulletins.
Gripset is a South Australian company operating worldwide. They provide technical information and usage calculators on their website to assist tradies. Their technical manuals and calculators can be found on their website.
FCTA – Building Careers also run short courses on waterproofing, to book in follow this link.
To call linear drains a 'recent trend' would be a misnomer. The product has been used in Europe and Australia for decades, yet it continues to generate sustained interest within design and build circles.
Also known as trench or channel drains, linear drains differ from other drainage alternatives by lying flush with its adjoining surfaces. In residential projects, this eliminates the need for shower curbs and means the drain may be installed away from the middle or standing area of a shower, offering a range of practical and aesthetic benefits.
For example, linear drains only require a single fall (or slope) in the floor, making them easier to install than a traditional 'dished' shower floor.
"Centre wastes require the floor to slope to the drain from all directions, like a shallow dish," Stormtech's managing director Troy Creighton explained. "A traditional centre waste is best in the middle of the floor as this is the shortest distance for any water to travel. The positioning of a linear drain is more versatile – it can be installed across the door, against the back wall, under a vanity, on one side of a shower or bathroom."
This one-directional slope (towards the drain) not only makes for faster installation but builders also typically need less build-up on the floor and have more options on how to arrange the plumbing and waterproofing.
Linear drains are also favoured because they allow for large format stone or tiles (600 x 600, 600 x 300, 900 x 900) to be used without requiring cuts to create the correct falls. Compare this to traditional centre wastes, which are suited to smaller tiles since the 'dish' formed to guide water flow would require large tiles to be cut diagonally to avoid steps or lipping of the tiles.
An 'add-on' advantage of having a single fall that drains well in simple directions, is the floor cleaning process said Misho Vasiljevich, principal architect at Hobart practice Misho + Associates. Vasiljevich has specified linear drains both in residential bathrooms (using the Veitch shower channel, sold by Reece), and in commercial projects such as the Hobart Airport Terminal Redevelopment's new toilets (Stormtech), forecourt expansion and airside drainage (Aco Drains).
The same benefits apply to the use of linear drains in commercial or public projects. A 2014 study by quantity surveyor Rider Levett Bucknall, which compared the cost and effectiveness of three drainage methods at a carpark at the Homebush Aquatic Centre in New South Wales, found that a modular grated trench drain system surpassed grated pit and pipe systems and cast in-situ trench drains in terms of hydraulic performance, and installation simplicity, and maintenance.
The same study also noted that the modular trench drain, the ACO Drain, was the more affordable option – 13 per cent cheaper than cast in-situ trench drains. However, some architects believe the higher costs associated with linear drains remain an inhibiting factor against their specification, particularly in residential projects.
"Practically and aesthetically, linear drains, in my opinion, have more upsides than downsides, but budget is the main driver until the plumbing trades become used to using them," Vasiljevich said. "Like anything new, Australian trades [charge] high installation costs without looking at what it helps through all the trades."
"On a recent project, the Quantity Surveyor placed a high cost on the supply and installation even though I had a quote. The client took the QS' figures and linear drains were pulled from the project."
Nevertheless, Vasiljevich and other architects we interviewed said they favoured linear drains over point drains.
"I definitely prefer linear drains and have used them on two recently completed projects," architect Sophie Solomon said in an email interview. "We used large format floor tiles so the linear drain was the only option. For both projects, the linear drain was infilled with a matching cut tile so the floor looks quite seamless. They provide a superior finish and practical design solution in a wet area."
"I would recommend point over linear drains when you have a low budget and cannot afford linear," said Vasiljevich, "but I believe in the next 10 years linear drains will become standard."
LINEAR DRAIN INSTALLATION CHECKLIST
Sufficient drainage: Incorrectly sized sub-sill can lead to significant moisture damage in walls and floors.
Durability: Seek materials that are purpose-built to withstand the harsh Australian elements, and resist shrinkage and expansion. Coastal homes will benefit from threshold products manufactured with 316 marine grade, corrosion-resistant stainless steel that can handle high water flows, harsh chemicals and suspended chloroids.
Safety: Reduce chances of injury by fitting a linear drain that blends in seamlessly with the floor surface.
Standards: Threshold drainage must meet design requirements for access and mobility (AS1428.1-2009), and thresholds at doorways, in particular, must have a continuous path of travel and have a maximum rise of 35mm, maximum length of 280mm, maximum gradient of 1:8 and be located within 20mm of the door leaf which it serves. They must also meet requirements in AS3500.2 Sanitary plumbing and drainage.
SUPPLIERS
Stormtech
Stormtech offers an extensive range of linear drains suitable for bathroom applications. The majority come as a uPVC channel and 316 marine grade stainless steel grate, however, tile insert and anodised colour range options are also available.
Stripgrate
Stripgrate offer four linear drain models, three of which come in a narrow 38mm width and with either tile or steel profile inserts. The fourth on offer is called Tilegap (pictured) and is a 48mm channel with a centre positioned linear blade. Because of its design and tile overlap, the Tilegap appears to be much smaller than its drainage capability.
Stainless Steel Drainage & Civil Pty Ltd
SSDC's Quick Turnaround Drain is the only all Australian made version on the market. It will be delivered to site within three business days which also includes custom placement of spigot outlet. It comes in 304 grade stainless steel and in either 100mm or 75mm wide varieties. SSDC's Bollinger Series (pictured) can also accommodate a tile insert.
ACO Polycrete
Aco's Quartz range of shower channels are available in six standard lengths (700, 800, 900, 1000, 1200 and 1400mm), with the option of a centre or end outlet (63mm from end). They are available in a choice of eight grating designs that can be replaced for a new look. Seven of those grating designs also come in a matching pointdrain profile and all come with an option for integrated water-activated LED lights.
Aquabocci
Aquabocci claims to be the world's most versatile drainage systems. Its PVC channel system can be measured and cut to length, hole sawed for custom-placed spigot holes and configured into corners. Its Blade series inserts (pictured) are also height adjustable to match any tile or stone thickness.
Veitch Stainless Steel
Veitch provide shower channels in Original or Lowline range. The Lowline comes in a depth of 20mm while the Original is 35mm. Both come in standard lengths of 800, 900, 1200 and 1500mm but can be custom built to lengths of up to 2400mm. Veitch also allows outlets to be custom positioned. Both are available in three grate patterns and in either a satin or chrome finish 304 grade stainless steel.
Originally published http://www.architectureanddesign.com.au/features/product-in-focus/ by Geraldine Chua
Australia's homes are notoriously "leaky" — allowing the uncontrolled flow of heat into and out of the building. Our answer has been to put in more and more pumps, in the form of air conditioning. This is often promoted as a feature, rather than an indication of a poor-quality building!
This creates problems for everyone.
We all know that some houses are hotter than others in heatwaves, and that well insulated and designed homes cost a lot less to operate throughout the year because they don't rely heavily on air conditioners or heaters to provide comfort.
But did you know that relying on air conditioners to stay cool on hot summer days affects the price of electricity for everyone, all year round?
Pumping heat from one place to another takes a lot of energy, which makes air conditioners particularly power-hungry appliances. The more leaky the house, the more heat needs to be pumped out. On hot days, when lots of air conditioning units are operating at the same time, this creates a challenge for the electricity infrastructure.
It costs money to build an electricity network that can handle these peaks in demand. This cost is recovered through the electricity unit cost (cents per kilowatt hour).
We all pay this cost, in every electricity bill we get; in fact the cost of meeting summer peak demand accounts for about 25 per cent of retail electricity costs.
This is more than twice the combined effect of solar feed-in tariffs, the Renewable Energy Target and the erstwhile carbon tax.
This means that people living in houses that are built to handle their local climate are effectively subsiding those who live in poorer-quality buildings and relying solely on the air conditioning to stay cool.
Perhaps even less fairly, those who struggle to afford air conditioning and have to cope with overheating are also paying this subsidy via the electricity they do use. All this is because many people still live in leaky, poor-quality buildings.
Does this mean that air conditioners are evil and should never be used? Of course not — there is a role for very efficient air conditioners (heat pumps) in extreme weather events. But it does raise some interesting questions.
Can we design and build homes that are great to live in and don't cost the Earth to run? And, if so, why aren't these homes the norm, rather than the exception?
You get what you ask for
The good news is that comfortable, quality homes that put minimal strain on the electricity grid are certainly possible. What's needed is a combination of design that takes account of the local climate, appropriate building materials and quality construction practices.
Some homes consume less than a quarter of the energy of their contemporaries in the same climate — it's just frustrating that they aren't more common.
In the past, the housing industry would say that it's simply building the homes that people want — that Australians are mainly interested in size and location, not energy performance.
Recent research, however, seems to indicate that the perspectives of real estate agents and other property practitioners could be limiting how, or if, they promote energy efficiency and other sustainability features to potential clients.
Are Australians still mesmerised by the surface bling of granite benchtops, a theatre room, or automatic gadgets? Are we starting to consider weightier issues such as operation costs, resilience and comfort?
Or are we waiting until the first heatwave or the first electricity bill to realise just how good or poor our purchase decision was?
Some savvy buyers — before they sign a contract — are starting to ask about insulation, but not the more fundamental questions, like "how hot does this room get?" or "can I afford to run this house?".
The housing sector seems to assume that if you don't explicitly ask for something, it is not important to you.
They also seem to assume that the building regulations set the standard — despite the fact the building regulations are minimum requirements, not best practice for comfort and value.
Some also actively lobby for lower standards, arguing that energy efficiency has "questionable benefits" and that requiring information to be passed on to consumers is an "unnecessary burden".
Buyer beware — you're on your own
What does this mean? When buying a used car or a new phone, it's relatively easy to get the information you need — and there are quite a few consumer protection laws in place.
But when we inspect a home for sale or rent, we can see the number of rooms, test the taps and light switches, and measure how far it is to the shops or school or work, but there is a huge amount we can't see and are not told.
A real estate agent is not acting in the prospective buyer's interest (or even necessarily in the seller's).
The seller wants the highest price in the shortest time, and the agent wants the biggest commission for the least effort.
And contrary to practices in the European Union, no one is obliged (in most parts of Australia) to tell prospective buyers or renters about the home's running costs.
There have been successes and failures in state government attempts to ensure that home buyers and renters have access to information about comfort and running costs at the time of purchasing or renting.
Queensland's Sustainability Declaration, introduced in 2010, was very short-lived, with an incoming government declaring it "useless red tape".
In contrast, the ACT government has required an Energy Efficiency Rating for the sale or rent of residential properties since 1999, with multiple reports showing the benefits to property value and to reduced running costs.
New South Wales plans to introduce a voluntary disclosure scheme in 2018, and to make it mandatory in 2020.
These schemes not only make it easier to identify homes that cost less to run, but can also drive demand for energy-efficient renovations and put downward pressure on electricity prices.
The distribution of information about housing in Australia is flawed.
Real estate agents, valuers, financiers and electricity industry operators are making decisions based on very little or no information about how the quality of houses impacts on their clients, their business processes and electricity infrastructure investment.
Most importantly, owners and renters are not being informed about the quality of the houses they are buying or renting, and the impacts that particular dwellings will have on their health, comfort and wallets.
What can you do?
So is the housing sector right? Do you care about the quality of the building you live in? What is a sensibly designed and well-constructed house worth to you? What dollar value do you put on your health, safety and comfort?
What value is there for your family to able to cope with heatwaves, or to pay off the mortgage sooner because of the money you save on power bills?
You don't need to wait for government to act.
If you are looking at buying or renting a new home or apartment, ask to see the energy certificate for the dwelling.
Such a certificate would have been created as part of the building approval process.
It could also be useful to ask for a thermal imaging report and air leakage report.
These are tests the builder can have done to prove his quality of construction.
For existing homes, you can ask the seller for a Universal Certificate, or a copy of their energy bills, or evidence of features they have installed to enhance the comfort of the house (such as receipts for insulation or window tinting).
And next time you're visiting a friend or neighbour with heat radiating from the walls, windows and roof, and the aircon cranked at full blast, enjoy the nice cool air — because you're helping them pay for it.
This story was originally published in The Conversation, by Wendy Miller who is a Senior Research Fellow at Queensland University of Technology.