We have a range of short courses running before the end of the year. Our most popular tiling courses can be customised for people looking to develop specific skills. These courses are eligible for CITB subsidies for people working in the trades with a CITB membership number – this is free to apply for at citb.org.au. If you are interested in other courses, or would like to request different dates, please email [email protected]
Tiling – 1 week:
24th – 28th September 2018
Cost: $750 or $250 with CITB membership
Waterproofing – 3 days:
15th – 17th October 2018
Cost: $550 or $200 with CITB membership
Acrylic Rendering – 3 days:
29th – 31st October 2018
Cost: $600 or $250 with CITB membership
Tiling – 1 week:
26th – 30th November 2018
Cost: $750 or $250 with CITB membership
Contractors License Course:
6th – 7th October 2018 & 20th – 21st October 2018 
Cost: $950 or $450 with CITB membership
Our most popular short course on waterproofing will be held on 19/2/18 – 21/2/18 (8am – 3:30pm). This course covers off a practical application of waterproofing to internal wet areas and balconies. The Australian Standards and Building Code will be discussed. Representatives from waterproofing manufacturers will also be available to answer questions and discuss the use of their branded systems.
Click on this link to book online, or call us on 83675615.  The Construction Industry Training Board (CITB) subsidies training for some existing building industry workers. To find out more visit citb.org.au. The cost of the course is $550 or $200 with CITB support.
Please note, this course alone will not qualify you to apply for a license – I get this questions all the time! You cannot become a waterproofer and certainly not a tiler based on a 3 day short course. On completion of the course, students will receive a Statement of Attendance. For people with other experience in waterproofing and/ or tiling, this can go towards your evidence to apply for a contractors license. If you have questions about licensing, please call us on 83675615.
Originally published: news.com.au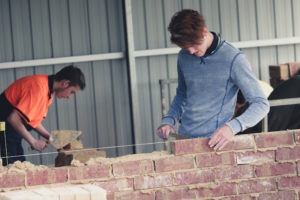 AFTER receiving their high school results over the past fortnight, graduates across Australia will be thinking long and hard about their options.
But while they're going through their course options and preparing job applications, anxious about the dwindling graduate employment rate and competition for positions, there's one category of jobs that will likely be overlooked.
Analysis by jobs website Adzuna has revealed the jobs that Australians just aren't interested in, with trades and construction coming out on top.
With minimal qualifications required, you'd think trades would be a popular choice.
The report showed that while jobs advertised in the construction industry has increased by 10 per cent, apprenticeship commencements were down 5.6 per cent year on year.
Adzuna CEO Raife Watson called on schools to remind students of the option of vocational education and training as an alternative to university.
"Despite reports that the residential construction boom in Sydney is starting to wind down, we continue to see growth year-on-year in advertised vacancies across a wide selection of job roles in trades and construction," he said.
"The primary concern for the construction industry is the continued decline in apprenticeship commencement rates."
Mr Watson said there was a "stigma" associated with TAFE studies and apprenticeships that Australia needed to work to remove.
"Twenty-three university graduates compete for each role, whereas in some Australian states, two jobs are available for all qualified apprentices," he said.
"I expect this number to increase in the coming years as apprenticeship numbers continue to decline."
In South Australia, where school leavers' results were released this morning, graduates are being urged to consider taking on a trade or traineeship.
Business SA says apprenticeships and traineeships are viable career options as Australia faces a skills shortage across a range of industries.
Sharyn Davies, from Apprenticeship Support Australia which is administered by Business SA, said a high score in year 12 is not a guarantee for future success.
"It's more important for young people to follow their passions," she said.
"When we are doing something that aligns with our strengths, skills and passions, we have a higher level of wellbeing and are more likely succeed in building a successful career."
Source: School-leavers not interested in trades
We have employers seeking Bricklaying, Tiling and Solid Plastering apprentices. The Certificate II in Construction aims to get students work ready, and into an apprenticeship.
Employers typically want applicants to be under 21, with a drivers license and some experience or a Cert II in Construction. There are opportunities for those over 21, usually in labouring jobs, but sometimes as adult apprentices.
Our next course starts Tuesday January 30th and runs for 10 weeks at 15 Jacobsen Crs, Holden Hill. Government-funded eligibility has been improved so more people have the opportunity to study.
Call us on 8367 5615 or email [email protected] for more information.
Dates for  2018:
30/01/2018 – 06/04/2018
06/03/2018 – 11/05/2018
01/05/2018 – 06/07/2018
8am – 3:30pm Tuesday – Friday for 10 weeks at 15 Jacobsen Crs, Holden Hill.
This qualification requires 9 core units of competency and 6 electives to be completed. For more information on this training course and employability skills, please visit training.gov.au
Qualification Code: CPC20112
Core
Total qualification: Approx 500 hours depending on electives

Electives
Unit Code
Unit Title
Hours
CPCCOHS2001A
Apply OHS requirements and procedures in the construction industry
20
CPCCCM10012A
Work effectively in the General Construction Industry
20
CPCCCM1013A
Plan and organise work
20
CPCCCM1014A
Conduct workplace communication
20
CPCCCM1015A
Carry out measurements and calculations
20
CPCCCM2001A
Read and interpret plans and specifications
36
CPCCCM2006B
Apply basic levelling procedures
8
CPCCCO2013A
Carry out concreting to simple forms
20
CPCCCM2005B
Use construction tools and equipment
96
CPCCCM2010B
Work Safely at Heights
8
Unit Code
Unit Title
Hours
CPCCCM2008B
Erect and dismantle restricted height scaffolding
40
CPCCCM2009A
Carry out basic demolition
32
CPCCSF2004A
Place and fix reinforcement materials
80
CPCCSP2003A
Prepare surfaces for plastering
40
CPCCCM2007B
Use explosive power tools
16
CPCCWF2002A

CPCCPB3001A

CPCCSP2002A

CPCCBL2002A

PLUS ONE OF THE FOLLOWINGUse wall & floor tiling equipment

Fix standard plasterboard wall sheets

Use solid plastering tools and equipment

Use bricklaying tools and equipment

96

60

80

30
Getting an apprenticeship in South Australia can lead to a long term career in the Building and Construction Industry. That means working outdoors, earning an income while you study and having the opportunity to eventually be your own boss. The tricky part can be choosing which trade is the best fit. Pre-apprenticeship courses are an excellent way to try a number of trades before selecting which one you most enjoy.

Many people select the trade they want to focus on based on knowing someone working in that field. That doesn't necessarily mean its the trade for you, but it is a good way to find out what working in the industry is like. At FCTA – Building Careers we have developed a pre-apprenticeship programme that allows people to try bricklaying, tiling, plastering, basic concreting and scaffolding. These are also the trades we train apprentices in. That means if you enrol in a pre-apprenticeship course with us, you will be working on some projects with existing apprentices. This is a great way to find out more about the trade.
Currently, we have a number of employers urgently looking to hire apprentices. The majority are after people under 21 who have a drivers license and car. If you are in the process of getting your license, most will consider your application. Adult apprenticeships aren't as readily available. This is because the employer is paying anyone over 21 at the full rate. Many times employers will prefer to hire people over 21 as labourers instead.
The difference between labouring and an apprenticeship is a 'Contract of Training'. That means that apprentices sign a binding contract with employers to work for them under the apprenticeship scheme. The benefits for apprentices are that they are paid to go to trade school to complete a Certificate III in their trade of choice, that's the 'earn and learn' tag sometimes mentioned. Contracts are normally for 4 years, so getting an apprenticeship offers both job security and further education.
To help get an apprenticeship in Adelaide you can enrol in a pre-apprenticeship course, approach trades people directly or contact group training organisations (GTO). GTO's are places like the HIA, TABMA, Maxima, CEG who hire apprentices directly and then place the apprentice with a 'host' employer. The Government has also set up a great website that explains the pathways for apprentices https://www.aapathways.com.au/
If you are considering an apprenticeship and you have questions, you can always arrange a time to talk to us or come in for a meeting. Our pre-apprenticeship courses run through out the year. If you would like to enrol, please call on 8367 5615 or email [email protected] The dates for our next courses are:
05/09/2017 – 10/11/2017
30/01/2018 – 06/04/2018
06/03/2018 – 11/05/2018
01/05/2018 – 06/07/2018
Advertised positions are often posted on Gumtree, Facebook, Seek & Indeed Jobs. Each morning a summary of these advertised roles are posted to our Facebook page.
If you are looking for an apprenticeship the Certificate II in Construction (CPC20112) course, is a great way to find out which trade you enjoy the most. Pre-apprenticeship students work side by side with existing apprentices. This gives students the chance to have some insight about what being an apprentice is like.
Students will gain an introduction into the following trades:
Bricklaying
Tiling
Plastering
Concreting
Scaffolding
Employers frequently contact FCTA seeking candidates for apprenticeships. They are generally seeking people under 21 who have a car and license and either experience in the industry or someone who has completed a pre-apprenticeship course.
As part of the Certificate II in Construction, students are placed into the trade for work experience. For students who have some previous experience, or show potential, this could happen at any time during the course. If there is an opportunity to secure an apprenticeship you will be placed out into the trade ASAP.
Pre-apprenticeship courses will run on the following dates:
05/09/2017 – 10/11/2017
30/01/2018 – 06/04/2018
06/03/2018 – 11/05/2018
01/05/2018 – 06/07/2018
The course is held at FCTA – Building Careers, 15 Jacobsen Crs Holden Hill South Australia. The duration of the course is 10 weeks, Tuesday – Friday 8am – 3:30pm. Please call 088367 5615 or email [email protected] to book in a time to apply for the course.
The Certificate II in Construction (CPC20112) is commonly referred to as a pre-apprenticeship course because it helps students become apprentices. FCTA – Building Careers has been running pre-apprenticeship courses for over 15 years. We now have graduates from our pre-apprentice courses hiring their own apprentices!
Students will have the opportunity to gain an introduction into the following trades:
Tiling
Bricklaying
Plastering
Scaffolding (up to 4m)
Concreting
We have employers currently seeking apprentices. For your best opportunity at gaining an apprenticeship employers are generally seeking the following:
Good work ethic
Reliability
Drivers license and car
Able to follow instructions
Most seek applicants under 21 but some adult apprenticeships are available, and skilled labourers are always wanted. To book a place in the course email us at [email protected] or call 8367 5615. Applicants will be asked to attend a short interview followed by a tour of the facility by our trainers. To check your eligibility for WorkReady funding, visit http://www.skills.sa.gov.au/training-learning/check-your-eligibility. Payment plans are available for students not eligible for Government funding.
Last week I spoke to the people at Consumer and Business Services to check what they require before issuing a person with a license to complete internal & balcony waterproofing. Each week we have people call asking if they can complete our 3 day course in waterproofing and then go out and work in the industry. If you have plenty of experience aside from the 3 day course, then yes, you can apply for a license but you will most likely be called in for a technical interview.
If you do not work in the building industry you need to get experience first. You could work with a tiler or an already licensed waterproofer until you have the experience to pass a technical interview. The interview covers off a lot of 'what if's' you wont simply be reciting the Australian Standards, Building Code or SA Ministerial Code. You will need to have broad enough experience to answer questions across both commercial and residential work. This is because your license will enable you to work across all sites so you will need to understand the differences.
It is also helpful to attend training courses provided by one of the manufacturers of waterproofing materials. Gripset, Ardex and Mapei all provide regular training on how to use their products. Some of these manufacturers also have phone apps that let you lookup the product you need for certain jobs.
Once you feel you are ready to apply for a waterproofing license, you will need to complete the requirements that Consumer and Business Services have set out on their website. This includes completing two short courses in business law and finance.
Click here to access Consumer & Business Services guidelines for applicants. As always, if you have questions you can email us at [email protected] or call 83675615.
Our next pre-apprenticeship course will be starting Tuesday May 30th at Holden Hill. If you are looking for an apprenticeship in South Australia, this is the course to give yourself the best chance possible. FCTA – Building Careers also trains apprentices, so students in the Certificate II in Construction (CPC20112) have the opportunity to work next to apprentices and find out about being an apprentice.
The pre-apprenticeship course focuses on the following trades:
Bricklaying
Tiling
Plastering
Scaffolding (up to 4m)
Introductory Concreting
We have strong links to the industry and are in direct contact with builders who currently, or previously have had apprentices. Often they will come to us directly for a recommendation on who to hire. While industry work experience isn't mandatory for the Certificate II in Construction, we strongly encourage it and assist students to find places. This has been the way many of our students have secured apprenticeships.
This course is currently funded by WorkReady for eligible students, and by TGSS for students over 16 who are still at High School or are part of the 'FLO' programme. To check your eligibility click here
To book a time to come in and discuss the course call us on 8367 5615 or email: [email protected]
The easiest customer to keep, is the one you already have! Book now for a 5 day short course, complete by June 30th and CITB members receive a $100 discount. Call us on 8367 5615 or email [email protected] to discuss your training needs.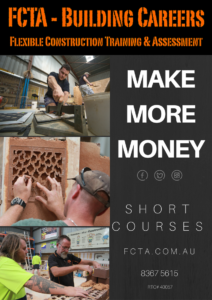 Our courses cover basic to advanced tiling, introductory bricklaying, traditional solid plastering and more. Click this link to download our course brochure. 
FCTA – Building Careers flexible approach to training means we can adapt projects to make them relevant to your particular needs. For example if a tiler wanted to be able to install cornices to bathrooms that have been tiled to the ceiling, we can create a project to match.
Please note, this promotion excludes our 3 & 4 day courses as well as the introduction to plasterboard course – due to the high cost of materials.