Apprentice bricklayers complete a Certificate III in Bricklaying/Blocklaying. This qualification comes from a training package that lists exactly what trade schools must train apprentices in. If you feel that changes should be made, here's your opportunity! Some of the contentious issues we get feedback on are:
apprentices having to currently complete 5 arches requiring trade school attendance – the proposal is to reduce this to 4 – should this be reduced at all or become an elective unit?
the inclusion of sub-floor construction in the brick veneer AND cavity brick subjects
How much time should be focused on the level of detail in the Australian Standards? we get 'Goldilocks' feedback on this (too little versus too much)
Apprentices not being taught enough of the traditional techniques versus apprentices being taught too many traditional techniques – think fireplaces, number of different types of bonds, decorative elements.
The change in qualification name to Certificate III in Bricklaying/Blocklaying and Paving (note: paving units will be electives and not core subjects).
Trade schools are audited by a dedicated government body to ensure that all parts of a training package are correctly being trained. What is being proposed in these changes will affect every bricklaying apprentice in the country. If you feel that there are gaps in training or a focus on the wrong types of skills, this is your chance to make a difference!
Visit this website to take part in the survey: https://www.surveymonkey.com/r/brickblockpavingDP2
As always, if you would like to have a chat about these changes, or ask questions, feel free to contact us at 0883675615 or email [email protected]
Big congratulations to Haydon Ashby, of Semaphore South, South Australia, for being awarded Apprentice Bricklayer of the Year 2017 in the HIA-Stratco state annual Apprentice & Trade Contractor Awards, held recently in Adelaide. Haydon is now in his third year, employed by HIA under a Group Training Organisation (GTO) arrangement where his host employer is Michael Quaini bricklayer based in Cowandilla, Adelaide.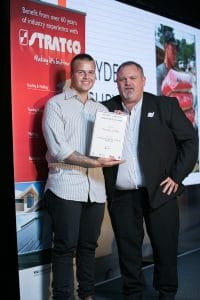 Haydon started work with Michael in early 2016 and has proven through his diligence and skill to be a worthy recipient of this award, as judged by field officers employed by HIA. There was only one bricklaying Award made by HIA and sponsor Stratco, covering all bricklaying apprenticeship years, so it is a strong recognition of effort to have achieved this award – well done Haydon!
I attended the event and on behalf of Australian Brick and Blocking Foundation (ABBTF) and presented this important award to Haydon. It was an honour and a pleasure to see SA's apprentices from several trades, receive acknowledgement for their strong performances.
If you're considering an Apprenticeship in SA check out your options at FCTA, TAFESA. Also visit Become-a-Bricklayer for information on how to explore bricklaying in your State and much more.
Just a bit more information on the role of Group Training:  For bricklayers not wanting to directly employ an Apprentice, Group Training is an excellent way to introduce new apprentices into your business without carrying the administration with the GTO employing and training the apprentice.
The host employer is a tradesperson who provides actual onsite training and as such pays the Group Training company a fee for the time that the apprentice spends onsite. There are advantages to this arrangement. For example some tradespeople want apprentices but do not want the responsibility of accruing or paying holiday pay, sick leave, and superannuation or training costs as such. Some tradesmen do not want the direct responsibility of overseeing the offsite training component and coordination of their apprentices to attend a local Training Provider (RTO), such as TAFESA, as part of the Certificate III completion. And some feel they may not have long term work and cannot sustain an apprentice for three to four years.
For apprentices it's an alternative pathway to direct employment with a bricklayer, providing them instead with a 'host' employer while being employed by the GTO, in this case HIA. GTO vs RTO explained.
Tony Bishop
ABBTF Regional Manager North West
Source: HIA-Stratco South Australia Awards Apprentice Bricklayer 2017
Originally published: news.com.au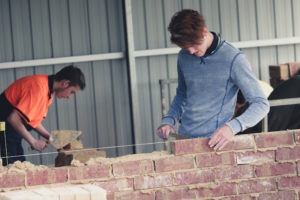 AFTER receiving their high school results over the past fortnight, graduates across Australia will be thinking long and hard about their options.
But while they're going through their course options and preparing job applications, anxious about the dwindling graduate employment rate and competition for positions, there's one category of jobs that will likely be overlooked.
Analysis by jobs website Adzuna has revealed the jobs that Australians just aren't interested in, with trades and construction coming out on top.
With minimal qualifications required, you'd think trades would be a popular choice.
The report showed that while jobs advertised in the construction industry has increased by 10 per cent, apprenticeship commencements were down 5.6 per cent year on year.
Adzuna CEO Raife Watson called on schools to remind students of the option of vocational education and training as an alternative to university.
"Despite reports that the residential construction boom in Sydney is starting to wind down, we continue to see growth year-on-year in advertised vacancies across a wide selection of job roles in trades and construction," he said.
"The primary concern for the construction industry is the continued decline in apprenticeship commencement rates."
Mr Watson said there was a "stigma" associated with TAFE studies and apprenticeships that Australia needed to work to remove.
"Twenty-three university graduates compete for each role, whereas in some Australian states, two jobs are available for all qualified apprentices," he said.
"I expect this number to increase in the coming years as apprenticeship numbers continue to decline."
In South Australia, where school leavers' results were released this morning, graduates are being urged to consider taking on a trade or traineeship.
Business SA says apprenticeships and traineeships are viable career options as Australia faces a skills shortage across a range of industries.
Sharyn Davies, from Apprenticeship Support Australia which is administered by Business SA, said a high score in year 12 is not a guarantee for future success.
"It's more important for young people to follow their passions," she said.
"When we are doing something that aligns with our strengths, skills and passions, we have a higher level of wellbeing and are more likely succeed in building a successful career."
Source: School-leavers not interested in trades
We have employers seeking Bricklaying, Tiling and Solid Plastering apprentices. The Certificate II in Construction aims to get students work ready, and into an apprenticeship.
Employers typically want applicants to be under 21, with a drivers license and some experience or a Cert II in Construction. There are opportunities for those over 21, usually in labouring jobs, but sometimes as adult apprentices.
Our next course starts Tuesday January 30th and runs for 10 weeks at 15 Jacobsen Crs, Holden Hill. Government-funded eligibility has been improved so more people have the opportunity to study.
Call us on 8367 5615 or email [email protected] for more information.
Dates for  2018:
30/01/2018 – 06/04/2018
06/03/2018 – 11/05/2018
01/05/2018 – 06/07/2018
8am – 3:30pm Tuesday – Friday for 10 weeks at 15 Jacobsen Crs, Holden Hill.
This qualification requires 9 core units of competency and 6 electives to be completed. For more information on this training course and employability skills, please visit training.gov.au
Qualification Code: CPC20112
Core
Total qualification: Approx 500 hours depending on electives

Electives
Unit Code
Unit Title
Hours
CPCCOHS2001A
Apply OHS requirements and procedures in the construction industry
20
CPCCCM10012A
Work effectively in the General Construction Industry
20
CPCCCM1013A
Plan and organise work
20
CPCCCM1014A
Conduct workplace communication
20
CPCCCM1015A
Carry out measurements and calculations
20
CPCCCM2001A
Read and interpret plans and specifications
36
CPCCCM2006B
Apply basic levelling procedures
8
CPCCCO2013A
Carry out concreting to simple forms
20
CPCCCM2005B
Use construction tools and equipment
96
CPCCCM2010B
Work Safely at Heights
8
Unit Code
Unit Title
Hours
CPCCCM2008B
Erect and dismantle restricted height scaffolding
40
CPCCCM2009A
Carry out basic demolition
32
CPCCSF2004A
Place and fix reinforcement materials
80
CPCCSP2003A
Prepare surfaces for plastering
40
CPCCCM2007B
Use explosive power tools
16
CPCCWF2002A

CPCCPB3001A

CPCCSP2002A

CPCCBL2002A

PLUS ONE OF THE FOLLOWINGUse wall & floor tiling equipment

Fix standard plasterboard wall sheets

Use solid plastering tools and equipment

Use bricklaying tools and equipment

96

60

80

30
Getting an apprenticeship in South Australia can lead to a long term career in the Building and Construction Industry. That means working outdoors, earning an income while you study and having the opportunity to eventually be your own boss. The tricky part can be choosing which trade is the best fit. Pre-apprenticeship courses are an excellent way to try a number of trades before selecting which one you most enjoy.

Many people select the trade they want to focus on based on knowing someone working in that field. That doesn't necessarily mean its the trade for you, but it is a good way to find out what working in the industry is like. At FCTA – Building Careers we have developed a pre-apprenticeship programme that allows people to try bricklaying, tiling, plastering, basic concreting and scaffolding. These are also the trades we train apprentices in. That means if you enrol in a pre-apprenticeship course with us, you will be working on some projects with existing apprentices. This is a great way to find out more about the trade.
Currently, we have a number of employers urgently looking to hire apprentices. The majority are after people under 21 who have a drivers license and car. If you are in the process of getting your license, most will consider your application. Adult apprenticeships aren't as readily available. This is because the employer is paying anyone over 21 at the full rate. Many times employers will prefer to hire people over 21 as labourers instead.
The difference between labouring and an apprenticeship is a 'Contract of Training'. That means that apprentices sign a binding contract with employers to work for them under the apprenticeship scheme. The benefits for apprentices are that they are paid to go to trade school to complete a Certificate III in their trade of choice, that's the 'earn and learn' tag sometimes mentioned. Contracts are normally for 4 years, so getting an apprenticeship offers both job security and further education.
To help get an apprenticeship in Adelaide you can enrol in a pre-apprenticeship course, approach trades people directly or contact group training organisations (GTO). GTO's are places like the HIA, TABMA, Maxima, CEG who hire apprentices directly and then place the apprentice with a 'host' employer. The Government has also set up a great website that explains the pathways for apprentices https://www.aapathways.com.au/
If you are considering an apprenticeship and you have questions, you can always arrange a time to talk to us or come in for a meeting. Our pre-apprenticeship courses run through out the year. If you would like to enrol, please call on 8367 5615 or email [email protected] The dates for our next courses are:
05/09/2017 – 10/11/2017
30/01/2018 – 06/04/2018
06/03/2018 – 11/05/2018
01/05/2018 – 06/07/2018
Advertised positions are often posted on Gumtree, Facebook, Seek & Indeed Jobs. Each morning a summary of these advertised roles are posted to our Facebook page.
We have employers looking to hire apprentices in the following trades:
Bricklaying – 6 positions available working metro Adelaide
Tiling – 4 positions available working all over Adelaide.
Carpentry – 12 positions available, 1 school based option working central Adelaide.
Applicants must be under 21 with a car and license. Trade apprenticeships have a high level of physical work so applicants must have a good level of fitness. Preference will be given to applicants who have completed a Pre-apprenticeship course and/or have trade experience. To apply contact Trisch on 83675615 or email [email protected]
If you are looking for an apprenticeship the Certificate II in Construction (CPC20112) course, is a great way to find out which trade you enjoy the most. Pre-apprenticeship students work side by side with existing apprentices. This gives students the chance to have some insight about what being an apprentice is like.
Students will gain an introduction into the following trades:
Bricklaying
Tiling
Plastering
Concreting
Scaffolding
Employers frequently contact FCTA seeking candidates for apprenticeships. They are generally seeking people under 21 who have a car and license and either experience in the industry or someone who has completed a pre-apprenticeship course.
As part of the Certificate II in Construction, students are placed into the trade for work experience. For students who have some previous experience, or show potential, this could happen at any time during the course. If there is an opportunity to secure an apprenticeship you will be placed out into the trade ASAP.
Pre-apprenticeship courses will run on the following dates:
05/09/2017 – 10/11/2017
30/01/2018 – 06/04/2018
06/03/2018 – 11/05/2018
01/05/2018 – 06/07/2018
The course is held at FCTA – Building Careers, 15 Jacobsen Crs Holden Hill South Australia. The duration of the course is 10 weeks, Tuesday – Friday 8am – 3:30pm. Please call 088367 5615 or email [email protected] to book in a time to apply for the course.
The Job Accelerator Grant is available for businesses that take on additional employees and maintain that increase over a 12 and 24 month period.
To be eligible for the Job Accelerator Grant scheme the new position needs to meet the following conditions:
the person is employed in a new job on a full-time, part-time or casual basis, but not on a seasonal basis;
the employment commences between 1 July 2016 and 30 June 2018 inclusive;
the employment is maintained for a period of 2 years to be eligible for the full grant, or 12 months to be eligible for the partial grant;
the services of the employee are performed wholly or mainly in SA; and
the employee is a South Australian resident.
For businesses liable for payroll tax in South Australia, a grant of up to $5 000 is available for each new job created and the increase is maintained for at least 12 months, and up to $10 000 if the increase in full-time equivalent employees is maintained for 2 years. For part time and casual employees, the grant is pro-rated, and will be paid based on actual hours worked.
Businesses that are not liable for payroll tax in South Australia, or any organisation exempt from payroll tax in South Australia, a grant of up to $2 000 is available for each new job created and the increase is maintained for at least 12 months, and up to $4 000 if the increase in employees is maintained for 2 years. An additional requirement for this grant is that the new employee, regardless whether it is a full time, part time or casual position must work on average 22 hours or more per week across the grant period to be eligible.
As part of the 2017-18 State Government Budget announcement, businesses that register a new employee for a Job Accelerator Grant will receive up to an additional $5000 ($2 500 per year) if that employee is an eligible apprentice or trainee where the position is also deemed to be eligible for the Job Accelerator Grant.
The grant is paid at the 12 month and 24 month anniversary of the job start date.
More information and to register for the grant can be accessed from http://www.revenuesa.sa.gov.au/jobs or our staff are available to speak to Monday to Friday 8:30am -5pm (excluding public holidays) on 8226 2210.
The award rates paid to apprentices changed on July 1st 2017. If you are considering hiring an apprentice and want to know what the rate is, you will find copies of the latest rates below.
First and Second year Apprentices have different pay rates depending on their trade and if they completed Year 12 at High School. The rate is 5% higher for apprentices who complete their Year 12.
First Year Apprentice Pay Rates for Bricklayers
First Year Apprentice Pay Rates for Tilers and Plasterers
These documents are guides only, please check pay rates with the FairWork Ombudsman to make sure you are paying your apprentices correctly. The award for apprentices is the Building and Construction General Onsite Award 2010 MA000020.
Are you a self-employed Tradesman or Contractor? Being self-employed can provide a lot of benefits, such as flexible working hours and being your own boss.
When it comes to your tax return, however, it can get a little complicated. Being a self-employed Tradesman or Contractor, you may have more tax responsibilities and liabilities to consider. These could include reporting your income and work expenses, and keeping proper business records. The best way to be prepared for the Tax Season, is to remain organised throughout the year and seek the right tax advice and services when completing your tax return.
Complied below is a list of expenses that can be deductible for most self-employed Tradesmen or Contractors. The list details the standard and not so commonly known possible tax deductions that you may be able to claim in your tax return 2017. To be able to claim your work-related expenses, the item must have been required for your business or job. Also, it is essential that you keep well-organised and easily accessible records, such as receipts or invoices, in a paper or electronic system. If you don't and the ATO questions your tax return claims, you may be heavily penalised and face a fine, as well as additional fees.
Please note, that this is not an exhaustive list and that you should always seek advice from your Accountant before making a claim.
Table 1: Tax Deductible Expenses List for Self-Employed Tradesmen and Contractors.
| | | |
| --- | --- | --- |
| Work-related Expense | Details | Is it Tax Deductible? |
| Protective clothing | All protective clothing, including steel-capped boots, High-vis clothing, helmets, goggles, and so on. | Yes |
| Laundry | Laundry costs for all work-related clothing | Yes |
| Tools & Equipment | You can now claim up to $20,000 on business-related assets, between 12 May 2015 and 30 June 2017 | Yes |
| Repairs | Incurred on assets used for work | Yes |
| Transport | Work-related vehicle expenses, such as fuel and servicing, or public transport. If you use your vehicle for business and private reasons, you can only make a proportionate claim. | Yes |
| Education costs | Any educational course or related costs that are required for your current job or work enhancement | Yes |
| Mobile Bills | Only work-related mobile phone costs can be included. If you use your mobile for business and private reasons, you can only make a proportionate claim. | Yes |
| Sun protection | Sunscreen, sun hat and sunglasses used during work | Yes |
| Home office | If a part or a room at home is used for work related activity, you may be able to claim a portion of the running expenses, such as rent, electricity and internet. | Yes |
| Super contribution | Up to $ 25,000 per annum, paid after-tax income. | Yes |
| Stationery | Used for work or home office | Yes |
| Bank Charges | Only if the bank account generates interest income | Yes |
| Interest | Borrowed for work related financing, such as for assets or equipment | Yes |
| Tolls and Parking Fees | Incurred during work related travel | Yes |
| Trade union | Trade related association body expenses, including annual practising | Yes |
| Association fees | Certificate costs | Yes |
| Technical publications | For the line of work | Yes |
| Tax/Accountancy fees | Tax, BAS and Accounts preparation ( plus travel cost to meet) | Yes |
| Public liability | If required to carry out work | Yes |
| Legal expenses | For work related contracts | Yes |
| Insurance | Income continuance, sickness and accident | Yes |
| Meals | Routine meals during work and travel | No |
| Meals | If you worked after normal hours and overnight travel | Yes |
| Fines | Imposed by court or law | No |
| Entertainment | Personal entertainment, such as drinking or dining out with friends | No |
| Conventional Clothing | Not related to work | No |
| Driver's license | Renewal and acquiring fees | No |
| Club membership | Such as Social Club fees | No |
| Child care expenses | Child support expenses | No |
| Other | Any other costs incurred to generate work income | Most often – Yes |
First published: https://www.mastax.com.au/tax-deductions-for-tradies-and-contractors-tax-accountants-dingley-village/
Author │ Yohan Soza