Our most popular short courses are on special for a limited time only! Held in Holden Hill, South Australia. Book and complete these classes by June 30th 2017 and save. Each of these courses normally costs $250 each for CITB card holders. For a limited time pay only $400 to complete all 3 courses. For information on the details of the courses down  Solid plastering course details
Traditional Sand & Cement Rendering
Quoins & Banding
Acrylic Rendering
Click here to book and pay. As this course only runs on week days, dates to attend are flexible and can be negotiated with us around trainer availability.
NECA Electrical Apprenticeships general manager Tom Emeleus says more school leavers are going to university based on a myth that it is the only way to secure a strong future but fewer jobs require a degree than many people think.
"We're setting up a generation of youth with unrealistic job expectations and large debt," he says.
"In NSW there are 10 qualified school teachers seeking employment for every available job. This is just one of numerous examples.
"Tradies understand the value of a trade and the career opportunities it represents but the message isn't getting through to school leavers."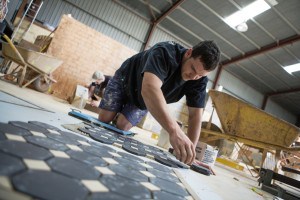 EMPLOYABILITY
Of 2014's apprentice and trainee graduates, 84.1 per cent were employed after completion, the National Centre for Vocational Education Research finds.
Of university graduates from the same year, by comparison, 68.8 per cent of those looking for full-time work found it within four months, Graduate Careers Australia data shows.
Emeleus says electrical apprentices in particular have high employment rates and 99 per cent of NECA apprentices are immediately hired.
Electrician Ben Proudfoot does not regret his choice to pursue a trade over university as he was hired straight out of his apprenticeship by host employer Stowe Australia.
Proudfoot, an NECA graduate, says his parents never pressured him to go to university but some of his friends that chose that path did not understand the appeals of an apprenticeship – although now they do.
"Some of them are happy with what they are doing but some go 'oh I wish I had a trade' when they see what I can do," he says.
STUDENT DEBT AND EARNINGS
University fees differ depending on degree and institution but range from $6000 to $10,000 a year.
An apprenticeship, on the other hand, is paid for by the employer so the apprentice can graduate without debt.
They also earn while they learn unlike with a university degree, during which students must rely on parents or work part time on top of study.
A first-year apprentice bricklayer employed on award rates, for example, usually earns $12.78 an hour, increasing to $20.07 an hour as a fourth-year apprentice.
In electrical trades, Emeleus says an apprentice will typically earn $150,000 over the course of their training.
GRADUATE SALARY
The median annual starting salary for a new bachelor degree graduate younger than 25 and in their first full-time job was $54,000 in 2015, Graduate Careers Australia reveals.
By comparison, NCVER finds the median annual income of a VET graduate working full time is $56,000.
For those employed before finishing training, the median was even higher at $59,000.
Emeleus says new electricians on award rates start on $56,000 but many in the construction industry can earn as much as $80,000 to $91,000 a year straight out of their apprenticeship.
"You only have to think about how much you might pay a plumber to come in and do some work for you – trade qualifications can pay very well,'' she says.
It is the ability to use a trade qualification to start your own business that is key to a higher income.
As is gaining qualifications in an area experiencing skills shortages.
 Toby Clare, 29, dropped out of a business degree at university and instead studied plumbing and carpentry.
Now a licensed plumber and builder, Clare says he is so busy he is turning work away.
"I was fairly confident I could earn just as much money doing a trade as I could have if I'd stayed at uni (and gone into a career in business),'' he says.
Ultimately, any career has the potential to be highly profitable though, according to university professor Maurice Pagnucco.
Pagnucco is head of computer science and engineering at the University of NSW, which topped the list of Australian universities with the most millionaire graduates.
"It would be misleading to say that if you want to become a millionaire you have to do this particular course,'' he says.
"I would just say … do something you are passionate about because if you do that you are much more likely to want to work hard at it.''
Our popular Pre-apprenticeship course, just got better! We are now able to offer the course on the following dates:
28/02/2017 – 05/05/2017
28/03/2017 – 02/06/2017
26/04/3017 – 30/06/2017
8am – 3:30pm Tuesday – Friday for 10 weeks at 15 Jacobsen Crs, Holden Hill. WorkReady funding is available for eligible students.
This course is designed to assist students to become ready to work as apprentices. Employers have contacted us seeking apprentices that are reliable, able to follow instructions and have their drivers licenses. Call us on 8367 5617 or email admin@fcta.com.au to book in a time to discuss the course.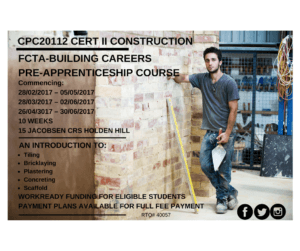 By popular demand we have developed a short 3 hour course in Waterproofing.  Our first course will be on Tuesday 28th February 2017 from 5pm – 8pm for $100. This is a classroom based course that will cover:
Building Code requirements
Complete review of AS3740 and discussion
Case studies & examples of failures
Product demonstrations, latest systems & review of manufacturers requirements
Q&A discussion group
The course will be held at FCTA – Building Careers, 15 Jacobsen Crs Holden Hill in South Australia. To book in and pay click here.
We currently have Bricklayers and Tilers looking to hire apprentices. They are after 'work ready' apprentices, people who have some basic skills and are aware of what working in the building industry is like. The Certificate II in Construction (CPC20112) is an excellent course that provides students with an introduction to the following trades:
Bricklaying (2 employers currently looking for apprentices as of 31/1/2017
Tiling (4 tilers looking for apprentices as of 31/1/2017)
Plastering (labourers positions appearing regularly on gumtree)
Concreting (2 employers seeking labourers)
Scaffolding – up to 4metres (shortage of scaffolders in Adelaide – especially around festival/ major event times)
Employers contact us directly looking for students to recommend. We also check adverts for jobs every morning and have close industry ties to give students extra guidance. Applicants will have the opportunity to see other pre-apprentices in action on the trade floor. Students will be working side by side with existing apprentices so they can discuss the industry, find out what life as a tradie is like, and see how over time how their skills develop.
If you are interested in applying, please email admin@fcta.com.au or call 8367 5615.
FCTA – Building Careers will be closed from 12pm Friday 23rd December 2016, and will reopen Monday 9th January 2017. If you have any queries during this period, please email info@fcta.com.au or call 83675615 to leave a message.
Apprentices are welcome to attend from 8am 9th January.
Our popular pre-apprenticeship Certificate II in Construction course will commence on Tuesday 24th January. Interviews for this course can be arranged from January 9th.
A new short course, Introduction to Plastering will be running from Monday 30th January – Friday 3rd February 2017. This course is CITB sponsored for members, and covers the basic of working with and repairing plasterboard and cornice. To book into this course, visit our book & pay page or click this link
Looking for an apprenticeship? Employers actively seek people who have completed are pre-apprenticeship course, or who are currently enrolled. We have employers calling asking for students to recommend. The Certificate II in Construction provides an introduction to a range of trades with the aim of having students gain apprenticeships or labouring work in the industry.
The course focuses on the following trades:
Bricklaying
Tiling
Plastering
Concreting
Scaffolding (up to 4m)
The next course starts 24/01/17 and runs for 10 weeks. Other courses will be run starting on 07/02/2017 & 28/03/2017. Courses are held at 15 Jacobsen Crs Holden Hill. Eligible students will have course fees covered by WorkReady, for those ineligible the course costs $2500 with payment plans available. Starting time is 8am, Tuesday – Friday. If you are interested in the course please call us on 8367 5616 or email admin@fcta.com.au.
Having a trade sub contractors license gives tradies and customers protection if things go wrong. The SA Government has recently started promoting ways consumers can verify that their tradies are licensed, and has set up a website to 'dob in a tradie'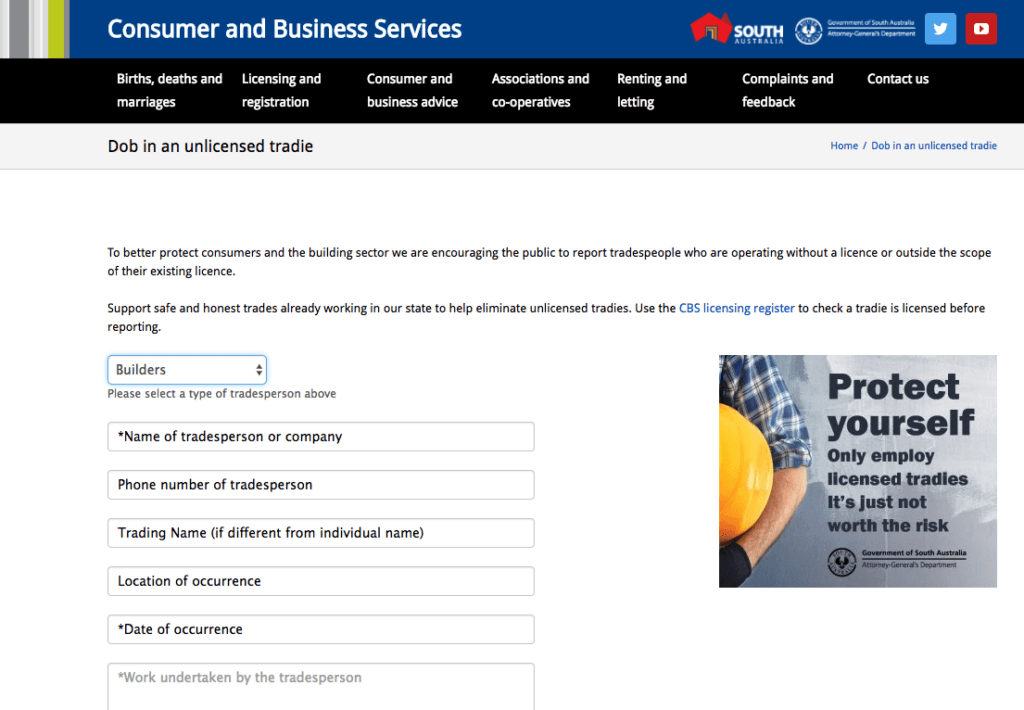 So what do you need to get licensed? You can download the specifics and read the SA Governments requirements by clicking on this link Licensing Guidelines. 
Tradies will need to complete two business units prior to applying, one that covers off legal issues, the other on small business finance. We offer a course that meets the State Governments requirements, click here to see dates and make a booking.
Along with these units you also need to provide evidence of industry experience, such as apprenticeship papers, letters from employers if an apprenticeship wasn't completed, short courses or testimonials. Sometimes applicants will be called in to attend a technical interview. If this is the case we can offer some extra support and guidance.
If you are still unsure tradesa.com.au offer a service to advise tradies of licensing requirements, submit all documents and take the confusion away.
Our course guide for 2017 can be downloaded by clicking on the following link: 2017 course guide . Courses offered included our popular Cert II in Construction CPC20112 Pre-apprenticeship course, dates for the sub-contractors license course, and information on our short courses across tiling, bricklaying, waterproofing and plastering.
The Certificate II in Construction will run for 10 weeks, Tuesday – Friday 8am – 3:30pm on the following dates:
24/01/2017 – 31/03/2017
07/02/2017 – 13/04/2017
28/03/2017 – 02/06/2017
Short courses, other than the sub-contractors course, can be scheduled with 2 weeks notice at dates that suit you. There is no minimum number for these courses.
FCTA – Building Careers runs a series of short courses for existing tradespeople to increase their skills. Lots of the courses have cross over skills, bricklayers usually have the hand skills to pick up acrylic rendering quickly. Tilers who have only worked on domestic bathrooms and laundries can learn how to do high margin tessellated tiling.
Anyone who is looking to gain their contractors license has the ability to attend the two mandatory small business units to apply for their license. For more information, download our brochure by clicking >> Course Guide, or call us on 8367 5615 or email admin@fcta.com.au.