FCTA – Building Careers will be closed from 12pm Friday 23rd December 2016, and will reopen Monday 9th January 2017. If you have any queries during this period, please email info@fcta.com.au or call 83675615 to leave a message.
Apprentices are welcome to attend from 8am 9th January.
Our popular pre-apprenticeship Certificate II in Construction course will commence on Tuesday 24th January. Interviews for this course can be arranged from January 9th.
A new short course, Introduction to Plastering will be running from Monday 30th January – Friday 3rd February 2017. This course is CITB sponsored for members, and covers the basic of working with and repairing plasterboard and cornice. To book into this course, visit our book & pay page or click this link
Looking for an apprenticeship? Employers actively seek people who have completed are pre-apprenticeship course, or who are currently enrolled. We have employers calling asking for students to recommend. The Certificate II in Construction provides an introduction to a range of trades with the aim of having students gain apprenticeships or labouring work in the industry.
The course focuses on the following trades:
Bricklaying
Tiling
Plastering
Concreting
Scaffolding (up to 4m)
The next course starts 24/01/17 and runs for 10 weeks. Other courses will be run starting on 07/02/2017 & 28/03/2017. Courses are held at 15 Jacobsen Crs Holden Hill. Eligible students will have course fees covered by WorkReady, for those ineligible the course costs $2500 with payment plans available. Starting time is 8am, Tuesday – Friday. If you are interested in the course please call us on 8367 5616 or email admin@fcta.com.au.
Having a trade sub contractors license gives tradies and customers protection if things go wrong. The SA Government has recently started promoting ways consumers can verify that their tradies are licensed, and has set up a website to 'dob in a tradie'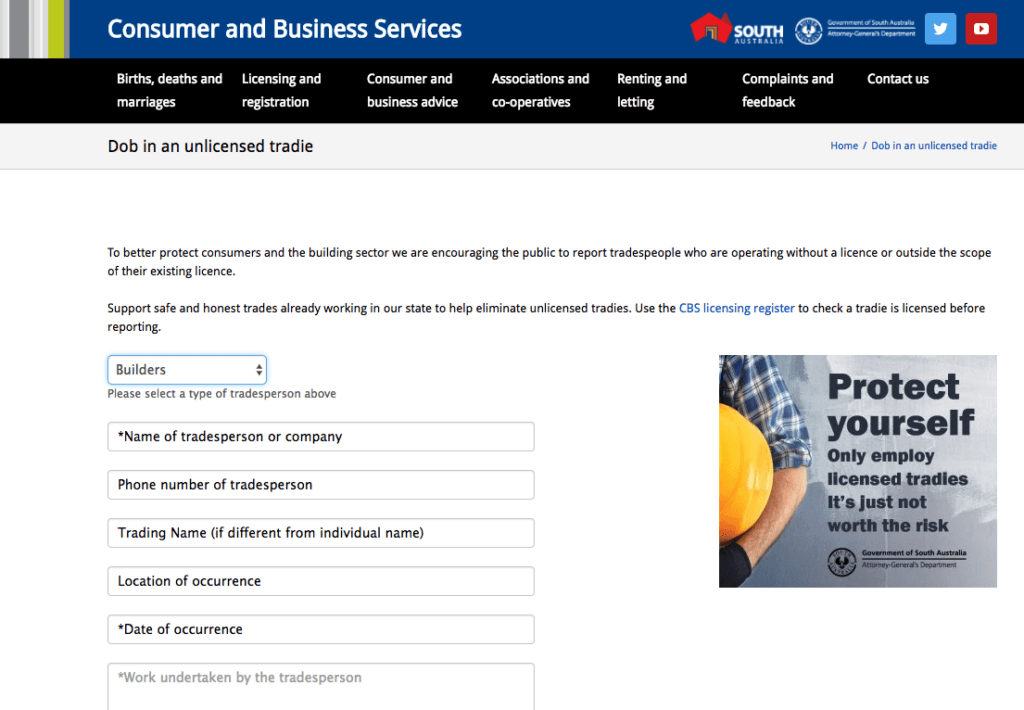 So what do you need to get licensed? You can download the specifics and read the SA Governments requirements by clicking on this link Licensing Guidelines. 
Tradies will need to complete two business units prior to applying, one that covers off legal issues, the other on small business finance. We offer a course that meets the State Governments requirements, click here to see dates and make a booking.
Along with these units you also need to provide evidence of industry experience, such as apprenticeship papers, letters from employers if an apprenticeship wasn't completed, short courses or testimonials. Sometimes applicants will be called in to attend a technical interview. If this is the case we can offer some extra support and guidance.
If you are still unsure tradesa.com.au offer a service to advise tradies of licensing requirements, submit all documents and take the confusion away.
Our course guide for 2017 can be downloaded by clicking on the following link: 2017 course guide . Courses offered included our popular Cert II in Construction CPC20112 Pre-apprenticeship course, dates for the sub-contractors license course, and information on our short courses across tiling, bricklaying, waterproofing and plastering.
The Certificate II in Construction will run for 10 weeks, Tuesday – Friday 8am – 3:30pm on the following dates:
24/01/2017 – 31/03/2017
07/02/2017 – 13/04/2017
28/03/2017 – 02/06/2017
Short courses, other than the sub-contractors course, can be scheduled with 2 weeks notice at dates that suit you. There is no minimum number for these courses.
Not all students who come to us are eligible for government funding to do our pre-apprenticeship courses. Zach was one of those students who was ineligible. Instead Zach paid for the course via a weekly payment plan. He completed the Certificate II in Construction in 2015 and by the end of the year had secured an apprenticeship in solid plastering.
Zach's employer is a specialist in restoration work. The skills the he passes on to Zach are unique, and will set him up for a long and profitable career in the industry. Pre-apprenticeship courses are a fantastic way to get the experience required to secure an apprenticeship. Our next Certificate II in Construction starts on Tuesday 11th & 18th October 2016, for 10 weeks. If you are interested in the course, please call us on 83675615 or email admin@fcta.com.au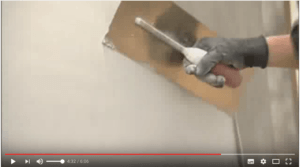 Over the 15 years we have been training people to become bricklayers, tilers and plasterers, a number of our pre-apprentice students have gone on to become apprentices. The apprenticeship process isn't always easy! Thats where a dedicated family run trade school can help.
Alex completed his Certificate II in Construction pre-apprenticeship with FCTA – Building Careers in 2012. He was an excellent student who quickly decided that Tiling was the trade he wanted to specialise in. He secured an apprenticeship straight away and went on to work with 2 other employers as well. Along the way we have gotten to know Alex's family and seen him become a top tiler.
Pre-apprenticeship courses are a great way to decide which trade you want to focus on. Students try several different trades before selecting one to focus on. Often the skills from one trade are used in another. Tilers frequently brick in bath tubs and build hobs. Screeding skills that are so important in tiling are part of the hand skills used in plastering.
If you are interested in completing a pre-apprenticeship course our next Certificate II in Construction starts 11th October 2016. Call us on 83675615 or email admin@fcta.com.au for more information.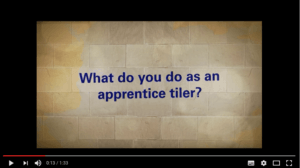 We have been running pre-apprenticeship courses for over 15 years. During that time we have trained students seeking apprenticeships in bricklaying, tiling and plastering. Some of these students secured apprenticeships and have now completed their 4 years with employers and have started their own businesses.
Angelo is one of those students. He completed a Certificate II in Construction in 2009. This was a difficult time in the construction industry in the wake of the Global Financial Crisis (GFC). New builds had declined, and banks were making it difficult for new home owners to get finance. Despite this, Angelo secured an apprenticeship with a Group Training Organisation (GTO) who placed him with a host employer.
Over the next 4 years Angelo developed his skills and worked on a variety of sites around Adelaide. In 2014 he completed his trade sub-contractors course and is now self-employed. The building industry offers individuals the chance to become their own boss.
Our next Certificate II in Construction course starts October 11th 2016. If you are interested in applying please call us on 83675615 or email admin@fcta.com.au.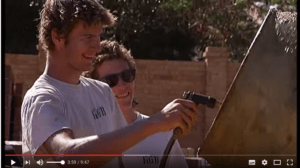 We have employers currently looking to hire bricklaying and tiling apprentices. Your best chance to get ahead of other apprenticeship applicants is to enrol in a Certificate II in Construction course. This course is commonly referred to as a pre-apprentice course because employers want students who have had some training and experience in construction.
The FCTA – Building Careers course focuses on developing practical hand skills in bricklaying, tiling, plastering and concreting. Students will also learn how to assemble scaffolding up to 4 metres. The course runs for 10 weeks, starting 11/10/2016 – 16/12/2016 and will be held at 15 Jacobsen Crs Holden Hill in South Australia.
There are a limited number of government-funded places available for eligible students. Students over 16 currently at high school may be eligible to enrol if they are motivated about finding an apprenticeship. Payment plans are also available for people not eligible for funded places. For any questions, or to book in for a place call us on 8367 5615 or email admin@fcta.com.au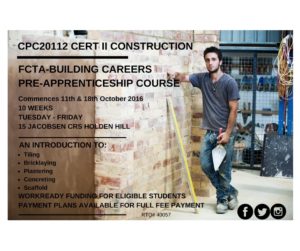 Pre-apprenticeship students are sought out by employers for apprenticeships. The pre-apprenticeship course covers the basics in bricklaying, tiling, plastering, concreting and scaffolding. If you're looking for an apprenticeship, this is a great way to get to know more about the industry and try a range of trades.
Students work side by side with existing apprentices and can find out what tradie life is like. WorkReady funding is available for some students and payment plans are available for full fee paying students. Contact us on 8367 5615 or email admin@fcta.com.au
The Australian, JOHN ROSS Higher Education reporter
Missed opportunities, ill-conceived market reforms and ham-fisted program cuts have undermined apprenticeships just as they are held up as the answer to an overemphasis on degrees.
Two new reports say "ad-hoc changes" and the sidelining of intellectual input have damaged apprenticeship take-up and completion. The reports, by the Apprenticeships Reform Advisory Group and the University of Sydney, say the elements of an effective apprenticeship system are in place but being weakened by "negative" reforms and a lack of policy coherence.
The reports have emerged after the Group of Eight universities claimed that the uncapped higher education system was creating a generation of over-qualified graduates with crippling student debt, in a society where degrees were the norm and not having one was considered failure.
The Go8 criticisms sparked outcry and charges of elitism. But they have been backed by the Business Council of Australia and TAFE Queensland, which say many would-be university students would be better off choosing technical training.
The ARAG report offers 22 recommendations to reboot apprenticeships. They include a comprehensive review, consideration of tax modifications to encourage hiring of apprentices, and an apprenticeships hub.
Group member Jenny Lambert said some of these proposals had been overtaken by events since the report was delivered in December last year. She said the government had abandoned plans for white papers on taxation and federal-state relations, minimising opportunities for tax reform, while the argument for a comprehensive review had now evaporated.
Ms Lambert, director of training with the Australian Chamber of Commerce and Industry, said the government had created policy confusion and "an unduly negative view of trade apprenticeships" by extending the term to cover traineeships — typically, shorter training stints in service occupations.
"We need to go back to the idea that there are apprenticeships and there are traineeships," she said. "We need to understand the factors that affect both of them. If we don't understand it, we can't fix it."
The HES asked new Assistant Skills Minister Karen Andrews why the government had taken eight months to release the report. She said she had released it "as a priority".
Meanwhile, the Sydney University report says the sidelining of an industry and union voice, along with defunding of group training organisations and increased funding for "low-quality" colleges, have undermined the "vision" of apprenticeships