Our next Cert II Construction (CPC20112) course starts on Tuesday 28th April. The course runs for 10 weeks Tuesday – Friday at 15 Jacobsen Crs, Holden Hill. This course is often referred to as a 'pre-apprenticeship' course as there are employers seeking this qualification to hire apprentices. A variety of trades are covered during the 10 weeks including, bricklaying, tiling, solid plastering, concreting, scaffolding and wall & ceiling lining (on request). Students will focus on developing practical skills. There is however some book work required, and our trainers are here to assist people with any reading or writing issues. The course is currently covered by Skills for All funding for eligible students, to check your eligibility, click here.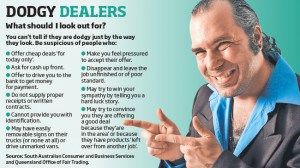 The SA Contractors Licence course is becoming more and more popular. In South Australia tradies are required to complete 2 small business units before the can apply for a licence, visit cbs.sa.gov.au for more information. We run the course over 2 weekends, taking a 1 week break inbetween so you can spend some time with family!
Our course is run by a qualified builder with extensive knowledge of the Building Code of Australia. Remember, without a contractors licence, customer who refuse to pay cannot be forced to!
The course costs $450 for CITB construction industry workers, or $950 for people ineligible for a CITB number. Visit citb.org.au to find out more about how to apply for an industry training card.
To book your place email admin@fcta.com.au or call 83675615. You can pay online here 
Customers can refuse to pay tradies who work unlicensed. Fines of up to $20,000 can also be imposed. This guide takes tradies through the steps to apply for their license, and the reasons why its worth the effort!
The Jim Baff Scholarship programme is a way for people ineligible for government funding to study trades at FCTA – Building Careers in South Australia. This years places have been filled. A crowd sourcing campaign is planned for later in the year to raise funds to offer more places.
HAVE YOU GOT YOUR UNIQUE STUDENT IDENTIFIER (USI) NUMBER?
From 1 January 2015 all students will be required to have a USI, because…government. This is a requirement for all courses, including the White Card and Contractors Licence courses.
It's easy…follow these 6 simple steps
STEP 1: Have at least one form of ID ready: Driver's License, Australian Passport, Medicare Card, Birth Certificate, Visa (with non-Australian Passport), Immigration Card or Citizenship Certificate.
STEP 2: Have your personal contact details ready: Address, email and/or phone number.
STEP 3: Visit usi.gov.au and click on 'Create a USI'.
STEP 4: Agree to the terms and conditions and follow the steps.
STEP 5: Write your unique number down and keep it somewhere handy and safe.
STEP 6: Bring this number with you when you enrol.
Our popular pre-apprentice starts on Tuesday 3rd February. These courses help people interested in gaining an apprenticeship by giving them experience with the type of projects carried out by tradespeople. The course focuses on training in Bricklaying, Tiling, Solid Plastering, Concreting and Basic Scaffolding.
We have had successful students go on to gain apprenticeships across all trades. FCTA has a strong network of employers currently looking to hire Solid Plastering, and Tiling apprentices. Bricklaying apprenticeships come up on a regular basis, with the trade now seen as a major skills shortage in South Australia.
To arrange to meet with us about the course, call 8367 5615 or email info@fcta.com.au.
We have added new dates for our contractors licence course. The course take 4 days in total to complete. Call us on 8367 5616, or email admin@fcta.com.au to book in a place. If you have a CITB card the cost is $450, without the card the cost is $950.
The next dates are:
September 13th – 14th 2014 & September 27th – 28th 2014
October 11th – 12th 2014 & October 25th – 26th 2014
November 8th – 9th 2014 & November 22nd – 23rd 2014
Need more information? Read our post on the steps involved to get a licence 
FCTA – Building Careers offers a limited number of fee free training scholarships as part of the Jim Baff Scholarship programme. Jim opened FCTA in 2001 with the goal to deliver quality training in a flexible environment. As a former Rotary President, Jim had a strong desire to offer community assistance to people who had a good work ethic, and who wanted to change their lives via a career in the building industry. Places are limited, applications should be made to Trisch Baff at trisch@fcta.com.au, or calling 08 8367 5616.
Pre-apprenticeship students are more likely to secure an apprenticeship, and keep it. We have a wide range of people complete these courses, and great examples of former students who have secured apprenticeships.
We had a good response to the Cert II Construction course, with a full class starting today. These Certificate II courses are generally referred to as 'pre-apprenticeship' courses as most of the students are seeking an apprenticeship at the end of the course. We've had great success placing pre-apprenticeship students into apprenticeships. If you are looking at hiring an apprentice, call us on 8367 5615 for help with incentives and some advice on the process. A weeks work experience is a great way to get to the best candidate for your business.