FCTA – Building Careers has a range of short courses scheduled for 2014. Some of these courses are available at a discounted price to people currently working in the construction industry, via the CITB. The CITB co-funds these courses, prices listed will have a cost with CITB discount applied and without. CITB cards do expire, but you can visit their website to renew or apply for a card if you haven't in the past.
The following courses are on offer, click the title of the course to download a flyer:
Timings:
Weekday courses run from 8am – 3:30pm.

Payment Methods:
Cash, cheque, electronic funds transfer or paypal credit card payments via website
To secure a place, please email us.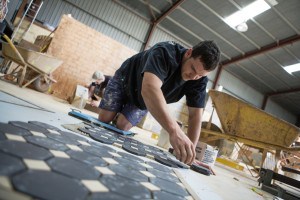 FCTA – Building Careers is committed to improving our level of service and processes. If you have any feedback on how we could improve our service, email us at info@fcta.com.au. Alternatively fill in our survey for confidential feedback
http://www.surveymonkey.com/s/JX9WF5T
We offer a flexible service, giving employers the flexibility to send their apprentices in when it best suits their business. Apprentices are not required to stick to allocated weeks to attend trade school, just call or email to organise a time outside of our suggested dates. Onsite assessments are available for all first year units, and some second and third year subjects. There are some subjects that cannot be completed onsite unless a specific project is being completed, this includes mosaic tiling, running moulds, decorative brickwork and other more advanced units in brick & block laying, rendering, solid plastering, tiling, and wall & ceiling lining.
FCTA will be offering experienced tradies the chance to complete the 2 units required for a contractors licence. The SA government require people applying for their contractors licence, to complete a business finance and a legal applications course. These will be run over 2 weekends from October 5-6 & 19-20. That is 4 days in total. Places are limited with members from the Wall & Ceiling Lining  Association having first preference. The cost for CITB card holders is $450, without the CITB discount the cost is $950. Call us to secure a place on 83675615 or email info@fcta.com.au. Download our  FLYER for more information on the course & to see other dates for 2013.
For information about licence requirements visit http://www.cbs.sa.gov.au/wcm/licensing-and-registration/occupational-licensing-and-registration/builders-quick-links/entitlement-to-be-licensedregistered/
We'll be running a White Card course on Wednesday 1st May, cost is $85 or $25 if you have a CITB card. The course runs for 6 hours and will be held at Holden Hill. Call 83635615, or email admin@fcta.com.au to book a place.
We will be running a White Card course, CPCCOHS1001A on Tuesday April 9th. The course starts at 8:30am and runs for 6 hours.
To book a place please call 83675615, or email admin@fcta.com.au. The cost is $25 for CITB card holders, and $85 for those without CITB membership. Payment can be made through PayPal on our website, or cash on the day.
The Pt Augusta team completed their CITB sponsored course on Friday. As a thank you to the Pt Augusta Youth Centre team, for providing us with the facilities, the students built an outdoor BBQ area.  More photos can be seen on our facebook page facebook.com/FCTAbuildingcareers. We'd like to thank the students for their hard work and focus over the last 10 weeks.
The team in Pt Augusta has been busy developing their hand skills, with a focus on practical projects. Most of the team are from the Pt Augusta, Quorn and Whyalla region, where these types of courses are not normally available. This course was fully funded by the CITB as a way of getting more people into the industry. While the building industry is experiencing a short term slow down, the longer term trend shows a severe shortage of skilled tradespeople being available in the building industry. Reflecting this is research from the ABBTF, indicating the average age of a bricklayer is 46.
The Pt Augusta Youth Centre provided FCTA with the facility being used for this course. Finding a suitable location for training had been one of the issues preventing similar courses being run in Pt Augusta. Over the coming weeks the pre-apprenticeship team will begin work on a few projects within the Youth Centre, to showcase what they have learned. In week 2 the team have been learning some of the fundamental skills of bricklaying, that they will use throughout the course, and will give them an advantage over other people looking for working in the construction industry.
The first week of the CITB Pt Augusta Pre-Apprenticeship course, and the participants have already started learning how to lay bricks. FCTA takes training out of the classroom, and focuses on the development of practical hand skills. This helps our students gain an understanding of what its like to work in the construction industry. While building up the self esteem of students with learning or literacy difficulties.

FCTA- Building Careers have run numerous Pre-apprenticeship courses over the years, and have found these courses to be a great way for people to gain work in the construction industry.
The course runs for 10 weeks, and is full time from 8am – 3:30pm Monday – Friday.
Successful students will be awarded a Certificate II in Construction Pathways
Practical projects, in Bricklaying and Solid Plastering, will be the focus of the course to develop hand skills.
The course has been sponsored by the CITB, so there is no charge for students. If you are interested, please click on our CITB Flyer 19032012 Pt Augusta for more information. All applicants are required to meet with one of our team for a chat to discuss why they would like to do the course. Interviews will be held on March 8th from 10am – 2pm, at Employment Plus 12Chapel St, Pt Augusta. To book a time, please call us on 08 8367 5615, or email admin@fcta.com.au.