We have a range of short courses running before the end of the year. Our most popular tiling courses can be customised for people looking to develop specific skills. These courses are eligible for CITB subsidies for people working in the trades with a CITB membership number – this is free to apply for at citb.org.au. If you are interested in other courses, or would like to request different dates, please email [email protected]
Tiling – 1 week:
24th – 28th September 2018
Cost: $750 or $250 with CITB membership
Waterproofing – 3 days:
15th – 17th October 2018
Cost: $550 or $200 with CITB membership
Acrylic Rendering – 3 days:
29th – 31st October 2018
Cost: $600 or $250 with CITB membership
Tiling – 1 week:
26th – 30th November 2018
Cost: $750 or $250 with CITB membership
Contractors License Course:
6th – 7th October 2018 & 20th – 21st October 2018 
Cost: $950 or $450 with CITB membership
Last week I spoke to the people at Consumer and Business Services to check what they require before issuing a person with a license to complete internal & balcony waterproofing. Each week we have people call asking if they can complete our 3 day course in waterproofing and then go out and work in the industry. If you have plenty of experience aside from the 3 day course, then yes, you can apply for a license but you will most likely be called in for a technical interview.
If you do not work in the building industry you need to get experience first. You could work with a tiler or an already licensed waterproofer until you have the experience to pass a technical interview. The interview covers off a lot of 'what if's' you wont simply be reciting the Australian Standards, Building Code or SA Ministerial Code. You will need to have broad enough experience to answer questions across both commercial and residential work. This is because your license will enable you to work across all sites so you will need to understand the differences.
It is also helpful to attend training courses provided by one of the manufacturers of waterproofing materials. Gripset, Ardex and Mapei all provide regular training on how to use their products. Some of these manufacturers also have phone apps that let you lookup the product you need for certain jobs.
Once you feel you are ready to apply for a waterproofing license, you will need to complete the requirements that Consumer and Business Services have set out on their website. This includes completing two short courses in business law and finance.
Click here to access Consumer & Business Services guidelines for applicants. As always, if you have questions you can email us at [email protected] or call 83675615.
The easiest customer to keep, is the one you already have! Book now for a 5 day short course, complete by June 30th and CITB members receive a $100 discount. Call us on 8367 5615 or email [email protected] to discuss your training needs.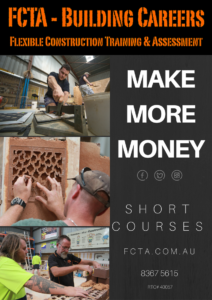 Our courses cover basic to advanced tiling, introductory bricklaying, traditional solid plastering and more. Click this link to download our course brochure. 
FCTA – Building Careers flexible approach to training means we can adapt projects to make them relevant to your particular needs. For example if a tiler wanted to be able to install cornices to bathrooms that have been tiled to the ceiling, we can create a project to match.
Please note, this promotion excludes our 3 & 4 day courses as well as the introduction to plasterboard course – due to the high cost of materials.
Our most popular short courses are on special for a limited time only! Held in Holden Hill, South Australia. Book and complete these classes by June 30th 2017 and save. Each of these courses normally costs $250 each for CITB card holders. For a limited time pay only $400 to complete all 3 courses. For information on the details of the courses down  Solid plastering course details
Traditional Sand & Cement Rendering
Quoins & Banding
Acrylic Rendering
Click here to book and pay. As this course only runs on week days, dates to attend are flexible and can be negotiated with us around trainer availability.
South Australian businesses can now register for two types of Job Accelerator Grants to assist with employing additional full-time, part-time and casual employees, with grants between $10 000 and $4,000 for every new job created.
The grant aims to create jobs now and build a strong workforce for the future. Find out if your business is eligible today to start shaping the jobs of tomorrow.
UP TO $4,000 for SMALL BUSINESSES….
Are you looking to employee new staff ?  You could be eligible for a state government grant.
UP TO $10,000 for LARGE BUSINESSES….
Your text caption goes here. You can change the position of the caption and set styles in the block's settings tab.
FCTA – Building Careers runs a series of short courses for existing tradespeople to increase their skills. Lots of the courses have cross over skills, bricklayers usually have the hand skills to pick up acrylic rendering quickly. Tilers who have only worked on domestic bathrooms and laundries can learn how to do high margin tessellated tiling.
Anyone who is looking to gain their contractors license has the ability to attend the two mandatory small business units to apply for their license. For more information, download our brochure by clicking >> Course Guide, or call us on 8367 5615 or email [email protected]
I had a phone call over the weekend from a former apprentice. He'd gone out on his own and hit a problem, the builder he was sub-contracting to was refusing to pay him. They had agreed to a price for the work, but hadn't written anything down. Now the job was finished the builder asked the tradie to supply him with his contractors license. The tradie didn't have one. He'd completed the 2 units in small business finance and legal, but hadn't actually applied for his license from Consumer Business Services. The builder also expected him to have waterproofing on his license, and to have insurance.
The amount owed was less than $2000. The builder hadn't requested any of this information prior to work starting, and wasn't disputing the quality of the work. I recommended the tradie talk to Sam at TradeSA.com.au. A few days later i received a text message letting me know everything had worked out.
The key point here is to make sure you have your contractors license and insurance before going out on your own, and ALWAYS have agreements in writing.
Our next trade sub-contractors course is scheduled for 06 – 07 August 2016 & 20 – 21 August 2016. You can book and pay for the course by clicking here
FCTA – Building Careers will be launching the new financial years short course dates in July. Currently we are waiting to have CITB funding confirmed. The CITB provide discounted training to eligible tradies living and working in South Australia. If you do not yet have a CITB card, visit their website to apply http://www.citb.org.au/FundingSupport/AmIeligible.aspx
If you would like us to contact you when the new dates are released, email [email protected] and we will be in contact next month.
Future dates for our pre-apprentice Certificate II in Construction course will also be announced shortly. At this stage we expect the next course will run from July 5th 2016 for 10 weeks.
Do you have more than 4 years experience working as a bricklayer, tiler, stonemason or plasterer? You now have the opportunity to have your skills formally recognised and gain a contractors license. All licensing costs can be included depending on the package selected.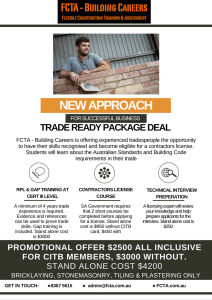 The SA Government requires tradespeople to complete 2 business units before applying for a license. FCTA – Building Careers has teamed up with SA Trade Licensing for a limited offer.
Packages start at just $2500 and include the cost to recognise trade experience formally with a Certificate III. This is the same certificate apprentices study. There may be some gaps in your knowledge, and thats not a problem as all gap training costs are also included. This would cost over $4000 normally!
The package includes the cost of the 2 business units and a preparatory technical interview with SA Trades Licensing. Successful students will be able to legally run their own businesses and advertise for work. There will be a focus on educating people in the relevant Australian Standards and National Construction Code (formally called the BCA).
If you've been working in the industry for 4 years or more, chances are you already have a CITB membership. If not visit citb.org.au to apply. The cost of this package is $3000 for people without a CITB membership.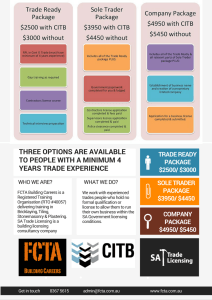 We have packages that also include filling in all application details, lodgement of forms and police checks from $3950 – this includes all government charges, no more to pay. If you are looking at investing in your long term success and establishing your own company, for $4950 we can take the work out of the paperwork! For more information, download our FLYER
Interested? Email [email protected] or call us on 8367 5615 to discuss.
If you're working in the building industry without a contractors license, you could legally be denied payment by customers for jobs under $10,000. You can also be fined on top of this. A Current Affair and Today Tonight love to run stories on 'dodgy tradies' but I don't recall ever seeing reporting on the customers that don't pay for the work completed! If you don't have a trades license there's not a lot you can do to legally try to recoup your payment. The best way to avoid these situations is to be licensed.
In South Australia that means that you need to complete 2 business units, SBSMB406– Manage small business finances & CPCCBC4009B– Apply legal requirements to building and construction projects. Our last course for the year starts Saturday November 7th at 9am. Courses are held at 15 Jacobsen Crs Holden Hill. The course runs across 2 weekends, with the trainer setting aside Sunday afternoons to help with any questions regarding the assessment questions that need to be completed. To book, click here .
For more information on the process of obtaining your BLD# visit this SA Government website link. If you are unsure about the process and would like some help, or if you didn't complete an apprenticeship, Sam Cottell is a trade licensing consultant who use to work at OCBA/ Consumer & Business Services. He can be contacted on 0430206032. The FCTA team are happy to assist with questions also, you can call us on 8367 5615 or email [email protected]