Originally published: news.com.au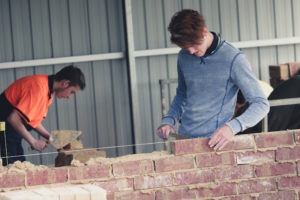 AFTER receiving their high school results over the past fortnight, graduates across Australia will be thinking long and hard about their options.
But while they're going through their course options and preparing job applications, anxious about the dwindling graduate employment rate and competition for positions, there's one category of jobs that will likely be overlooked.
Analysis by jobs website Adzuna has revealed the jobs that Australians just aren't interested in, with trades and construction coming out on top.
With minimal qualifications required, you'd think trades would be a popular choice.
The report showed that while jobs advertised in the construction industry has increased by 10 per cent, apprenticeship commencements were down 5.6 per cent year on year.
Adzuna CEO Raife Watson called on schools to remind students of the option of vocational education and training as an alternative to university.
"Despite reports that the residential construction boom in Sydney is starting to wind down, we continue to see growth year-on-year in advertised vacancies across a wide selection of job roles in trades and construction," he said.
"The primary concern for the construction industry is the continued decline in apprenticeship commencement rates."
Mr Watson said there was a "stigma" associated with TAFE studies and apprenticeships that Australia needed to work to remove.
"Twenty-three university graduates compete for each role, whereas in some Australian states, two jobs are available for all qualified apprentices," he said.
"I expect this number to increase in the coming years as apprenticeship numbers continue to decline."
In South Australia, where school leavers' results were released this morning, graduates are being urged to consider taking on a trade or traineeship.
Business SA says apprenticeships and traineeships are viable career options as Australia faces a skills shortage across a range of industries.
Sharyn Davies, from Apprenticeship Support Australia which is administered by Business SA, said a high score in year 12 is not a guarantee for future success.
"It's more important for young people to follow their passions," she said.
"When we are doing something that aligns with our strengths, skills and passions, we have a higher level of wellbeing and are more likely succeed in building a successful career."
Source: School-leavers not interested in trades
A step by step guide on how to hire an apprentice for the first time, including information on incentives.
The Certificate II in Construction (CPC20112) is classified as a pre-apprenticeship course. This is because it covers off a range of introductory skills that allow successful students to hit the construction industry running. Students are taught by qualified tradespeople and learn skills in bricklaying, tiling, solid plastering, concreting scaffolding and more. FCTA- Building Careers trains apprentices at the same time, so students will be able to interact with people working in the industry and get a first hand account of what being an apprentice is about.
The course runs for 10 weeks, Tuesday – Fridays. Starting time is 8am sharp. The course finishes Friday December 18th 2015. During the course, if apprenticeship opportunities come up we will recommend students who have shown an early aptitude and have been able to follow trainer instructions.
Applicants for Jobs First:STL courses must be aged 17 years or over and cannot be enrolled in school. For high school students over 16 TGSS funding is available.
WorkReady eligibility criteria are able to study for no cost. Applicants who are ineligible can pay $2000 to join the course, a payment plan is available at $200 per week. To check your eligibility visit http://www.skills.sa.gov.au/training-learning/check-your-eligibility
To apply for the course, email [email protected] or call 83675615.
There may be early signs of the housing boom slowing down, but apartment and house construction continue to surge, offsetting a sharp mining building downturn.
Apartment construction is the strongest area of building activity, with mining engineering contracting fast. (ABC News)
While recent building approval figures appear to show a peak in new home construction looming, the levelling off in building plans has not yet fed through to construction activity.
The Australian Industry Group and Housing Industry Association's Performance of Construction Index (PCI) for September came in at 51.9 – slightly down on the previous month, but still above the key 50-point level that indicates expansion.
The fall from the previous month was entirely driven by a 9.3-point slump in engineering – a category dominated by resources projects – to 36.6, indicating a sharp contraction.
Commercial construction also fell 6.5 points last month and is now slightly in negative territory at 48.1.
In contrast, house building rose 2.4 points to 56.8, indicating a solid expansion in that sector.
Apartment construction was even stronger, with a 4.5-point increase to 63.2, highlighting a unit building boom that is so far offsetting the downturn from the mining bust.
"Residential construction activity remains the cornerstone of the broader construction industry and will retain this role into at least the first half of 2016," observed HIA economist Diwa Hopkins.
She said the commercial construction sector is also showing positive signs.
"There are some tentative signs of improvement emerging from the commercial sub-sector of construction, but these are yet to be sustained – the August rise in the commercial construction activity sub-index took a tumble in September," the economist added.
"Nevertheless, new orders for this segment of the market are rising which suggests a recovery may emerge in the new year."
Builders are also starting to confront rising labour costs, while building material costs are rising even more strongly, probably reflecting increasing demand and the impact of a lower dollar on import prices.
Published at: http://www.abc.net.au/news/2015-10-07/residential-boom-props-up-australian-construction-industry/6833010