The Certificate II in Construction (CPC20112) is often referred to as a 'Pre-apprenticeship' course. This is because employers looking to hire apprentices frequently recruit current students and graduates. Our next course starts 30th January 2018. The course will focus developing hand skills across tiling, bricklaying and plastering.

If you have been considering becoming an apprentice, but you're not sure which trade to focus on, this course will give you an insight into several different trades as well as basic concreting and scaffolding. You will also have the opportunity to work alongside existing apprentices to find out what working in the building industry is like.
The course is open to applicants over 16 years old. Government funding is available to most applicants via the State governments WorkReady programme. Students enrolled at High School who are over 16 can also complete the course under TGSS funding.
The goal of this course is to help students into work within the building and construction industry. We have employers who are currently looking to hire apprentices and during the course, you will have the opportunity to be placed into work experience. Employers are generally seeking people under 21 with a drivers license and vehicle. There are employers willing to consider adult apprentices, but they are much less common than junior apprenticeships. If you would like to know more, or have any questions please contact us on 8367 5615.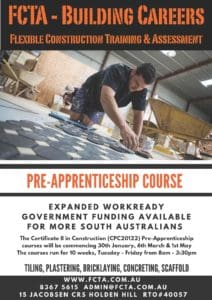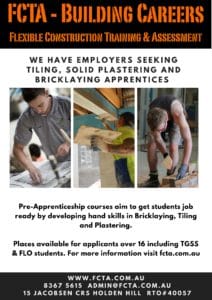 If you are looking for an apprenticeship the Certificate II in Construction (CPC20112) course, is a great way to find out which trade you enjoy the most. Pre-apprenticeship students work side by side with existing apprentices. This gives students the chance to have some insight about what being an apprentice is like.
Students will gain an introduction into the following trades:
Bricklaying
Tiling
Plastering
Concreting
Scaffolding
Employers frequently contact FCTA seeking candidates for apprenticeships. They are generally seeking people under 21 who have a car and license and either experience in the industry or someone who has completed a pre-apprenticeship course.
As part of the Certificate II in Construction, students are placed into the trade for work experience. For students who have some previous experience, or show potential, this could happen at any time during the course. If there is an opportunity to secure an apprenticeship you will be placed out into the trade ASAP.
Pre-apprenticeship courses will run on the following dates:
05/09/2017 – 10/11/2017
30/01/2018 – 06/04/2018
06/03/2018 – 11/05/2018
01/05/2018 – 06/07/2018
The course is held at FCTA – Building Careers, 15 Jacobsen Crs Holden Hill South Australia. The duration of the course is 10 weeks, Tuesday – Friday 8am – 3:30pm. Please call 088367 5615 or email [email protected] to book in a time to apply for the course.
Our next pre-apprenticeship course will be starting Wednesday April 26th at Holden Hill. If you are looking for an apprenticeship in South Australia, this is the course to give yourself the best chance possible. FCTA – Building Careers also trains apprentices, so students in the Certificate II in Construction (CPC20112) have the opportunity to work next to apprentices and find out about tradie life.
The pre-apprenticeship course focuses on the following trades:
Bricklaying
Tiling
Plastering
Scaffolding (up to 4m)
Introductory Concreting
We have strong links to the industry and are in direct contact with builders who currently, or previously have had apprentices. Often they will come to us directly for a recommendation on who to hire. While industry work experience isn't mandatory for the Certificate II in Construction, we strongly encourage it and assist students to find places. This has been the way many of our students have secured apprenticeships.
This course is currently funded by WorkReady for eligible students, and by TGSS for students over 16 who are still at High School or are part of the 'FLO' programme. To check your eligibility click here
To book a time to come in and discuss the course call us on 8367 5615 or email: [email protected]
Over the 15 years we have been training people to become bricklayers, tilers and plasterers, a number of our pre-apprentice students have gone on to become apprentices. The apprenticeship process isn't always easy! Thats where a dedicated family run trade school can help.
Alex completed his Certificate II in Construction pre-apprenticeship with FCTA – Building Careers in 2012. He was an excellent student who quickly decided that Tiling was the trade he wanted to specialise in. He secured an apprenticeship straight away and went on to work with 2 other employers as well. Along the way we have gotten to know Alex's family and seen him become a top tiler.
Pre-apprenticeship courses are a great way to decide which trade you want to focus on. Students try several different trades before selecting one to focus on. Often the skills from one trade are used in another. Tilers frequently brick in bath tubs and build hobs. Screeding skills that are so important in tiling are part of the hand skills used in plastering.
If you are interested in completing a pre-apprenticeship course our next Certificate II in Construction starts 11th October 2016. Call us on 83675615 or email [email protected] for more information.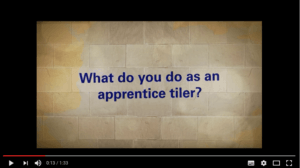 We have been running pre-apprenticeship courses for over 15 years. During that time we have trained students seeking apprenticeships in bricklaying, tiling and plastering. Some of these students secured apprenticeships and have now completed their 4 years with employers and have started their own businesses.
Angelo is one of those students. He completed a Certificate II in Construction in 2009. This was a difficult time in the construction industry in the wake of the Global Financial Crisis (GFC). New builds had declined, and banks were making it difficult for new home owners to get finance. Despite this, Angelo secured an apprenticeship with a Group Training Organisation (GTO) who placed him with a host employer.
Over the next 4 years Angelo developed his skills and worked on a variety of sites around Adelaide. In 2014 he completed his trade sub-contractors course and is now self-employed. The building industry offers individuals the chance to become their own boss.
Our next Certificate II in Construction course starts October 11th 2016. If you are interested in applying please call us on 83675615 or email [email protected]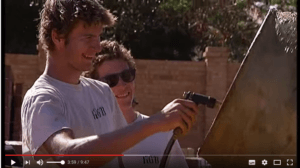 Our popular pre-apprenticeship course is starting again in July. Register your interest by calling us on 0883675615 or email [email protected] This course offers successful students the Certificate II in Construction qualification, and a headstart in gaining an apprenticeship. Many employers seek out students from this course for apprenticeships.
The course will be delivered at 15 Jacobsen Crs Holden Hill in South Australia. The estimated start date should be in July 2016. The course will run Tuesday – Friday for 10 weeks. Students will complete tasks in bricklaying, tiling, plastering, concreting and scaffolding.
This course and students may be eligible for government funding under WorkReady. Eligibility is restricted to students over 17, who have not previously completed any qualifications higher than a Certificate I. School students over 16 may be eligible under either FLO funding or TGSS. Speak to your school VET co-ordinator for more information.