Our most popular short course on waterproofing will be held on 19/2/18 – 21/2/18 (8am – 3:30pm). This course covers off a practical application of waterproofing to internal wet areas and balconies. The Australian Standards and Building Code will be discussed. Representatives from waterproofing manufacturers will also be available to answer questions and discuss the use of their branded systems.
Click on this link to book online, or call us on 83675615.  The Construction Industry Training Board (CITB) subsidies training for some existing building industry workers. To find out more visit citb.org.au. The cost of the course is $550 or $200 with CITB support.
Please note, this course alone will not qualify you to apply for a license – I get this questions all the time! You cannot become a waterproofer and certainly not a tiler based on a 3 day short course. On completion of the course, students will receive a Statement of Attendance. For people with other experience in waterproofing and/ or tiling, this can go towards your evidence to apply for a contractors license. If you have questions about licensing, please call us on 83675615.
FCTA – Building Careers will be launching the new financial years short course dates in July. Currently we are waiting to have CITB funding confirmed. The CITB provide discounted training to eligible tradies living and working in South Australia. If you do not yet have a CITB card, visit their website to apply http://www.citb.org.au/FundingSupport/AmIeligible.aspx
If you would like us to contact you when the new dates are released, email [email protected] and we will be in contact next month.
Future dates for our pre-apprentice Certificate II in Construction course will also be announced shortly. At this stage we expect the next course will run from July 5th 2016 for 10 weeks.

Last year the CITB rolled out a new way for employers and apprentices to track the skills and work apprentices undertake. It's via a simple smartphone app that can be downloaded following this link. It takes a few minutes Friday afternoon for apprentices to login and record what they have done for the week. So if they spent 1 hour each day preparing the site, they click on that image and enter 5 hours for the week. This will now be the way the CITB processes incentive payments to employers, so its worth a small amount of effort each week.
If anyone is unsure about the app or would like to be given a demonstration in person, just call us on 83675615 to set up a time. Apprentices will be reminded each day they attend trade school to log their work into my profiling as well.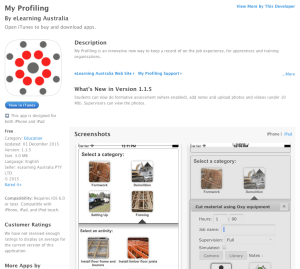 CITB has launched an app called 'My Profile' to replace the old apprentice on job log book to be eligible for incentive payments
FCTA – Building Careers has a range of short courses scheduled for 2014. Some of these courses are available at a discounted price to people currently working in the construction industry, via the CITB. The CITB co-funds these courses, prices listed will have a cost with CITB discount applied and without. CITB cards do expire, but you can visit their website to renew or apply for a card if you haven't in the past.
The following courses are on offer, click the title of the course to download a flyer:
Timings:
Weekday courses run from 8am – 3:30pm.

Payment Methods:
Cash, cheque, electronic funds transfer or paypal credit card payments via website
To secure a place, please email us.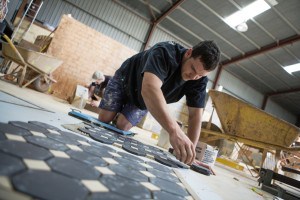 This week the students continued on with tiling and solid plastering tasks. After a hectic few weeks, all the students have now had the chance to work on tasks in Bricklaying, Tiling and Solid Plastering. This helps students work out which trade they most enjoy before trying to gain an apprenticeship. There has been research into the success of Pre-apprenticeship courses, in helping students achieve and complete apprenticeships. Across all the various industries, the building and construction industry was one of the few that highlighted the success of these courses in helping students gain and complete apprenticeships.
Congratulations to Cameron from the CITB Pre-apprenticeship team! Cameron has gained work tiling after completing some work experience with a former FCTA Apprentice. The rest of the team are very interested in getting onsite to learn more about the trade, and hopefully gain work. Below are some photos from this week, showing the quality of work the team is capable of, and the entertaining personalities that show how they'll fit in on any site!
The students have hit the halfway point, and we have some of the team working on advanced bricklaying projects, others trying tiling and solid plastering. It's the best way to decide which of the mortar trowel trades students are most interested in. At this point we have students we would recommend highly for work experience. If you are interested in giving one of the team a break, please call us on 0883675615, or email [email protected]
Our students have now developed their bricklaying skills enough to move onto new practical projects.