The easiest customer to keep, is the one you already have! Book now for a 5 day short course, complete by June 30th and CITB members receive a $100 discount. Call us on 8367 5615 or email [email protected] to discuss your training needs.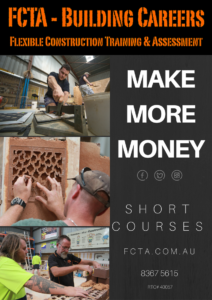 Our courses cover basic to advanced tiling, introductory bricklaying, traditional solid plastering and more. Click this link to download our course brochure. 
FCTA – Building Careers flexible approach to training means we can adapt projects to make them relevant to your particular needs. For example if a tiler wanted to be able to install cornices to bathrooms that have been tiled to the ceiling, we can create a project to match.
Please note, this promotion excludes our 3 & 4 day courses as well as the introduction to plasterboard course – due to the high cost of materials.
We currently have Bricklayers and Tilers looking to hire apprentices. They are after 'work ready' apprentices, people who have some basic skills and are aware of what working in the building industry is like. The Certificate II in Construction (CPC20112) is an excellent course that provides students with an introduction to the following trades:
Bricklaying (2 employers currently looking for apprentices as of 31/1/2017
Tiling (4 tilers looking for apprentices as of 31/1/2017)
Plastering (labourers positions appearing regularly on gumtree)
Concreting (2 employers seeking labourers)
Scaffolding – up to 4metres (shortage of scaffolders in Adelaide – especially around festival/ major event times)
Employers contact us directly looking for students to recommend. We also check adverts for jobs every morning and have close industry ties to give students extra guidance. Applicants will have the opportunity to see other pre-apprentices in action on the trade floor. Students will be working side by side with existing apprentices so they can discuss the industry, find out what life as a tradie is like, and see how over time how their skills develop.
If you are interested in applying, please email [email protected] or call 8367 5615.
This years choice for Apprentice of the Year was made easy, as each staff member – from all our trades – recommended Nathan Dekker.
Nathan is 75% through his Cert III in Bricklaying. His work is of high quality. He is normally the first apprentice to arrive in the morning, and the one who creates a great mood amongst everyone. Aside from the trophy, Nathan will receive free training in the 2 small business units required to apply for a contractors license. Nathan has enormous potential for the future. From the team at FCTA – Building Careers, we'd like to wish Nathan and his lovely family a Merry Christmas. We are looking forward to 2015 and working with Nathan again!
Changes to Skills for All funding from 4/11/2013 mean students need to meet a narrower criteria to receive fully funded training in Certificate II level courses, commonly referred to as 'Pre-Apprenticeship' courses.
Pay increases for new apprentices kick in from 01/01/2014. New apprentices will be paid on average an extra $45 – $145 per week extra. These increases do not apply straight away to existing apprentices. Employers thinking of employing an apprentice would be able to employ an apprentice under existing conditions if employed before 01/01/2014. Further, employers are now required to reimburse apprentices for trade school fees and material/ book costs.