Our popular Pre-apprenticeship course, just got better! We are now able to offer the course on the following dates:
28/02/2017 – 05/05/2017
28/03/2017 – 02/06/2017
26/04/3017 – 30/06/2017
8am – 3:30pm Tuesday – Friday for 10 weeks at 15 Jacobsen Crs, Holden Hill. WorkReady funding is available for eligible students.
This course is designed to assist students to become ready to work as apprentices. Employers have contacted us seeking apprentices that are reliable, able to follow instructions and have their drivers licenses. Call us on 8367 5617 or email [email protected] to book in a time to discuss the course.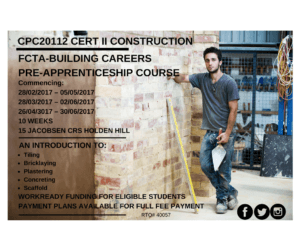 The SA Government has put together a detailed booklet about all things relating to apprenticeships. Everything from what an apprentice is, to the ratio of supervisors to apprentices required can be found by clicking this link to the WorkReady website. This is an excellent resource for people who are considering hiring an apprentice.
For information about wages read our post for a summary and contact FairWork to confirm.
For information about incentives, read our updated post
Over the last 2 months we have been inundated with phone calls from employers looking for both apprentices and experienced tradespeople.
Currently we have 6 vacancies for bricklaying apprentices, 2 solid plastering apprenticeships, 5 tiling apprenticeships and employers seeking qualified bricklayers. If you have a car, a good work ethic, like working outdoors and are reliable, you have a great chance of getting work in the building industry right now. Most employers seek junior – under 21 year olds – for apprenticeships. It is still possible for adults to gain apprenticeships, employers will be seeking people who are 'work ready' in this situation.
The building industry is one of the few industries people can work in and have a direct path to becoming their own boss in less than 5 years. If you are would like to discuss any of the job opportunities, or find out more call us on 8367 5615 or email [email protected]
Our popular pre-apprenticeship course is starting again in July. Register your interest by calling us on 0883675615 or email [email protected] This course offers successful students the Certificate II in Construction qualification, and a headstart in gaining an apprenticeship. Many employers seek out students from this course for apprenticeships.
The course will be delivered at 15 Jacobsen Crs Holden Hill in South Australia. The estimated start date should be in July 2016. The course will run Tuesday – Friday for 10 weeks. Students will complete tasks in bricklaying, tiling, plastering, concreting and scaffolding.
This course and students may be eligible for government funding under WorkReady. Eligibility is restricted to students over 17, who have not previously completed any qualifications higher than a Certificate I. School students over 16 may be eligible under either FLO funding or TGSS. Speak to your school VET co-ordinator for more information.



Last year the CITB rolled out a new way for employers and apprentices to track the skills and work apprentices undertake. It's via a simple smartphone app that can be downloaded following this link. It takes a few minutes Friday afternoon for apprentices to login and record what they have done for the week. So if they spent 1 hour each day preparing the site, they click on that image and enter 5 hours for the week. This will now be the way the CITB processes incentive payments to employers, so its worth a small amount of effort each week.
If anyone is unsure about the app or would like to be given a demonstration in person, just call us on 83675615 to set up a time. Apprentices will be reminded each day they attend trade school to log their work into my profiling as well.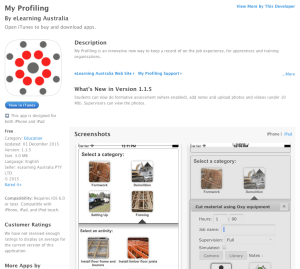 CITB has launched an app called 'My Profile' to replace the old apprentice on job log book to be eligible for incentive payments
Daniel Telling has completed his last unit as an apprentice, and will now be going through the 'sign off' procedure to officially become a fully qualified Bricklayer. FCTA trainer, Paul Adams, rates Daniel as amongst the best bricklayers he's seen. Attached are some examples of his work, and images of other apprentices at FCTA this week.