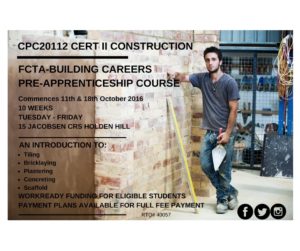 Pre-apprenticeship students are sought out by employers for apprenticeships. The pre-apprenticeship course covers the basics in bricklaying, tiling, plastering, concreting and scaffolding. If you're looking for an apprenticeship, this is a great way to get to know more about the industry and try a range of trades.
Students work side by side with existing apprentices and can find out what tradie life is like. WorkReady funding is available for some students and payment plans are available for full fee paying students. Contact us on 8367 5615 or email [email protected]
FCTA – Building Careers will be closing for the Christmas / New Years break from Friday 18th December at 12pm and re-opening Monday 11th January 2016.
Apprentices are welcome back with our flexible timetable from the 11th January. Please call us on 83675615 to let us know to expect your apprentice. Daily attendance information can be supplied to employers on request.