We have a range of short courses running before the end of the year. Our most popular tiling courses can be customised for people looking to develop specific skills. These courses are eligible for CITB subsidies for people working in the trades with a CITB membership number – this is free to apply for at citb.org.au. If you are interested in other courses, or would like to request different dates, please email [email protected]
Tiling – 1 week:
24th – 28th September 2018
Cost: $750 or $250 with CITB membership
Waterproofing – 3 days:
15th – 17th October 2018
Cost: $550 or $200 with CITB membership
Acrylic Rendering – 3 days:
29th – 31st October 2018
Cost: $600 or $250 with CITB membership
Tiling – 1 week:
26th – 30th November 2018
Cost: $750 or $250 with CITB membership
Contractors License Course:
6th – 7th October 2018 & 20th – 21st October 2018 
Cost: $950 or $450 with CITB membership
Last week I spoke to the people at Consumer and Business Services to check what they require before issuing a person with a license to complete internal & balcony waterproofing. Each week we have people call asking if they can complete our 3 day course in waterproofing and then go out and work in the industry. If you have plenty of experience aside from the 3 day course, then yes, you can apply for a license but you will most likely be called in for a technical interview.
If you do not work in the building industry you need to get experience first. You could work with a tiler or an already licensed waterproofer until you have the experience to pass a technical interview. The interview covers off a lot of 'what if's' you wont simply be reciting the Australian Standards, Building Code or SA Ministerial Code. You will need to have broad enough experience to answer questions across both commercial and residential work. This is because your license will enable you to work across all sites so you will need to understand the differences.
It is also helpful to attend training courses provided by one of the manufacturers of waterproofing materials. Gripset, Ardex and Mapei all provide regular training on how to use their products. Some of these manufacturers also have phone apps that let you lookup the product you need for certain jobs.
Once you feel you are ready to apply for a waterproofing license, you will need to complete the requirements that Consumer and Business Services have set out on their website. This includes completing two short courses in business law and finance.
Click here to access Consumer & Business Services guidelines for applicants. As always, if you have questions you can email us at [email protected] or call 83675615.
Consumer and Business Services (CBS) has announced that their 'Dob in an Unlicensed Tradie' campaign has resulted in approximately 60 claims. On top of this, DJ Verandahs has been fined $12,500 for being unlicensed as well as having customers win civil proceedings against the owner. Below is a media release from CBS:
South Australia's consumer watchdog has welcomed the $12,500 penalty handed down in the Adelaide Magistrates Court to a man who admitted breaching South Australian and national consumer laws. 36 year old Port Willunga man David James Jackson pleaded guilty to breaches of the Building Work Contractors Act, the Australian Consumer Law and the Fair Trading Act.
The Court heard that Jackson had accepted a deposit of $9630 to construct a pergola on a property in Mount Gambier and never actually started the work. Jackson had also accepted a $6000 deposit to build a veranda at another Mount Gambier property, and again failed to begin work. He also failed to deliver materials paid for by the consumers.
The court heard that, in the first matter, Jackson had only repaid $2900 while in the second matter, Jackson made an initial series of repayments following a civil claim and order, but then defaulted on further repayments.
Magistrate Bennett indicated that – were it not for Jackson's guilty plea and inability to repay a significantly larger penalty – Jackson would have been fined $30,000. Instead, the Magistrate fined him $12,500, and made a compensation order for Jackson to repay $7550 to one of his clients.
A civil order is already in place ordering Jackson to repay the other client. Commissioner for Consumer Affairs Dini Soulio said Jackson did not hold any building licence at the time of the offences. "Our licensing system is a way of ensuring consumers can have confidence in the people they hire to carry out building work," he said. "I'd encourage anyone to check the public register before engaging a builder to ensure they're licensed to do the job."
To check whether a builder is licensed, visit the Consumer and Business Services website at www.cbs.sa.gov.au. To report any concerns about a builder or contractor, contact CBS on 131 882.
The Office of Consumer and Business Services has released the following articles about unlicensed builders. They 'named names'. To become licensed visit the CBS.sa.gov.au website.
$11,000 fine for working unlicensed
An unlicensed builder who accepted substantial deposits from consumers for work he either didn't start or made little progress on has been fined $11,000 and ordered to repay more than $11,000 to customers he left in the lurch. 27 year old Andrew James Laundy appeared in the Adelaide Magistrates Court this week, after pleading guilty to carrying on business as a building work contractor without a licence and four counts of breaches of the Australian Consumer Law.
The court heard Laundy had accepted substantial deposits from customers to carry out renovation work, as well as fence and paving work, on properties in Parafield Gardens, South Plympton, Camden Park and Oaklands Park. In two instances, Laundy carried out a small amount of work – while in the other two cases, he failed to do any work at all.
"Cases like this highlight why it's so important for people to do their homework before engaging the services of a builder," Commissioner for Consumer Affairs Dini Soulio said. "In this case, customers paid substantial sums of money – ranging from $900 to $4750 – for work that was either never started or barely progressed. "By checking the public register, customers can check whether a builder actually has a licence, and enjoy greater peace of mind when engaging the services of a professional to carry out work around the home. "I'd encourage anyone considering hiring a builder to head to the CBS website at http://www.cbs.sa.gov.au/occupational-licensing-and-registration/find-a-licence-holder/ to ensure the builder has the appropriate licence to carry out the work." Laundy was fined $11,000 and ordered to repay the deposits to each of the four customers totalling $11,150.
Public Warning on unlicensed SA builder
A public warning has been issued by the State's consumer watchdog against Anastasios (Tom) Manolakis, following allegations of operating as an unlicensed builder in South Australia. Acting Commissioner for Consumer Affairs, George Kamencak, said complaints lodged with Consumer and Business Services (CBS) allege that Mr Manolakis' work is also not of an acceptable building work standard.
"It is alleged Mr Manolakis, trading as De George Services, has been contracting for building work without being authorised by the appropriate licence in South Australia," he said. "The business, based at Clovelly Park, advertises its services for roofing, guttering, earthmoving, bricklaying and stone work, through its website www.degeorge.com.au and on Gumtree."
People who carry on business performing building work, including all forms of roofing work, are required to be licensed under the Building Work Contractors Act. Undertaking unlicensed building work carries penalties of up to: $50,000 for a first or second offence; or $50,000 or 12 months imprisonment or both for a third or subsequent offence $250,000 for an offence committed by a body corporate.
The Acting Commissioner is urging consumers not to deal with Mr Manolakis or De George Services while complaints are being investigated by CBS. "With winter officially behind us, many people take time off work throughout the Christmas break to undertake home renovations.
This is a friendly reminder for consumers to do their research before engaging a tradesperson to undertake work on their homes. "Please ensure you are using a licensed and reputable building contractor who is qualified to do the job. You can check if a tradesperson has a current licence by using the online CBS licensing register or by asking them to produce their South Australian builder's licence card." "CBS takes consumer complaints seriously and regulates the industry to protect consumers and stamp out illegal conduct." If anyone has concerns or would like to make a complaint about their dealings with Mr Manolakis or De George Services, please contact CBS on 131 882
Nick Xenophon was interviewed this week on ABC Radio National about supporting the Governments Australian Building and Construction Commission (ABCC) Bills. In the interview he discusses how part of the negotiation will involve providing greater protection to sub-contractors, when builders go bust.
Also being negotiated is a way to ensure the Building Code and Australian Standards are used to stop sub-standard imported materials being used in the industry.
These are important issues, especially the protection of sub-contractor payments. As seen with the recent liquidation of Homestead Homes, most sub-contractors will lose money owed to them for work they have completed. The Security of Payments Act is seen as a way to ensure sub-contractors aren't financially decimated when builders go bankrupt. Part of the issue is that sub-contractors have been made to feel they will miss out on work if they use the provisions in the existing Act. Another issue is that tradies who have been working as contractors unlicensed have no way to claim any payments. Having sub-contractors rights discussed is a great leap forward after so many tradies have been left out-of-pocket.
Having a trade sub contractors license gives tradies and customers protection if things go wrong. The SA Government has recently started promoting ways consumers can verify that their tradies are licensed, and has set up a website to 'dob in a tradie'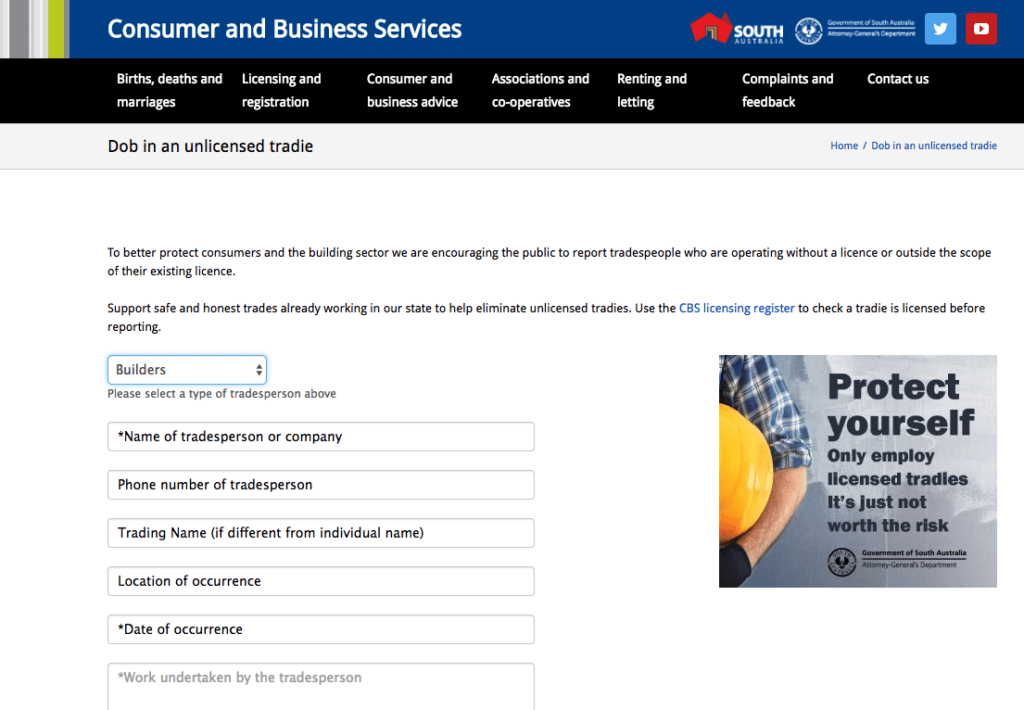 So what do you need to get licensed? You can download the specifics and read the SA Governments requirements by clicking on this link Licensing Guidelines. 
Tradies will need to complete two business units prior to applying, one that covers off legal issues, the other on small business finance. We offer a course that meets the State Governments requirements, click here to see dates and make a booking.
Along with these units you also need to provide evidence of industry experience, such as apprenticeship papers, letters from employers if an apprenticeship wasn't completed, short courses or testimonials. Sometimes applicants will be called in to attend a technical interview. If this is the case we can offer some extra support and guidance.
If you are still unsure tradesa.com.au offer a service to advise tradies of licensing requirements, submit all documents and take the confusion away.
FCTA – Building Careers runs a series of short courses for existing tradespeople to increase their skills. Lots of the courses have cross over skills, bricklayers usually have the hand skills to pick up acrylic rendering quickly. Tilers who have only worked on domestic bathrooms and laundries can learn how to do high margin tessellated tiling.
Anyone who is looking to gain their contractors license has the ability to attend the two mandatory small business units to apply for their license. For more information, download our brochure by clicking >> Course Guide, or call us on 8367 5615 or email [email protected]
I had a phone call over the weekend from a former apprentice. He'd gone out on his own and hit a problem, the builder he was sub-contracting to was refusing to pay him. They had agreed to a price for the work, but hadn't written anything down. Now the job was finished the builder asked the tradie to supply him with his contractors license. The tradie didn't have one. He'd completed the 2 units in small business finance and legal, but hadn't actually applied for his license from Consumer Business Services. The builder also expected him to have waterproofing on his license, and to have insurance.
The amount owed was less than $2000. The builder hadn't requested any of this information prior to work starting, and wasn't disputing the quality of the work. I recommended the tradie talk to Sam at TradeSA.com.au. A few days later i received a text message letting me know everything had worked out.
The key point here is to make sure you have your contractors license and insurance before going out on your own, and ALWAYS have agreements in writing.
Our next trade sub-contractors course is scheduled for 06 – 07 August 2016 & 20 – 21 August 2016. You can book and pay for the course by clicking here
Our trade sub-contractors course is scheduled to run on the following dates:
Apply Legal: 20/1/2018 – 21/1/2018 & SMB Finance: 3/2/2018 – 4/2/2018
Apply Legal: 24/3/2018 – 25/3/2018 & SMB Finance: 7/4/2018 – 8/4/2018
Apply Legal: 2/6/2018 – 3/6/2018 & SMB Finance:  16/6/2018 – 17/6/2018
Apply Legal: 18/08/2018 – 19/08/2018 & SMB Finance: 1/9/2018 – 2/9/2018
Apply Legal: 6/10/2018 – 7/10/2018 & SMB Finance: 20/10/2018 – 21/10/2018
Apply Legal: 24/11/2018 – 25/11/2018 & SMB Finance: 8/12/2018 – 9/12/2018
Cost is $450 with CITB discount, or $950 without. Email [email protected] to book a place, or call us on 8367 5615. The course runs from 9am – 4pm and is held at 15 Jacobsen Crs, Holden Hill SA. Download our Trade Contractors License Flyer
Once successfully completed, applications for a BLD# can be made online:
Go to Electronic Licence Application Forms, click on application type and be guided through a series of questions.
Once you have completed the electronic application process, print the final document. Review the information and sign in the required areas. You can scan and submit and pay for your application online, or you can print and post your application and payment to us.
The application form, fees, and the required documentation must be sent to Consumer & Business Services for assessment (either by mail or by submitting electronically). If you live in a remote/regional area, you may lodge these documents and payment at a Service SA office or you can post them to Licensing GPO Box 1719 Adelaide 5001, or lodge them in person at their office in Adelaide.
If you fail to provide all the required documentation or fees, they may not be able to accept your application and it will be returned to you for completion. Your application form does have an expiry date. If you fail to lodge the application before the expiry date, you will have to complete a fresh application.
Current fees as of 22/06/2016 are as follows:
| | | | |
| --- | --- | --- | --- |
| Application and Pre-grant fees | Application fee | Pre-Grant fee | Total |
| Body Corporate – General building work licence | $194.00 | $913.00 | $1107.00* |
| Body Corporate – specified building work licence | $194.00 | $470.00 | $664.00* |
| *Plus an application for approval of a building work supervisor | $115.00 | | |
| | | | |
| Individual – General building work licence and a general building work supervisors registration | $388.00 | $415.00 | $803.00 |
| Individual – Specified building work licence and a general building work supervisors registration | $388.00 | $213.00 | $601.00 |
| Application for approval of additional building work supervisor | $115.00 | | |
| | | | |
| Individual – General building work licence | $194.00 | $415.00 | $609.00* |
| *Plus an application for approval of a building work supervisor | $115.00 | | |
| Individual – Specified building work licence | $194.00 | $213.00 | $407.00* |
| *Plus an application for approval of a building work supervisor | $115.00 | | |
| | | | |
| Application for a building work supervisor registration | $194.00 | $213.00 | $407.00 |
| | | | |
| Amending licence/registration conditions | | | |
| Application to vary a licence | $150.00 | | $150.00 |
| Application to vary a registration | $150.00 | | $150.00 |
| Periodic fees | Total |
| --- | --- |
| Body Corporate Licence – general building work | $913.00 |
| Body Corporate Licence- specified building work | $470.00 |
| Individual Licence – general building work | $415.00 |
| Individual Licence – Specified building work | $213.00 |
| Building Work Supervisor Registration | $185.00 |
| Other fees | Total |
| --- | --- |
| Default penalty for periodic returns | $165.00 |
| Replacement of licence card or certificate | $25.50 |
| Application for approval of a building work supervisor | $115.00 |
Assistance applying for license:
Another option open to tradespeople is to work with Sam Cottell at Trades SA. Sam will be able to review your applications, fill in paperwork and lodge forms on your behalf. Contact Sam on 0430206032 for more information, or visit his website http://tradesa.com.au/
Do you have more than 4 years experience working as a bricklayer, tiler, stonemason or plasterer? You now have the opportunity to have your skills formally recognised and gain a contractors license. All licensing costs can be included depending on the package selected.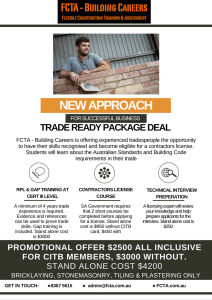 The SA Government requires tradespeople to complete 2 business units before applying for a license. FCTA – Building Careers has teamed up with SA Trade Licensing for a limited offer.
Packages start at just $2500 and include the cost to recognise trade experience formally with a Certificate III. This is the same certificate apprentices study. There may be some gaps in your knowledge, and thats not a problem as all gap training costs are also included. This would cost over $4000 normally!
The package includes the cost of the 2 business units and a preparatory technical interview with SA Trades Licensing. Successful students will be able to legally run their own businesses and advertise for work. There will be a focus on educating people in the relevant Australian Standards and National Construction Code (formally called the BCA).
If you've been working in the industry for 4 years or more, chances are you already have a CITB membership. If not visit citb.org.au to apply. The cost of this package is $3000 for people without a CITB membership.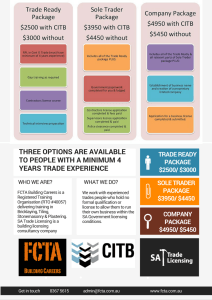 We have packages that also include filling in all application details, lodgement of forms and police checks from $3950 – this includes all government charges, no more to pay. If you are looking at investing in your long term success and establishing your own company, for $4950 we can take the work out of the paperwork! For more information, download our FLYER
Interested? Email [email protected] or call us on 8367 5615 to discuss.