Employers and apprentices frequently ask us about their pay rates. How much you get paid is a hot topic at trade school! To help out, we have utilised the FairWork Ombudsman's Pay Rate Tool. This is a free resource and I encourage anyone referring to this page to check their rate themselves. Please note THIS IS A GUIDE ONLY. Pay rates and allowances can change depending on personal circumstances.
| | | | | | | |
| --- | --- | --- | --- | --- | --- | --- |
| Base Rates | 1st year without year 12 | 1st year completed year 12 | 2nd year without year 12 | 2nd year completed year 12 | 3rd year | 4th year |
| Bricklaying |  $      12.53 |  $      13.64 |  $      14.75 |  $      15.86 |  $      18.09 |  $      21.42 |
| Tiling |  $      12.77 |  $      13.88 |  $      14.99 |  $      16.11 |  $      18.33 |  $      21.66 |
| Stonemasonry |  $      12.77 |  $      13.88 |  $      14.99 |  $      16.11 |  $      18.33 |  $      21.66 |
| Plastering |  $      12.62 |  $      13.74 |  $      14.85 |  $      15.96 |  $      18.18 |  $      21.52 |
To see the full guides, please click on the links below:
Tiling and Stonemasonry apprentice pay rates
Plasterering apprentice pay rates
Big congratulations to Haydon Ashby, of Semaphore South, South Australia, for being awarded Apprentice Bricklayer of the Year 2017 in the HIA-Stratco state annual Apprentice & Trade Contractor Awards, held recently in Adelaide. Haydon is now in his third year, employed by HIA under a Group Training Organisation (GTO) arrangement where his host employer is Michael Quaini bricklayer based in Cowandilla, Adelaide.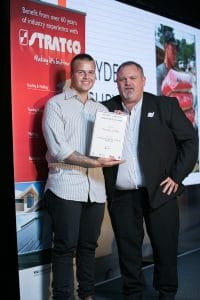 Haydon started work with Michael in early 2016 and has proven through his diligence and skill to be a worthy recipient of this award, as judged by field officers employed by HIA. There was only one bricklaying Award made by HIA and sponsor Stratco, covering all bricklaying apprenticeship years, so it is a strong recognition of effort to have achieved this award – well done Haydon!
I attended the event and on behalf of Australian Brick and Blocking Foundation (ABBTF) and presented this important award to Haydon. It was an honour and a pleasure to see SA's apprentices from several trades, receive acknowledgement for their strong performances.
If you're considering an Apprenticeship in SA check out your options at FCTA, TAFESA. Also visit Become-a-Bricklayer for information on how to explore bricklaying in your State and much more.
Just a bit more information on the role of Group Training:  For bricklayers not wanting to directly employ an Apprentice, Group Training is an excellent way to introduce new apprentices into your business without carrying the administration with the GTO employing and training the apprentice.
The host employer is a tradesperson who provides actual onsite training and as such pays the Group Training company a fee for the time that the apprentice spends onsite. There are advantages to this arrangement. For example some tradespeople want apprentices but do not want the responsibility of accruing or paying holiday pay, sick leave, and superannuation or training costs as such. Some tradesmen do not want the direct responsibility of overseeing the offsite training component and coordination of their apprentices to attend a local Training Provider (RTO), such as TAFESA, as part of the Certificate III completion. And some feel they may not have long term work and cannot sustain an apprentice for three to four years.
For apprentices it's an alternative pathway to direct employment with a bricklayer, providing them instead with a 'host' employer while being employed by the GTO, in this case HIA. GTO vs RTO explained.
Tony Bishop
ABBTF Regional Manager North West
Source: HIA-Stratco South Australia Awards Apprentice Bricklayer 2017
Are you a self-employed Tradesman or Contractor? Being self-employed can provide a lot of benefits, such as flexible working hours and being your own boss.
When it comes to your tax return, however, it can get a little complicated. Being a self-employed Tradesman or Contractor, you may have more tax responsibilities and liabilities to consider. These could include reporting your income and work expenses, and keeping proper business records. The best way to be prepared for the Tax Season, is to remain organised throughout the year and seek the right tax advice and services when completing your tax return.
Complied below is a list of expenses that can be deductible for most self-employed Tradesmen or Contractors. The list details the standard and not so commonly known possible tax deductions that you may be able to claim in your tax return 2017. To be able to claim your work-related expenses, the item must have been required for your business or job. Also, it is essential that you keep well-organised and easily accessible records, such as receipts or invoices, in a paper or electronic system. If you don't and the ATO questions your tax return claims, you may be heavily penalised and face a fine, as well as additional fees.
Please note, that this is not an exhaustive list and that you should always seek advice from your Accountant before making a claim.
Table 1: Tax Deductible Expenses List for Self-Employed Tradesmen and Contractors.
| | | |
| --- | --- | --- |
| Work-related Expense | Details | Is it Tax Deductible? |
| Protective clothing | All protective clothing, including steel-capped boots, High-vis clothing, helmets, goggles, and so on. | Yes |
| Laundry | Laundry costs for all work-related clothing | Yes |
| Tools & Equipment | You can now claim up to $20,000 on business-related assets, between 12 May 2015 and 30 June 2017 | Yes |
| Repairs | Incurred on assets used for work | Yes |
| Transport | Work-related vehicle expenses, such as fuel and servicing, or public transport. If you use your vehicle for business and private reasons, you can only make a proportionate claim. | Yes |
| Education costs | Any educational course or related costs that are required for your current job or work enhancement | Yes |
| Mobile Bills | Only work-related mobile phone costs can be included. If you use your mobile for business and private reasons, you can only make a proportionate claim. | Yes |
| Sun protection | Sunscreen, sun hat and sunglasses used during work | Yes |
| Home office | If a part or a room at home is used for work related activity, you may be able to claim a portion of the running expenses, such as rent, electricity and internet. | Yes |
| Super contribution | Up to $ 25,000 per annum, paid after-tax income. | Yes |
| Stationery | Used for work or home office | Yes |
| Bank Charges | Only if the bank account generates interest income | Yes |
| Interest | Borrowed for work related financing, such as for assets or equipment | Yes |
| Tolls and Parking Fees | Incurred during work related travel | Yes |
| Trade union | Trade related association body expenses, including annual practising | Yes |
| Association fees | Certificate costs | Yes |
| Technical publications | For the line of work | Yes |
| Tax/Accountancy fees | Tax, BAS and Accounts preparation ( plus travel cost to meet) | Yes |
| Public liability | If required to carry out work | Yes |
| Legal expenses | For work related contracts | Yes |
| Insurance | Income continuance, sickness and accident | Yes |
| Meals | Routine meals during work and travel | No |
| Meals | If you worked after normal hours and overnight travel | Yes |
| Fines | Imposed by court or law | No |
| Entertainment | Personal entertainment, such as drinking or dining out with friends | No |
| Conventional Clothing | Not related to work | No |
| Driver's license | Renewal and acquiring fees | No |
| Club membership | Such as Social Club fees | No |
| Child care expenses | Child support expenses | No |
| Other | Any other costs incurred to generate work income | Most often – Yes |
First published: https://www.mastax.com.au/tax-deductions-for-tradies-and-contractors-tax-accountants-dingley-village/
Author │ Yohan Soza