Apprentice bricklayers complete a Certificate III in Bricklaying/Blocklaying. This qualification comes from a training package that lists exactly what trade schools must train apprentices in. If you feel that changes should be made, here's your opportunity! Some of the contentious issues we get feedback on are:
apprentices having to currently complete 5 arches requiring trade school attendance – the proposal is to reduce this to 4 – should this be reduced at all or become an elective unit?
the inclusion of sub-floor construction in the brick veneer AND cavity brick subjects
How much time should be focused on the level of detail in the Australian Standards? we get 'Goldilocks' feedback on this (too little versus too much)
Apprentices not being taught enough of the traditional techniques versus apprentices being taught too many traditional techniques – think fireplaces, number of different types of bonds, decorative elements.
The change in qualification name to Certificate III in Bricklaying/Blocklaying and Paving (note: paving units will be electives and not core subjects).
Trade schools are audited by a dedicated government body to ensure that all parts of a training package are correctly being trained. What is being proposed in these changes will affect every bricklaying apprentice in the country. If you feel that there are gaps in training or a focus on the wrong types of skills, this is your chance to make a difference!
Visit this website to take part in the survey: https://www.surveymonkey.com/r/brickblockpavingDP2
As always, if you would like to have a chat about these changes, or ask questions, feel free to contact us at 0883675615 or email [email protected]
Big congratulations to Haydon Ashby, of Semaphore South, South Australia, for being awarded Apprentice Bricklayer of the Year 2017 in the HIA-Stratco state annual Apprentice & Trade Contractor Awards, held recently in Adelaide. Haydon is now in his third year, employed by HIA under a Group Training Organisation (GTO) arrangement where his host employer is Michael Quaini bricklayer based in Cowandilla, Adelaide.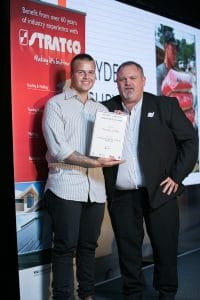 Haydon started work with Michael in early 2016 and has proven through his diligence and skill to be a worthy recipient of this award, as judged by field officers employed by HIA. There was only one bricklaying Award made by HIA and sponsor Stratco, covering all bricklaying apprenticeship years, so it is a strong recognition of effort to have achieved this award – well done Haydon!
I attended the event and on behalf of Australian Brick and Blocking Foundation (ABBTF) and presented this important award to Haydon. It was an honour and a pleasure to see SA's apprentices from several trades, receive acknowledgement for their strong performances.
If you're considering an Apprenticeship in SA check out your options at FCTA, TAFESA. Also visit Become-a-Bricklayer for information on how to explore bricklaying in your State and much more.
Just a bit more information on the role of Group Training:  For bricklayers not wanting to directly employ an Apprentice, Group Training is an excellent way to introduce new apprentices into your business without carrying the administration with the GTO employing and training the apprentice.
The host employer is a tradesperson who provides actual onsite training and as such pays the Group Training company a fee for the time that the apprentice spends onsite. There are advantages to this arrangement. For example some tradespeople want apprentices but do not want the responsibility of accruing or paying holiday pay, sick leave, and superannuation or training costs as such. Some tradesmen do not want the direct responsibility of overseeing the offsite training component and coordination of their apprentices to attend a local Training Provider (RTO), such as TAFESA, as part of the Certificate III completion. And some feel they may not have long term work and cannot sustain an apprentice for three to four years.
For apprentices it's an alternative pathway to direct employment with a bricklayer, providing them instead with a 'host' employer while being employed by the GTO, in this case HIA. GTO vs RTO explained.
Tony Bishop
ABBTF Regional Manager North West
Source: HIA-Stratco South Australia Awards Apprentice Bricklayer 2017
If you are looking for an apprenticeship the Certificate II in Construction (CPC20112) course, is a great way to find out which trade you enjoy the most. Pre-apprenticeship students work side by side with existing apprentices. This gives students the chance to have some insight about what being an apprentice is like.
Students will gain an introduction into the following trades:
Bricklaying
Tiling
Plastering
Concreting
Scaffolding
Employers frequently contact FCTA seeking candidates for apprenticeships. They are generally seeking people under 21 who have a car and license and either experience in the industry or someone who has completed a pre-apprenticeship course.
As part of the Certificate II in Construction, students are placed into the trade for work experience. For students who have some previous experience, or show potential, this could happen at any time during the course. If there is an opportunity to secure an apprenticeship you will be placed out into the trade ASAP.
Pre-apprenticeship courses will run on the following dates:
05/09/2017 – 10/11/2017
30/01/2018 – 06/04/2018
06/03/2018 – 11/05/2018
01/05/2018 – 06/07/2018
The course is held at FCTA – Building Careers, 15 Jacobsen Crs Holden Hill South Australia. The duration of the course is 10 weeks, Tuesday – Friday 8am – 3:30pm. Please call 088367 5615 or email [email protected] to book in a time to apply for the course.
The Certificate II in Construction (CPC20112) is commonly referred to as a pre-apprenticeship course because it helps students become apprentices. FCTA – Building Careers has been running pre-apprenticeship courses for over 15 years. We now have graduates from our pre-apprentice courses hiring their own apprentices!
Students will have the opportunity to gain an introduction into the following trades:
Tiling
Bricklaying
Plastering
Scaffolding (up to 4m)
Concreting
We have employers currently seeking apprentices. For your best opportunity at gaining an apprenticeship employers are generally seeking the following:
Good work ethic
Reliability
Drivers license and car
Able to follow instructions
Most seek applicants under 21 but some adult apprenticeships are available, and skilled labourers are always wanted. To book a place in the course email us at [email protected] or call 8367 5615. Applicants will be asked to attend a short interview followed by a tour of the facility by our trainers. To check your eligibility for WorkReady funding, visit http://www.skills.sa.gov.au/training-learning/check-your-eligibility. Payment plans are available for students not eligible for Government funding.
Bricks traditional dominance in the residential housing market has been suffering over the last couple of decades. The pressure to put more house on less land has led builders to look at tilt up concrete panels, Hebel and Blueboard like products.
The current trend for rendering the exterior of houses has gone hand in hand with other cladding materials. But what happens when the trend ends? The use of stone and tile being mechanically fixed to the facade of commercial buildings, has already taken off in residential – could this reduce the popularity of rendered finishes?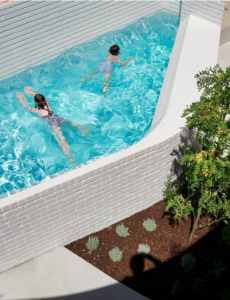 Brick trumps other building materials when it comes to outlasting the 'trend' by being a solid material that can be used with a range of different facade treatments, or left as is with a huge variety of new colours and textures available. Architecture & Design Magazine have more information about the Melbourne extension on their website, click HERE to read all about it.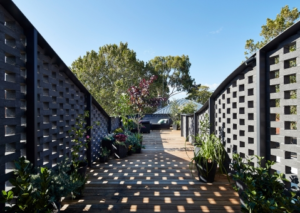 The easiest customer to keep, is the one you already have! Book now for a 5 day short course, complete by June 30th and CITB members receive a $100 discount. Call us on 8367 5615 or email [email protected] to discuss your training needs.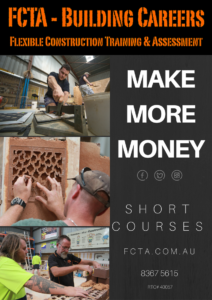 Our courses cover basic to advanced tiling, introductory bricklaying, traditional solid plastering and more. Click this link to download our course brochure. 
FCTA – Building Careers flexible approach to training means we can adapt projects to make them relevant to your particular needs. For example if a tiler wanted to be able to install cornices to bathrooms that have been tiled to the ceiling, we can create a project to match.
Please note, this promotion excludes our 3 & 4 day courses as well as the introduction to plasterboard course – due to the high cost of materials.
Our next pre-apprenticeship course will be starting Wednesday April 26th at Holden Hill. If you are looking for an apprenticeship in South Australia, this is the course to give yourself the best chance possible. FCTA – Building Careers also trains apprentices, so students in the Certificate II in Construction (CPC20112) have the opportunity to work next to apprentices and find out about tradie life.
The pre-apprenticeship course focuses on the following trades:
Bricklaying
Tiling
Plastering
Scaffolding (up to 4m)
Introductory Concreting
We have strong links to the industry and are in direct contact with builders who currently, or previously have had apprentices. Often they will come to us directly for a recommendation on who to hire. While industry work experience isn't mandatory for the Certificate II in Construction, we strongly encourage it and assist students to find places. This has been the way many of our students have secured apprenticeships.
This course is currently funded by WorkReady for eligible students, and by TGSS for students over 16 who are still at High School or are part of the 'FLO' programme. To check your eligibility click here
To book a time to come in and discuss the course call us on 8367 5615 or email: [email protected]
CSR Bradford are promoting their Thermoseal Wall Wrap system as a way to have work on the interior of homes completed before, or at the same time as the external brickwork or cladding is completed. There is no mention of the extra complexity facing bricklayers having to work around this system and the extra time that that takes. No mention either of the failure of the wrap in some houses being constructed during storms. We have had bricklayers tell us that some homes being built during the last series of SA storms had significant leaks that saturated the internal plasterboard, and could lead to issues of mould as a result.
The claim is made that the product can save time by providing the following chart: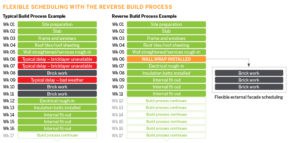 Note the only trade delay identified is for bricklayers. This magical product must also free up scheduling for all the other trades as well. Luckily bad weather doesn't affect slabs being poured or roofing in marketing land.
This product is being promoted to builders. If you are building a home through a builder, we would recommend that you check if this system is being used, and if it is, insist on inspecting the site after any bad weather. The building industry could look at increasing the numbers of bricklaying apprentices as a way to overcome trade shortages. Offering extra incentives and streamlining administration of apprenticeships could all go a long way towards overcoming labour shortages in certain trades. Note that bricklaying has been on the National Skills Shortage list for most of the decade.
If you are interested in becoming a bricklayer, call us on 8367 5615. We have employers seeking apprentices. The requirements are:
under 21 years old
have drivers license and car
reliable with the ability to follow instructions
either have some experience or have completed a pre-apprenticeship course
These are genuine employers looking to hire. It's normal in the trade that applicants be prepared to complete some work experience with the employer first. One of the apprenticeships is with a group training organisation, who require a medical physical to be undertaken.
We currently have Bricklayers and Tilers looking to hire apprentices. They are after 'work ready' apprentices, people who have some basic skills and are aware of what working in the building industry is like. The Certificate II in Construction (CPC20112) is an excellent course that provides students with an introduction to the following trades:
Bricklaying (2 employers currently looking for apprentices as of 31/1/2017
Tiling (4 tilers looking for apprentices as of 31/1/2017)
Plastering (labourers positions appearing regularly on gumtree)
Concreting (2 employers seeking labourers)
Scaffolding – up to 4metres (shortage of scaffolders in Adelaide – especially around festival/ major event times)
Employers contact us directly looking for students to recommend. We also check adverts for jobs every morning and have close industry ties to give students extra guidance. Applicants will have the opportunity to see other pre-apprentices in action on the trade floor. Students will be working side by side with existing apprentices so they can discuss the industry, find out what life as a tradie is like, and see how over time how their skills develop.
If you are interested in applying, please email [email protected] or call 8367 5615.