A 20-storey apartment building has been granted development assessment approval for Adelaide's East End.

The $70 million "Monument" tower will rise 63 metres high and have sweeping views of the Adelaide foothills, parklands and city.
The project is a joint venture between Singapore-based financier and SA expat Mark Ebbinghaus and Adelaide developer C Projects. It is designed by BDA and TECTVS, based in Adelaide.
The apartment building will be set back from Rundle Street and East Terrace and will provide a unique movable mosaic through the innovative use of adjustable architectural screens on the building façades, which combine influences from the parklands and Colonel Light's layout for the city
Design by architects BDA and Adelaide-based TECTVS, the apartment building will be set back from Rundle Street and East Terrace and will use adjustable screens to create a moveable "mosaic" on the building façades.
Stephen Connor, director of C Projects, said "As well as being catalyst for economic development in the East End, the design of this project will also see the existing heritage buildings on the site maintained and enhanced as part of the redevelopment.
"The project will also add significant employment and economic benefit for South Australia, with an estimated 110 jobs created in construction and a further 1100 jobs in the broader community.
"Not only is it the premier lifestyle destination in Adelaide, all apartments have superb, generous, functional floorplans and will enjoy priceless views.
"It's a great time to be buying an apartment in Adelaide, with stamp duty, rate holiday and construction incentives available for early purchasers," Mr Connor said.
Completion is anticipated for 2020.
Source: $70 Million Building in Adelaide Approved for Development – TheUrbanDeveloper.com
We have employers looking to hire apprentices in the following trades:
Bricklaying – 6 positions available working metro Adelaide
Tiling – 4 positions available working all over Adelaide.
Carpentry – 12 positions available, 1 school based option working central Adelaide.
Applicants must be under 21 with a car and license. Trade apprenticeships have a high level of physical work so applicants must have a good level of fitness. Preference will be given to applicants who have completed a Pre-apprenticeship course and/or have trade experience. To apply contact Trisch on 83675615 or email [email protected]
If you are looking for an apprenticeship the Certificate II in Construction (CPC20112) course, is a great way to find out which trade you enjoy the most. Pre-apprenticeship students work side by side with existing apprentices. This gives students the chance to have some insight about what being an apprentice is like.
Students will gain an introduction into the following trades:
Bricklaying
Tiling
Plastering
Concreting
Scaffolding
Employers frequently contact FCTA seeking candidates for apprenticeships. They are generally seeking people under 21 who have a car and license and either experience in the industry or someone who has completed a pre-apprenticeship course.
As part of the Certificate II in Construction, students are placed into the trade for work experience. For students who have some previous experience, or show potential, this could happen at any time during the course. If there is an opportunity to secure an apprenticeship you will be placed out into the trade ASAP.
Pre-apprenticeship courses will run on the following dates:
05/09/2017 – 10/11/2017
30/01/2018 – 06/04/2018
06/03/2018 – 11/05/2018
01/05/2018 – 06/07/2018
The course is held at FCTA – Building Careers, 15 Jacobsen Crs Holden Hill South Australia. The duration of the course is 10 weeks, Tuesday – Friday 8am – 3:30pm. Please call 088367 5615 or email [email protected] to book in a time to apply for the course.
SA budget 2017: Grants boosted for new apprentices and trainees
Posted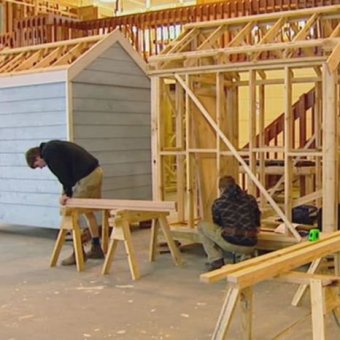 Payments will be boosted by as much as $5,000 for businesses taking on apprentices and trainees as part of the South Australian Government's existing job accelerator grants, in a state budget measure.
Small and medium businesses can seek the extra cash as the Government tries to ease the impact a shutdown of car industry production could have on SA's unemployment rate, which is currently the highest in the nation.
The scheme unveiled in last year's budget offered businesses with payrolls of less than $600,000 a grant of up to $4,000 over two years for each new job created.
Bigger businesses were eligible for grants of up to $10,000 over two years for each full-time job created.
Thursday's state budget will boost the grants on offer to $9,000 [small business] and $15,000 [medium] for a new position taken up by an apprentice or trainee.
New grants will be backdated so that businesses which have already hired a new apprentice or trainee and registered for the scheme can claim the higher sum.
Grants create 'thousands' of jobs
The budget measure is expected to cost an additional $8 million over four years.
"These grants, announced in last year's state budget, have exceeded forecasts and already helped create almost 10,000 jobs in the economy," Premier Jay Weatherill said.
"By offering an additional $5,000 for apprentices, we can create more jobs for younger people in South Australia and, at the same time, support South Australian businesses as they invest and grow."
Treasurer Tom Koutsantonis said the extra money would help cushion the blow from the local car industry's demise.
"While Holden won't close its doors until October, we are already seeing the impact on component manufacturers as their forward supply contracts dry up," he said.
Business SA chief executive Nigel McBride welcomed the scheme's expansion.
"We've had disastrously low apprenticeship and trainee numbers, the worst they've been in years," he said.
"Something has to stimulate small businesses, small employers, to take a huge risk which is a minimum commitment of four years for an apprentice."
Source: SA budget 2017: Grants boosted for new apprentices and trainees – ABC News (Australian Broadcasting Corporation)
The Certificate II in Construction (CPC20112) is commonly referred to as a pre-apprenticeship course because it helps students become apprentices. FCTA – Building Careers has been running pre-apprenticeship courses for over 15 years. We now have graduates from our pre-apprentice courses hiring their own apprentices!
Students will have the opportunity to gain an introduction into the following trades:
Tiling
Bricklaying
Plastering
Scaffolding (up to 4m)
Concreting
We have employers currently seeking apprentices. For your best opportunity at gaining an apprenticeship employers are generally seeking the following:
Good work ethic
Reliability
Drivers license and car
Able to follow instructions
Most seek applicants under 21 but some adult apprenticeships are available, and skilled labourers are always wanted. To book a place in the course email us at [email protected] or call 8367 5615. Applicants will be asked to attend a short interview followed by a tour of the facility by our trainers. To check your eligibility for WorkReady funding, visit http://www.skills.sa.gov.au/training-learning/check-your-eligibility. Payment plans are available for students not eligible for Government funding.
Hidden in the 2017 budget are some details that should help keep the construction industry ticking along even if Sydney and Melbourne have a price correction. SA housing growth has been relatively flat by comparison, but there is a shortage of affordable rental properties and opportunities for first home buyers.
Around $1.3 billion worth of Federal Government money currently given to states to help subsidise affordable rental homes will be conditional upon states delivering upon housing supply targets and reforming their planning systems as part of a suite of new measures designed to increase housing supply and affordability.
Unveiled by Federal Treasurer Scott Morrison in his Budget Speech 2017, the measure is part of a package of measures designed to unlock critical housing supply across major cities.
Under the measures, the Federal Government will replace the current National Affordable Housing Agreement which provides $1.3 billion each and every year to the state and territories with a new set of agreements which will contain the same levels of funding but which will be conditional upon states delivering upon housing supply targets and reforming their planning systems.
Other measures included on the supply side of the equation include:
Establishment of a new $1 billion National Housing Infrastructure Facility based on a UK model to fund 'micro' city deals which remove infrastructure impediments to developing new homes.
Establish a Commonwealth land registry detailing Commonwealth sites on which land could be made available for residential development.
Establish a new National Housing Finance and Investment Corporation to provide long-term, low cost finance to support more affordable rental housing. States and territories will also be encouraged to transfer stock to the community housing sector.
Enabling Managed Investment Trusts to be used to develop and own affordable housing, providing investors in affordable housing with greater income certainty by enabling a direct deduction of welfare payments.
Increasing the capital gains tax discount to 60 percent for affordable housing.
Extending homelessness funding to the states by $375 million.
Encouraging older Australians to free up housing stock by enabling downsizers over the age of 65 to make a non-concessional contribution of up to $300,000 into their superannuation fund from the proceeds of the sale of their principal home.
Applying an annual foreign investment levy of at least $5,000 on all future foreign investors who fail to either occupy or lease their property for at least six months each year.
Morrison said the measures were significant. In Melbourne, for instance, land for a new suburb which could cater for 6,000 new homes will be unlocked just 10 kilometres from the CBD in Maribyrnong by releasing surplus Defence Land.
As for the measures regarding managed investment trusts and capital gains tax, Morrison said these would help to facilitate states and territories to implement inclusionary zoning requirements on new development sites.
Morrison said a comprehensive approach was needed in order to make housing more affordable.
"If a family or an individual has a roof over their head that they can rely on, then all of life's other challenges become more manageable," Morrison said.
"Whether you are saving to buy a home, spending a high proportion of income on your rent, waiting for subsidised housing, or you're homeless, this is an important issue to you."
Originally published: https://sourceable.net/federal-government-beefs-up-housing-supply/
Federal Government Beefs Up Housing Supply, May 12th, 2017 by  Andrew Heaton
CSR Bradford are promoting their Thermoseal Wall Wrap system as a way to have work on the interior of homes completed before, or at the same time as the external brickwork or cladding is completed. There is no mention of the extra complexity facing bricklayers having to work around this system and the extra time that that takes. No mention either of the failure of the wrap in some houses being constructed during storms. We have had bricklayers tell us that some homes being built during the last series of SA storms had significant leaks that saturated the internal plasterboard, and could lead to issues of mould as a result.
The claim is made that the product can save time by providing the following chart: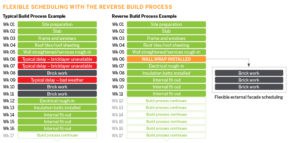 Note the only trade delay identified is for bricklayers. This magical product must also free up scheduling for all the other trades as well. Luckily bad weather doesn't affect slabs being poured or roofing in marketing land.
This product is being promoted to builders. If you are building a home through a builder, we would recommend that you check if this system is being used, and if it is, insist on inspecting the site after any bad weather. The building industry could look at increasing the numbers of bricklaying apprentices as a way to overcome trade shortages. Offering extra incentives and streamlining administration of apprenticeships could all go a long way towards overcoming labour shortages in certain trades. Note that bricklaying has been on the National Skills Shortage list for most of the decade.
Our most popular short courses are on special for a limited time only! Held in Holden Hill, South Australia. Book and complete these classes by June 30th 2017 and save. Each of these courses normally costs $250 each for CITB card holders. For a limited time pay only $400 to complete all 3 courses. For information on the details of the courses down  Solid plastering course details
Traditional Sand & Cement Rendering
Quoins & Banding
Acrylic Rendering
Click here to book and pay. As this course only runs on week days, dates to attend are flexible and can be negotiated with us around trainer availability.
Australia's most expensive building, and the third most costly in the world, is a step closer to finally being opened after the South Australian government and a building consortium reached an out-of-court agreement.
The new $2.3 billion Royal Adelaide Hospital was supposed to open in April last year but has become mired in a bitter and complex legal dispute over alleged defects. It is $640 million over budget, and has been bogged down in Supreme Court hearings.
Premier Jay Weatherill today announced the government and construction consortium SA Health Partnerships had last Thursday signed a deed of agreement "to pave the way for the delivery of the new Royal Adelaide Hospital".
"The deed provides for SAHP to withdraw all of their court action and the technical completion is estimated to be reached in just a couple of weeks," Mr Weatherill said.
However, there is still no firm opening date, although the technical completion milestone triggers a 90-day handover period.
Health Minister Jack Snelling today said he hoped a move could be made before the winter flu season.
"There's no reason why we couldn't be in before flu season hits in 2017," he said.
Mr Snelling warned moving from the current city hospital to the new one was a major logistical undertaking, involving more than 5000 staff, volunteers and medical students and hundreds of thousands of items of equipment, along with patients.
Mr Snelling said there were several alleged defects still in dispute and independent consultants had started examining the issues.
"The government and SAHP have both agreed we will abide by the recommendations of those independent experts," Mr Snelling said.
The parties also had agreed to an independent arbitration process to resolve compensation.
"Where the government believes that the state is entitled to compensation, we'll have those issues resolved with an independent arbitrator. That work has already started and we expect it to be done by the end of the year," Mr Snelling said.
"Importantly, those issues will not prevent us from moving into the hospital."
SAHP's Mark Balnaves, asked whether the consortium had suffered reputational damage given the toxic nature of the public dispute with the government, said the finished product "speaks for itself". Mr Balnaves denied knowledge of any problems with the "footings" of the new hospital.
The state's Labor government and SAHP have been at loggerheads for months with high-powered legal teams facing off in the Supreme Court. The new RAH's technical completion was supposed to have occurred on January 19 last year.
Mr Weatherill stepped in over Christmas in a bid to reach a breakthrough after the government, which last year rejected a consortium "cure plan" to finish the build, threatened imminent plans to terminate the new RAH build contract completely. Treasurer Tom Koutsantonis had dared the consortium to "bring it on" and sue the government.
This would have triggered costly and lengthy legal action in the courts as SAHP sought up to $5bn from the state over allegations the government had not acted in good faith and deliberately delayed the project because it was not ready to move in.
It is understood the government was seeking a payment of $600m and Crown law had advised the state had broad powers under which it could terminate the contract.
The new futuristic 800-bed hospital, on a 10-hectare site, will use robots to deliver food and equipment. It will have single rooms only and replace an ageing facility at the eastern end of North Terrace in Adelaide's CBD.
According to architectural data company Emporis, the new Royal Adelaide Hospital is Australia's most expensive building and the third most expensive in the world.
In September 2015 the government agreed to pay an extra $34.3m to settle a dispute with the builders over the cost of remediating the site. It has set a target of 50 per cent reduction in greenhouse gas emissions compared to other hospitals.
A private consortium is constructing the building to ultimately be owned by the South Australian government. Once opened the consortium will maintain the hospital while SA Health provides clinical services, staff, training and research. It is expected the government will not own the building outright until at least 2046.
The government plans to redevelop the old hospital site with more than 1000 apartments and a five-star hotel. Five heritage buildings will be retained with one third of the site becoming part of the neighbouring botanic gardens.
The Australian, MICHAEL OWEN
South Australian businesses can now register for two types of Job Accelerator Grants to assist with employing additional full-time, part-time and casual employees, with grants between $10 000 and $4,000 for every new job created.
The grant aims to create jobs now and build a strong workforce for the future. Find out if your business is eligible today to start shaping the jobs of tomorrow.
UP TO $4,000 for SMALL BUSINESSES….
Are you looking to employee new staff ?  You could be eligible for a state government grant.
UP TO $10,000 for LARGE BUSINESSES….
Your text caption goes here. You can change the position of the caption and set styles in the block's settings tab.