The Certificate II in Construction (CPC20112) is often referred to as a 'Pre-apprenticeship' course. This is because employers looking to hire apprentices frequently recruit current students and graduates. Our next course starts 30th January 2018. The course will focus developing hand skills across tiling, bricklaying and plastering.

If you have been considering becoming an apprentice, but you're not sure which trade to focus on, this course will give you an insight into several different trades as well as basic concreting and scaffolding. You will also have the opportunity to work alongside existing apprentices to find out what working in the building industry is like.
The course is open to applicants over 16 years old. Government funding is available to most applicants via the State governments WorkReady programme. Students enrolled at High School who are over 16 can also complete the course under TGSS funding.
The goal of this course is to help students into work within the building and construction industry. We have employers who are currently looking to hire apprentices and during the course, you will have the opportunity to be placed into work experience. Employers are generally seeking people under 21 with a drivers license and vehicle. There are employers willing to consider adult apprentices, but they are much less common than junior apprenticeships. If you would like to know more, or have any questions please contact us on 8367 5615.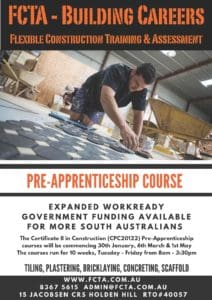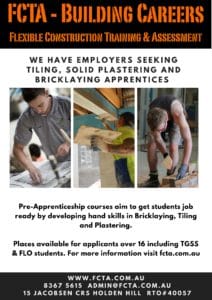 Getting an apprenticeship in South Australia can lead to a long term career in the Building and Construction Industry. That means working outdoors, earning an income while you study and having the opportunity to eventually be your own boss. The tricky part can be choosing which trade is the best fit. Pre-apprenticeship courses are an excellent way to try a number of trades before selecting which one you most enjoy.

Many people select the trade they want to focus on based on knowing someone working in that field. That doesn't necessarily mean its the trade for you, but it is a good way to find out what working in the industry is like. At FCTA – Building Careers we have developed a pre-apprenticeship programme that allows people to try bricklaying, tiling, plastering, basic concreting and scaffolding. These are also the trades we train apprentices in. That means if you enrol in a pre-apprenticeship course with us, you will be working on some projects with existing apprentices. This is a great way to find out more about the trade.
Currently, we have a number of employers urgently looking to hire apprentices. The majority are after people under 21 who have a drivers license and car. If you are in the process of getting your license, most will consider your application. Adult apprenticeships aren't as readily available. This is because the employer is paying anyone over 21 at the full rate. Many times employers will prefer to hire people over 21 as labourers instead.
The difference between labouring and an apprenticeship is a 'Contract of Training'. That means that apprentices sign a binding contract with employers to work for them under the apprenticeship scheme. The benefits for apprentices are that they are paid to go to trade school to complete a Certificate III in their trade of choice, that's the 'earn and learn' tag sometimes mentioned. Contracts are normally for 4 years, so getting an apprenticeship offers both job security and further education.
To help get an apprenticeship in Adelaide you can enrol in a pre-apprenticeship course, approach trades people directly or contact group training organisations (GTO). GTO's are places like the HIA, TABMA, Maxima, CEG who hire apprentices directly and then place the apprentice with a 'host' employer. The Government has also set up a great website that explains the pathways for apprentices https://www.aapathways.com.au/
If you are considering an apprenticeship and you have questions, you can always arrange a time to talk to us or come in for a meeting. Our pre-apprenticeship courses run through out the year. If you would like to enrol, please call on 8367 5615 or email [email protected] The dates for our next courses are:
05/09/2017 – 10/11/2017
30/01/2018 – 06/04/2018
06/03/2018 – 11/05/2018
01/05/2018 – 06/07/2018
Advertised positions are often posted on Gumtree, Facebook, Seek & Indeed Jobs. Each morning a summary of these advertised roles are posted to our Facebook page.
As an apprentice you'll get the same entitlements as other employees, such as annual leave, sick leave, public holidays and breaks.
You also need to know about your entitlements for your training, like whether you get paid to attend training and who pays for your training fees. Find out about:
There may also be specific entitlements in your award that apply as well. Read about:
For detailed information about rights and responsibilities as an apprentice, check out our Guide to starting an apprenticeship (DOCX 68.6KB) (PDF 1.7MB).
Best practice tip

You should also check your training contract for other entitlements.
There may be entitlements in awards and registered agreements that apprentices don't get.
Time spent at training
Off-the-job training is time spent in structured training delivered by a Registered Training Organisation (RTO). It's often delivered at a site away from the workplace and referred to as trade school. It doesn't include:
normal work duties or
supervised practice on the job.
Payment for time spent at training
Apprentices
The time you spend at trade school is paid time and is included in your ordinary hours of work (eg. 38 hours). You need to agree with your employer about how often you will go to trade school (eg. 1 day per week or week blocks of training).
If you don't go to trade school when you're supposed to, you don't get paid for that time (unless you're on sick leave or another type of leave).
School-based apprentices
The payment for trade school isn't worked out based on the actual hours you go to training. Instead, you get paid for 25% of the hours you work for your employer each week.
This payment for training:
only applies when you're a full-time school student
is paid at the full-time apprentice hourly rate (including any all-purpose allowances)
can be averaged over a semester or the year.
If you aren't a full-time student you have to be paid your hourly rate for all the time spent in training.
Example: Payment for training for school-based apprentices

Sean is a full-time school student doing a school-based apprenticeship. He works 8 hours per week with his employer.

Sean must be paid:

for the 8 hours per week he works with his employer and
2 hours per week for his off-the-job training (being 25% of 8 hours).

In total, Sean needs to be paid 10 hours per week.
Training costs – fees and textbooks
You have to be reimbursed for:
all the fees charged by your RTO that are related to your training
the cost of your prescribed textbooks for your apprenticeship.
Check your award to find out when you should be reimbursed.
When training costs aren't reimbursed
An employer doesn't have to reimburse you for fees and textbooks if:
your progress in the course is unsatisfactory
your employer pays the costs and fees directly to the training organisation, or
you aren't working for them at the set time that the costs have to be reimbursed.
They also don't have to reimburse you any part of the fees that the Government reimburses you.
Think a mistake might have been made?
Mistakes can happen. The best way to fix them usually starts with talking.
Check out our Help resolving workplace issues section for practical advice on:
figuring out if a mistake has been made
talking to your employer or employee about fixing it
getting help from us if you can't resolve it.
You might also be interested in
Source: Apprentice entitlements – Fair Work Ombudsman
We have employers looking to hire apprentices in the following trades:
Bricklaying – 6 positions available working metro Adelaide
Tiling – 4 positions available working all over Adelaide.
Carpentry – 12 positions available, 1 school based option working central Adelaide.
Applicants must be under 21 with a car and license. Trade apprenticeships have a high level of physical work so applicants must have a good level of fitness. Preference will be given to applicants who have completed a Pre-apprenticeship course and/or have trade experience. To apply contact Trisch on 83675615 or email [email protected]
If you are looking for an apprenticeship the Certificate II in Construction (CPC20112) course, is a great way to find out which trade you enjoy the most. Pre-apprenticeship students work side by side with existing apprentices. This gives students the chance to have some insight about what being an apprentice is like.
Students will gain an introduction into the following trades:
Bricklaying
Tiling
Plastering
Concreting
Scaffolding
Employers frequently contact FCTA seeking candidates for apprenticeships. They are generally seeking people under 21 who have a car and license and either experience in the industry or someone who has completed a pre-apprenticeship course.
As part of the Certificate II in Construction, students are placed into the trade for work experience. For students who have some previous experience, or show potential, this could happen at any time during the course. If there is an opportunity to secure an apprenticeship you will be placed out into the trade ASAP.
Pre-apprenticeship courses will run on the following dates:
05/09/2017 – 10/11/2017
30/01/2018 – 06/04/2018
06/03/2018 – 11/05/2018
01/05/2018 – 06/07/2018
The course is held at FCTA – Building Careers, 15 Jacobsen Crs Holden Hill South Australia. The duration of the course is 10 weeks, Tuesday – Friday 8am – 3:30pm. Please call 088367 5615 or email [email protected] to book in a time to apply for the course.
Our next pre-apprenticeship course will be starting Tuesday May 30th at Holden Hill. If you are looking for an apprenticeship in South Australia, this is the course to give yourself the best chance possible. FCTA – Building Careers also trains apprentices, so students in the Certificate II in Construction (CPC20112) have the opportunity to work next to apprentices and find out about being an apprentice.
The pre-apprenticeship course focuses on the following trades:
Bricklaying
Tiling
Plastering
Scaffolding (up to 4m)
Introductory Concreting
We have strong links to the industry and are in direct contact with builders who currently, or previously have had apprentices. Often they will come to us directly for a recommendation on who to hire. While industry work experience isn't mandatory for the Certificate II in Construction, we strongly encourage it and assist students to find places. This has been the way many of our students have secured apprenticeships.
This course is currently funded by WorkReady for eligible students, and by TGSS for students over 16 who are still at High School or are part of the 'FLO' programme. To check your eligibility click here
To book a time to come in and discuss the course call us on 8367 5615 or email: [email protected]
Apprenticeships need to be promoted as 'sexy' to avoid a skills crisis, experts say
New National Centre for Vocational Education Research figures reveal that apprentice and trainee numbers in South Australia have dropped by more than half in five years, with some industries recording declines of almost 90 per cent.
It has prompted warnings from industry groups that the state is facing a skills shortage and missing out on the next generation of workers.
The numbers have also reignited calls for a exemptions to payroll tax – a measure the Treasurer Tom Koutsantonis is keeping his powder dry on before he delivers the State Budget next month.
The head of the State Government's skills and employment department says all states and territories have experienced an overall decline in apprentice and trainee numbers since mid 2012.
But, with figures showing South Australia has among the highest youth unemployment in the country – 14.7 per cent compared with the national average of 13.3 per cent – industry and business leaders and welfare agencies argue more needs to be done.
SA Council for Social Service chief executive Ross Womersley said apprenticeships needed to be better promoted.
"That will bring pressure to bring people from other parts of the world to fill those jobs," he said.
"I don't think we think they are sexy any more. We don't promote them as we used to. The industry needs to be out there promoting them as pathways for the future.
"I am convinced there would be young people who would be delighted to move into apprenticeships. Not all students are academic.
"Apprentices classically have been one of those places where people that are much better with their hands might find job opportunities."
Mr Womersley said skilled shortages in the future would mean the state would have to look overseas for workers to fill the void.
Master Builders Association SA chief executive Ian Markos said apprenticeships and traineeships were the lifeblood of any industry.
"They create the next generation of skilled workers and, ultimately, the next generation of business owners," he said.
Mr Markos said numerous issues had contributed to the decline, including sham contracting (former employees who take on an ABN but don't charge superannuation or insurance) and fully-skilled workers costing less than an apprentice and requiring no supervision.
The association has called for a reintroduction of payroll tax exemptions – scrapped in 2012 – for apprentices and trainees.
"If we can give businesses one less reason to overlook them, then that will bring huge benefits to the state," Mr Markos said.
"And that exemption should not be limited by age – too many mature apprentices are looking for work when they remain some of the best workers, ready to learn."
Between September 2011 and September 2016, the number of South Australians, aged 45 and over, engaged in apprenticeships and traineeships dropped by 84 per cent.
Business SA Industry and Government Engagement executive director Anthony Penney, who also supports payroll tax exemptions, said apprentices and trainees were vital to meet the demands of the state's future skills needs and address high youth unemployment rates.
"If South Australia does not improve apprentice and trainee numbers, we will face a lack of skilled workers needed for not only for current industries but, importantly, the industries of the future," he said.
"Without an adequately skilled talent pool, businesses will struggle to emerge and grow.
"South Australia's competitiveness for attracting investment will also diminish versus the other states.
"Awareness of the opportunity apprenticeships and traineeships can provide needs to be increased among our youth and at an earlier age.
"These pathways can lead to immensely rewarding careers that go beyond the traditional trades that people often think of."
State Development Skills and Employment Department executive director John King said: "Proportionately, the fall in South Australian activity has been felt far less in trade apprenticeships and South Australia continues to have the highest completion rate in the nation for trade occupations (currently 57.5 per cent), which is 11.3 percentage points above the national average."
Mr King said that, over the past 18 months, the South Australian labour market had strengthened with solid employment growth and a declining unemployment rate, as well as recent improvement in business confidence.
Carpenter's plank for the future
MORPHETTVILLE carpenter Luke Davis was never a fan of sitting in a classroom.
Instead, he preferred hands-on learning and gaining practical skills.
The 2016 Master Builders Association Apprentice of the Year says his career path is one that South Australians, both young and old, should consider.
"You get paid and you get to learn in a practical way," Mr Davis, 22, said.
"I never really considered going to uni; it wasn't my kind of learning.
"(With an apprenticeship) everything is based around a trade instead of sitting in a classroom listening to a teacher."
Mr Davis, who was appointed an Australian Apprenticeship Ambassador by federal Education Minister Simon Birmingham, joined trade school in Year 11 and finished his apprenticeship last year.
He said concerns about apprentice pay rates were often overstated and that the money was good compared with people going to university and racking up "massive HECS debts".
"And they don't have any full-time work, yet but my mates that have done apprenticeships have full-time work already," he said.
"I managed to save and buy a house as a fourth-year apprentice."
Mr Davis is working full-time with a builder and wants to start his own business, employing apprentices, in the future.
Apprenticeship and trainee decline September 2011-September 2016
Industry percentage change
Engineering, ICT and science technicians – 90%
Managers and professionals – 87.5%
Machinery operators and drivers – 85.7%
Clerical and administrative workers – 84.8%
Printing trades workers – 75%
Labourers – 63.1%
Other technicians and trades workers – 52.1%
Skilled animal and horticultural workers – 44.4%
Community and personal service workers – 38.1%
Technicians and trades workers – 33.6%
Automotive and engineering – 27.8%
Construction trades workers – 26.5%
Hairdressers – 25%
Electrotechnology and telecommunications trades workers – 22.2%
Sales workers – 18.4%
Food trades workers – 8.3%
Source: National Centre for Vocational Education Research
If you are interested in becoming a bricklayer, call us on 8367 5615. We have employers seeking apprentices. The requirements are:
under 21 years old
have drivers license and car
reliable with the ability to follow instructions
either have some experience or have completed a pre-apprenticeship course
These are genuine employers looking to hire. It's normal in the trade that applicants be prepared to complete some work experience with the employer first. One of the apprenticeships is with a group training organisation, who require a medical physical to be undertaken.