We have employers seeking Bricklaying, Tiling and Solid Plastering apprentices. The Certificate II in Construction aims to get students work ready, and into an apprenticeship.
Employers typically want applicants to be under 21, with a drivers license and some experience or a Cert II in Construction. There are opportunities for those over 21, usually in labouring jobs, but sometimes as adult apprentices.
Our next course starts Tuesday January 30th and runs for 10 weeks at 15 Jacobsen Crs, Holden Hill. Government-funded eligibility has been improved so more people have the opportunity to study.
Call us on 8367 5615 or email admin@fcta.com.au for more information.
Dates for  2018:
30/01/2018 – 06/04/2018
06/03/2018 – 11/05/2018
01/05/2018 – 06/07/2018
8am – 3:30pm Tuesday – Friday for 10 weeks at 15 Jacobsen Crs, Holden Hill.
This qualification requires 9 core units of competency and 6 electives to be completed. For more information on this training course and employability skills, please visit training.gov.au
Qualification Code: CPC20112
Core
Total qualification: Approx 500 hours depending on electives

Electives
Unit Code
Unit Title
Hours
CPCCOHS2001A
Apply OHS requirements and procedures in the construction industry
20
CPCCCM10012A
Work effectively in the General Construction Industry
20
CPCCCM1013A
Plan and organise work
20
CPCCCM1014A
Conduct workplace communication
20
CPCCCM1015A
Carry out measurements and calculations
20
CPCCCM2001A
Read and interpret plans and specifications
36
CPCCCM2006B
Apply basic levelling procedures
8
CPCCCO2013A
Carry out concreting to simple forms
20
CPCCCM2005B
Use construction tools and equipment
96
CPCCCM2010B
Work Safely at Heights
8
Unit Code
Unit Title
Hours
CPCCCM2008B
Erect and dismantle restricted height scaffolding
40
CPCCCM2009A
Carry out basic demolition
32
CPCCSF2004A
Place and fix reinforcement materials
80
CPCCSP2003A
Prepare surfaces for plastering
40
CPCCCM2007B
Use explosive power tools
16
CPCCWF2002A

CPCCPB3001A

CPCCSP2002A

CPCCBL2002A

PLUS ONE OF THE FOLLOWINGUse wall & floor tiling equipment

Fix standard plasterboard wall sheets

Use solid plastering tools and equipment

Use bricklaying tools and equipment

96

60

80

30
The award rates paid to apprentices changed on July 1st 2017. If you are considering hiring an apprentice and want to know what the rate is, you will find copies of the latest rates below.
First and Second year Apprentices have different pay rates depending on their trade and if they completed Year 12 at High School. The rate is 5% higher for apprentices who complete their Year 12.
First Year Apprentice Pay Rates for Bricklayers
First Year Apprentice Pay Rates for Tilers and Plasterers
These documents are guides only, please check pay rates with the FairWork Ombudsman to make sure you are paying your apprentices correctly. The award for apprentices is the Building and Construction General Onsite Award 2010 MA000020.
Tile has become a widely used surface material in residential homes for its durability, sustainability, resistance to scratches and stains, and low maintenance. Beyond that, it's available in myriad colors, textures, and patterns, mimicking everything from stone and wood looks to bright and bold colors.
More than 1,100 exhibitors showcased the latest tile products at this year's Coverings show in April. Among the thousands of new tile introductions, the team at Coverings presents a look at the top trends that emerged from the show floor:
Thin Tile
Thin tiles, also referred to as gauged tile, is easy and fast to install and can be installed on top of existing wall or floor tiles because they are lightweight. Thin tiles usually start at a thicknesses of about 2.5 mm for walls up to about 6 mm thick for floors.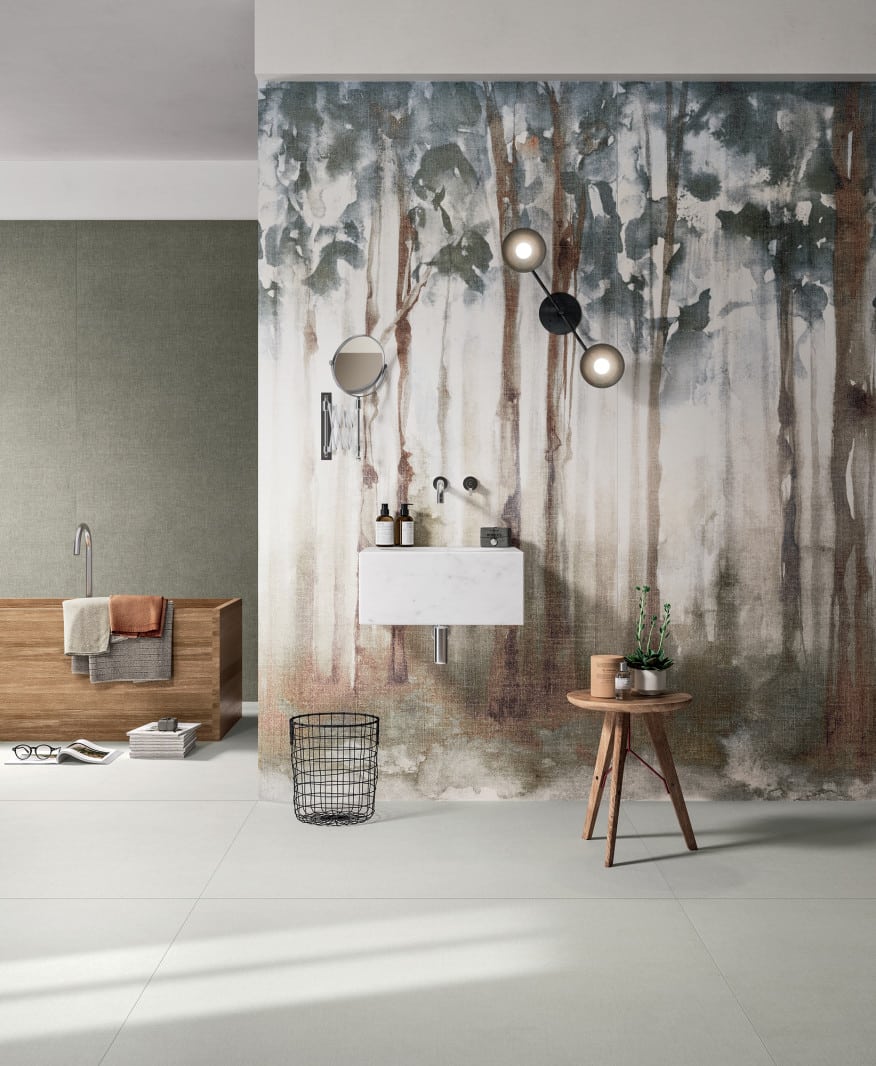 A Nature-Inspired Look
Creating design inspired by nature gives a serene look to any space. A number of manufacturers introduced tiles that mimic natural elements, such as the sky, greenery, wood, and other neutral earth tones that bring a natural feel indoors.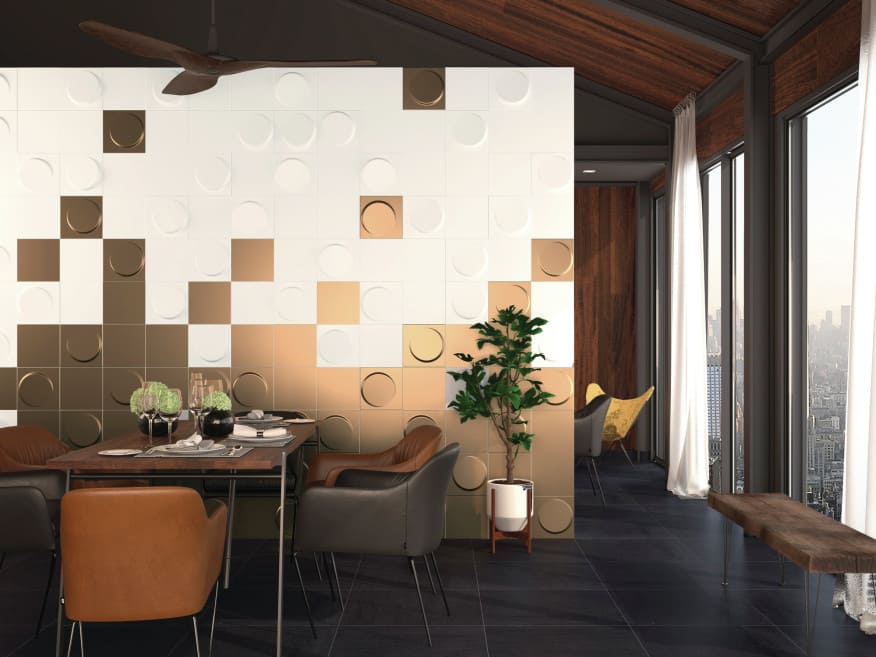 Beige and Neutral Tile
Beige doesn't have to mean boring. Neutral tones are essential to spaces with bold statements because they balance the overall design. Exhibitors at the show showcased a variety of looks that prove that neutrals can go in a variety of attractive hues along the muted color spectrum.

Grooved Tile
At first glance, you might miss the grout behind the tile and the details in the tile's texture. Grout can go beyond the functional and add a design enhancement to the design by adding different colors, iridescent qualities, metallic, or sometimes even glitter.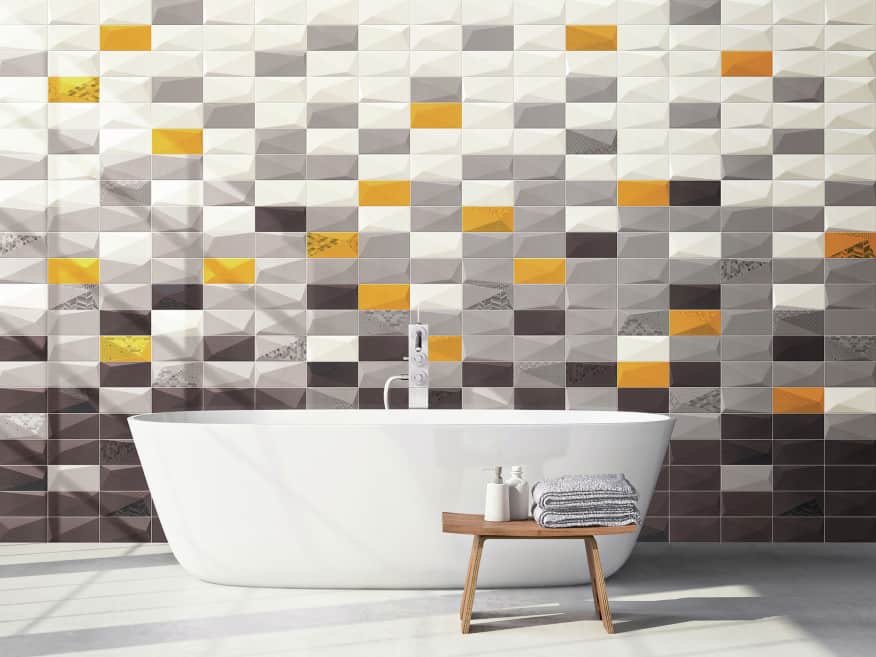 Bold Tile Statements
Today's tile manufacturers aren't afraid to make bold statements. From prints to metallic hues to bright colors, new collections have been introduced with geometric shapes and flashy patterns that bring a new dynamic element to a design.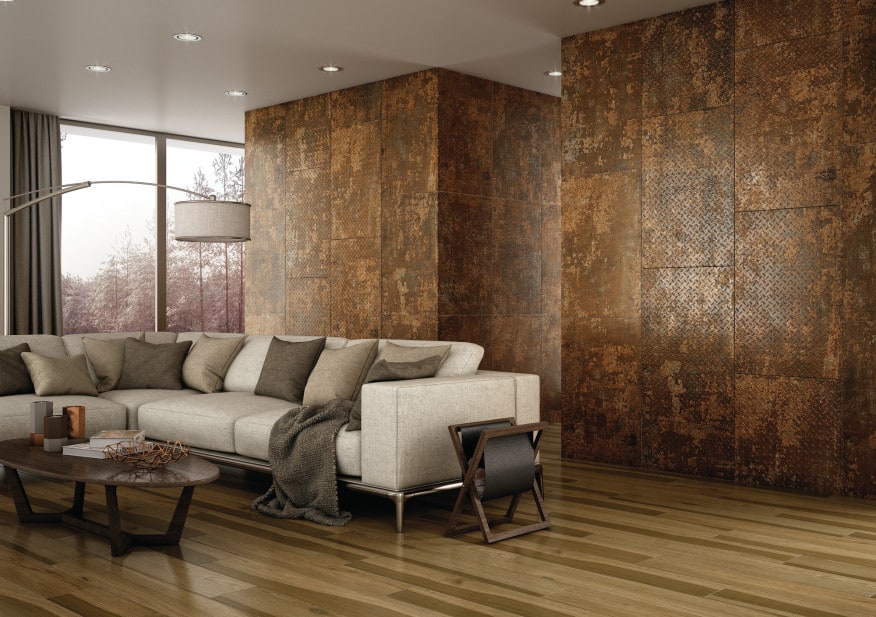 Textured Tiles
Innovative manufacturing techniques and computer printing have given manufactures the ability to give tiles new textures. Homeowners can have a tactile experience with their tile, bringing to life looks like oxidized and rusted metal, fabric, glass, and more.
Source: Top Tile Trends for 2017 | Builder Magazine | Tile, Finishes and Surfaces, Housing Trends, Products, Design, Interior Design
The Certificate II in Construction (CPC20112) is commonly referred to as a pre-apprenticeship course because it helps students become apprentices. FCTA – Building Careers has been running pre-apprenticeship courses for over 15 years. We now have graduates from our pre-apprentice courses hiring their own apprentices!
Students will have the opportunity to gain an introduction into the following trades:
Tiling
Bricklaying
Plastering
Scaffolding (up to 4m)
Concreting
We have employers currently seeking apprentices. For your best opportunity at gaining an apprenticeship employers are generally seeking the following:
Good work ethic
Reliability
Drivers license and car
Able to follow instructions
Most seek applicants under 21 but some adult apprenticeships are available, and skilled labourers are always wanted. To book a place in the course email us at info@fcta.com.au or call 8367 5615. Applicants will be asked to attend a short interview followed by a tour of the facility by our trainers. To check your eligibility for WorkReady funding, visit http://www.skills.sa.gov.au/training-learning/check-your-eligibility. Payment plans are available for students not eligible for Government funding.
Last week I spoke to the people at Consumer and Business Services to check what they require before issuing a person with a license to complete internal & balcony waterproofing. Each week we have people call asking if they can complete our 3 day course in waterproofing and then go out and work in the industry. If you have plenty of experience aside from the 3 day course, then yes, you can apply for a license but you will most likely be called in for a technical interview.
If you do not work in the building industry you need to get experience first. You could work with a tiler or an already licensed waterproofer until you have the experience to pass a technical interview. The interview covers off a lot of 'what if's' you wont simply be reciting the Australian Standards, Building Code or SA Ministerial Code. You will need to have broad enough experience to answer questions across both commercial and residential work. This is because your license will enable you to work across all sites so you will need to understand the differences.
It is also helpful to attend training courses provided by one of the manufacturers of waterproofing materials. Gripset, Ardex and Mapei all provide regular training on how to use their products. Some of these manufacturers also have phone apps that let you lookup the product you need for certain jobs.
Once you feel you are ready to apply for a waterproofing license, you will need to complete the requirements that Consumer and Business Services have set out on their website. This includes completing two short courses in business law and finance.
Click here to access Consumer & Business Services guidelines for applicants. As always, if you have questions you can email us at info@fcta.com.au or call 83675615.
The easiest customer to keep, is the one you already have! Book now for a 5 day short course, complete by June 30th and CITB members receive a $100 discount. Call us on 8367 5615 or email admin@fcta.com.au to discuss your training needs.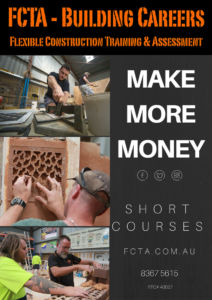 Our courses cover basic to advanced tiling, introductory bricklaying, traditional solid plastering and more. Click this link to download our course brochure. 
FCTA – Building Careers flexible approach to training means we can adapt projects to make them relevant to your particular needs. For example if a tiler wanted to be able to install cornices to bathrooms that have been tiled to the ceiling, we can create a project to match.
Please note, this promotion excludes our 3 & 4 day courses as well as the introduction to plasterboard course – due to the high cost of materials.
Our next pre-apprenticeship course will be starting Wednesday April 26th at Holden Hill. If you are looking for an apprenticeship in South Australia, this is the course to give yourself the best chance possible. FCTA – Building Careers also trains apprentices, so students in the Certificate II in Construction (CPC20112) have the opportunity to work next to apprentices and find out about tradie life.
The pre-apprenticeship course focuses on the following trades:
Bricklaying
Tiling
Plastering
Scaffolding (up to 4m)
Introductory Concreting
We have strong links to the industry and are in direct contact with builders who currently, or previously have had apprentices. Often they will come to us directly for a recommendation on who to hire. While industry work experience isn't mandatory for the Certificate II in Construction, we strongly encourage it and assist students to find places. This has been the way many of our students have secured apprenticeships.
This course is currently funded by WorkReady for eligible students, and by TGSS for students over 16 who are still at High School or are part of the 'FLO' programme. To check your eligibility click here
To book a time to come in and discuss the course call us on 8367 5615 or email: admin@fcta.com.au
We currently have Bricklayers and Tilers looking to hire apprentices. They are after 'work ready' apprentices, people who have some basic skills and are aware of what working in the building industry is like. The Certificate II in Construction (CPC20112) is an excellent course that provides students with an introduction to the following trades:
Bricklaying (2 employers currently looking for apprentices as of 31/1/2017
Tiling (4 tilers looking for apprentices as of 31/1/2017)
Plastering (labourers positions appearing regularly on gumtree)
Concreting (2 employers seeking labourers)
Scaffolding – up to 4metres (shortage of scaffolders in Adelaide – especially around festival/ major event times)
Employers contact us directly looking for students to recommend. We also check adverts for jobs every morning and have close industry ties to give students extra guidance. Applicants will have the opportunity to see other pre-apprentices in action on the trade floor. Students will be working side by side with existing apprentices so they can discuss the industry, find out what life as a tradie is like, and see how over time how their skills develop.
If you are interested in applying, please email admin@fcta.com.au or call 8367 5615.
We frequently have tilers contact us with questions about waterproofing, especially when it comes to balconies. The current training packages that apprentices complete don't offer enough information on balconies, but focus on internal wet areas instead. FCTA has incorporated waterproofing of balconies into apprentice training regardless of it being unfunded, because its critical for tilers to have an understanding of the different processes.
Mapei is one of the suppliers of waterproofing products in Australia. They have put together a comprehensive technical notebook about terraces and balconies. 
Ardex is another supplier of Tiling and Waterproofing products. They have a really great section on their website that provides technical bulletins about a range of issues, including how to work with James Hardie's Scyon product, bonding ceramic tiles to waterproofing products and an introduction to screeding & waterproofing membranes. Click here to access their technical bulletins.
Gripset is a South Australian company operating worldwide. They provide technical information and usage calculators on their website to assist tradies. Their technical manuals and calculators can be found on their website.
FCTA – Building Careers also run short courses on waterproofing, to book in follow this link.
To call linear drains a 'recent trend' would be a misnomer. The product has been used in Europe and Australia for decades, yet it continues to generate sustained interest within design and build circles.
Also known as trench or channel drains, linear drains differ from other drainage alternatives by lying flush with its adjoining surfaces. In residential projects, this eliminates the need for shower curbs and means the drain may be installed away from the middle or standing area of a shower, offering a range of practical and aesthetic benefits.
For example, linear drains only require a single fall (or slope) in the floor, making them easier to install than a traditional 'dished' shower floor.
"Centre wastes require the floor to slope to the drain from all directions, like a shallow dish," Stormtech's managing director Troy Creighton explained. "A traditional centre waste is best in the middle of the floor as this is the shortest distance for any water to travel. The positioning of a linear drain is more versatile – it can be installed across the door, against the back wall, under a vanity, on one side of a shower or bathroom."
This one-directional slope (towards the drain) not only makes for faster installation but builders also typically need less build-up on the floor and have more options on how to arrange the plumbing and waterproofing.
Linear drains are also favoured because they allow for large format stone or tiles (600 x 600, 600 x 300, 900 x 900) to be used without requiring cuts to create the correct falls. Compare this to traditional centre wastes, which are suited to smaller tiles since the 'dish' formed to guide water flow would require large tiles to be cut diagonally to avoid steps or lipping of the tiles.
An 'add-on' advantage of having a single fall that drains well in simple directions, is the floor cleaning process said Misho Vasiljevich, principal architect at Hobart practice Misho + Associates. Vasiljevich has specified linear drains both in residential bathrooms (using the Veitch shower channel, sold by Reece), and in commercial projects such as the Hobart Airport Terminal Redevelopment's new toilets (Stormtech), forecourt expansion and airside drainage (Aco Drains).
The same benefits apply to the use of linear drains in commercial or public projects. A 2014 study by quantity surveyor Rider Levett Bucknall, which compared the cost and effectiveness of three drainage methods at a carpark at the Homebush Aquatic Centre in New South Wales, found that a modular grated trench drain system surpassed grated pit and pipe systems and cast in-situ trench drains in terms of hydraulic performance, and installation simplicity, and maintenance.
The same study also noted that the modular trench drain, the ACO Drain, was the more affordable option – 13 per cent cheaper than cast in-situ trench drains. However, some architects believe the higher costs associated with linear drains remain an inhibiting factor against their specification, particularly in residential projects.
"Practically and aesthetically, linear drains, in my opinion, have more upsides than downsides, but budget is the main driver until the plumbing trades become used to using them," Vasiljevich said. "Like anything new, Australian trades [charge] high installation costs without looking at what it helps through all the trades."
"On a recent project, the Quantity Surveyor placed a high cost on the supply and installation even though I had a quote. The client took the QS' figures and linear drains were pulled from the project."
Nevertheless, Vasiljevich and other architects we interviewed said they favoured linear drains over point drains.
"I definitely prefer linear drains and have used them on two recently completed projects," architect Sophie Solomon said in an email interview. "We used large format floor tiles so the linear drain was the only option. For both projects, the linear drain was infilled with a matching cut tile so the floor looks quite seamless. They provide a superior finish and practical design solution in a wet area."
"I would recommend point over linear drains when you have a low budget and cannot afford linear," said Vasiljevich, "but I believe in the next 10 years linear drains will become standard."
LINEAR DRAIN INSTALLATION CHECKLIST
Sufficient drainage: Incorrectly sized sub-sill can lead to significant moisture damage in walls and floors.
Durability: Seek materials that are purpose-built to withstand the harsh Australian elements, and resist shrinkage and expansion. Coastal homes will benefit from threshold products manufactured with 316 marine grade, corrosion-resistant stainless steel that can handle high water flows, harsh chemicals and suspended chloroids.
Safety: Reduce chances of injury by fitting a linear drain that blends in seamlessly with the floor surface.
Standards: Threshold drainage must meet design requirements for access and mobility (AS1428.1-2009), and thresholds at doorways, in particular, must have a continuous path of travel and have a maximum rise of 35mm, maximum length of 280mm, maximum gradient of 1:8 and be located within 20mm of the door leaf which it serves. They must also meet requirements in AS3500.2 Sanitary plumbing and drainage.
SUPPLIERS
Stormtech
Stormtech offers an extensive range of linear drains suitable for bathroom applications. The majority come as a uPVC channel and 316 marine grade stainless steel grate, however, tile insert and anodised colour range options are also available.
Stripgrate
Stripgrate offer four linear drain models, three of which come in a narrow 38mm width and with either tile or steel profile inserts. The fourth on offer is called Tilegap (pictured) and is a 48mm channel with a centre positioned linear blade. Because of its design and tile overlap, the Tilegap appears to be much smaller than its drainage capability.
Stainless Steel Drainage & Civil Pty Ltd
SSDC's Quick Turnaround Drain is the only all Australian made version on the market. It will be delivered to site within three business days which also includes custom placement of spigot outlet. It comes in 304 grade stainless steel and in either 100mm or 75mm wide varieties. SSDC's Bollinger Series (pictured) can also accommodate a tile insert.
ACO Polycrete
Aco's Quartz range of shower channels are available in six standard lengths (700, 800, 900, 1000, 1200 and 1400mm), with the option of a centre or end outlet (63mm from end). They are available in a choice of eight grating designs that can be replaced for a new look. Seven of those grating designs also come in a matching pointdrain profile and all come with an option for integrated water-activated LED lights.
Aquabocci
Aquabocci claims to be the world's most versatile drainage systems. Its PVC channel system can be measured and cut to length, hole sawed for custom-placed spigot holes and configured into corners. Its Blade series inserts (pictured) are also height adjustable to match any tile or stone thickness.
Veitch Stainless Steel
Veitch provide shower channels in Original or Lowline range. The Lowline comes in a depth of 20mm while the Original is 35mm. Both come in standard lengths of 800, 900, 1200 and 1500mm but can be custom built to lengths of up to 2400mm. Veitch also allows outlets to be custom positioned. Both are available in three grate patterns and in either a satin or chrome finish 304 grade stainless steel.
Originally published http://www.architectureanddesign.com.au/features/product-in-focus/ by Geraldine Chua