We currently have Bricklayers and Tilers looking to hire apprentices. They are after 'work ready' apprentices, people who have some basic skills and are aware of what working in the building industry is like. The Certificate II in Construction (CPC20112) is an excellent course that provides students with an introduction to the following trades:
Bricklaying (2 employers currently looking for apprentices as of 31/1/2017
Tiling (4 tilers looking for apprentices as of 31/1/2017)
Plastering (labourers positions appearing regularly on gumtree)
Concreting (2 employers seeking labourers)
Scaffolding – up to 4metres (shortage of scaffolders in Adelaide – especially around festival/ major event times)
Employers contact us directly looking for students to recommend. We also check adverts for jobs every morning and have close industry ties to give students extra guidance. Applicants will have the opportunity to see other pre-apprentices in action on the trade floor. Students will be working side by side with existing apprentices so they can discuss the industry, find out what life as a tradie is like, and see how over time how their skills develop.
If you are interested in applying, please email admin@fcta.com.au or call 8367 5615.
FCTA – Building Careers runs a series of short courses for existing tradespeople to increase their skills. Lots of the courses have cross over skills, bricklayers usually have the hand skills to pick up acrylic rendering quickly. Tilers who have only worked on domestic bathrooms and laundries can learn how to do high margin tessellated tiling.
Anyone who is looking to gain their contractors license has the ability to attend the two mandatory small business units to apply for their license. For more information, download our brochure by clicking >> Course Guide, or call us on 8367 5615 or email admin@fcta.com.au.
Over the 15 years we have been training people to become bricklayers, tilers and plasterers, a number of our pre-apprentice students have gone on to become apprentices. The apprenticeship process isn't always easy! Thats where a dedicated family run trade school can help.
Alex completed his Certificate II in Construction pre-apprenticeship with FCTA – Building Careers in 2012. He was an excellent student who quickly decided that Tiling was the trade he wanted to specialise in. He secured an apprenticeship straight away and went on to work with 2 other employers as well. Along the way we have gotten to know Alex's family and seen him become a top tiler.
Pre-apprenticeship courses are a great way to decide which trade you want to focus on. Students try several different trades before selecting one to focus on. Often the skills from one trade are used in another. Tilers frequently brick in bath tubs and build hobs. Screeding skills that are so important in tiling are part of the hand skills used in plastering.
If you are interested in completing a pre-apprenticeship course our next Certificate II in Construction starts 11th October 2016. Call us on 83675615 or email admin@fcta.com.au for more information.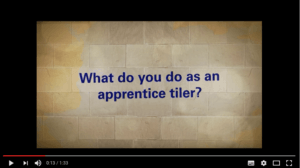 FCTA – Building Careers will be closing for the Christmas / New Years break from Friday 18th December at 12pm and re-opening Monday 11th January 2016.
Apprentices are welcome back with our flexible timetable from the 11th January. Please call us on 83675615 to let us know to expect your apprentice. Daily attendance information can be supplied to employers on request.
The Certificate II in Construction (CPC20112) is classified as a pre-apprenticeship course. This is because it covers off a range of introductory skills that allow successful students to hit the construction industry running. Students are taught by qualified tradespeople and learn skills in bricklaying, tiling, solid plastering, concreting scaffolding and more. FCTA- Building Careers trains apprentices at the same time, so students will be able to interact with people working in the industry and get a first hand account of what being an apprentice is about.
The course runs for 10 weeks, Tuesday – Fridays. Starting time is 8am sharp. The course finishes Friday December 18th 2015. During the course, if apprenticeship opportunities come up we will recommend students who have shown an early aptitude and have been able to follow trainer instructions.
Applicants for Jobs First:STL courses must be aged 17 years or over and cannot be enrolled in school. For high school students over 16 TGSS funding is available.
WorkReady eligibility criteria are able to study for no cost. Applicants who are ineligible can pay $2000 to join the course, a payment plan is available at $200 per week. To check your eligibility visit http://www.skills.sa.gov.au/training-learning/check-your-eligibility
To apply for the course, email admin@fcta.com.au or call 83675615.
Customers can refuse to pay tradies who work unlicensed. Fines of up to $20,000 can also be imposed. This guide takes tradies through the steps to apply for their license, and the reasons why its worth the effort!
HAVE YOU GOT YOUR UNIQUE STUDENT IDENTIFIER (USI) NUMBER?
From 1 January 2015 all students will be required to have a USI, because…government. This is a requirement for all courses, including the White Card and Contractors Licence courses.
It's easy…follow these 6 simple steps
STEP 1: Have at least one form of ID ready: Driver's License, Australian Passport, Medicare Card, Birth Certificate, Visa (with non-Australian Passport), Immigration Card or Citizenship Certificate.
STEP 2: Have your personal contact details ready: Address, email and/or phone number.
STEP 3: Visit usi.gov.au and click on 'Create a USI'.
STEP 4: Agree to the terms and conditions and follow the steps.
STEP 5: Write your unique number down and keep it somewhere handy and safe.
STEP 6: Bring this number with you when you enrol.
Our popular pre-apprentice starts on Tuesday 3rd February. These courses help people interested in gaining an apprenticeship by giving them experience with the type of projects carried out by tradespeople. The course focuses on training in Bricklaying, Tiling, Solid Plastering, Concreting and Basic Scaffolding.
We have had successful students go on to gain apprenticeships across all trades. FCTA has a strong network of employers currently looking to hire Solid Plastering, and Tiling apprentices. Bricklaying apprenticeships come up on a regular basis, with the trade now seen as a major skills shortage in South Australia.
To arrange to meet with us about the course, call 8367 5615 or email info@fcta.com.au.
This years choice for Apprentice of the Year was made easy, as each staff member – from all our trades – recommended Nathan Dekker.
Nathan is 75% through his Cert III in Bricklaying. His work is of high quality. He is normally the first apprentice to arrive in the morning, and the one who creates a great mood amongst everyone. Aside from the trophy, Nathan will receive free training in the 2 small business units required to apply for a contractors license. Nathan has enormous potential for the future. From the team at FCTA – Building Careers, we'd like to wish Nathan and his lovely family a Merry Christmas. We are looking forward to 2015 and working with Nathan again!
Apprentices are now able to have their wages 'topped up' via the Governments 'Trade Support Loan' scheme. Apprentices need to fill in an application form with their apprenticeship broker, sometimes called an "AAC" these are the people who come out to sign up apprentices formally.
Unfortunately trade schools, and employers are unable to do this for you. This is because the Government wants to make it clear that this is a loan that requires repayment once your income is over $50,000pa.
It's a way to help apprentices keep their cars on the road, help with living expenses, and keep their tools up to date. Each 6 months apprentices will be asked if they want to continue receiving the loan payments, this is what they mean when they say 'opt in'.
For full details, call you apprentice broker, if you don't know who that is, call us and we can help find out who it was. Attached is a flyer with more details.