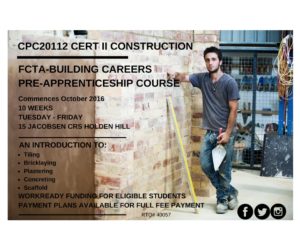 Pre-apprenticeship students are sought out by employers for apprenticeships. The pre-apprenticeship course covers the basics in bricklaying, tiling, plastering, concreting and scaffolding. If you're looking for an apprenticeship, this is a great way to get to know more about the industry and try a range of trades. Students work side by side with existing apprentices and can find out what tradie life is like. Government funding is available for some students and payment plans are available for full fee paying students. Contact us on 8367 5615 or email admin@fcta.com.au
If you are reading this because you want an apprenticeship there are a few things to keep in mind. Employers by far prefer to hire apprentices under 21 and with a car. That is because they want someone who they can afford and don't need to travel out of their way for.
As far as the affordability of apprentices goes, please keep in mind that although apprentice wages have steadily increased each year, the rates most tradespeople are paid have not. In South Australia the rates paid to bricklayers has virtually staid the same for a decade. All other states have seen a boom time for bricklayers in particularly in NSW & WA. As awards are set nationally, SA employers have to find the extra funds to run their businesses out of payments that have flatlined.
For this reason employers now more than ever need apprentices who are work ready. That means hiring someone who is able to do physical labour all day, every day. They also want reliable apprentices who show up on time, don't spend the day looking at their mobile phone, and can follow directions.
There will be times when you get on each others nerves. This happens in all workplaces. Whats not acceptable is workplace bullying, or behaviour that threatens your safety. In these cases, the best point of contact is the Office of the Training Advocate. They are there to assist apprentices and can be reached on 1800 006 488. We highly recommend the Training Advocate as they will keep all information confidential unless you specifically give them permission to talk to your employer.
Apprenticeships are created by signing a Contract of Training. Both sides have obligations they must keep. Ultimately apprenticeships are the best way to gain experience in a growing industry that provides support for future training and development. The Construction Industry Training Board (CITB) provides tradespeople with subsidized training that allows workers to 'up-skill' while working in the industry. You don't get that in many industries!
If your goal is to be your own boss, or if you cringe at the thought of working in an office job, an apprenticeship can be the first step towards a life time career. We have a record number of employers looking to hire apprentices. If you are interested in a bricklaying, solid plastering or a tiling career – call us on 8367561 or email a resume to info@fcta.com.au
Over the last 2 months we have been inundated with phone calls from employers looking for both apprentices and experienced tradespeople.
Currently we have 6 vacancies for bricklaying apprentices, 2 solid plastering apprenticeships, 5 tiling apprenticeships and employers seeking qualified bricklayers. If you have a car, a good work ethic, like working outdoors and are reliable, you have a great chance of getting work in the building industry right now. Most employers seek junior – under 21 year olds – for apprenticeships. It is still possible for adults to gain apprenticeships, employers will be seeking people who are 'work ready' in this situation.
The building industry is one of the few industries people can work in and have a direct path to becoming their own boss in less than 5 years. If you are would like to discuss any of the job opportunities, or find out more call us on 8367 5615 or email info@fcta.com.au
Our popular pre-apprenticeship course is starting again in July. Register your interest by calling us on 0883675615 or email admin@fcta.com.au. This course offers successful students the Certificate II in Construction qualification, and a headstart in gaining an apprenticeship. Many employers seek out students from this course for apprenticeships.
The course will be delivered at 15 Jacobsen Crs Holden Hill in South Australia. The estimated start date should be in July 2016. The course will run Tuesday – Friday for 10 weeks. Students will complete tasks in bricklaying, tiling, plastering, concreting and scaffolding.
This course and students may be eligible for government funding under WorkReady. Eligibility is restricted to students over 17, who have not previously completed any qualifications higher than a Certificate I. School students over 16 may be eligible under either FLO funding or TGSS. Speak to your school VET co-ordinator for more information.


Looking for an apprenticeship? Many employers seek out apprentices who have completed a Pre-apprenticeship course. The Certificate II in Construction (CPC20112) offers an introduction to bricklaying, tiling, plastering, concreting and scaffold. It gets students work ready, and gives them an advantage over other people applying for apprenticeships. The course runs for 10 weeks, Monday – Friday 8am – 3:30pm at 15 Jacobsen Crs Holden Hill. Call us to arrange an interview on 83675615 or email admin@fcta.com.au.
FCTA – Building Careers has strong ties to the industry, with many employers contacting us directly for recommendations. The course sets out to develop hands on skills in the trade, as well an instilling the importance of punctuality, following directions, and a good work ethic.
The building industry is Australia's third largest industry, behind only mining and finance, and produces around 8% of our Gross Domestic Product (GDP), in value added terms. It comprises over 330,000 businesses nationwide and directly employs over one million people (around 9% of the total workforce). It produces the buildings and infrastructure that are essential to the operation of all other industries, adds to the wealth and capital stock of the nation and underpins the productivity improvements that are necessary to support our future prosperity and incomes.
The course is funded by WorkReady for eligible applicants, visit http://www.skills.sa.gov.au/training-learning/check-your-eligibility for more information. This is a STL course, that is also funded under the TGSS scheme. For ineligible applicants a payment plan can be arranged.
The Certificate II in Construction (CPC20112) is classified as a pre-apprenticeship course. This is because it covers off a range of introductory skills that allow successful students to hit the construction industry running. Students are taught by qualified tradespeople and learn skills in bricklaying, tiling, solid plastering, concreting scaffolding and more. FCTA- Building Careers trains apprentices at the same time, so students will be able to interact with people working in the industry and get a first hand account of what being an apprentice is about.
The course runs for 10 weeks, Tuesday – Fridays. Starting time is 8am sharp. The course finishes Friday December 18th 2015. During the course, if apprenticeship opportunities come up we will recommend students who have shown an early aptitude and have been able to follow trainer instructions.
Applicants for Jobs First:STL courses must be aged 17 years or over and cannot be enrolled in school. For high school students over 16 TGSS funding is available.
WorkReady eligibility criteria are able to study for no cost. Applicants who are ineligible can pay $2000 to join the course, a payment plan is available at $200 per week. To check your eligibility visit http://www.skills.sa.gov.au/training-learning/check-your-eligibility
To apply for the course, email admin@fcta.com.au or call 83675615.
Our next Cert II Construction (CPC20112) course starts on Tuesday 28th April. The course runs for 10 weeks Tuesday – Friday at 15 Jacobsen Crs, Holden Hill. This course is often referred to as a 'pre-apprenticeship' course as there are employers seeking this qualification to hire apprentices. A variety of trades are covered during the 10 weeks including, bricklaying, tiling, solid plastering, concreting, scaffolding and wall & ceiling lining (on request). Students will focus on developing practical skills. There is however some book work required, and our trainers are here to assist people with any reading or writing issues. The course is currently covered by Skills for All funding for eligible students, to check your eligibility, click here.
HAVE YOU GOT YOUR UNIQUE STUDENT IDENTIFIER (USI) NUMBER?
From 1 January 2015 all students will be required to have a USI, because…government. This is a requirement for all courses, including the White Card and Contractors Licence courses.
It's easy…follow these 6 simple steps
STEP 1: Have at least one form of ID ready: Driver's License, Australian Passport, Medicare Card, Birth Certificate, Visa (with non-Australian Passport), Immigration Card or Citizenship Certificate.
STEP 2: Have your personal contact details ready: Address, email and/or phone number.
STEP 3: Visit usi.gov.au and click on 'Create a USI'.
STEP 4: Agree to the terms and conditions and follow the steps.
STEP 5: Write your unique number down and keep it somewhere handy and safe.
STEP 6: Bring this number with you when you enrol.
Our popular pre-apprentice starts on Tuesday 3rd February. These courses help people interested in gaining an apprenticeship by giving them experience with the type of projects carried out by tradespeople. The course focuses on training in Bricklaying, Tiling, Solid Plastering, Concreting and Basic Scaffolding.
We have had successful students go on to gain apprenticeships across all trades. FCTA has a strong network of employers currently looking to hire Solid Plastering, and Tiling apprentices. Bricklaying apprenticeships come up on a regular basis, with the trade now seen as a major skills shortage in South Australia.
To arrange to meet with us about the course, call 8367 5615 or email info@fcta.com.au.
Year 11 & 12 students once had the option to complete their schooling in TAFE/RTO colleges. These students were not interested in attending university, and had a trade career planned for after school. This was scraped and since high schools have tried to absorb the role of trade training centres but without the links to industry that true trade schools have.