Looking for an apprenticeship? Employers actively seek people who have completed are pre-apprenticeship course, or who are currently enrolled. We have employers calling asking for students to recommend. The Certificate II in Construction provides an introduction to a range of trades with the aim of having students gain apprenticeships or labouring work in the industry.
The course focuses on the following trades:
Bricklaying
Tiling
Plastering
Concreting
Scaffolding (up to 4m)
The next course starts 24/01/17 and runs for 10 weeks. Other courses will be run starting on 07/02/2017 & 28/03/2017. Courses are held at 15 Jacobsen Crs Holden Hill. Eligible students will have course fees covered by WorkReady, for those ineligible the course costs $2500 with payment plans available. Starting time is 8am, Tuesday – Friday. If you are interested in the course please call us on 8367 5616 or email admin@fcta.com.au.
Our course guide for 2017 can be downloaded by clicking on the following link: 2017 course guide . Courses offered included our popular Cert II in Construction CPC20112 Pre-apprenticeship course, dates for the sub-contractors license course, and information on our short courses across tiling, bricklaying, waterproofing and plastering.
The Certificate II in Construction will run for 10 weeks, Tuesday – Friday 8am – 3:30pm on the following dates:
24/01/2017 – 31/03/2017
07/02/2017 – 13/04/2017
28/03/2017 – 02/06/2017
Short courses, other than the sub-contractors course, can be scheduled with 2 weeks notice at dates that suit you. There is no minimum number for these courses.
Not all students who come to us are eligible for government funding to do our pre-apprenticeship courses. Zach was one of those students who was ineligible. Instead Zach paid for the course via a weekly payment plan. He completed the Certificate II in Construction in 2015 and by the end of the year had secured an apprenticeship in solid plastering.
Zach's employer is a specialist in restoration work. The skills the he passes on to Zach are unique, and will set him up for a long and profitable career in the industry. Pre-apprenticeship courses are a fantastic way to get the experience required to secure an apprenticeship. Our next Certificate II in Construction starts on Tuesday 11th & 18th October 2016, for 10 weeks. If you are interested in the course, please call us on 83675615 or email admin@fcta.com.au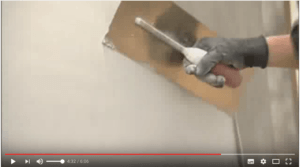 Over the 15 years we have been training people to become bricklayers, tilers and plasterers, a number of our pre-apprentice students have gone on to become apprentices. The apprenticeship process isn't always easy! Thats where a dedicated family run trade school can help.
Alex completed his Certificate II in Construction pre-apprenticeship with FCTA – Building Careers in 2012. He was an excellent student who quickly decided that Tiling was the trade he wanted to specialise in. He secured an apprenticeship straight away and went on to work with 2 other employers as well. Along the way we have gotten to know Alex's family and seen him become a top tiler.
Pre-apprenticeship courses are a great way to decide which trade you want to focus on. Students try several different trades before selecting one to focus on. Often the skills from one trade are used in another. Tilers frequently brick in bath tubs and build hobs. Screeding skills that are so important in tiling are part of the hand skills used in plastering.
If you are interested in completing a pre-apprenticeship course our next Certificate II in Construction starts 11th October 2016. Call us on 83675615 or email admin@fcta.com.au for more information.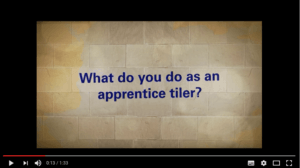 We have been running pre-apprenticeship courses for over 15 years. During that time we have trained students seeking apprenticeships in bricklaying, tiling and plastering. Some of these students secured apprenticeships and have now completed their 4 years with employers and have started their own businesses.
Angelo is one of those students. He completed a Certificate II in Construction in 2009. This was a difficult time in the construction industry in the wake of the Global Financial Crisis (GFC). New builds had declined, and banks were making it difficult for new home owners to get finance. Despite this, Angelo secured an apprenticeship with a Group Training Organisation (GTO) who placed him with a host employer.
Over the next 4 years Angelo developed his skills and worked on a variety of sites around Adelaide. In 2014 he completed his trade sub-contractors course and is now self-employed. The building industry offers individuals the chance to become their own boss.
Our next Certificate II in Construction course starts October 11th 2016. If you are interested in applying please call us on 83675615 or email admin@fcta.com.au.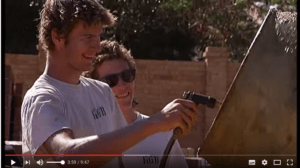 We have employers currently looking to hire bricklaying and tiling apprentices. Your best chance to get ahead of other apprenticeship applicants is to enrol in a Certificate II in Construction course. This course is commonly referred to as a pre-apprentice course because employers want students who have had some training and experience in construction.
The FCTA – Building Careers course focuses on developing practical hand skills in bricklaying, tiling, plastering and concreting. Students will also learn how to assemble scaffolding up to 4 metres. The course runs for 10 weeks, starting 11/10/2016 – 16/12/2016 and will be held at 15 Jacobsen Crs Holden Hill in South Australia.
There are a limited number of government-funded places available for eligible students. Students over 16 currently at high school may be eligible to enrol if they are motivated about finding an apprenticeship. Payment plans are also available for people not eligible for funded places. For any questions, or to book in for a place call us on 8367 5615 or email admin@fcta.com.au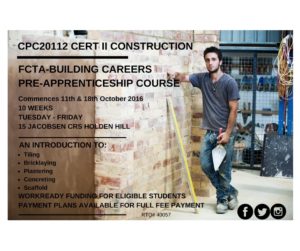 Pre-apprenticeship students are sought out by employers for apprenticeships. The pre-apprenticeship course covers the basics in bricklaying, tiling, plastering, concreting and scaffolding. If you're looking for an apprenticeship, this is a great way to get to know more about the industry and try a range of trades.
Students work side by side with existing apprentices and can find out what tradie life is like. WorkReady funding is available for some students and payment plans are available for full fee paying students. Contact us on 8367 5615 or email admin@fcta.com.au
If you are reading this because you want an apprenticeship there are a few things to keep in mind. Employers by far prefer to hire apprentices under 21 and with a car. That is because they want someone who they can afford and don't need to travel out of their way for.
As far as the affordability of apprentices goes, please keep in mind that although apprentice wages have steadily increased each year, the rates most tradespeople are paid have not. In South Australia the rates paid to bricklayers has virtually staid the same for a decade. All other states have seen a boom time for bricklayers in particularly in NSW & WA. As awards are set nationally, SA employers have to find the extra funds to run their businesses out of payments that have flatlined.
For this reason employers now more than ever need apprentices who are work ready. That means hiring someone who is able to do physical labour all day, every day. They also want reliable apprentices who show up on time, don't spend the day looking at their mobile phone, and can follow directions.
There will be times when you get on each others nerves. This happens in all workplaces. Whats not acceptable is workplace bullying, or behaviour that threatens your safety. In these cases, the best point of contact is the Office of the Training Advocate. They are there to assist apprentices and can be reached on 1800 006 488. We highly recommend the Training Advocate as they will keep all information confidential unless you specifically give them permission to talk to your employer.
Apprenticeships are created by signing a Contract of Training. Both sides have obligations they must keep. Ultimately apprenticeships are the best way to gain experience in a growing industry that provides support for future training and development. The Construction Industry Training Board (CITB) provides tradespeople with subsidized training that allows workers to 'up-skill' while working in the industry. You don't get that in many industries!
If your goal is to be your own boss, or if you cringe at the thought of working in an office job, an apprenticeship can be the first step towards a life time career. We have a record number of employers looking to hire apprentices. If you are interested in a bricklaying, solid plastering or a tiling career – call us on 8367561 or email a resume to info@fcta.com.au
Over the last 2 months we have been inundated with phone calls from employers looking for both apprentices and experienced tradespeople.
Currently we have 6 vacancies for bricklaying apprentices, 2 solid plastering apprenticeships, 5 tiling apprenticeships and employers seeking qualified bricklayers. If you have a car, a good work ethic, like working outdoors and are reliable, you have a great chance of getting work in the building industry right now. Most employers seek junior – under 21 year olds – for apprenticeships. It is still possible for adults to gain apprenticeships, employers will be seeking people who are 'work ready' in this situation.
The building industry is one of the few industries people can work in and have a direct path to becoming their own boss in less than 5 years. If you are would like to discuss any of the job opportunities, or find out more call us on 8367 5615 or email info@fcta.com.au
Our popular pre-apprenticeship course is starting again in July. Register your interest by calling us on 0883675615 or email admin@fcta.com.au. This course offers successful students the Certificate II in Construction qualification, and a headstart in gaining an apprenticeship. Many employers seek out students from this course for apprenticeships.
The course will be delivered at 15 Jacobsen Crs Holden Hill in South Australia. The estimated start date should be in July 2016. The course will run Tuesday – Friday for 10 weeks. Students will complete tasks in bricklaying, tiling, plastering, concreting and scaffolding.
This course and students may be eligible for government funding under WorkReady. Eligibility is restricted to students over 17, who have not previously completed any qualifications higher than a Certificate I. School students over 16 may be eligible under either FLO funding or TGSS. Speak to your school VET co-ordinator for more information.