Formed in May 2001 and based at Holden Hill, South Australia, FCTA specialises in providing flexible training in Bricklaying, Tiling, Wall & Ceiling Lining and Solid Plastering.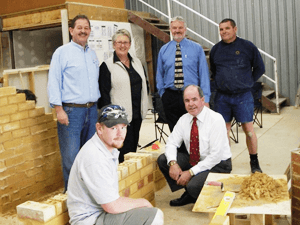 This means that if you are an employer with apprentices, your apprentice can come in for training at anytime throughout the year. We do not run to school terms. If your business has a slow period, you can arrange for training during that time. Likewise, if you need to have everyone onsite during busy periods, FCTA offers the flexibility to change apprentice training times—to suit you.
Our focus is on practical skills development, our facilities are setup to simulate a construction site environment instead of a traditional classroom. We work with apprentices, pre-apprentices, access students and "doorways to construction" students. All our staff have worked extensively in the building industry and are experienced tradespeople, who have strong links to the industry and can provide relevant advice to job seekers.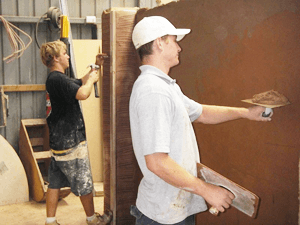 For people interested in working in the building industry or gaining an apprenticeship, FCTA runs courses on a regular basis to help. Pre-apprenticeship courses are run throughout the year, and are an excellent way of gaining an apprenticeship. This course runs for 3 months, and has an excellent success rate finding work for successful students.
FCTA is an approved Skills for All training provider and is registered for training with The Australian Skills Quality Authority (ASQA), The Construction Industry Training Board (CITB) and the Department of Further Education Employment Science & Technology (DFEEST).
See our Code of Practice.
Email us at admin@fcta.com.au