Last week I spoke to the people at Consumer and Business Services to check what they require before issuing a person with a license to complete internal & balcony waterproofing. Each week we have people call asking if they can complete our 3 day course in waterproofing and then go out and work in the industry. If you have plenty of experience aside from the 3 day course, then yes, you can apply for a license but you will most likely be called in for a technical interview.
If you do not work in the building industry you need to get experience first. You could work with a tiler or an already licensed waterproofer until you have the experience to pass a technical interview. The interview covers off a lot of 'what if's' you wont simply be reciting the Australian Standards, Building Code or SA Ministerial Code. You will need to have broad enough experience to answer questions across both commercial and residential work. This is because your license will enable you to work across all sites so you will need to understand the differences.
It is also helpful to attend training courses provided by one of the manufacturers of waterproofing materials. Gripset, Ardex and Mapei all provide regular training on how to use their products. Some of these manufacturers also have phone apps that let you lookup the product you need for certain jobs.
Once you feel you are ready to apply for a waterproofing license, you will need to complete the requirements that Consumer and Business Services have set out on their website. This includes completing two short courses in business law and finance.
Click here to access Consumer & Business Services guidelines for applicants. As always, if you have questions you can email us at [email protected] or call 83675615.
The easiest customer to keep, is the one you already have! Book now for a 5 day short course, complete by June 30th and CITB members receive a $100 discount. Call us on 8367 5615 or email [email protected] to discuss your training needs.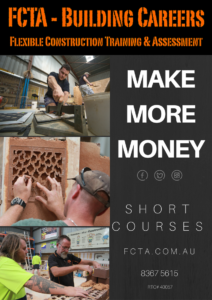 Our courses cover basic to advanced tiling, introductory bricklaying, traditional solid plastering and more. Click this link to download our course brochure. 
FCTA – Building Careers flexible approach to training means we can adapt projects to make them relevant to your particular needs. For example if a tiler wanted to be able to install cornices to bathrooms that have been tiled to the ceiling, we can create a project to match.
Please note, this promotion excludes our 3 & 4 day courses as well as the introduction to plasterboard course – due to the high cost of materials.
Over the 15 years we have been training people to become bricklayers, tilers and plasterers, a number of our pre-apprentice students have gone on to become apprentices. The apprenticeship process isn't always easy! Thats where a dedicated family run trade school can help.
Alex completed his Certificate II in Construction pre-apprenticeship with FCTA – Building Careers in 2012. He was an excellent student who quickly decided that Tiling was the trade he wanted to specialise in. He secured an apprenticeship straight away and went on to work with 2 other employers as well. Along the way we have gotten to know Alex's family and seen him become a top tiler.
Pre-apprenticeship courses are a great way to decide which trade you want to focus on. Students try several different trades before selecting one to focus on. Often the skills from one trade are used in another. Tilers frequently brick in bath tubs and build hobs. Screeding skills that are so important in tiling are part of the hand skills used in plastering.
If you are interested in completing a pre-apprenticeship course our next Certificate II in Construction starts 11th October 2016. Call us on 83675615 or email [email protected] for more information.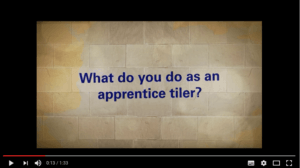 Over the last 2 months we have been inundated with phone calls from employers looking for both apprentices and experienced tradespeople.
Currently we have 6 vacancies for bricklaying apprentices, 2 solid plastering apprenticeships, 5 tiling apprenticeships and employers seeking qualified bricklayers. If you have a car, a good work ethic, like working outdoors and are reliable, you have a great chance of getting work in the building industry right now. Most employers seek junior – under 21 year olds – for apprenticeships. It is still possible for adults to gain apprenticeships, employers will be seeking people who are 'work ready' in this situation.
The building industry is one of the few industries people can work in and have a direct path to becoming their own boss in less than 5 years. If you are would like to discuss any of the job opportunities, or find out more call us on 8367 5615 or email [email protected]
A step by step guide on how to hire an apprentice for the first time, including information on incentives.
Waterproofing issues can occur depending on what materials are used, and how a balcony is constructed. Ardex have supplied a technical guide for tilers waterproofing over the James Hardie branded, Scyon flooring sheets.
FCTA – Building Careers has a range of short courses scheduled for 2014. Some of these courses are available at a discounted price to people currently working in the construction industry, via the CITB. The CITB co-funds these courses, prices listed will have a cost with CITB discount applied and without. CITB cards do expire, but you can visit their website to renew or apply for a card if you haven't in the past.
The following courses are on offer, click the title of the course to download a flyer:
Timings:
Weekday courses run from 8am – 3:30pm.

Payment Methods:
Cash, cheque, electronic funds transfer or paypal credit card payments via website
To secure a place, please email us.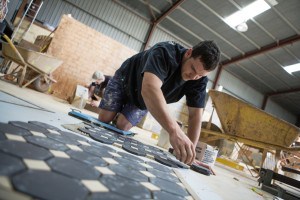 Changes to Skills for All funding from 4/11/2013 mean students need to meet a narrower criteria to receive fully funded training in Certificate II level courses, commonly referred to as 'Pre-Apprenticeship' courses.
Pay increases for new apprentices kick in from 01/01/2014. New apprentices will be paid on average an extra $45 – $145 per week extra. These increases do not apply straight away to existing apprentices. Employers thinking of employing an apprentice would be able to employ an apprentice under existing conditions if employed before 01/01/2014. Further, employers are now required to reimburse apprentices for trade school fees and material/ book costs.