The easiest customer to keep, is the one you already have! Book now for a 5 day short course, complete by June 30th and CITB members receive a $100 discount. Call us on 8367 5615 or email [email protected] to discuss your training needs.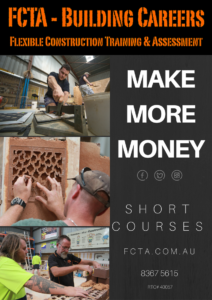 Our courses cover basic to advanced tiling, introductory bricklaying, traditional solid plastering and more. Click this link to download our course brochure. 
FCTA – Building Careers flexible approach to training means we can adapt projects to make them relevant to your particular needs. For example if a tiler wanted to be able to install cornices to bathrooms that have been tiled to the ceiling, we can create a project to match.
Please note, this promotion excludes our 3 & 4 day courses as well as the introduction to plasterboard course – due to the high cost of materials.
Our most popular short courses are on special for a limited time only! Held in Holden Hill, South Australia. Book and complete these classes by June 30th 2017 and save. Each of these courses normally costs $250 each for CITB card holders. For a limited time pay only $400 to complete all 3 courses. For information on the details of the courses down  Solid plastering course details
Traditional Sand & Cement Rendering
Quoins & Banding
Acrylic Rendering
Click here to book and pay. As this course only runs on week days, dates to attend are flexible and can be negotiated with us around trainer availability.
FCTA – Building Careers has a range of short courses scheduled for 2014. Some of these courses are available at a discounted price to people currently working in the construction industry, via the CITB. The CITB co-funds these courses, prices listed will have a cost with CITB discount applied and without. CITB cards do expire, but you can visit their website to renew or apply for a card if you haven't in the past.
The following courses are on offer, click the title of the course to download a flyer:
Timings:
Weekday courses run from 8am – 3:30pm.

Payment Methods:
Cash, cheque, electronic funds transfer or paypal credit card payments via website
To secure a place, please email us.