The Office of Consumer and Business Services has released the following articles about unlicensed builders. They 'named names'. To become licensed visit the CBS.sa.gov.au website.
$11,000 fine for working unlicensed
An unlicensed builder who accepted substantial deposits from consumers for work he either didn't start or made little progress on has been fined $11,000 and ordered to repay more than $11,000 to customers he left in the lurch. 27 year old Andrew James Laundy appeared in the Adelaide Magistrates Court this week, after pleading guilty to carrying on business as a building work contractor without a licence and four counts of breaches of the Australian Consumer Law.
The court heard Laundy had accepted substantial deposits from customers to carry out renovation work, as well as fence and paving work, on properties in Parafield Gardens, South Plympton, Camden Park and Oaklands Park. In two instances, Laundy carried out a small amount of work – while in the other two cases, he failed to do any work at all.
"Cases like this highlight why it's so important for people to do their homework before engaging the services of a builder," Commissioner for Consumer Affairs Dini Soulio said. "In this case, customers paid substantial sums of money – ranging from $900 to $4750 – for work that was either never started or barely progressed. "By checking the public register, customers can check whether a builder actually has a licence, and enjoy greater peace of mind when engaging the services of a professional to carry out work around the home. "I'd encourage anyone considering hiring a builder to head to the CBS website at http://www.cbs.sa.gov.au/occupational-licensing-and-registration/find-a-licence-holder/ to ensure the builder has the appropriate licence to carry out the work." Laundy was fined $11,000 and ordered to repay the deposits to each of the four customers totalling $11,150.
Public Warning on unlicensed SA builder
A public warning has been issued by the State's consumer watchdog against Anastasios (Tom) Manolakis, following allegations of operating as an unlicensed builder in South Australia. Acting Commissioner for Consumer Affairs, George Kamencak, said complaints lodged with Consumer and Business Services (CBS) allege that Mr Manolakis' work is also not of an acceptable building work standard.
"It is alleged Mr Manolakis, trading as De George Services, has been contracting for building work without being authorised by the appropriate licence in South Australia," he said. "The business, based at Clovelly Park, advertises its services for roofing, guttering, earthmoving, bricklaying and stone work, through its website www.degeorge.com.au and on Gumtree."
People who carry on business performing building work, including all forms of roofing work, are required to be licensed under the Building Work Contractors Act. Undertaking unlicensed building work carries penalties of up to: $50,000 for a first or second offence; or $50,000 or 12 months imprisonment or both for a third or subsequent offence $250,000 for an offence committed by a body corporate.
The Acting Commissioner is urging consumers not to deal with Mr Manolakis or De George Services while complaints are being investigated by CBS. "With winter officially behind us, many people take time off work throughout the Christmas break to undertake home renovations.
This is a friendly reminder for consumers to do their research before engaging a tradesperson to undertake work on their homes. "Please ensure you are using a licensed and reputable building contractor who is qualified to do the job. You can check if a tradesperson has a current licence by using the online CBS licensing register or by asking them to produce their South Australian builder's licence card." "CBS takes consumer complaints seriously and regulates the industry to protect consumers and stamp out illegal conduct." If anyone has concerns or would like to make a complaint about their dealings with Mr Manolakis or De George Services, please contact CBS on 131 882
Do you have more than 4 years experience working as a bricklayer, tiler, stonemason or plasterer? You now have the opportunity to have your skills formally recognised and gain a contractors license. All licensing costs can be included depending on the package selected.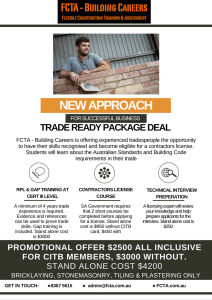 The SA Government requires tradespeople to complete 2 business units before applying for a license. FCTA – Building Careers has teamed up with SA Trade Licensing for a limited offer.
Packages start at just $2500 and include the cost to recognise trade experience formally with a Certificate III. This is the same certificate apprentices study. There may be some gaps in your knowledge, and thats not a problem as all gap training costs are also included. This would cost over $4000 normally!
The package includes the cost of the 2 business units and a preparatory technical interview with SA Trades Licensing. Successful students will be able to legally run their own businesses and advertise for work. There will be a focus on educating people in the relevant Australian Standards and National Construction Code (formally called the BCA).
If you've been working in the industry for 4 years or more, chances are you already have a CITB membership. If not visit citb.org.au to apply. The cost of this package is $3000 for people without a CITB membership.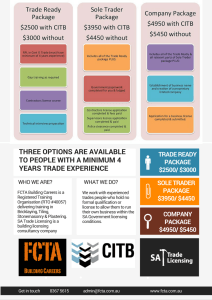 We have packages that also include filling in all application details, lodgement of forms and police checks from $3950 – this includes all government charges, no more to pay. If you are looking at investing in your long term success and establishing your own company, for $4950 we can take the work out of the paperwork! For more information, download our FLYER
Interested? Email [email protected] or call us on 8367 5615 to discuss.