The easiest customer to keep, is the one you already have! Book now for a 5 day short course, complete by June 30th and CITB members receive a $100 discount. Call us on 8367 5615 or email [email protected] to discuss your training needs.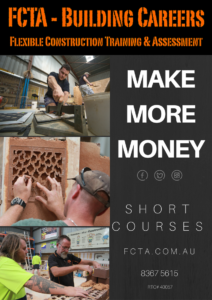 Our courses cover basic to advanced tiling, introductory bricklaying, traditional solid plastering and more. Click this link to download our course brochure. 
FCTA – Building Careers flexible approach to training means we can adapt projects to make them relevant to your particular needs. For example if a tiler wanted to be able to install cornices to bathrooms that have been tiled to the ceiling, we can create a project to match.
Please note, this promotion excludes our 3 & 4 day courses as well as the introduction to plasterboard course – due to the high cost of materials.
HAVE YOU GOT YOUR UNIQUE STUDENT IDENTIFIER (USI) NUMBER?
From 1 January 2015 all students will be required to have a USI, because…government. This is a requirement for all courses, including the White Card and Contractors Licence courses.
It's easy…follow these 6 simple steps
STEP 1: Have at least one form of ID ready: Driver's License, Australian Passport, Medicare Card, Birth Certificate, Visa (with non-Australian Passport), Immigration Card or Citizenship Certificate.
STEP 2: Have your personal contact details ready: Address, email and/or phone number.
STEP 3: Visit usi.gov.au and click on 'Create a USI'.
STEP 4: Agree to the terms and conditions and follow the steps.
STEP 5: Write your unique number down and keep it somewhere handy and safe.
STEP 6: Bring this number with you when you enrol.
Changes to Skills for All funding from 4/11/2013 mean students need to meet a narrower criteria to receive fully funded training in Certificate II level courses, commonly referred to as 'Pre-Apprenticeship' courses.
Cert II Pre-apprenticeship course in Bricklaying, Tiling, Wall & Ceiling Lining, Solid Plastering, Concreting, Scaffolding. Skills for All funded in South Australia.
This week the students continued on with tiling and solid plastering tasks. After a hectic few weeks, all the students have now had the chance to work on tasks in Bricklaying, Tiling and Solid Plastering. This helps students work out which trade they most enjoy before trying to gain an apprenticeship. There has been research into the success of Pre-apprenticeship courses, in helping students achieve and complete apprenticeships. Across all the various industries, the building and construction industry was one of the few that highlighted the success of these courses in helping students gain and complete apprenticeships.