Way back in May 2015, The Australian ran a story about unsafe building materials coming in from overseas, and despite failing to comply with local standards, being used here.
Quoting Master Builders Queensland, the story noted that eventually these substandard building materials "…could kill people and destroy their homes."
A week before Christmas in 2016, another story came out, this time in The Age exposing substandard and dangerous building materials across a range of developments across Victoria.
This particular article quoted Builders Collective of Australia president Phil Dwyer, who claimed that "There will be so many defects and problems in buildings that we won't be able to cope."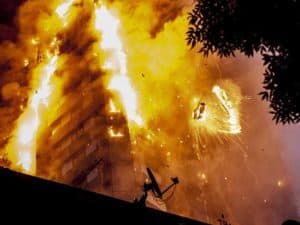 Fast-forward to July 2017 and Australia (along with the rest of the world) witnessed the horrific end result of using substandard or incorrect building materials in the form of the charred shell of the Grenfell Tower complex in London.
That is not to say that a number of Australian regulators and auditors have been asleep on the job when it comes to keeping tabs on suspect building products, in fact far from it.
For example, in February 2016, just four months prior to the Grenfell tragedy, the Victorian Building Authority (VBA) completed a cladding audit –  claimed to be the only comprehensive audit that's been done in Australia that found that out of a total of 170 buildings surveyed, 85, or exactly half, had non-compliant cladding.
At the same time, noted the VBA, the buildings' non-compliance did not pose a risk to the occupants, with only one being the subject of an emergency order from the City of Port Phillip and evacuated.
The VBA, along with the Melbourne City Council have said that there are still 41 structures under investigation, with 17 buildings still being worked on by the City of Melbourne.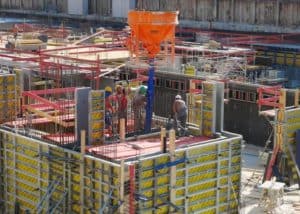 Meanwhile in NSW, there have been claims that up to 2500 buildings could be clad in potentially dangerous materials, although the real figure is unknown.
Fair enough, but in reality, how big is the issue of dodgy or non-spec building materials across the whole of Australia? The answer to that question depends on who you talk to.
According to a NSW Department of Planning and Environment spokesperson, "There is no known data source on the location of buildings with aluminium composite panelling."
Interviewed earlier this month about the issue by Architecture & Design, the NSW minister for planning and housing, Anthony Roberts, said when it came to building materials, there is no need for alarm and that his department was aware of the issue and was keeping an eye on developments.
"My agency will monitor the investigation into the London fire to determine whether there is any relationship with the combustible cladding matter and whether any further action should be taken on this matter in NSW and at the Commonwealth level," he said.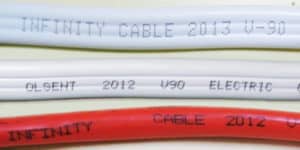 "NSW has been active at the national level working with other States and Territories and the Australian Building Codes Board to develop proposals to strengthen regulation to minimise the risk of using building products that do not comply with required standards," said Roberts.
However, according to the Building Products Innovation Council and its head Elizabeth McIntyre, the authorities approach to building safety is in a state of disarray.
"The latest knee-jerk political reaction in Australia to the Grenfell fire, is a call for a cladding audit of buildings across the country," says McIntyre.
"But there has already been a cladding audit done in Victoria in the wake of the Lacrosse fire, and the NSW Department of Planning and Environment conducted their own internal audit and estimated that 1800 buildings (and possibly as many as 2500) in metropolitan Sydney could contain flammable cladding material."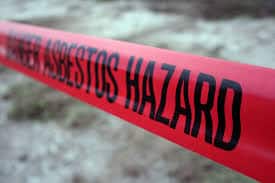 "Calling for more audits is only going to tell us what we already know," said McIntyre, "and besides, these cladding audits will miss or ignore all the other non-compliance issues in buildings that can lead to the kind of disaster we have seen in the UK."
"The time for action is now and…with calls for manslaughter charges to be brought against UK politicians at all levels of government who let their non-compliant building debacle take place, it is hard to know what further motivation our Australian politicians need, in order to protect the health and safety of the public and prevent properties from being put at risk," she said.
For its part, Victoria has engaged the services of former premier Ted Baillieu who will lead a new cladding task force assessing fire safety in buildings across the state. South Australia has said it will do the same and Queensland too has announced a state-wide audit of all buildings constructed between 1994 and 2004 that carry aluminium cladding.
And it's not just cladding we need to worry about.  Just this year, the ACCC warned homeowners across Australia about faulty Infinity branded electrical cables installed in their homes that may have already started cracking, leading to fire dangers.
Then there is the recent spate of exploding glass panels raining glass shards on pedestrians down from new high rise residential builds in Melbourne's inner-city suburb of Carlton.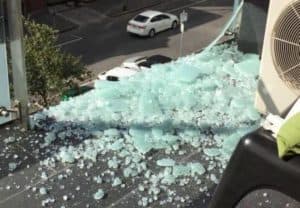 Historically speaking, these can all be added to the list of dangerous or sub-standard building materials in this country going back decades – beginning with the saga concerning asbestos, which was a standout disaster for which thousands in this country are still paying for with their health and in many cases, their lives.
So, what about an actual figure or even a ballpark order of magnitude of unsuitable building materials that authorities could start to look at?
Well, unfortunately no real hard or even potentially verifiable figures exist, however if we take just one guess by Strata Community Queensland, which is on record claiming that up to 50,000 units constructed over the past few years in Queensland alone may be suspect, and extrapolate that out nationally, then perhaps we can start gauging the enormity of this issue.
This has been mirrored in the UK following the Grenfell tragedy, whereby at the time of writing, a total of 120 tower blocks have failed fire safety tests.
Unfortunately, for those builds that really are constructed of sub-spec materials, the only way we will find out is after something terrible happens, much like with the Grenfell disaster – a disaster that highlighted how a seemingly innocuous issue like complying to cladding standards can very quickly turn deadly.
As South Australian senator Nick Xenophon recently said: "The London building tragedy demonstrates how critical it is to ensure that Australian building products comply with all Australian standards and regulations."
Branko Miletic Source: Dodgy building materials are hardly a revelation | Architecture And Design
A long vertical pipe sits against white-painted brickwork in the corner of a cramped storeroom. Two men wearing orange boiler suits and gloves crouch at its base. One uses a scraper to remove lumps of what looks like wet papier-mâché from the outside of the pipe, into a red bag held by the other. Both men are breathing through facemasks, their air sucked from outside the isolation unit: a short, makeshift corridor constructed from black plastic panels and transparent polythene sheeting. An extractor fan hums relentlessly.

It might look like a scene from a horror movie in which scientists fight to contain a virus, but the truth is more banal – though no less deadly. The two men are removing asbestos insulation from a heating pipe in a west London hospital. Ordinarily there would be bright yellow tape with the words "WARNING asbestos" on it, the site supervisor tells me. But this is an especially sensitive job. The neighbouring ward's beds are filled by patients with acute respiratory conditions, and the hospital's management decided that advertising the true nature of the work might cause alarm.
Thirteen people a day in the UK die from exposure to asbestos – more than double the number that die on the roads. In the USA, asbestos will be responsible for around 10,000 deaths this year, meaning it kills close to as many people as gun crime or skin cancer.
Health fears associated with asbestos were first raised at the end of the 19th century. Asbestosis, an inflammatory condition affecting the lungs that causes shortness of breath, coughing and other lung damage, was described in medical literature in the 1920s. By the mid-1950s, when the first epidemiological study of asbestos-related lung cancer was published, the link to fatal disease was well established.
Yet in 2012, rather than falling, worldwide asbestos production increased and international exports surged by 20 per cent. A full ban did not come into force in the UK until 1999, and the European Union's deadline for member states to end its use was just nine years ago. Today, asbestos is still used in large quantities in many parts of Asia, eastern Europe and South America, while even in the USA and Canada, controlled use is allowed.
The remarkable endurance of this magic mineral turned deadly dust is a complex tale. One of scientific deception and betrayal, greed, political collusion, the power of propaganda, and, above all, the willingness of some executives to knowingly subject hundreds of thousands of vulnerable people around the world to severe illness and even death in the pursuit of profit.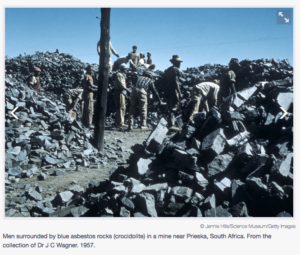 Magic minerals
Asbestos is a generic term used to describe six naturally occurring minerals made up of thin fibrous crystals. Chrysotile, or white asbestos, is the only form still in use, and accounts for 95 per cent of the asbestos mined and used by humans historically. Its curly fibres make it more flexible than a family of five other forms known as the amphiboles – amosite (brown asbestos), crocidolite (blue asbestos), anthophyllite, tremolite and actinolite – which all consist of needle-like fibres.
The characteristics of asbestos – strong, lightweight and heat-resistant – and the fact it could be split into fibres, mixed with other materials and easily shaped meant that use of the mineral soon caught on. Large-scale mining began in the second half of the 19th century in the USA, Italy and Canada, and during the 20th century it was incorporated into a huge variety of products, especially building materials such as concrete, pipes, cement, bricks, tiles and insulation for buildings and ships. It was also used in car parts, protective clothing, mattresses and even cigarette filters. The industry significantly expanded during both World Wars.
You may not have to look hard to find asbestos where you live or work. Many buildings still have asbestos-based components, including pipe insulation, decorative coatings, ceiling boards, fireproofing panels, window in-fill panels and cold water tanks.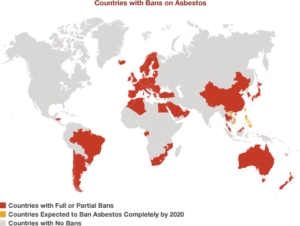 Research into precisely how asbestos causes mesothelioma and other forms of lung cancer is ongoing. The fibres are so small that most can only be seen under a microscope. Billions can be inhaled in a single day with no immediate effect, but longer-term the consequences can be deadly.
The fibres can become lodged in the lining of organs such as the lungs, causing damage that interrupts the normal cell cycle, leading to uncontrollable cell division and tumour growth. Asbestos is also linked to changes in the membranes surrounding the lungs – the pleura – including pleural thickening, the formation of scar tissue (plaques), and abnormal collections of fluid (pleural effusion).
"There is absolutely no doubt that all kinds [of asbestos] can give rise to asbestosis, lung cancer and mesothelioma," says Paul Cullinan, Professor of Occupational and Environmental Respiratory Disease at the National Heart and Lung Institute, Imperial College London. "It's probably the case that white asbestos is less toxic in respect to mesothelioma than the amphiboles. The industry tries to argue that you can take precautions so that white asbestos can be used safely, but in practice, in the real world, that is not what is going to happen."
This is the firm scientific consensus. But not everyone agrees.
Read the rest of the article at: https://mosaicscience.com/story/killer-dust
Source: Killer dust | Mosaic
As Australia's asbestos scandal grows, take action before it kills more workers
By Angelique Donnellan Updated yesterday at 4:49pm Originally published: http://www.abc.net.au/news/2016-08-24/asbestos-action-needed-before-it-kills-more-workers/7781364
The discovery of asbestos in imported building products in Adelaide at the start of the year was described as potentially "the tip of the iceberg" by the Asbestos Safety and Eradication Agency (ASEA).
In the few months since then there's been another case in Adelaide, as well as Brisbane and Perth.
Now, with the announcement of asbestos-tainted products in the $563 million Port Pirie smelter redevelopment, ASEA's fears appear well founded.
It's unclear how many workers connected to any of these projects may have come into contact with the deadly substance, if at all.
But asbestos kills silently and slowly.
Any young tradies exposed today are likely to be old men before they know whether they've contracted an asbestos-related disease like mesothelioma.
These are the cases we know of. We will never know just how much foreign asbestos is in the country undetected and will remain hidden.
It shouldn't have come to this. Imports of asbestos were banned in 2003. The fact it is here means either the laws aren't being enforced, or they are being deliberately flouted.
With the wind down in Australian manufacturing, coupled with the cheaper availability of foreign products, building companies are increasingly sourcing materials from China.
China's different standards creating confusion
In China asbestos isn't illegal, in fact it's accepted that "asbestos free" products can still contain up to 5 per cent chysotile or white asbestos.
An Australian company might be told what they're buying is "asbestos free" — and it is by Chinese standards — but not ours.
Australian Border Force (ABF) told me about the differing standards, suggesting that educating Chinese manufacturers was a key part of stopping the flow of asbestos-contaminated building products into this country.
It's definitely a good idea, but the ABF needs to take responsibility for its failings.
As senator Nick Xenophon put it: the ABF can stop asylum seeker boats, why can't they stop the boats with asbestos?
Critics say the authority has relied too heavily on "asbestos free" certifications. The ABF has conceded only a fraction of shipments were tested for asbestos at the border last year.
Just over 100 actually. Some asbestos advocates and union figures are calling for mandatory testing of all building products from China by a reputable laboratory. It might not be a bad start.
The ABF says each shipment undergoes a "risk assessment", but again critics point out if that were working, there wouldn't be this influx of asbestos.
Then there's the role of the Australian importers.
ABF says it is difficult to prosecute companies that are unknowingly bringing in tainted product. Nevertheless, it's arguable those companies need to be far more active in ensuring they are not doing so.
Stronger penalties would help encourage due diligence and testing before importing so-called "asbestos free" products from China and other suspect nations.
Of course it may be that some companies are knowingly importing asbestos into Australia. They should be held fully accountable.
The other question is whether the Federal Government is taking the issue seriously enough. The James Hardie era and fight put up by Bernie Banton and other asbestos disease sufferers seems like a distant memory.
Immigration Minister Peter Dutton has blamed the Construction Forestry Mining Energy Union (CFMEU) for forcing up building costs and driving Australian companies to "cut corners" by importing cheap Chinese materials.
The point of Senator Xenophon's "stop the asbestos boats" remark was it's the Government that ultimately dictates the priorities of Australian policy, and it's not giving the deadly material appropriate attention.
The Asbestos Eradication and Safety Agency predicts there will be 19,400 new cases of mesothelioma in Australia by the end of the century.
Legacy asbestos, which is a term used for the now extinct local industry, is the main culprit for that.
It will take decades to tell whether any death or disease will be caused by this new wave of foreign asbestos.
Time will tell, but of course for victims of asbestos as always, it will be too late.
The latest reports of asbestos-tainted roof panels and metal skirting at a Perth Children's Hospital project and a Queensland Government's Executive Building has highlighted the risks posed by non-conforming building products.
The discoveries coincide with the recent release of a report by the Building Products Innovation Council (BPIC) aimed at combating the increasing use of non-conforming building products in Australia which states; "There has been a serious breakdown in the regulation and oversight of both non-conforming and non-compliant building products, which requires determined action."
ICA CEO Rob Whelan said building product substitution could lead to potentially life-threatening situations. "The use of non-conforming or non-compliant building products, either inadvertently or deliberately to lower costs, is a serious problem that must be tackled," Mr Whelan said.
"Often the use of sub-standard building products only becomes apparent when something goes wrong, posing a risk to construction workers and the ultimate occupants of the building.
"Installing products that don't meet the required standards for their intended use may save costs for builders and developers, but detecting and removing them down the track can be extremely costly for owners, and potentially taxpayers.
"The increasing use of imported building materials, often ordered online from unfamiliar and untested suppliers and manufacturers, has increased the potential for non-conforming and counterfeit products to enter Australia. "The ICA broadly supports the BPIC's goal to better protect consumers and compliant businesses from poor-quality building materials. Just as the building and construction industry has evolved, so must the regulatory regime that oversees it."
Originally published: http://www.insuranceandrisk.com.au/non-conforming-building-products-ncbps-causing-serious-concerns-for-consumers-and-the-building-industry/
Australians are at risk of being exposed to asbestos in imported building products, an industry group has warned.
The Asbestos Industry Association said the potentially deadly material was discovered in cement compound board from China two months ago.
"The samples were tested in Asia with a certificate saying they were asbestos-free," association president Michael Shepherd told the ABC.
"We analysed those samples according to Australian standards and detected the presence of chrysotile or white asbestos."
The discovery was the latest in a number of imported building products that have tested positive for asbestos in the past year, including cement compound board in Canberra.
But Mr Shepherd said Australian border protection officials were not stopping the potentially deadly products from entering the country.
"Importers are accepting these goods in good faith and they're relying on the documentation from overseas stating these products are asbestos-free," he said.
"From what we know, customs are checking less than 5 per cent of all products that come into Australia, so it's very difficult to identify which products are coming in and which products do contain asbestos."
'No guarantee new Australian buildings are risk-free'
The Asbestos Related Disease Support Society Queensland has called for urgent action to protect people who could be exposed to asbestos.
"It will bring through another wave of asbestos-related diseases," spokeswoman Amanda Richards said.
"I mean, these people might have worked with these products for a while before they realise it's asbestos."
The Department of Immigration and Border Protection said it was looking into the matter.
Australian Border Force commissioner Roman Quaedvlieg told Senate Estimates this week the problem was ongoing.
He was asked by Senator Lisa Singh if he agreed with the Asbestos Safety and Eradication Agency that there was no guarantee Australian buildings built after the asbestos ban in 2003 would be risk-free.
"Yes I would," Mr Quaedvlieg replied.
He was also quizzed about the role customs officials play in protecting Australians from contaminated building products.
"That's where we can stop this, at the gate so to speak," Senator Singh said.
"You are right. We have certainly raised the level of awareness and consciousness in our workforce in relation to their responsibilities in this regard," Mr Quaedvlieg said.
He said he was due to travel to China over the weekend to discuss the matter.
"I make no secret of the fact that drugs is very high up on the agenda, but certainly prohibited imports like asbestos will be part of that conversation," he said.
First published http://www.abc.net.au/news/2015-10-23/new-evidence-australians-at-risk-asbestos-imported-products/6879856 by By Stephanie Smail