We currently have Bricklayers and Tilers looking to hire apprentices. They are after 'work ready' apprentices, people who have some basic skills and are aware of what working in the building industry is like. The Certificate II in Construction (CPC20112) is an excellent course that provides students with an introduction to the following trades:
Bricklaying (2 employers currently looking for apprentices as of 31/1/2017
Tiling (4 tilers looking for apprentices as of 31/1/2017)
Plastering (labourers positions appearing regularly on gumtree)
Concreting (2 employers seeking labourers)
Scaffolding – up to 4metres (shortage of scaffolders in Adelaide – especially around festival/ major event times)
Employers contact us directly looking for students to recommend. We also check adverts for jobs every morning and have close industry ties to give students extra guidance. Applicants will have the opportunity to see other pre-apprentices in action on the trade floor. Students will be working side by side with existing apprentices so they can discuss the industry, find out what life as a tradie is like, and see how over time how their skills develop.
If you are interested in applying, please email [email protected] or call 8367 5615.
If you are reading this because you want an apprenticeship there are a few things to keep in mind. Employers by far prefer to hire apprentices under 21 and with a car. That is because they want someone who they can afford and don't need to travel out of their way for.
As far as the affordability of apprentices goes, please keep in mind that although apprentice wages have steadily increased each year, the rates most tradespeople are paid have not. In South Australia the rates paid to bricklayers has virtually staid the same for a decade. All other states have seen a boom time for bricklayers in particularly in NSW & WA. As awards are set nationally, SA employers have to find the extra funds to run their businesses out of payments that have flatlined.
For this reason employers now more than ever need apprentices who are work ready. That means hiring someone who is able to do physical labour all day, every day. They also want reliable apprentices who show up on time, don't spend the day looking at their mobile phone, and can follow directions.
There will be times when you get on each others nerves. This happens in all workplaces. Whats not acceptable is workplace bullying, or behaviour that threatens your safety. In these cases, the best point of contact is the Office of the Training Advocate. They are there to assist apprentices and can be reached on 1800 006 488. We highly recommend the Training Advocate as they will keep all information confidential unless you specifically give them permission to talk to your employer.
Apprenticeships are created by signing a Contract of Training. Both sides have obligations they must keep. Ultimately apprenticeships are the best way to gain experience in a growing industry that provides support for future training and development. The Construction Industry Training Board (CITB) provides tradespeople with subsidized training that allows workers to 'up-skill' while working in the industry. You don't get that in many industries!
If your goal is to be your own boss, or if you cringe at the thought of working in an office job, an apprenticeship can be the first step towards a life time career. We have a record number of employers looking to hire apprentices. If you are interested in a bricklaying, solid plastering or a tiling career – call us on 8367561 or email a resume to [email protected]
It seems like hard work, but FCTA is here to walk tradies through the process of hiring an apprentice for the first time. The SA Government site has a good guide available, click here to follow the link. The former Skills for All now WorkReady programme also have information on their website – it just isnt as user friendly, click here to view their information.
First off, if you're like most people running a small business, you want to know (asides from the warm fuzzy stuff) 'what's in it for me?'. The good news is that there are incentives available to help employ apprentices. Some are paid by the Federal Government, and others are funded by industry – such as the CITB for all trades, and the ABBTF for bricklaying apprenticeships.
The following incentives are available for all trade apprentices:
SUBSIDIES AVAILABLE TO SA EMPLOYERS
6 months Federal Government Commencement $1,500
12 months CITB Subsidy $2,100
24 months CITB Subsidy $2,100
36 months CITB Subsidy $2,100
48 months CITB Completion $2,100
48 months Federal Government Completion $2,500
Total Subsidy = $12,400

Please note that as of July 2015 the old CITB logbooks have been replaced with a smartphone app called "My Profiling". Our recommendation is to have your apprentice enter in what they completed during the week before finishing up on Fridays. The app is straight forward, with images to indicate the type of activity each tradie may have completed that week, for example – setting out a site, laying brick veneer, handling tiling tools and equipment. For more information visit http://www.citb.org.au/TrainingInformation/MyProfilingApp.aspx
Bricklaying apprentices attract an extra $3000 in funding from the ABBTF:
SUBSIDIES AVAILABLE TO SA EMPLOYERS
TAKING ON A NEW BRICKLAYING APPRENTICE:
12 months ABBTF Brickstart Subsidy $1,000
24 months ABBTF Brickstart Subsidy $1,000
36 months ABBTF Brickstart Subsidy $1,000
There's a bit of paperwork involved, and FCTA can always help out employers with questions. As a bonus the ABBTF also offers an adult apprentice incentive of $2000. This is for apprentices who fall in between the ages of 21 – 24. Apprentices signed under 21 are juniors, and apprentices signed over 21 are 'adult' apprentices on higher rates.
Now for the actual sign up part,
Step 1: Register your business
Before taking on an apprentice or a trainee, you must register your business with Traineeship Apprenticeship Services (TAS).
TAS will arrange a worksite visit and assess your ability to meet the registration criteria. If you are already registered, go straight to step two. If you are considering hiring an apprentice, but need assistance obtaining your trade license, c0ntact Sam Cottell on 0430206032, or visit his site http://tradesa.com.au/
Register your business with TAS
Step 2: Find the right person
Options include:
Step 3: Select an Australian Apprenticeships Support Network
AASN's are contracted by the Australian Government to help employers with signing up to a training contract and advising whether they are eligible for any incentives. These people are also referred to as Apprenticeship Brokers.
In South Australia the current AASN's are:
We deal with a range of apprenticeship brokers, so if you are unsure, just call us or email. You can search this website http://www.australianapprenticeships.gov.au/find-my-aasn/full-list.
Step 4: Sign a training contract
Before starting an apprenticeship or traineeship, all parties must sign a training contract. The contract will outline the rights and obligations that apply for the length of the training period. An AAC will help prepare the training contract and other paperwork.
Step 5: Select a Registered Training Organisation (A Special Type Of Trade School)
FCTA – Building Careers is an RTO delivering training in South Australia. We focus on Bricklaying, Tiling, Solid Plastering & Wall and Ceiling Lining (gyprocking). We can deliver some training onsite, but more advanced units require students to attend trade school, or notify us if they are doing something similar on site, eg, decorative bricklaying, tiling a pool.
A Registered Training Organisation (RTO) is responsible for delivering the qualification and assessing competencies against the training plan. The choice of RTO should be made with your apprentice or trainee. A list of RTOs can be found on the website www.training.gov.au – (FCTA is RTO number 40057) this is the official national register of information on training packages, qualifications, courses, units of competency and RTOs.Only the former Skills for All, new WorkReady training providers may be eligible for Government funding of qualifications on the Funded Training List.
Step 6: Prepare a training plan
The RTO, employer and apprentice or trainee must agree on a training plan. The RTO is responsible for the preparation of the training plan. We have standard plans on our website, if you would like to change some electives, just let us know.
Step 7: Seek contract approval
TAS must approve the training contract and training plan to ensure they meet all legal requirements. Your AAC will lodge the signed training contract with TAS on your behalf. Your RTO will lodge the training plan.
Now, technically it should be smooth sailing from here… but sometimes problems arise. TAS may have a backlog of contracts for example. If you need any help at this stage, just call the AASN's and speak to the apprenticeship broker, or call us at FCTA.
Do you have more than 4 years experience working as a bricklayer, tiler, stonemason or plasterer? You now have the opportunity to have your skills formally recognised and gain a contractors license. All licensing costs can be included depending on the package selected.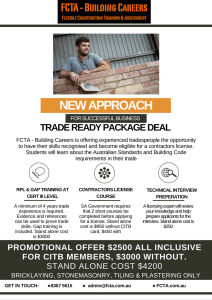 The SA Government requires tradespeople to complete 2 business units before applying for a license. FCTA – Building Careers has teamed up with SA Trade Licensing for a limited offer.
Packages start at just $2500 and include the cost to recognise trade experience formally with a Certificate III. This is the same certificate apprentices study. There may be some gaps in your knowledge, and thats not a problem as all gap training costs are also included. This would cost over $4000 normally!
The package includes the cost of the 2 business units and a preparatory technical interview with SA Trades Licensing. Successful students will be able to legally run their own businesses and advertise for work. There will be a focus on educating people in the relevant Australian Standards and National Construction Code (formally called the BCA).
If you've been working in the industry for 4 years or more, chances are you already have a CITB membership. If not visit citb.org.au to apply. The cost of this package is $3000 for people without a CITB membership.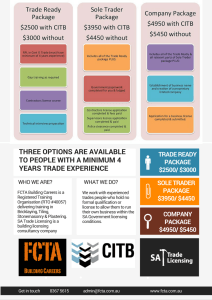 We have packages that also include filling in all application details, lodgement of forms and police checks from $3950 – this includes all government charges, no more to pay. If you are looking at investing in your long term success and establishing your own company, for $4950 we can take the work out of the paperwork! For more information, download our FLYER
Interested? Email [email protected] or call us on 8367 5615 to discuss.
The Certificate II in Construction (CPC20112) is classified as a pre-apprenticeship course. This is because it covers off a range of introductory skills that allow successful students to hit the construction industry running. Students are taught by qualified tradespeople and learn skills in bricklaying, tiling, solid plastering, concreting scaffolding and more. FCTA- Building Careers trains apprentices at the same time, so students will be able to interact with people working in the industry and get a first hand account of what being an apprentice is about.
The course runs for 10 weeks, Tuesday – Fridays. Starting time is 8am sharp. The course finishes Friday December 18th 2015. During the course, if apprenticeship opportunities come up we will recommend students who have shown an early aptitude and have been able to follow trainer instructions.
Applicants for Jobs First:STL courses must be aged 17 years or over and cannot be enrolled in school. For high school students over 16 TGSS funding is available.
WorkReady eligibility criteria are able to study for no cost. Applicants who are ineligible can pay $2000 to join the course, a payment plan is available at $200 per week. To check your eligibility visit http://www.skills.sa.gov.au/training-learning/check-your-eligibility
To apply for the course, email [email protected] or call 83675615.
HAVE YOU GOT YOUR UNIQUE STUDENT IDENTIFIER (USI) NUMBER?
From 1 January 2015 all students will be required to have a USI, because…government. This is a requirement for all courses, including the White Card and Contractors Licence courses.
It's easy…follow these 6 simple steps
STEP 1: Have at least one form of ID ready: Driver's License, Australian Passport, Medicare Card, Birth Certificate, Visa (with non-Australian Passport), Immigration Card or Citizenship Certificate.
STEP 2: Have your personal contact details ready: Address, email and/or phone number.
STEP 3: Visit usi.gov.au and click on 'Create a USI'.
STEP 4: Agree to the terms and conditions and follow the steps.
STEP 5: Write your unique number down and keep it somewhere handy and safe.
STEP 6: Bring this number with you when you enrol.
This years choice for Apprentice of the Year was made easy, as each staff member – from all our trades – recommended Nathan Dekker.
Nathan is 75% through his Cert III in Bricklaying. His work is of high quality. He is normally the first apprentice to arrive in the morning, and the one who creates a great mood amongst everyone. Aside from the trophy, Nathan will receive free training in the 2 small business units required to apply for a contractors license. Nathan has enormous potential for the future. From the team at FCTA – Building Careers, we'd like to wish Nathan and his lovely family a Merry Christmas. We are looking forward to 2015 and working with Nathan again!
An SA Parliamentary committee found the tax exemption for apprentices previously delivered a $53 million benefit to business and restoring the tax break would help get apprentices and trainees into jobs.