Big congratulations to Haydon Ashby, of Semaphore South, South Australia, for being awarded Apprentice Bricklayer of the Year 2017 in the HIA-Stratco state annual Apprentice & Trade Contractor Awards, held recently in Adelaide. Haydon is now in his third year, employed by HIA under a Group Training Organisation (GTO) arrangement where his host employer is Michael Quaini bricklayer based in Cowandilla, Adelaide.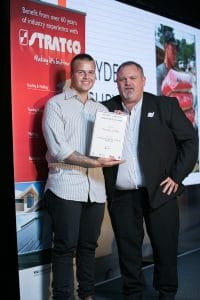 Haydon started work with Michael in early 2016 and has proven through his diligence and skill to be a worthy recipient of this award, as judged by field officers employed by HIA. There was only one bricklaying Award made by HIA and sponsor Stratco, covering all bricklaying apprenticeship years, so it is a strong recognition of effort to have achieved this award – well done Haydon!
I attended the event and on behalf of Australian Brick and Blocking Foundation (ABBTF) and presented this important award to Haydon. It was an honour and a pleasure to see SA's apprentices from several trades, receive acknowledgement for their strong performances.
If you're considering an Apprenticeship in SA check out your options at FCTA, TAFESA. Also visit Become-a-Bricklayer for information on how to explore bricklaying in your State and much more.
Just a bit more information on the role of Group Training:  For bricklayers not wanting to directly employ an Apprentice, Group Training is an excellent way to introduce new apprentices into your business without carrying the administration with the GTO employing and training the apprentice.
The host employer is a tradesperson who provides actual onsite training and as such pays the Group Training company a fee for the time that the apprentice spends onsite. There are advantages to this arrangement. For example some tradespeople want apprentices but do not want the responsibility of accruing or paying holiday pay, sick leave, and superannuation or training costs as such. Some tradesmen do not want the direct responsibility of overseeing the offsite training component and coordination of their apprentices to attend a local Training Provider (RTO), such as TAFESA, as part of the Certificate III completion. And some feel they may not have long term work and cannot sustain an apprentice for three to four years.
For apprentices it's an alternative pathway to direct employment with a bricklayer, providing them instead with a 'host' employer while being employed by the GTO, in this case HIA. GTO vs RTO explained.
Tony Bishop
ABBTF Regional Manager North West
Source: HIA-Stratco South Australia Awards Apprentice Bricklayer 2017
If you are interested in becoming a bricklayer, call us on 8367 5615. We have employers seeking apprentices. The requirements are:
under 21 years old
have drivers license and car
reliable with the ability to follow instructions
either have some experience or have completed a pre-apprenticeship course
These are genuine employers looking to hire. It's normal in the trade that applicants be prepared to complete some work experience with the employer first. One of the apprenticeships is with a group training organisation, who require a medical physical to be undertaken.
The recent South Australia Government Budget included some extra incentives for hiring full time staff, including apprentices. Over the last few years there have been a number of changes to the incentives employers are able to claim for hiring an apprentice. The current incentives are:
$1500 commencement incentive from the Federal Govt at 6 month milestone
$2100 CITB incentive at 12 month milestone
$2000 Job Accelerator Grant payment from State Govt at 12 month milestone
$2100 CITB incentive at 24 month milestone
$2000 Job Accelerator Grant payment from State Govt at 24 month milestone
$2100 CITB incentive at 36 month milestone
$2100 CITB incentive at 48 month milestone
$2500 completion payment from the Federal Govt at completion of contract
PLUS: Exemption from the Return To Work (WorkCover) levy
On top of this the Australia Brick & Block Training Foundation (ABBTF) also offers these extra incentives for BRICKLAYING apprentices
$3,000 Brickstart Subsidy – specifically for employers of bricklaying apprentices paid as $1000 over 3 years.
ABBTF also offers two special, one-off payments to employers and GTOs:
This years choice for Apprentice of the Year was made easy, as each staff member – from all our trades – recommended Nathan Dekker.
Nathan is 75% through his Cert III in Bricklaying. His work is of high quality. He is normally the first apprentice to arrive in the morning, and the one who creates a great mood amongst everyone. Aside from the trophy, Nathan will receive free training in the 2 small business units required to apply for a contractors license. Nathan has enormous potential for the future. From the team at FCTA – Building Careers, we'd like to wish Nathan and his lovely family a Merry Christmas. We are looking forward to 2015 and working with Nathan again!