The Certificate II in Construction (CPC20112) is often referred to as a 'Pre-apprenticeship' course. This is because employers looking to hire apprentices frequently recruit current students and graduates. Our next course starts 30th January 2018. The course will focus developing hand skills across tiling, bricklaying and plastering.

If you have been considering becoming an apprentice, but you're not sure which trade to focus on, this course will give you an insight into several different trades as well as basic concreting and scaffolding. You will also have the opportunity to work alongside existing apprentices to find out what working in the building industry is like.
The course is open to applicants over 16 years old. Government funding is available to most applicants via the State governments WorkReady programme. Students enrolled at High School who are over 16 can also complete the course under TGSS funding.
The goal of this course is to help students into work within the building and construction industry. We have employers who are currently looking to hire apprentices and during the course, you will have the opportunity to be placed into work experience. Employers are generally seeking people under 21 with a drivers license and vehicle. There are employers willing to consider adult apprentices, but they are much less common than junior apprenticeships. If you would like to know more, or have any questions please contact us on 8367 5615.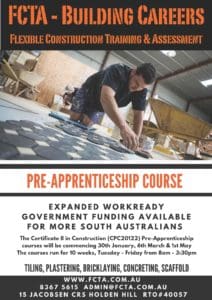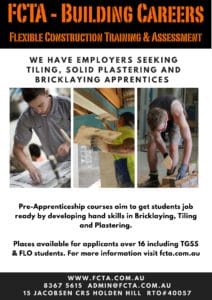 The Certificate II in Construction (CPC20112) is commonly referred to as a pre-apprenticeship course because it helps students become apprentices. FCTA – Building Careers has been running pre-apprenticeship courses for over 15 years. We now have graduates from our pre-apprentice courses hiring their own apprentices!
Students will have the opportunity to gain an introduction into the following trades:
Tiling
Bricklaying
Plastering
Scaffolding (up to 4m)
Concreting
We have employers currently seeking apprentices. For your best opportunity at gaining an apprenticeship employers are generally seeking the following:
Good work ethic
Reliability
Drivers license and car
Able to follow instructions
Most seek applicants under 21 but some adult apprenticeships are available, and skilled labourers are always wanted. To book a place in the course email us at info@fcta.com.au or call 8367 5615. Applicants will be asked to attend a short interview followed by a tour of the facility by our trainers. To check your eligibility for WorkReady funding, visit http://www.skills.sa.gov.au/training-learning/check-your-eligibility. Payment plans are available for students not eligible for Government funding.