Our most popular short course on waterproofing will be held on 19/2/18 – 21/2/18 (8am – 3:30pm). This course covers off a practical application of waterproofing to internal wet areas and balconies. The Australian Standards and Building Code will be discussed. Representatives from waterproofing manufacturers will also be available to answer questions and discuss the use of their branded systems.
Click on this link to book online, or call us on 83675615.  The Construction Industry Training Board (CITB) subsidies training for some existing building industry workers. To find out more visit citb.org.au. The cost of the course is $550 or $200 with CITB support.
Please note, this course alone will not qualify you to apply for a license – I get this questions all the time! You cannot become a waterproofer and certainly not a tiler based on a 3 day short course. On completion of the course, students will receive a Statement of Attendance. For people with other experience in waterproofing and/ or tiling, this can go towards your evidence to apply for a contractors license. If you have questions about licensing, please call us on 83675615.
The easiest customer to keep, is the one you already have! Book now for a 5 day short course, complete by June 30th and CITB members receive a $100 discount. Call us on 8367 5615 or email admin@fcta.com.au to discuss your training needs.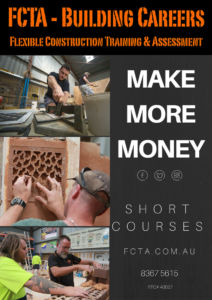 Our courses cover basic to advanced tiling, introductory bricklaying, traditional solid plastering and more. Click this link to download our course brochure. 
FCTA – Building Careers flexible approach to training means we can adapt projects to make them relevant to your particular needs. For example if a tiler wanted to be able to install cornices to bathrooms that have been tiled to the ceiling, we can create a project to match.
Please note, this promotion excludes our 3 & 4 day courses as well as the introduction to plasterboard course – due to the high cost of materials.
By popular demand we have developed a short 3 hour course in Waterproofing.  Our first course will be on Tuesday 28th February 2017 from 5pm – 8pm for $100. This is a classroom based course that will cover:
Building Code requirements
Complete review of AS3740 and discussion
Case studies & examples of failures
Product demonstrations, latest systems & review of manufacturers requirements
Q&A discussion group
The course will be held at FCTA – Building Careers, 15 Jacobsen Crs Holden Hill in South Australia. To book in and pay click here.