The easiest customer to keep, is the one you already have! Book now for a 5 day short course, complete by June 30th and CITB members receive a $100 discount. Call us on 8367 5615 or email admin@fcta.com.au to discuss your training needs.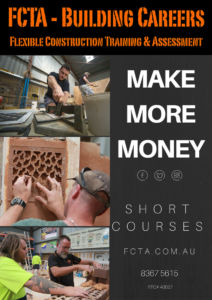 Our courses cover basic to advanced tiling, introductory bricklaying, traditional solid plastering and more. Click this link to download our course brochure. 
FCTA – Building Careers flexible approach to training means we can adapt projects to make them relevant to your particular needs. For example if a tiler wanted to be able to install cornices to bathrooms that have been tiled to the ceiling, we can create a project to match.
Please note, this promotion excludes our 3 & 4 day courses as well as the introduction to plasterboard course – due to the high cost of materials.
If you are interested in becoming a bricklayer, call us on 8367 5615. We have employers seeking apprentices. The requirements are:
under 21 years old
have drivers license and car
reliable with the ability to follow instructions
either have some experience or have completed a pre-apprenticeship course
These are genuine employers looking to hire. It's normal in the trade that applicants be prepared to complete some work experience with the employer first. One of the apprenticeships is with a group training organisation, who require a medical physical to be undertaken.