by Robert Bolton
There's been another steep fall in the number of people doing apprenticeships – although the government claims there are positive signs in the details.
At the end of September, there were 291,925 apprentices in training, that was 5.6 per cent fewer than at the same time in 2016. Trade apprenticeship commencements were down by 3.2 per cent year on year and non trade commencements down by 5.2 per cent. The government says although trade apprenticeships were down year on year, the quarter on quarter result shows an improvement of 4.2 per cent.
The Business Council of Australia, which has been pushing for an overhaul of the vocational sector said the apprenticeship system needs restoring.
Chief executive Jennifer Westacott said this meant restoring employer incentives, reducing unnecessary red tape and removing barriers that prevent employers from hiring apprentices.
"We need to get our act together and focus on the vocational system. We need transformational change so Australians can access education and training throughout their lives.
"Our tertiary system must be joined at the hip to industry. Without reform, we'll lose new businesses and new activities to other countries."
The chief executive of the Australian Industry Group, Innes Willox, said the overall trend continues a long-term slide in participation to the lowest level for a decade.
"The national level fell below 300,000 for the first time in September 2015. Since December 2015 the quarter levels of participation have ranged between the current figure of 262k and 285k.
"While there is improvement in some industry sectors, the overall levels of participation in this major training pathway continue to be a real concern to business and demonstrate the need for targeted and coordinated government invention."
The minister for vocational education and skills Karen Andrews said the biggest single issue was raising vocational education and training as a good pathway for school leavers – since it has to compete against universities.
She said the overall decline showed the importance of the government's $1.5 billion Skilling Australians Fund to arresting the slide. The fund was announced in 2017 and binds the states to match commonwealth spending. But so far no state government has committed to the agreement.
"The Federal Government has funding available right now for states and territories to sign up to the Skilling Australians Fund and submit projects so we can work together to address looming skills shortages in priority industries," the minister said.
"The money hasn't started to flow, states need to sign off on the agreement. There's no reason why states can't be putting proposals up to us"
But researcher Peter Noonan, from the Mitchell Institute, says more funding is not the issue.
He says the decline in apprenticeships reflects wider trends in the labor market. Employers are retaining existing skilled workers rather than putting on new ones.
"You can't blame the decline on funding. Because the apprenticeships are fully funded. It's more to do with general regard for skills training. There needs to be higher priority about skills training in the national conversation."
He said the most alarming trend was community and personal service workers where training is down 7 per cent year on year and down 28 per cent compared to 2012.
"Ageing and child care are in demand and the accreditation system means people have got to be accredited. You would hope there would be more people coming through getting those qualifications.
TAFE directors said the Skilling Australians Fund may have come too late. CEO of TAFE Directors Australia Craig Robertson said the problem is employers were walking away from taking on apprentices because the system was too difficult to engage with.
"The Government has taken its eye off the ball by its sole focus on schools and universities and has forgotten about VET and the vast majority of working age Australians who need a strong robust VET system."
Some sectors have shown especially sharp declines over the longer time frame – including Engineering, ICT and science technicians which are down nearly 70 per cent since 2012 and clerical trainees down 58 per cent.
Overall the current number of apprentices in training – at just under 262,000 compares to 443,000 in 2012.
Read more: http://www.afr.com/news/economy/employment/apprenticeships-continue-their-downward-slide-20180314-h0xg3y#ixzz5Ati8wikb
Follow us: @FinancialReview on Twitter | financialreview on Facebook
Source: Apprenticeships continue their downward slide | afr.com
A YOUNG plumber was only paid one-fifth of what he was owed. When he asked his boss about it, all he got was abuse.
Source: Plumbing boss hit with $121k fine for 'exploitation of a young person'
A MAN who told his employee to "seriously, f**k off" after the worker complained about being ripped off has copped a hefty fine.
Michael Patrick Pulis was slugged with a $21,500 penalty, while his company, Pulis Plumbing Pty Ltd, was hit with a further $100,000 fine.
Judge Grant Riethmuller found the employee — a 20-year-old plumber's labourer — had been underpaid by $26,882 for work done in Melbourne, Geelong and Bendigo in Victoria over a period of just three months in late 2014.
Judge Riethmuller slammed Mr Pulis for his "outrageous exploitation of a young person" and said his conduct had been "nothing short of avarice".
Mr Pulis paid the man an apprentice rate of just $12.18 per hour despite not having actually signed him up as an apprentice — which meant he was entitled to a far higher hourly rate of $37.08 for ordinary hours and up to $74.16 an hour for overtime.
Because the Fair Work Ombudsman had previously warned Mr Pulis that labourer rates must be paid unless an apprenticeship arrangement was formally registered, Judge Riethmuller found the underpayments had been deliberate.
The worker had only been paid one-fifth of what he was entitled to, and he also missed out on meal and travel allowances as well as leave and termination entitlements.
The employee worked 10- to 12-hour days and was never given feedback about his work, however, after three months on the job Mr Pulis told him his skills were not at a second-year apprentice level.
When the man asked his boss when he would be paid his wages, he was told: "Seriously, f**k off. When I'm ready."
"The conduct is worse than simply underpaying an employee who has had difficulty obtaining work elsewhere, as the respondents also held out the lure of an apprenticeship to this young man: a particularly significant career and life goal for a young person who is not academically inclined," Judge Riethmuller said.
"The amount of the underpayment, in comparison to the payments actually made, is significant.
"Remarkably, five of his previous apprentices were employed for less than 100 days."
The judge said an apprenticeship was supposed to involve mentoring and training and that "in this sense, the employer is in a position of trust with respect to the apprentice".
"A further loss on the part of the employee in this case is that the time working for the respondents cannot be counted against his apprenticeship because of the failure to sign and lodge the appropriate documentation."
The young man was back-paid only after the Fair Work Ombudsman commenced legal action.
Mr Pulis and his company were also found to have breached record-keeping and pay slip laws and failed to comply with a Notice to Produce records issued by a Fair Work inspector.
Fair Work Ombudsman Natalie James said the conduct could only be described as deliberate.
"It is simply unacceptable to exploit any worker in such a way and the conduct is even more abhorrent when you consider the response the worker received for doing nothing more than asking for what he was lawfully entitled to," Ms James said.
The Fair Work Ombudsman's newly released Record My Hours smartphone app has been designed to help vulnerable young workers such as the labourer in question.
It uses geofencing technology to provide workers with a record of the time they spend at their workplace, and it can be downloaded from the App Store and Google Play.
Our most popular short course on waterproofing will be held on 19/2/18 – 21/2/18 (8am – 3:30pm). This course covers off a practical application of waterproofing to internal wet areas and balconies. The Australian Standards and Building Code will be discussed. Representatives from waterproofing manufacturers will also be available to answer questions and discuss the use of their branded systems.
Click on this link to book online, or call us on 83675615.  The Construction Industry Training Board (CITB) subsidies training for some existing building industry workers. To find out more visit citb.org.au. The cost of the course is $550 or $200 with CITB support.
Please note, this course alone will not qualify you to apply for a license – I get this questions all the time! You cannot become a waterproofer and certainly not a tiler based on a 3 day short course. On completion of the course, students will receive a Statement of Attendance. For people with other experience in waterproofing and/ or tiling, this can go towards your evidence to apply for a contractors license. If you have questions about licensing, please call us on 83675615.
The Certificate II in Construction (CPC20112) is often referred to as a 'Pre-apprenticeship' course. This is because employers looking to hire apprentices frequently recruit current students and graduates. Our next course starts 30th January 2018. The course will focus developing hand skills across tiling, bricklaying and plastering.

If you have been considering becoming an apprentice, but you're not sure which trade to focus on, this course will give you an insight into several different trades as well as basic concreting and scaffolding. You will also have the opportunity to work alongside existing apprentices to find out what working in the building industry is like.
The course is open to applicants over 16 years old. Government funding is available to most applicants via the State governments WorkReady programme. Students enrolled at High School who are over 16 can also complete the course under TGSS funding.
The goal of this course is to help students into work within the building and construction industry. We have employers who are currently looking to hire apprentices and during the course, you will have the opportunity to be placed into work experience. Employers are generally seeking people under 21 with a drivers license and vehicle. There are employers willing to consider adult apprentices, but they are much less common than junior apprenticeships. If you would like to know more, or have any questions please contact us on 8367 5615.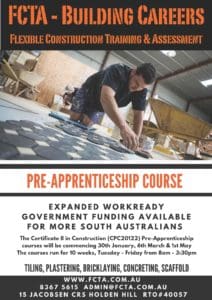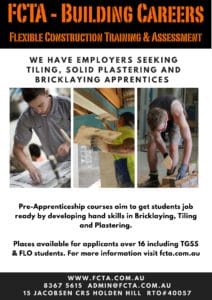 Originally published: news.com.au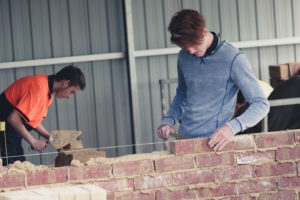 AFTER receiving their high school results over the past fortnight, graduates across Australia will be thinking long and hard about their options.
But while they're going through their course options and preparing job applications, anxious about the dwindling graduate employment rate and competition for positions, there's one category of jobs that will likely be overlooked.
Analysis by jobs website Adzuna has revealed the jobs that Australians just aren't interested in, with trades and construction coming out on top.
With minimal qualifications required, you'd think trades would be a popular choice.
The report showed that while jobs advertised in the construction industry has increased by 10 per cent, apprenticeship commencements were down 5.6 per cent year on year.
Adzuna CEO Raife Watson called on schools to remind students of the option of vocational education and training as an alternative to university.
"Despite reports that the residential construction boom in Sydney is starting to wind down, we continue to see growth year-on-year in advertised vacancies across a wide selection of job roles in trades and construction," he said.
"The primary concern for the construction industry is the continued decline in apprenticeship commencement rates."
Mr Watson said there was a "stigma" associated with TAFE studies and apprenticeships that Australia needed to work to remove.
"Twenty-three university graduates compete for each role, whereas in some Australian states, two jobs are available for all qualified apprentices," he said.
"I expect this number to increase in the coming years as apprenticeship numbers continue to decline."
In South Australia, where school leavers' results were released this morning, graduates are being urged to consider taking on a trade or traineeship.
Business SA says apprenticeships and traineeships are viable career options as Australia faces a skills shortage across a range of industries.
Sharyn Davies, from Apprenticeship Support Australia which is administered by Business SA, said a high score in year 12 is not a guarantee for future success.
"It's more important for young people to follow their passions," she said.
"When we are doing something that aligns with our strengths, skills and passions, we have a higher level of wellbeing and are more likely succeed in building a successful career."
Source: School-leavers not interested in trades
FCTA – Building Careers will be closed for the Christmas Holidays from 12pm Friday 22nd December. We will reopen Monday 8th January. If you need to contact us during this period, please call Trisch on 0400597117 or email info@fcta.com.au.
We'd like to wish everyone all the best for the holidays and a happy and safe new year.
We have employers seeking Bricklaying, Tiling and Solid Plastering apprentices. The Certificate II in Construction aims to get students work ready, and into an apprenticeship.
Employers typically want applicants to be under 21, with a drivers license and some experience or a Cert II in Construction. There are opportunities for those over 21, usually in labouring jobs, but sometimes as adult apprentices.
Our next course starts Tuesday January 30th and runs for 10 weeks at 15 Jacobsen Crs, Holden Hill. Government-funded eligibility has been improved so more people have the opportunity to study.
Call us on 8367 5615 or email admin@fcta.com.au for more information.
Dates for  2018:
30/01/2018 – 06/04/2018
06/03/2018 – 11/05/2018
01/05/2018 – 06/07/2018
8am – 3:30pm Tuesday – Friday for 10 weeks at 15 Jacobsen Crs, Holden Hill.
This qualification requires 9 core units of competency and 6 electives to be completed. For more information on this training course and employability skills, please visit training.gov.au
Qualification Code: CPC20112
Core
Total qualification: Approx 500 hours depending on electives

Electives
Unit Code
Unit Title
Hours
CPCCOHS2001A
Apply OHS requirements and procedures in the construction industry
20
CPCCCM10012A
Work effectively in the General Construction Industry
20
CPCCCM1013A
Plan and organise work
20
CPCCCM1014A
Conduct workplace communication
20
CPCCCM1015A
Carry out measurements and calculations
20
CPCCCM2001A
Read and interpret plans and specifications
36
CPCCCM2006B
Apply basic levelling procedures
8
CPCCCO2013A
Carry out concreting to simple forms
20
CPCCCM2005B
Use construction tools and equipment
96
CPCCCM2010B
Work Safely at Heights
8
Unit Code
Unit Title
Hours
CPCCCM2008B
Erect and dismantle restricted height scaffolding
40
CPCCCM2009A
Carry out basic demolition
32
CPCCSF2004A
Place and fix reinforcement materials
80
CPCCSP2003A
Prepare surfaces for plastering
40
CPCCCM2007B
Use explosive power tools
16
CPCCWF2002A

CPCCPB3001A

CPCCSP2002A

CPCCBL2002A

PLUS ONE OF THE FOLLOWINGUse wall & floor tiling equipment

Fix standard plasterboard wall sheets

Use solid plastering tools and equipment

Use bricklaying tools and equipment

96

60

80

30
Did you know that choosing a bricklaying apprenticeship will put you financially ahead of a 3 Year Bachelor's Degree by about $110,000 by your 3rd year?   You will have earned a training wage while you learned a craft-based skill, plus your training fees are reimbursed by your employer and your tool costs are relatively minimal.
Meanwhile, the university student is paying fees upfront and relying on unskilled casual work to subsidise living expenses with no specific job prospect at the finish.  In fact, the report referred to below states that it takes an average of 4.7 years for a uni grad to find full time work in their industry of study.
Read the rest of the article: https://www.becomeabricklayer.com.au/brickies-blog/trade-apprenticeship-pay-rates-put-you-110000-ahead-of-uni-grads-after-year-3-of-study/
Source: Trade Apprenticeship Pay Rates put you $110,000+ ahead of Uni Grads after Year 3 of Study -Become a Bricklayer: Apprenticeships
THE first mass hiring at Adelaide's naval shipyard in seven years will start within days, as 600 jobs are created during a $535 million infrastructure build.
Hailing the end of the so-called "valley of death" of shipbuilding jobs, Defence Industry Minister Christopher Pyne will on Thursday reveal Sydney-based construction giant Lendlease has been selected as the managing contractor for the Osborne South Shipyard construction.
Hiring and other mobilisation work will start this month and the new shipbuilding infrastructure is expected to be ready for the $35 billion project to build nine frigates, starting in 2020.
It is expected the announcement of 600 construction jobs for the Osborne yard's expansion will be the first of hundreds of naval shipbuilding jobs to be detailed in coming weeks and months.
A PwC study exclusively revealed by The Advertiser yesterday forecast the Adelaide-based $89 billion naval shipbuilding program, headlined by the $50 billion project to build 12 new submarines, would create 8000 jobs in South Australia over 40 years and deliver a $134.4 billion boost to Gross State Product.
Mr Pyne, above, said the Osborne South Shipyard construction project would create 600 jobs at its peak, the biggest hiring at the Techport shipbuilding precinct since construction of three air warfare destroyers started in 2010/11.
"The valley of death is over and we are now seeing an upturn of employment in naval shipbuilding in our state that will only continue to increase as these new projects gain momentum," said Mr Pyne, also the Sturt MP.
Osborne-based shipbuilder ASC axed 130 jobs in January as part of the continuing decline of work on the $9 billion air warfare destroyer project, which peaked at about 1500 Adelaide jobs in early 2015 ahead of the first ship's launch.
Finance Minister Mathias Cormann, whose department owns the Techport precinct, said the $230 million purchase of the shiplift and wharf from the State Government in May had enabled work to progress quickly.
Senator Cormann declared the contractor announcement the latest step to "enable our historic investments in naval shipbuilding to commence on schedule".
Mr Pyne in May revealed the $535 million infrastructure build to support the frigate construction, along with the first two of 12 offshore patrol vessels to be built at Osborne from next year, before the $3 billion project moves to Perth.
The first sod was turned in August on the $535 million yard — part of an expected $1.3 billion infrastructure investment at Osborne.
The Advertiser at the time revealed the new yard has been designed so most work can occur indoors and will use the latest technology, including robotic welding to increase accuracy and efficiency.
BUSINESSES URGED TO GET EXCITED
The South Australian business community is being urged to get excited about and prepare for the $89 billion "economy-changing" opportunity linked to defence shipbuilding work.
The Australian Defence Force will get a new fleet of submarines, frigates and offshore patrol vessels over the next few decades with most of the work being done in SA and WA.
New research by professional services firm PwC yesterday revealed the projects will deliver a massive $134.4 billion boost for the state, including 8000 jobs.
French company Naval Group (formerly DCNS) has won the $50 billion contract to build 12 submarines at Osborne's Techport naval shipbuilding precinct.
Nine frigates will also be built at Osborne in a $35 billion project from 2020, as well as the first two of 12 offshore patrol vessels from next year before the project transfers to Western Australia. Submarine construction will start in 2022-23 and the last boat is likely to enter service in the early 2050s. For much of this time, the frigates project will also be running.
Defence Minister Christopher Pyne, BAE Systems Australia chief executive Glynn Phillips and News Corp Australia's SA managing director Ish Davies will be discussing the economic boost in store for the state at an event in Adelaide on Thursday night.
The event will also celebrate a seven-week project that analysed the opportunities linked to the Naval Shipbuilding Program, which culminated in a magazine publication.
Mr Phillips highlighted the need for SA to keep its "eye on the ball" to ensure shipbuilding provides genuine, long-term opportunities to create new industries and thousands of highly paid jobs.
"It is important we get this right from the start. We need to work together, and collaborate across industry and academia. We need to be well prepared to meet the challenges ahead," he said.
Source: 600 construction jobs to be created for Osborne South naval shipyard | Adelaide Now

The builders of an award-winning home made from hemp hope to inspire a shift towards making it a mainstream construction material.
Balanced Earth recently won the Master Builders New South Wales Energy Efficient Building award for a home in the Byron Bay hinterland, in northern New South Wales.
Architect Michael Leung said while industrial hemp was popular in textiles, there was a growing interest in using the cannabis sativa plant in buildings.
"I think we've just hit the hemp industry at the right time, and in Byron Bay there's a real consciousness and responsibility to the environment so it's just seamlessly flowed together," he said.
Builder Luke Wrencher said hemp's most positive attribute was its sustainability.
"When you grow the hemp it takes the carbon out of the atmosphere and it stores the carbon in that fibre and you process it and lock the carbon up into the building, so at that point it becomes carbon negative," he said.
"To have a building material that is carbon negative is almost revolutionary."
Making hempcrete
To use hemp in construction, the builders take the chopped hurd, that is the inner woody core, and mix it with lime and sand to create a substance they have dubbed "hempcrete".
In the award-winning Byron hinterland home, the builders constructed frames from recycled timber to hold the hempcrete walls.
"The actual packing of the hemp is very easy to do, kids, children, wives, husbands, anyone can do it," Mr Wrencher said.
"The hardest thing is you need a carpenter for your formwork, but then it can definitely be a community thing to do, pack the hemp into the formed up walls."
The set walls have a texture similar to rendered concrete.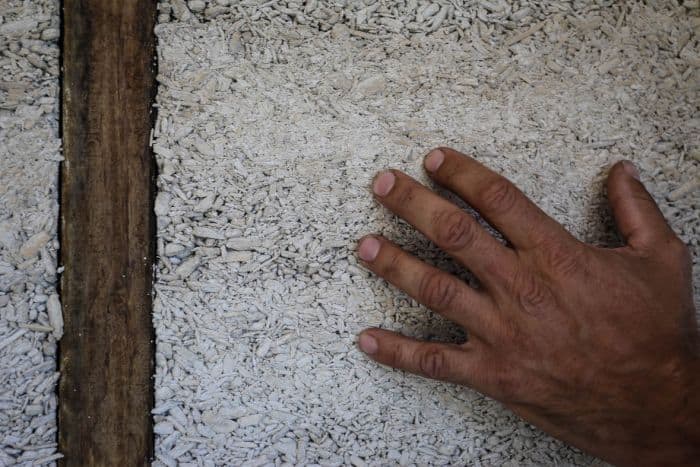 Healthy option
Mr Leung said he began looking into hemp after his wife's father died from mesothelioma, an asbestos-related illness.
"We moved to Byron and wanted to build our dream home and my wife was adamant we weren't going to use any toxic materials," he said.
"Then we met Luke, who had been working with hemp, and it went from there."
Mr Leung said hemp had proven to have outstanding thermal and acoustic properties.
"It's not just an insulator, it buffers temperature and humidity and prevents damp and mould growth," he said.
"It makes the building a healthy environment."
Making hemp mainstream
Mr Leung said the company's goal was to make hemp commonplace in the Australian construction industry.
He said the cost was comparable to conventional building products and could potentially be lowered if greater quantities of industrial hemp were grown commercially.
"Our vision is to really get hemp into mainstream construction and design," he said.
"We're leading the way in terms of design and builds in this country in hemp and we've only done eight builds and a number of feature walls.
"We'd really like all builders to be using it and there's no reason why they shouldn't."
Source: High hopes for hemp in Australian building industry