Do you have more than 4 years experience working as a bricklayer, tiler, stonemason or plasterer? You now have the opportunity to have your skills formally recognised and gain a contractors license. All licensing costs can be included depending on the package selected.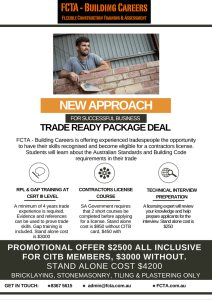 The SA Government requires tradespeople to complete 2 business units before applying for a license. FCTA – Building Careers has teamed up with SA Trade Licensing for a limited offer.
Packages start at just $2500 and include the cost to recognise trade experience formally with a Certificate III. This is the same certificate apprentices study. There may be some gaps in your knowledge, and thats not a problem as all gap training costs are also included. This would cost over $4000 normally!
The package includes the cost of the 2 business units and a preparatory technical interview with SA Trades Licensing. Successful students will be able to legally run their own businesses and advertise for work. There will be a focus on educating people in the relevant Australian Standards and National Construction Code (formally called the BCA).
If you've been working in the industry for 4 years or more, chances are you already have a CITB membership. If not visit citb.org.au to apply. The cost of this package is $3000 for people without a CITB membership.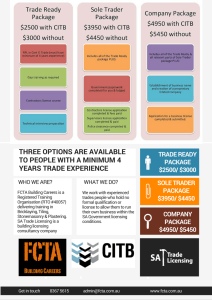 We have packages that also include filling in all application details, lodgement of forms and police checks from $3950 – this includes all government charges, no more to pay. If you are looking at investing in your long term success and establishing your own company, for $4950 we can take the work out of the paperwork! For more information, download our FLYER
Interested? Email admin@fcta.com.au or call us on 8367 5615 to discuss.