The builders of an award-winning home made from hemp hope to inspire a shift towards making it a mainstream construction material.
Balanced Earth recently won the Master Builders New South Wales Energy Efficient Building award for a home in the Byron Bay hinterland, in northern New South Wales.
Architect Michael Leung said while industrial hemp was popular in textiles, there was a growing interest in using the cannabis sativa plant in buildings.
"I think we've just hit the hemp industry at the right time, and in Byron Bay there's a real consciousness and responsibility to the environment so it's just seamlessly flowed together," he said.
Builder Luke Wrencher said hemp's most positive attribute was its sustainability.
"When you grow the hemp it takes the carbon out of the atmosphere and it stores the carbon in that fibre and you process it and lock the carbon up into the building, so at that point it becomes carbon negative," he said.
"To have a building material that is carbon negative is almost revolutionary."
Making hempcrete
To use hemp in construction, the builders take the chopped hurd, that is the inner woody core, and mix it with lime and sand to create a substance they have dubbed "hempcrete".
In the award-winning Byron hinterland home, the builders constructed frames from recycled timber to hold the hempcrete walls.
"The actual packing of the hemp is very easy to do, kids, children, wives, husbands, anyone can do it," Mr Wrencher said.
"The hardest thing is you need a carpenter for your formwork, but then it can definitely be a community thing to do, pack the hemp into the formed up walls."
The set walls have a texture similar to rendered concrete.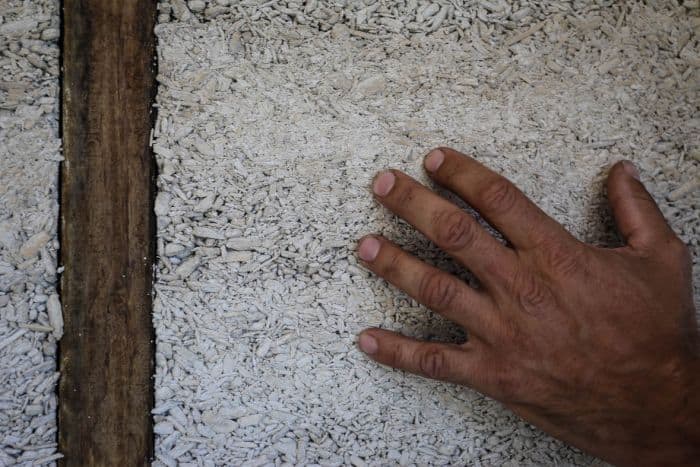 Healthy option
Mr Leung said he began looking into hemp after his wife's father died from mesothelioma, an asbestos-related illness.
"We moved to Byron and wanted to build our dream home and my wife was adamant we weren't going to use any toxic materials," he said.
"Then we met Luke, who had been working with hemp, and it went from there."
Mr Leung said hemp had proven to have outstanding thermal and acoustic properties.
"It's not just an insulator, it buffers temperature and humidity and prevents damp and mould growth," he said.
"It makes the building a healthy environment."
Making hemp mainstream
Mr Leung said the company's goal was to make hemp commonplace in the Australian construction industry.
He said the cost was comparable to conventional building products and could potentially be lowered if greater quantities of industrial hemp were grown commercially.
"Our vision is to really get hemp into mainstream construction and design," he said.
"We're leading the way in terms of design and builds in this country in hemp and we've only done eight builds and a number of feature walls.
"We'd really like all builders to be using it and there's no reason why they shouldn't."
Source: High hopes for hemp in Australian building industry
Getting an apprenticeship in South Australia can lead to a long term career in the Building and Construction Industry. That means working outdoors, earning an income while you study and having the opportunity to eventually be your own boss. The tricky part can be choosing which trade is the best fit. Pre-apprenticeship courses are an excellent way to try a number of trades before selecting which one you most enjoy.

Many people select the trade they want to focus on based on knowing someone working in that field. That doesn't necessarily mean its the trade for you, but it is a good way to find out what working in the industry is like. At FCTA – Building Careers we have developed a pre-apprenticeship programme that allows people to try bricklaying, tiling, plastering, basic concreting and scaffolding. These are also the trades we train apprentices in. That means if you enrol in a pre-apprenticeship course with us, you will be working on some projects with existing apprentices. This is a great way to find out more about the trade.
Currently, we have a number of employers urgently looking to hire apprentices. The majority are after people under 21 who have a drivers license and car. If you are in the process of getting your license, most will consider your application. Adult apprenticeships aren't as readily available. This is because the employer is paying anyone over 21 at the full rate. Many times employers will prefer to hire people over 21 as labourers instead.
The difference between labouring and an apprenticeship is a 'Contract of Training'. That means that apprentices sign a binding contract with employers to work for them under the apprenticeship scheme. The benefits for apprentices are that they are paid to go to trade school to complete a Certificate III in their trade of choice, that's the 'earn and learn' tag sometimes mentioned. Contracts are normally for 4 years, so getting an apprenticeship offers both job security and further education.
To help get an apprenticeship in Adelaide you can enrol in a pre-apprenticeship course, approach trades people directly or contact group training organisations (GTO). GTO's are places like the HIA, TABMA, Maxima, CEG who hire apprentices directly and then place the apprentice with a 'host' employer. The Government has also set up a great website that explains the pathways for apprentices https://www.aapathways.com.au/
If you are considering an apprenticeship and you have questions, you can always arrange a time to talk to us or come in for a meeting. Our pre-apprenticeship courses run through out the year. If you would like to enrol, please call on 8367 5615 or email admin@fcta.com.au. The dates for our next courses are:
05/09/2017 – 10/11/2017
30/01/2018 – 06/04/2018
06/03/2018 – 11/05/2018
01/05/2018 – 06/07/2018
Advertised positions are often posted on Gumtree, Facebook, Seek & Indeed Jobs. Each morning a summary of these advertised roles are posted to our Facebook page.
Hiring a new employee is an important decision for your business. We have specialised resources to help you find the right person, get them started and meet your obligations under workplace laws.
Tips for hiring new staff
There are a few things you should know when you're hiring staff, especially if you're doing it for the first time.
Know the law
There are laws which give employees rights including minimum wages, pay slips, leave and notice of termination. You also need to know about tax, superannuation and workplace health and safety.
Thinking about hiring
Assess the current and future needs of your business and define the role you want to fill.
Attract the right people
Once you have a clear idea of the role you want to fill, advertise the position. Make sure the right people hear about it and want the job.
Choose the right person
Shortlist job applicants whose skills and experience best match the role, and ask interview questions that focus on the skills and abilities needed for the role.
Make an offer
Once you've chosen someone, contact them to offer them the job. It's best to follow this up in writing with a letter of offer.
Start on the right foot
Invest time in a thorough introduction because this will help you get the most from your new employee. It will also make sure that your employee feels well-informed, welcomed and equipped to do their job.
Have a productive workplace
Meet with your new employee to set goals, expectations and training needs during the first few weeks. Then schedule regular catch-ups to talk about how they're going.
Resources for hiring new staff
When you're hiring new staff, you can use our Guide to hiring new employees (RTF 1.3MB)(PDF 309KB) to help you find the right employee for your workplace and get them started on the right track.
If you're hiring an apprentice, use our Guide to taking on an apprentice (DOCX 64.9KB)(PDF 2.4MB) to help you understand your obligations.
Once you've hired someone, you can provide them with our Guide to starting a new job (DOCX 39.9KB)(PDF 235.7KB) or Guide to starting an apprenticeship (DOCX 68.6KB)(PDF 1.7MB), to help them understand their rights and obligations.
Source: Hiring employees – Help for small business – Fair Work Ombudsman
Degree apprenticeships bridge the gap between technical skills, employment and higher education. Is there scope for something similar in Australia?
There are growing calls for a debate about the role of post-school in society, both in Australia and overseas.
After 30 years of constant expansion, some complain universities have become too vocational in nature — too focused on jobs, not enough on the art of inquiry.
At the same time, the vocational education sector is reeling from 15 years of funding cuts and the aftershocks of failed free-market experiments.
Numbers in trade apprenticeships and traineeships are plummeting. Less than 30 per cent of vocational students in Australia work in the areas in which they studied.
The same is true of higher education. An annual survey of university graduates from 2014 shows 54 per cent of all bachelor's degree holders said their qualification was a formal requirement for their job.
But the proportion ranged from one in four humanities graduates to 96 per cent of medical graduates. The more regulated the profession, the more degree and career path are likely to be correlated.
The British higher education system is rolling out an alternative education route.
Degree apprenticeships were launched in the UK in 2015. These are designed to bridge the gap between technical skills, employment and higher education.
They're part of a larger scheme intended to reinvigorate apprenticeships more broadly.
A 0.5 per cent levy on corporations with an income of more than 3 million pounds ($4.8 million) funds the system.
Supporters say the initiative is good for employers and good for students, especially for disadvantaged students.
They not only struggle to get into higher education (despite an uncapped system) but are also much more likely to drop out of it.
How do degree apprenticeships work?
Degree apprenticeships work a lot like traditional trade apprenticeships: students work in a related job with their education strapped on around their employment.
Traditional degrees are steeped in theory and deliver practical experience through internships, practicums or other work-based experiences.
In contrast, degree apprenticeships deliver a skill and a qualification simultaneously. Students work four days a week and study for one.
Crucially, the apprenticeship levy covers tuition fees, so students don't graduate with a debt.
If adopted here, this could enable Australia to avoid the distress over rising debts seen in the UK, where it is expected 80 per cent of students will never fully repay their loans.
In the last UK election, Labour leader Jeremy Corbyn rode a rising tide of anger among younger votersover student debt with his promise of a return to free higher education.
Even Andrew Adonis, Tony Blair's former adviser and architect of the current loans scheme, switched camps.
He described the income-contingent loans scheme that resulted in a tripling of fees in 2012 as a Frankenstein's monster and "a Ponzi scheme".
Are we at a tipping point for higher education?
While Australia doesn't have the same immediate crisis, several factors suggest higher education could be heading slowly towards a tipping point.
Government plans to increase university fees and introduce more rigorous parameters for the Higher Education Loans Program (formerly HECS) have sparked furious debate.
Meanwhile, graduates face a declining employment market. Just 69 per cent of graduates in 2014 held a full-time job four months after graduation, compared to 81 per cent a decade earlier.
Part-time work, casualisation and under-employment are widespread. Graduate salaries have been more or less static for years.
Increasingly, students, particularly the most advantaged, turn to postgraduate education to boost their chances in an overcrowded jobs market, raising questions over credentialism.
Having larger numbers of people with a higher degree produces public benefits, including better health, better parenting, higher rates of volunteering and lower rates of incarceration.
But all of this comes at a cost to the taxpayer and does little to correct an imbalance in skills entering the jobs market. Too many lawyers does not balance out a shortage in IT experts or agricultural scientists.
The question is whether new pathways need to be created to help young people straddle the gap between education and work.
Preparing graduates for the workforce
Work is underway on this issue in Australia.
The University of Tasmania, for example, is adding associate degrees, which are shorter, cheaper and more vocationally focused on local industries than full bachelor degrees.
Perhaps other institutions, particularly those in regional and outer-metropolitan areas, should consider the possibilities offered by the UK-style degree apprenticeship model.
These are the universities, after all, that educate by far the greatest proportion of disadvantaged students.
Ironically, degree apprenticeships are a modern, more work-intensive version of the associate degrees that colleges of advanced education offered before the higher education system was unified under the Hawke government in 1989.
Perhaps part of the emerging discussion should include a return to a tripartite public education and training system, which includes TAFE, teaching-only polytechnics and research-intensive universities.
The post-secondary education sector may have a limited appetite for more structural reform.
However, as a society, we do need to tackle the question of whether a higher education system devised 30 years ago, onto which uncapped student places have been glued, is still fit for purpose.
Times have changed and education systems must surely move with them.
Stephen Parker is an honorary professorial fellow at the Melbourne Centre for the Study of Higher Education, University of Melbourne and an emeritus professor at the University of Canberra. He is also the education lead partner at KPMG Australia.
Source: Degree apprenticeships bridge work and higher education — should we have them in Australia? – ABC News (Australian Broadcasting Corporation)
As an apprentice you'll get the same entitlements as other employees, such as annual leave, sick leave, public holidays and breaks.
You also need to know about your entitlements for your training, like whether you get paid to attend training and who pays for your training fees. Find out about:
There may also be specific entitlements in your award that apply as well. Read about:
For detailed information about rights and responsibilities as an apprentice, check out our Guide to starting an apprenticeship (DOCX 68.6KB) (PDF 1.7MB).
Best practice tip

You should also check your training contract for other entitlements.
There may be entitlements in awards and registered agreements that apprentices don't get.
Time spent at training
Off-the-job training is time spent in structured training delivered by a Registered Training Organisation (RTO). It's often delivered at a site away from the workplace and referred to as trade school. It doesn't include:
normal work duties or
supervised practice on the job.
Payment for time spent at training
Apprentices
The time you spend at trade school is paid time and is included in your ordinary hours of work (eg. 38 hours). You need to agree with your employer about how often you will go to trade school (eg. 1 day per week or week blocks of training).
If you don't go to trade school when you're supposed to, you don't get paid for that time (unless you're on sick leave or another type of leave).
School-based apprentices
The payment for trade school isn't worked out based on the actual hours you go to training. Instead, you get paid for 25% of the hours you work for your employer each week.
This payment for training:
only applies when you're a full-time school student
is paid at the full-time apprentice hourly rate (including any all-purpose allowances)
can be averaged over a semester or the year.
If you aren't a full-time student you have to be paid your hourly rate for all the time spent in training.
Example: Payment for training for school-based apprentices

Sean is a full-time school student doing a school-based apprenticeship. He works 8 hours per week with his employer.

Sean must be paid:

for the 8 hours per week he works with his employer and
2 hours per week for his off-the-job training (being 25% of 8 hours).

In total, Sean needs to be paid 10 hours per week.
Training costs – fees and textbooks
You have to be reimbursed for:
all the fees charged by your RTO that are related to your training
the cost of your prescribed textbooks for your apprenticeship.
Check your award to find out when you should be reimbursed.
When training costs aren't reimbursed
An employer doesn't have to reimburse you for fees and textbooks if:
your progress in the course is unsatisfactory
your employer pays the costs and fees directly to the training organisation, or
you aren't working for them at the set time that the costs have to be reimbursed.
They also don't have to reimburse you any part of the fees that the Government reimburses you.
Think a mistake might have been made?
Mistakes can happen. The best way to fix them usually starts with talking.
Check out our Help resolving workplace issues section for practical advice on:
figuring out if a mistake has been made
talking to your employer or employee about fixing it
getting help from us if you can't resolve it.
You might also be interested in
Source: Apprentice entitlements – Fair Work Ombudsman
Building cladding has been checked on thousands of Adelaide CBD buildings and 77 of them listed for more detailed checks, including the new Royal Adelaide Hospital, which is due to officially open in early September.
The Metropolitan Fire Service (MFS), Adelaide City Council and a State Government department checked 4,500 buildings of two storeys or more, in the wake of London's fatal Grenfell Tower blaze this year.
The audit determined 77 buildings, including the new city hospital, warranted further investigation but 38 of those buildings had isolated cladding.
MFS chief officer Greg Crossman confirmed the new Royal Adelaide (nRAH) was on the list for more checking.
"My understanding is that questions have been raised about cladding in the nRAH," he told reporters.
"The Metropolitan Fire Service — obviously with the nRAH being a major building construction piece for South Australia — we've had an interest from planning and designing phase right through to the opening phase."
Mr Crossman said he felt confident the building would comply.
"I can assure everyone here that the cladding used in the nRAH building, to our knowledge, meets the conformity requirements of that building, so I have no concerns that the nRAH building is not safe."
Lord Mayor Martin Haese said it was important to make a thorough assessment of buildings.
"For reasons that are extraordinarily unfortunate, the Grenfell incident has brought this to everyone's attention and this is top of mind," he said.
What did the cladding audit check?
There was a focus on composite aluminium cladding, types of which were used in both London's Grenfell Tower and an apartment block which caught fire in Melbourne's Docklands in 2014.
SA Deputy Premier John Rau said the composite material was "not of itself illegal or necessarily a risky material to use in construction".
He said further checks would take in factors such as overall design and sprinkler systems.
Mr Rau said he was hopeful all the identified CBD buildings would pass MFS physical inspections.
"Whatever is found by the MFS that may not be up to scratch will be the subject of immediate action," he said.
"The MFS have all the powers of direction when it comes of public safety so nobody need be concerned."
Details of other buildings on the list of 77 premises have not been made public.
Should CBD apartment occupants be worried?
Mr Rau and Mr Crossman both say there is no need for worry.
"I think it's very important that we make it clear to people who might be concerned about these matters that the standards that are required of [developers] are very high," the Deputy Premier said.
"Before anyone has moved into these buildings there's a certification, independent of the builder, that that building is compliant with those building standards."
He said the second phase of investigations would ensure there was no issue with any CBD building which had not been apparent from the checks of design specifications.
Source: Cladding audit identifies 77 Adelaide CBD buildings warranting fire safety inspections – ABC News (Australian Broadcasting Corporation)
A 20-storey apartment building has been granted development assessment approval for Adelaide's East End.

The $70 million "Monument" tower will rise 63 metres high and have sweeping views of the Adelaide foothills, parklands and city.
The project is a joint venture between Singapore-based financier and SA expat Mark Ebbinghaus and Adelaide developer C Projects. It is designed by BDA and TECTVS, based in Adelaide.
The apartment building will be set back from Rundle Street and East Terrace and will provide a unique movable mosaic through the innovative use of adjustable architectural screens on the building façades, which combine influences from the parklands and Colonel Light's layout for the city
Design by architects BDA and Adelaide-based TECTVS, the apartment building will be set back from Rundle Street and East Terrace and will use adjustable screens to create a moveable "mosaic" on the building façades.
Stephen Connor, director of C Projects, said "As well as being catalyst for economic development in the East End, the design of this project will also see the existing heritage buildings on the site maintained and enhanced as part of the redevelopment.
"The project will also add significant employment and economic benefit for South Australia, with an estimated 110 jobs created in construction and a further 1100 jobs in the broader community.
"Not only is it the premier lifestyle destination in Adelaide, all apartments have superb, generous, functional floorplans and will enjoy priceless views.
"It's a great time to be buying an apartment in Adelaide, with stamp duty, rate holiday and construction incentives available for early purchasers," Mr Connor said.
Completion is anticipated for 2020.
Source: $70 Million Building in Adelaide Approved for Development – TheUrbanDeveloper.com
Joel Fitzgibbon is a member of parliament, but let's not hold that against him! Here he writes about the decline in apprenticeships
How do we expect to maintain a strong economy and give our kids every opportunity if we allow the progressive disappearance of apprenticeships? The latest yearly figures from the National Centre for Vocational Education Research (NCVER) show once again that apprentice numbers have fallen over the last three years.
There are now only 265,000 apprentices in training, compared to 413,400 in September 2013.  Further, there was a 4.5 per cent decline in the number of apprentices and trainees in training at December 31 2016, compared to December 31, 2015.
Overall commencements have continued the downward spiral since the government came into office, with a further decrease of 2.6 percent. Trade commencements are down 12.4 percent as at December 2016 compared with the previous year.
Just as alarming, apprenticeship completions decreased by 16.1 percent over the same period. Trade completions decreased by 13.6 percent and non-trade completions decreased by 18.0 percent.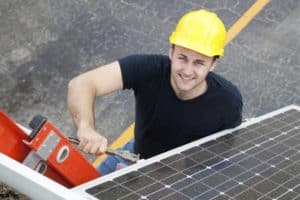 For the first time in a decade, the training rate for trades apprentices and trainees has fallen below 10 per cent. Fewer than 10 per cent of trade workers are now apprentices. The training rate – the percentage of workers employed as an apprentice or trainee – is also down again, from 2.3 to 2.2 percent.Not every child leaving school is a candidate for
Not every child leaving school is a candidate for university.  Yet in an ever increasingly complex world, we need every student to make the transition to further training.  And who is going to fix our cars, build our homes and repair our pipes?
Whatever the cause of the decline in apprenticeship numbers, the problem must be addressed and there is certainly a role for government.  It should be a top priority.
If you are looking for an apprenticeship the Certificate II in Construction (CPC20112) course, is a great way to find out which trade you enjoy the most. Pre-apprenticeship students work side by side with existing apprentices. This gives students the chance to have some insight about what being an apprentice is like.
Students will gain an introduction into the following trades:
Bricklaying
Tiling
Plastering
Concreting
Scaffolding
Employers frequently contact FCTA seeking candidates for apprenticeships. They are generally seeking people under 21 who have a car and license and either experience in the industry or someone who has completed a pre-apprenticeship course.
As part of the Certificate II in Construction, students are placed into the trade for work experience. For students who have some previous experience, or show potential, this could happen at any time during the course. If there is an opportunity to secure an apprenticeship you will be placed out into the trade ASAP.
Pre-apprenticeship courses will run on the following dates:
05/09/2017 – 10/11/2017
30/01/2018 – 06/04/2018
06/03/2018 – 11/05/2018
01/05/2018 – 06/07/2018
The course is held at FCTA – Building Careers, 15 Jacobsen Crs Holden Hill South Australia. The duration of the course is 10 weeks, Tuesday – Friday 8am – 3:30pm. Please call 088367 5615 or email admin@fcta.com.au to book in a time to apply for the course.
Building approvals bounced in June, led by a spike in approvals for apartment blocks, but economists say housing construction continues to gradually decline.
Approvals for new homes jumped 10.9 per cent in June, the Australian Bureau of Statistics said, well above the one per cent increase the market had expected.
Approvals for 'other dwellings', which includes apartment blocks and townhouses, surged 20 per cent, and approvals for private sector houses rose 3.4 per cent.
June's strong growth in approvals follows significant falls in recent months and points to a gradual decline in housing construction, Commonwealth Bank senior economist Gareth Aird said.
Over the year to June, building approvals were down 2.3 per cent, with apartments and townhouses down 6.6 per cent and houses up 1.4 per cent.
"The 20 per cent spike in the highly volatile multi-units over the month continues the recent pattern of big monthly falls followed by solid rises," Mr Aird said.
"The trends in the building approvals data, coupled with strong underlying demand for housing, underpins our view that the decline in residential investment will be gradual and elongated.
"This means that the impact on the economy will be milder than in previous residential downturns."
ANZ senior economist Daniel Gradwell said the sharpest falls in approvals appear to be in the past, but the winding down in housing construction will continue.
"We still expect further declines will come through over the second half of 2017, driven by tighter credit conditions and higher interest rates for investors, although the size of these falls will likely be tempered by the fact that the RBA is not yet embarking on a tightening cycle," he said.
The Australian Prudential Regulation Authority capped interest-only mortgage lending on March 31, telling lenders to limit higher risk interest-only loans to 30 per cent of new residential mortgages.
That set off a fresh round of rate increases by the major lenders, with banks repricing their loan book to make interest-only and investor loans more expensive.
The jump in June building approvals was driven by a 24.8 per cent rise in NSW.
There was also an increase in Western Australia (19.6 per cent) and Victoria (6.1 per cent), while approvals fell in South Australia (down 20 per cent) and Tasmania (down 8.3 per cent).
Source: Residential Construction to Wind Down Gradually