The Certificate II in Construction (CPC20112) is often referred to as a 'Pre-apprenticeship' course. This is because employers looking to hire apprentices frequently recruit current students and graduates. Our next course starts 30th January 2018. The course will focus developing hand skills across tiling, bricklaying and plastering.

If you have been considering becoming an apprentice, but you're not sure which trade to focus on, this course will give you an insight into several different trades as well as basic concreting and scaffolding. You will also have the opportunity to work alongside existing apprentices to find out what working in the building industry is like.
The course is open to applicants over 16 years old. Government funding is available to most applicants via the State governments WorkReady programme. Students enrolled at High School who are over 16 can also complete the course under TGSS funding.
The goal of this course is to help students into work within the building and construction industry. We have employers who are currently looking to hire apprentices and during the course, you will have the opportunity to be placed into work experience. Employers are generally seeking people under 21 with a drivers license and vehicle. There are employers willing to consider adult apprentices, but they are much less common than junior apprenticeships. If you would like to know more, or have any questions please contact us on 8367 5615.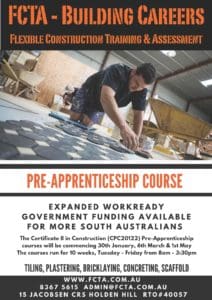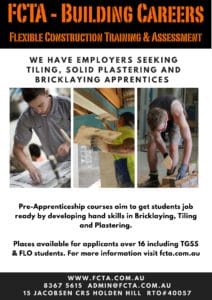 Originally published: news.com.au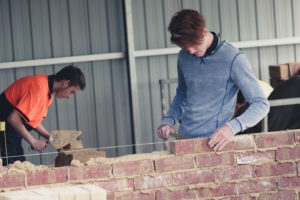 AFTER receiving their high school results over the past fortnight, graduates across Australia will be thinking long and hard about their options.
But while they're going through their course options and preparing job applications, anxious about the dwindling graduate employment rate and competition for positions, there's one category of jobs that will likely be overlooked.
Analysis by jobs website Adzuna has revealed the jobs that Australians just aren't interested in, with trades and construction coming out on top.
With minimal qualifications required, you'd think trades would be a popular choice.
The report showed that while jobs advertised in the construction industry has increased by 10 per cent, apprenticeship commencements were down 5.6 per cent year on year.
Adzuna CEO Raife Watson called on schools to remind students of the option of vocational education and training as an alternative to university.
"Despite reports that the residential construction boom in Sydney is starting to wind down, we continue to see growth year-on-year in advertised vacancies across a wide selection of job roles in trades and construction," he said.
"The primary concern for the construction industry is the continued decline in apprenticeship commencement rates."
Mr Watson said there was a "stigma" associated with TAFE studies and apprenticeships that Australia needed to work to remove.
"Twenty-three university graduates compete for each role, whereas in some Australian states, two jobs are available for all qualified apprentices," he said.
"I expect this number to increase in the coming years as apprenticeship numbers continue to decline."
In South Australia, where school leavers' results were released this morning, graduates are being urged to consider taking on a trade or traineeship.
Business SA says apprenticeships and traineeships are viable career options as Australia faces a skills shortage across a range of industries.
Sharyn Davies, from Apprenticeship Support Australia which is administered by Business SA, said a high score in year 12 is not a guarantee for future success.
"It's more important for young people to follow their passions," she said.
"When we are doing something that aligns with our strengths, skills and passions, we have a higher level of wellbeing and are more likely succeed in building a successful career."
Source: School-leavers not interested in trades
We have employers seeking Bricklaying, Tiling and Solid Plastering apprentices. The Certificate II in Construction aims to get students work ready, and into an apprenticeship.
Employers typically want applicants to be under 21, with a drivers license and some experience or a Cert II in Construction. There are opportunities for those over 21, usually in labouring jobs, but sometimes as adult apprentices.
Our next course starts Tuesday January 30th and runs for 10 weeks at 15 Jacobsen Crs, Holden Hill. Government-funded eligibility has been improved so more people have the opportunity to study.
Call us on 8367 5615 or email admin@fcta.com.au for more information.
Dates for  2018:
30/01/2018 – 06/04/2018
06/03/2018 – 11/05/2018
01/05/2018 – 06/07/2018
8am – 3:30pm Tuesday – Friday for 10 weeks at 15 Jacobsen Crs, Holden Hill.
This qualification requires 9 core units of competency and 6 electives to be completed. For more information on this training course and employability skills, please visit training.gov.au
Qualification Code: CPC20112
Core
Total qualification: Approx 500 hours depending on electives

Electives
Unit Code
Unit Title
Hours
CPCCOHS2001A
Apply OHS requirements and procedures in the construction industry
20
CPCCCM10012A
Work effectively in the General Construction Industry
20
CPCCCM1013A
Plan and organise work
20
CPCCCM1014A
Conduct workplace communication
20
CPCCCM1015A
Carry out measurements and calculations
20
CPCCCM2001A
Read and interpret plans and specifications
36
CPCCCM2006B
Apply basic levelling procedures
8
CPCCCO2013A
Carry out concreting to simple forms
20
CPCCCM2005B
Use construction tools and equipment
96
CPCCCM2010B
Work Safely at Heights
8
Unit Code
Unit Title
Hours
CPCCCM2008B
Erect and dismantle restricted height scaffolding
40
CPCCCM2009A
Carry out basic demolition
32
CPCCSF2004A
Place and fix reinforcement materials
80
CPCCSP2003A
Prepare surfaces for plastering
40
CPCCCM2007B
Use explosive power tools
16
CPCCWF2002A

CPCCPB3001A

CPCCSP2002A

CPCCBL2002A

PLUS ONE OF THE FOLLOWINGUse wall & floor tiling equipment

Fix standard plasterboard wall sheets

Use solid plastering tools and equipment

Use bricklaying tools and equipment

96

60

80

30
Getting an apprenticeship in South Australia can lead to a long term career in the Building and Construction Industry. That means working outdoors, earning an income while you study and having the opportunity to eventually be your own boss. The tricky part can be choosing which trade is the best fit. Pre-apprenticeship courses are an excellent way to try a number of trades before selecting which one you most enjoy.

Many people select the trade they want to focus on based on knowing someone working in that field. That doesn't necessarily mean its the trade for you, but it is a good way to find out what working in the industry is like. At FCTA – Building Careers we have developed a pre-apprenticeship programme that allows people to try bricklaying, tiling, plastering, basic concreting and scaffolding. These are also the trades we train apprentices in. That means if you enrol in a pre-apprenticeship course with us, you will be working on some projects with existing apprentices. This is a great way to find out more about the trade.
Currently, we have a number of employers urgently looking to hire apprentices. The majority are after people under 21 who have a drivers license and car. If you are in the process of getting your license, most will consider your application. Adult apprenticeships aren't as readily available. This is because the employer is paying anyone over 21 at the full rate. Many times employers will prefer to hire people over 21 as labourers instead.
The difference between labouring and an apprenticeship is a 'Contract of Training'. That means that apprentices sign a binding contract with employers to work for them under the apprenticeship scheme. The benefits for apprentices are that they are paid to go to trade school to complete a Certificate III in their trade of choice, that's the 'earn and learn' tag sometimes mentioned. Contracts are normally for 4 years, so getting an apprenticeship offers both job security and further education.
To help get an apprenticeship in Adelaide you can enrol in a pre-apprenticeship course, approach trades people directly or contact group training organisations (GTO). GTO's are places like the HIA, TABMA, Maxima, CEG who hire apprentices directly and then place the apprentice with a 'host' employer. The Government has also set up a great website that explains the pathways for apprentices https://www.aapathways.com.au/
If you are considering an apprenticeship and you have questions, you can always arrange a time to talk to us or come in for a meeting. Our pre-apprenticeship courses run through out the year. If you would like to enrol, please call on 8367 5615 or email admin@fcta.com.au. The dates for our next courses are:
05/09/2017 – 10/11/2017
30/01/2018 – 06/04/2018
06/03/2018 – 11/05/2018
01/05/2018 – 06/07/2018
Advertised positions are often posted on Gumtree, Facebook, Seek & Indeed Jobs. Each morning a summary of these advertised roles are posted to our Facebook page.
Hiring a new employee is an important decision for your business. We have specialised resources to help you find the right person, get them started and meet your obligations under workplace laws.
Tips for hiring new staff
There are a few things you should know when you're hiring staff, especially if you're doing it for the first time.
Know the law
There are laws which give employees rights including minimum wages, pay slips, leave and notice of termination. You also need to know about tax, superannuation and workplace health and safety.
Thinking about hiring
Assess the current and future needs of your business and define the role you want to fill.
Attract the right people
Once you have a clear idea of the role you want to fill, advertise the position. Make sure the right people hear about it and want the job.
Choose the right person
Shortlist job applicants whose skills and experience best match the role, and ask interview questions that focus on the skills and abilities needed for the role.
Make an offer
Once you've chosen someone, contact them to offer them the job. It's best to follow this up in writing with a letter of offer.
Start on the right foot
Invest time in a thorough introduction because this will help you get the most from your new employee. It will also make sure that your employee feels well-informed, welcomed and equipped to do their job.
Have a productive workplace
Meet with your new employee to set goals, expectations and training needs during the first few weeks. Then schedule regular catch-ups to talk about how they're going.
Resources for hiring new staff
When you're hiring new staff, you can use our Guide to hiring new employees (RTF 1.3MB)(PDF 309KB) to help you find the right employee for your workplace and get them started on the right track.
If you're hiring an apprentice, use our Guide to taking on an apprentice (DOCX 64.9KB)(PDF 2.4MB) to help you understand your obligations.
Once you've hired someone, you can provide them with our Guide to starting a new job (DOCX 39.9KB)(PDF 235.7KB) or Guide to starting an apprenticeship (DOCX 68.6KB)(PDF 1.7MB), to help them understand their rights and obligations.
Source: Hiring employees – Help for small business – Fair Work Ombudsman
A 20-storey apartment building has been granted development assessment approval for Adelaide's East End.

The $70 million "Monument" tower will rise 63 metres high and have sweeping views of the Adelaide foothills, parklands and city.
The project is a joint venture between Singapore-based financier and SA expat Mark Ebbinghaus and Adelaide developer C Projects. It is designed by BDA and TECTVS, based in Adelaide.
The apartment building will be set back from Rundle Street and East Terrace and will provide a unique movable mosaic through the innovative use of adjustable architectural screens on the building façades, which combine influences from the parklands and Colonel Light's layout for the city
Design by architects BDA and Adelaide-based TECTVS, the apartment building will be set back from Rundle Street and East Terrace and will use adjustable screens to create a moveable "mosaic" on the building façades.
Stephen Connor, director of C Projects, said "As well as being catalyst for economic development in the East End, the design of this project will also see the existing heritage buildings on the site maintained and enhanced as part of the redevelopment.
"The project will also add significant employment and economic benefit for South Australia, with an estimated 110 jobs created in construction and a further 1100 jobs in the broader community.
"Not only is it the premier lifestyle destination in Adelaide, all apartments have superb, generous, functional floorplans and will enjoy priceless views.
"It's a great time to be buying an apartment in Adelaide, with stamp duty, rate holiday and construction incentives available for early purchasers," Mr Connor said.
Completion is anticipated for 2020.
Source: $70 Million Building in Adelaide Approved for Development – TheUrbanDeveloper.com
We have employers looking to hire apprentices in the following trades:
Bricklaying – 6 positions available working metro Adelaide
Tiling – 4 positions available working all over Adelaide.
Carpentry – 12 positions available, 1 school based option working central Adelaide.
Applicants must be under 21 with a car and license. Trade apprenticeships have a high level of physical work so applicants must have a good level of fitness. Preference will be given to applicants who have completed a Pre-apprenticeship course and/or have trade experience. To apply contact Trisch on 83675615 or email trisch@fcta.com.au.
If you are looking for an apprenticeship the Certificate II in Construction (CPC20112) course, is a great way to find out which trade you enjoy the most. Pre-apprenticeship students work side by side with existing apprentices. This gives students the chance to have some insight about what being an apprentice is like.
Students will gain an introduction into the following trades:
Bricklaying
Tiling
Plastering
Concreting
Scaffolding
Employers frequently contact FCTA seeking candidates for apprenticeships. They are generally seeking people under 21 who have a car and license and either experience in the industry or someone who has completed a pre-apprenticeship course.
As part of the Certificate II in Construction, students are placed into the trade for work experience. For students who have some previous experience, or show potential, this could happen at any time during the course. If there is an opportunity to secure an apprenticeship you will be placed out into the trade ASAP.
Pre-apprenticeship courses will run on the following dates:
05/09/2017 – 10/11/2017
30/01/2018 – 06/04/2018
06/03/2018 – 11/05/2018
01/05/2018 – 06/07/2018
The course is held at FCTA – Building Careers, 15 Jacobsen Crs Holden Hill South Australia. The duration of the course is 10 weeks, Tuesday – Friday 8am – 3:30pm. Please call 088367 5615 or email admin@fcta.com.au to book in a time to apply for the course.
The Job Accelerator Grant is available for businesses that take on additional employees and maintain that increase over a 12 and 24 month period.
To be eligible for the Job Accelerator Grant scheme the new position needs to meet the following conditions:
the person is employed in a new job on a full-time, part-time or casual basis, but not on a seasonal basis;
the employment commences between 1 July 2016 and 30 June 2018 inclusive;
the employment is maintained for a period of 2 years to be eligible for the full grant, or 12 months to be eligible for the partial grant;
the services of the employee are performed wholly or mainly in SA; and
the employee is a South Australian resident.
For businesses liable for payroll tax in South Australia, a grant of up to $5 000 is available for each new job created and the increase is maintained for at least 12 months, and up to $10 000 if the increase in full-time equivalent employees is maintained for 2 years. For part time and casual employees, the grant is pro-rated, and will be paid based on actual hours worked.
Businesses that are not liable for payroll tax in South Australia, or any organisation exempt from payroll tax in South Australia, a grant of up to $2 000 is available for each new job created and the increase is maintained for at least 12 months, and up to $4 000 if the increase in employees is maintained for 2 years. An additional requirement for this grant is that the new employee, regardless whether it is a full time, part time or casual position must work on average 22 hours or more per week across the grant period to be eligible.
As part of the 2017-18 State Government Budget announcement, businesses that register a new employee for a Job Accelerator Grant will receive up to an additional $5000 ($2 500 per year) if that employee is an eligible apprentice or trainee where the position is also deemed to be eligible for the Job Accelerator Grant.
The grant is paid at the 12 month and 24 month anniversary of the job start date.
More information and to register for the grant can be accessed from http://www.revenuesa.sa.gov.au/jobs or our staff are available to speak to Monday to Friday 8:30am -5pm (excluding public holidays) on 8226 2210.
Alice Bednarz, National Centre for Vocational Education Research
Approximately half of all apprenticeship contracts in the trades are not completed. In this context, this review draws together existing research on why apprentices do not complete their training. The issue of non-completion is considered from multiple angles, including apprentices' self-reported reasons for non-completion, the impact of employer characteristics, and apprentices' and employers' satisfaction with the training provider. The report is based on findings from surveys undertaken by the National Centre for Vocational Education Research (NCVER) and other national surveys, industry studies and research papers.
Key messages
Employment-related reasons are the most commonly cited reasons for not completing an apprenticeship. These include experiencing interpersonal difficulties with employers or colleagues, being made redundant, not liking the work and changing career. By contrast, issues with the off-the-job training are the least frequently cited reasons for not completing an apprenticeship.
There is a large difference in completers' and non-completers' satisfaction with their employment experience overall. The majority of completers (80%) are satisfied with the employment experience overall, compared with just 42% of non-completers. This provides further evidence that the employment experience, rather than the off-the-job-training experience, carries greater weight in whether an apprentice stays or goes.
There is conflicting evidence on the importance of wages. Most studies find that low wages are not the most common reason for non-completion, but they are nonetheless one of the top few factors. An increase in wages alone is unlikely to solve the problem of low completion rates, since multiple factors are often to blame.
Apprentices generally leave their apprenticeship contract early on: 60% of those who leave do so within the first year.
The influence of the employer cannot be overstated. Employers with the highest completion rates are generally larger, experienced employers with well-organised systems for managing and recruiting apprentices. Employers with lower completion rates tend to be smaller and have less experience.
These findings suggest a number of ideas for future policy developments, such as encouraging more rigorous recruitment practices; providing greater support for smaller, less-experienced employers; providing greater mentoring support for apprentices, particularly in the early stages of their apprenticeship; and considering alternative apprenticeship models, specifically those that reduce the pressure on employers.
The full paper can be found here